Peru and Chile have beef about pisco, and both claim it as their national drink. Talk about drama. But wherever this punchy South American spirit hails from, BarChick digs it - especially in a Pisco Sour. If you're new to the stuff, no sweat. Here's what you need to know and where you need to get it:
What is pisco?
Pisco is a South American brandy made from grapes that are fermented and distilled to make an aguardiente. Basically, it's bloody good. Pisco can be made using a variety of grape types and can be distilled using different methods, which means that like all booze, the taste and the aroma can vary, as can the viscosity (think thickness and texture) of the finished product.
What does it taste like?
Well, like pisco, really. But if you wanna know what you're in for, think punchy but fresh. There are herbal notes in there, as well as hints of tropical fruits, and if you really get into it you'll realise how the taste of pisco keeps evolving on your palate. Pretty cool, huh?
Where to get your Pisco Sour fix:
Try it out at these kick-ass Latin-American bars and see for yourself. Then thank us later.
This was London's first pisco bar created by Martin Morales (AKA the Peruvian pisco legend), so you know these guys mean business. To prove it, there's nothing but this delicious grape brandy in the cocktails. Now that's dedication. There's plenty of Sours on the menu, but the Strawberry Pisco Sour made with Quebranta grape pisco, creole bitters, strawberries, lime, sugar syrup and egg white is a bit of us.
17 Frith Street, London W1D 4RG
Morales didn't stop at Ceviche. Spitalfields is home to its sexy sister, Andina, and this is where to get pisc-coed in the best possible fashion. This basement bar brings Peruvian flavours to East London and the result is an upbeat, vibey joint oozing with sass, soul and tons of South American spirit. Try their version of a classic Pisco Sour, with Quebranta grape pisco, chuncho bitters, lime, sugar syrup and egg white, or get involved with their pisco infusions.
60-62 Commercial St, London E1 6LT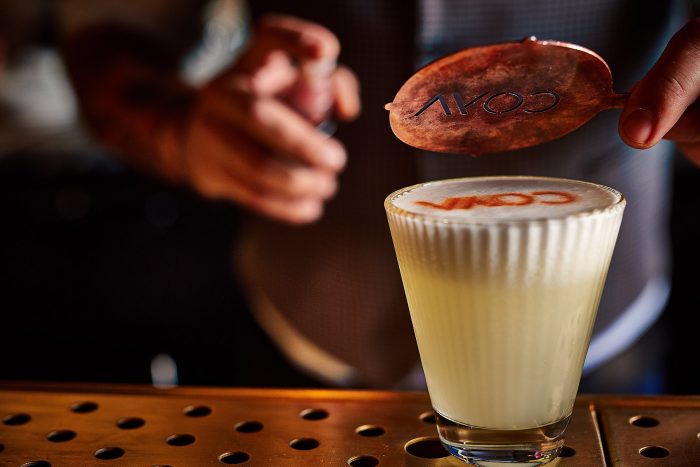 Drink pisco in style at super sexy Coya. Expect a Peruvian fusion fantasy in here with bright walls, long marble tables and grand gold details. The Pisco Sour menu is a banger, with loadsa epic infusions to choose from. Tricky to choose, but it's the kumquat that came out on top for us.
31-33 Throgmorton St, London EC2N 2AT
Pachamama is a bar and kitchen in Marylebone that delivers a Peruvian-inspired menu of small plates, so naturally pisco is what they suggest washing it all down with! In Incan mythology, Pachamama was an earth goddess sacred to the indigenous people of the Andes. Pisco and good times are sacred to us, so it fits well.
18 Thayer Street, Marylebone, W1U 3JY
This slick sushi fusion hangout is loco for pisco! Their classic Pisco Sour is the ultimate introduction to this bangin' cocktail, with Barsol Quebranta pisco, lime, egg white and Angostura Bitters, and they've also got a sizeable selection of bottles to choose from if you wanna sip the spirit straight like a baller.
11-13 Frith St, Soho, London W1D 4RB
Theatre Land's best underground secret. Below the jungle of Covent Garden's chain restaurants (and more specifically, directly beneath the Peruvian gem Floral) is this basement party gem where there's good vibes on tap and 2-4-1 Pisco Sours every happy hour.
14 Garrick St, Covent Garden, London WC2E 9BJ
If your Gap Yah took you to the highest elevations of Peru, you'll know the feeling of drinking at high-altitude. Replicate it all on the 38th floor of the Heron Tour, where SushiSamba shakes up theirs up with a modern twist for the modern Pisco Sour drinker: BarSol Primera Quebranta pisco, maraschino liqueur and turmeric, shaken hard with Japanese citrus and egg whites.
110 Bishopsgate, London EC2N 4AY 
Updated 03/02/2023