The Espresso Martini isn't the only killer coffee cocktail out there ya know. London's best bartenders are mixing up some ground-breaking new concoctions with that bean and we've got our hands on some of the best.
Caffeine addicts should get sippin' the below and quick, before everyone else starts drinking them too.
The Portobello Star - Murder on the Orient Espresso
Jake Burger, the ledge behind this joint, explains where the inspiration came from:
"This was our supercharged re-interpretation of Dick Bradsell's classic that we created for The Portobello Stars menu last year. The Wray and absinthe give it a real kick (as you might imagine!) but the mozart softens the blow a little".
Wanna try and recreate it?  He slipped us the secret recipe:
25mls Wray & Nephew
25mls Dark Chocolate Mozart
25mls Espresso
Dash of Absinthe
Shake and strain
Serve straight up.
Garnish with 3 espresso beans.
64th and Social - Bump n' Grind
Mat is fuelling the people of the south with his rummy twist of the classic:
'The inspiration behind the drink was to create a simple twist on a modern classic. The serving vessel also played a large part so we've gone for a coffee cup.  We wanted to stay true to that ethos but offer an alternative to the most popular choice of Vodka as the base spirit.
Kraken Rum and Santa Teresa's Araku have rich, dark and even chocolatey flavour profiles which meld perfectly with freshly extracted espresso. The education of and popularity of coffee now lends well to its incorporation in cocktails; anything from espresso rinses to flavoured foams, coffee beans as a garnish and alcoholic syrups.'
Marian is the Head Bartender and Nightjar and it's a good job we trust him 'cos he's kinda breaking the rules with this one…
'Often people are visiting Nightjar late and might not want a dose of caffeine at 11pm! So In the Velveteen cocktail we wanted to call to mind the Black Velvet (Guinness and Champagne) as well as cult coffee liqueur Irish Velvet. Chicory root's unique earthy, malty, smoky flavour profile works particularly well in this case as it evokes both coffee and Guinness.
This drink parodies the cult liqueur Irish Velvet; it's all smooth, creamy, comforting goodness - with a kick. A base of Jameson Whiskey is mixed with a chicory coffee concoction and truffle potato puree, topped up with Chocolate Stout. Topped off with a chocolate drizzled ice-cream cone!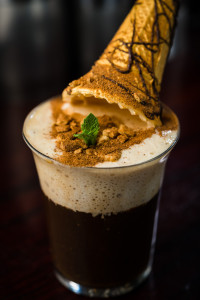 Duck and Waffle - Ristretto Negroni
When it comes to the crazy good stuff you can do in cocktails, Rich Woods is the guy with all the info.  Up high at Duck and Waffle they've swapped the Nutella in their Negroni (sob) for some serious beans; the ingredients are dripped through fresh coffee to give it a hint of the good stuff.
Need a pre-dinner pick me up? This aperitif is your answer.
Aqua Koyoto - Espresso Corretto
This one's similar to an Espresso Martini, but with the added depth of different flavours.  The base spirit is gin (which is unusual in the coffee cocktail world) and it's got a sweetness from almond liqueur and a spicy hint of star anise.