Why are they so cool?
BarChick loves a bit of gin… who doesn't? But move over cucumber hints, step aside strawberry twists because Gin Mare's hit the market and broken all the rules. This Spanish, herb-heavy gin has botanicals such as basil, rosemary, Arbequina olives and thyme, giving it a seriously unique taste. It's the only one of its kind and BarChick freakin' loves it. Food lover? Good cos it's perfect for food pairing and it also goes down way too easy in a G&T. Oh and the lid doubles up as the perfect 50ml measure so you can play bartender and smash out the perfect G&Ts.
Mediterranean Inspirations Competition
This was the third year of the Mediterranean Inspirations competition, and once again we had been travelling around the UK searching for some top talent in the bar scene. Every heat was hard to judge with some drinks really bringing the "wow" factor. We had drinks in shells, edible sand, thyme foam and even a drink served with a gold fish!
While we were drinking our way around the UK the same thing was going on around the world; all of us trying to find the one person who could reflect what Gin Mare is all about.
UK finalists:
Tiago Mira - One Aldwych - London
Ali Reynolds - Hawksmoor Spitalfields - London
James Bridges – Hausbar – Bristol
Samantha Fish – Mojo - Manchester
Terri Brotherston - Last Word Saloon – Edinburgh
Natasha Ivanova - The Finnieston - Glasgow
The UK judges:
Stu Ekins aka "The Funster" from CASK Liquid Marketing
Simon Webster or "Stevie with a V" from BarLife UK
The top dog Jorge Balbontin from Gin Mare
…and of course BarChicklet from BarChick
With livers at the ready and some intense score sheets in hand… it was TIME.
UK Final – Competition day
The six finalists all brought their A game and each one was dressed impeccably with bow ties, crisp shirts, sailor suits and some Sharp and Dapper on full display (naturally). We had some serious cases of the shaky hand dance but even with those bad boys each of them managed to serve us some impressive cocktails, and each represented the versatility of Gin Mare, highlighting just how much you can do with this amazing gin.
After much deliberation (this was a tough one to call) it was Ali Reynolds from Hawksmoor who got the golden ticket to the world final with his Dirty Martini twist with a reduced salted coca cola syrup… and of course his camp sailor costume.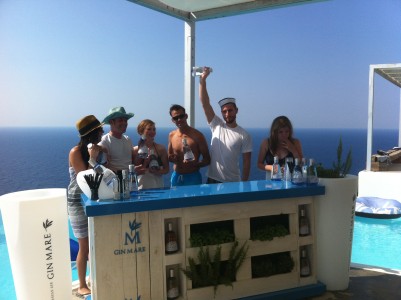 What went down in a nutshell?
Apart from a lot of booze and an obscene amount of garlic, we had iPhones and syringes as garnishes, three-legged dogs, a glockenspiel injury, a few stuffed mice, cushion pirates and the annual x-rated Chinese whispers session at Nuba. Hangovers never REALLY surfaced until the end of the trip… purely because the drinking never stopped. AMEN.
Things to do, and not to do on a Gin Mare trip…
Do lounge on a giant Gin Mare pillow in the impressive infinity pool looking over miles and miles of beautiful blue sea.
Do stick around for sunset.
Do get stuck into Villa Mare's lunch spread by their talented chef.
Do celebrate an amazing final with dinner at Nuba, followed by dancing at Space.
Do recover after an intense night session with a game of mini golf at Hidden, teamed up with some of their ribs.
Do party with the Jaggers.
Don't throw people into the pool with their iPhone on them.
Don't trust the baggage holders at the airport to get your ingredients to Ibiza safely.
Who won the World Final?
Sadly our main man Ali didn't make it into the top 3 of the world final, but we've gotta hand it to everyone, it was a damn good fight to the top!
Winner: Amanda Boucher, La Candelaria, Paris
2nd Place: Luca Vezzali, Café Bar Luca y Andrea, Milan
3rd Place: Juan Jose Saber, 41 Degrees, Barcelona
BarChick wants to give a big up to Sarah Moorhead for being the best organiser in town, making sh*t happen, and generally being AWESOME. A huge high five to the Gin Mare team; Jorge, Conor, Alphonso, Joe, Alex, JC and Gemma for their unbelievable hospitality once again and of course the amazing group of boozers and bartenders who joined me on this crazy adventure. Same time next year?... yes please!
UK Final Winning Drink – Ali Reynolds
Dirty Martini Twist – Dirty Dorada

40ml Gin Mare
20ml salted Coca Cola syrup
5ml Fernet Branca
Topped with Champagne
Stirred over ice and fine strained into a chilled cocktail glass, topped with Champagne.
Mediterranean Inspiration - Ibiza Crush

50ml Gin Mare
15ml egg white
10ml lemon juice
10ml pink grapefruit juice
10ml Cynar
10ml homemade passion fruit syrup
Dry shake, then wet shake. Double strained into a fancy coupette glass
Check out the BarChick Facebook album for what really went down!