It's that time again. With the new season has come a load of new places to have after show fun so get your fashion face on, mingle with the models and be sure to hit up our favourite LFW hotspots. Forget the FROW, this is where it's at.
BLAG YOUR WAY IN
Wanna sip cocktails with Jourdan and Gigi? These places only let members, A-Listers and banging blaggers in...
Chiltern Firehouse The Fash Pack are still tripping over their Zanottis to get a piece of the Chiltern chaos, whatever the season. Less about being thrown on the waiting list for a table, all about finding some way into The Ladder Shed. The cocktails are every bit as chic as the crowd that chuck 'em back. Sass up and get your game face on, getting in here needs a champion of chat. 1 Chiltern Street, London W1U 7PA
The King's Head This sort-of members club is on the cusp of Shoreditch and rocks a late licence. Keep your wits about you if you want in; call ahead, say you know Rocky, look hot and don't slur. This five storey converted pub is Instagram gold with taxidermy lions and a mind-blowing Butterfly Room. And underground? A bona fide bashment. What's not to love? 257 Kingsland Road, Haggerston, London E2 8AS Pink Chihuahua at El Camion This underground den stinks of Margaritas, old school jams and shame. It kicks off when everything else is closing so tumble down the stairs (watch the Loubs) and step into this sexy Mexican den underneath El Camion. Don't have a membership card? Mumble something about a pink chihuahua and how serving tequila with lemon and salt should be an arrestable offence and watch the doorman step aside. 25-27 Brewer Street, London W1F 0RR
The Welly Hidden below the "f*ck" bar you'll find this underground den of debauchery with a mega hot crowd. Get things started with a round of absinthe shots and get involved in the naughtiness. How d'ya get in? Christian has the keys to this party. To beg for entry email him: christian@thewelly.com 116A Knightsbridge, London SW1X 7PL
STYLISH SNACKING
All that FROW-ing is hard work so keep that stomach lined. Even a Delevigne's gotta eat.
Storeys Spent the whole show wondering what you could get up to on top of the old BBC rooftop car park at TVC? Probably not but trust us, you want in because this is taking car park partying to the next level. With some amazing panoramic views of the city, this pop up has got a rotating line of dynamic street food traders serving up everything from crab burgers to buffalo wings to keep that stomach lined. Alongside whole cocktail menus dedicated to rum and Bloody Marys, this White City temporary hangout is where it's at. Television Centre, Wood Lane, London W12 7RJ
Another no-booking policy means bagging a table at the new Drury Lane spot still relies on your ability to wait in line. If you've been queuing for shows all day then you'll find this bit easy, just keep your mind on the glasses of sherry and endless plates of fresh tapas waiting for you at the finish line.
43 Drury Lane, Covent Garden, London Wc2B 5AJ
Smith & Wollensky This Art Deco-inspired steakhouse is housed in a Grade 2 listed historic building so dressing up is the way to go, natch. If you're planning on sinking anything beyond a Barrel Aged Negroni, you're gonna need to flex the plastic because the Porterhouse Steak'll set you back £110. Doing high end on a high street budget? Stick to the bar menu. The Jumbo Lump Crab Cake is all that. The Adelphi, 1-11 John Adam Street, London WC2N 6HT
This Shoreditch food 'arena' isn't just about bringing together awesome street food vendors, it's got six bars around the joint to keep you busy until close. Kick things off at The Pavilion Bar for Spritzers and punch bowls to share (or go solo, we don't judge), then take it The Baja-Marama Bar for your fill of tequila slushies and Chillibacks before heading up the The Rum Rooftop Bar. This spot rocks tiki tastic vibes like no other - name any colour and they'll make it into a cocktail. Hungry? Japanese buns, burgers, tacos and doughnuts that are up for grabs from some of the best food pop ups in town.
19 Great Eastern St, London EC2A 3EJ
COUTURE COCKTAILS
It's not just about the manicured stiletto nails, it's about what they're clutching onto. These bars have got the booze to back it up.
Best bartender in the world aka Mr Lyan is right here at the new Mondrian hotel's beautiful ground floor bar. Sure, it's got huge glass windows to show off that riverside view, purple leather and hot staff covered in tatts behind the bar but it's the out of this world cocktails that you're here for. Order up a Bee Pollen Manhattan as you study the menu of botanical, nature-inspired booze.
20 Upper Ground, London SE1 9PD
Seymour's Parlour at Zetter Marylebone
This Grade 1 listed new Zetter Townhouse is pimped up and filled to the brim with eclectic and inquisitive objects. Hit Seymour's Parlour where the cocktails are at. The booze legend that is Tony C is the man behind the menu and he totally hits the spot with 'forgotten classics' inspired by a day at the races. We're talking Champagne syrups and fir essence. Wanna sleep off the booze without hailing a cab home? Book into one of the rooms; you'll find us in the rooftop copper bath tub in the loft suite.
28-30 Seymour Street, London W1H 7JB
If you didn't get enough gold from Givenchy's front row this bar is dripping in the stuff. £40K's worth to be precise. At £25 a pop, it's much easier to hit the cocktails when someone else is picking up the bill, but when you're playing with the pop up cocktail menu (that's been into space) and the pure gold Martini trolley wheels over, you'll be too dazzled to care about the dollar.
The Savoy Hotel, 189 Strand, London WC2R 0EU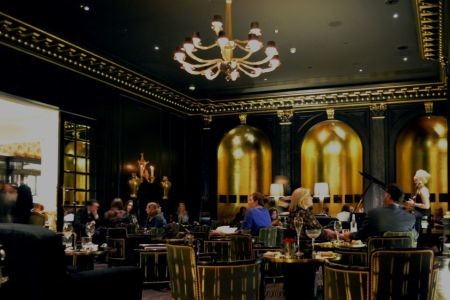 There's a good reason this place keeps winning World's Best Cocktail Bar. All chic oriental decor and good looking, well-heeled guests, this year's seasonally changing menu is all about surrealism. Out to impress? Order up Suspended In Time, a killer cocktail held in a cocooned and perfumed net that's attached to a blue crystal ring (hello bling). It's difficult not to be fabulous here.
1C Portland Place, London W1B 1JA
PICK-ME-UPS
Need a coffee fix after a long day of schmoozing? These bars are combining their beans with booze.
Walked passed and thought it was just another Soho coffee joint? So wrong. Get past the neon sign and down those stairs to their basement speakeasy where you can spike that espresso. Hot Flat White Russians are an absolute go-to. If you're still buzzing from all the flashbulbs, keep off the caffeine and order something else from their cocktail menu instead, it covers all the bases.
19 Beak Street, Soho, London W1F 9RP
This places goes above and beyond the Espresso Martini. These coffee geeks are the team behind White Lyan and caffeine master Alex MacIntyre and with its chilled neighbourhood vibes, it's the perfect spot to grab your nitro cold brew or Orange Mocha Frappucinos (complete with alcohol too). Get there like a shot - of booze or espresso, you decide.
Middle of Old Street Roundabout (entrance in Old Street station), London EC1Y 1BE
This daytime cafe and late night booze den has a split personality, which means it's your go to for day to night fun. Pre-5pm it's all bright 'n breezy but once the evening hits the pictures are reversed, the back bar opened, tunes cranked up and the bartenders take to the bottles. It's not just coffee based cocktails though, they're giving infusing and coconut fat-washing a crack too.
114 Great Portland Street, London W1W 6PH
It's all bellissimo at this Italian coffee spot. These guys know their coffee and mean business so don't mess about with soy or raw almond milk, it's time to keep it classic. If you're in a rush duck in and out for your £1 espresso that you can sip at the bar, but you'll find us hitting the cocktail menu - another Tony C bad boy - of epic Negronis from the classic to pink peppercorn and even rose.
7 Old Compton Street, London W1D 5JE
GOING UNDERGROUND
Heels too high for the tube? This is a much better way to get underground.
This cocktail funhouse has playtime written all over it. Underneath Central & Co, it's your go-to spot for mashed up cocktails in crazy containers. Tequila served up in tiny trash cans, Cachaca in a snow globe as well as a whole heap of garnishes from wet wipes to Elmo stickers, the menu is filled with some solid classics, 80s guilty pleasures (Tequila Sunrise with equal parts disco, decadence and deliciousness) and epic one offs. Drinking from a sunscreen bottle never looked so good.
22A Great Marlborough Street, Soho, London W1F 7HU
This is where the good times are rolling. The Talented Mr Fox is the man behind the menu that's split into six sections; sour, long, strong, tap and bottle, weird or shooters. There's nothing ordinary about it so get stuck in to the donut vodka. This is the place you'll want to kick back in if you're over the glitz and glam so leave your bouclé at home and line up the shots at this all-American dive.
24 Seymour Place, London W1H 7NL
Probably the only public toilet in Kentish Town that hasn't been spoiled by George Michael, if you're taking your FROW mates north, this converted old loo bar is the only place to be. Apart from the old tiles in the corner, this sexy basement has left the toilet gimmicks out of it with not a glory hole in sight. They're all about good ol' fashioned boozing down here so the best place to start is with an Old Fashioned as you geek out over their copper still that's been churning spirits out all day.
2 Highgate Road, London NW5 1NR
Push the bookshelf in whisky institution Milroy's and find yourself descending to this secret, old school bar of chesterfields and exposed brick chic. It's not all about the whisky - though it's a great place to start - so check out their diverse menu and sip your way through it. If you've found a favourite then grab a bottle of it from the shop upstairs before you step out, it'll keep you going catwalk-side the next day.
3 Greek Street, London W1D 4NX