From floating palaces to underwater bedrooms, and hovering spaceships to private islands... when we dream of faraway travels, we dream BIG. Grab your passport, your credit card and get ready for a major case of wanderlust cos these are the most incredible hotels in the world, and you're gonna want to stay in all of them!
Margaritaville Resort, Times Square NYC
Are there literally hundreds of other New York neighbourhoods we'd rather stay in than Times Square? Yes. Do they all have a hotel with a year-round heated outdoor pool and a replica of the Statue of Liberty holding a Margarita in the lobby? No. Well, now ya know why we'd be up for staying at the busiest tourist spot the entire world. This $300 million resort hotel (yes, really) is opening this Spring, featuring 234 guest rooms (with soundproof windows) and five restaurants and bars including the 5 O'Clock Somewhere Bar and a License to Chill Bar. We bet both will serve up a pretty mean Margarita. We'd forgo a night in  Brooklyn to say we've taken a swim at the crossroads of the world.
Margaritaville will open in late Spring 2021. Prices TBC.
Image: Margaritaville/The McBride Company
Book and Bed Tokyo, Tokyo, Japan
Fancy yourself a bit of a travelling bibliophile? This is the hotel to book. It might look like a used bookstore, but all it takes is a slide of a bookshelf and you'll find yourself a cosy nook to bunk down in for the night, complete with a bed, reading light and an electrical outlet - everything you need for a night curled up with your fave book. It's probably not the place to hit up if you're on the claustrophobic side. In classic Japanese pod-hotel style, each snug cubby has enough space for one book hungry traveller, but there is plenty of space to stretch out on the sofas in the communal area outside. 
A night's stay is 3,500 yen (approx $35) (yes this is more of a hostel than a hotel, but think of all the cash you'll save to spend on sake)
The Taj Lake Palace, Udaipur - India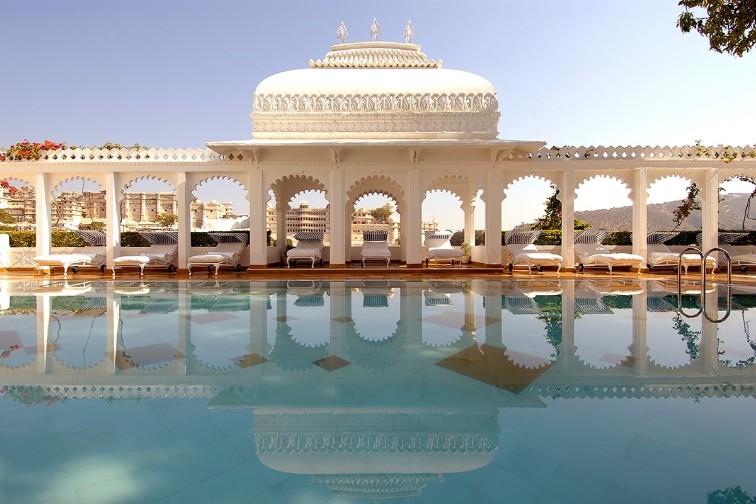 Hotels on land are cool, but hotels floating in the middle of a lake? Now that's badass. This majestic hotel is the Taj Lake Palace of Udaipur. It was built in 1746 and used to be where rulers would kick it in the Summer. Find your zen with lakeside yoga, indulge in the fine dining or kick back and watch the stars with a spot of astrology. Love a room with a view? All 65 luxurious rooms and 18 grand suites have 'em. Oh, and they each come with a butler. Ding ding ding. You want opulence, luxury and a daily dose of holy sh*t? This is it.  
Rooms start from £205 per night.
Image source: tajhotels.com
Villa Feltrinelli, Lake Garda - Italy
This turreted wedding-cake pink villa can be found on the edge of Italy's Lake Garda, the playground of the rich and famous. We're in fairytale territory here, lads. It's immersed in eight acres of gardens shaded by olive, oak and magnolia trees on the lake's western shore. There are only 21 rooms, so staying here is like a getaway in your mate's country house. We all need those kinda mates. Challenge your crew to a game of boozy croquet or get your chill on in the pool. The staff to guest ratio here is 3:1, so you can expect nothing less than perfect service. The best bit? They serve breakfast here All. Day. Long. There's no missing out on eggs for late risers. Hallelujah. 
Image source: villafeltrinelli.com
Montaña Magica Lodge, Chile
Is it a waterfall? Is it a volcano? Is it a Hobbit's holiday home? Kind of all three. This otherworldly spire hotel brings magic to the Chilean jungle. It might look rustic, but once you've made it inside via the wooden slatted bridge you'll find cosy guest rooms packed with modern amenities that rival even fancier hotels in less remote parts of the country. Peer out your window and watch the water pour in-between the windows and through the rich layers of jungle foliage. This is magic.
Ever wanted to soak in hot tub made out of huge trunks of trees, dug out, and then filled with hot water perched on a deck overlooking the forest? Spoiler alert: you can totally do that here. Or you could get a taste of adventure with horseback riding, rafting, hiking or a wild game of miniature golf built into the forest. 
Rooms start from £142 per night
Image source: atlasobscura.com
Giraffe Manor, Nairobi - Kenya
If you've got an opportunistic hound, you might be used to seeing a sneaky snout trying to steal the bacon off your breakfast table every morning. But we reckon you ain't seen nothing like what goes on at Giraffe Manor. Once you've spotted one of local Rothchild giraffes chilling outside this 1930's Kenyan manor house, you'll see how it got its name. Peep out your bedroom window and you'll see them grazing on the foliage covering the house before swooping their heads inside the dining room looking for a sneaky snack. Cameras at the ready; you'll need photo evidence of this one cos your pals at home def won't believe you got your toast swiped by a giraffe. 
Rooms start from £412 per night
Image source: Giraffe Manor
The Tree Hotel - Sweden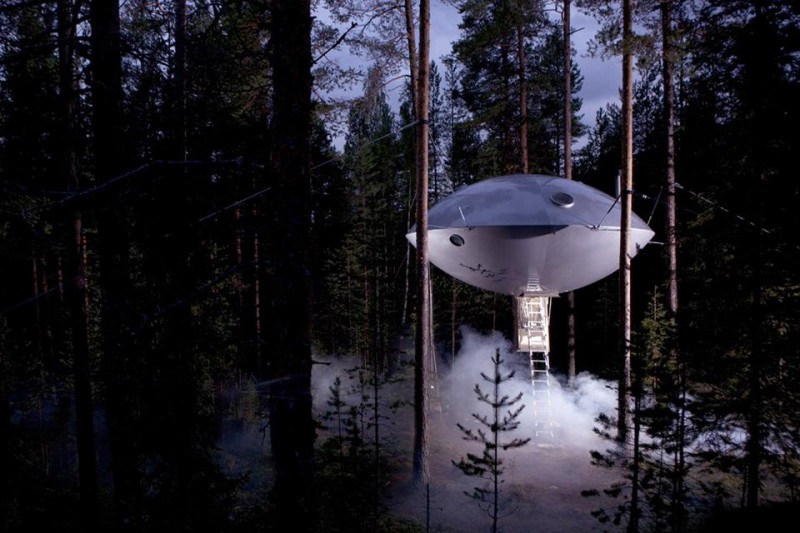 Looking for an adventure that's outta this world? We know a place. No, this isn't Area 52. This is the pine forests of Northern Sweden, home of the most extraordinary treehouses in the world. From the mirror-cubed abode hiding in plain sight amongst the branches to the camouflaged bird's nest perched in the trees - every treehouse will blow your god damn mind. But when it comes to tree-based accommodation, we like ours to be EXTRA (terrestrial). Chill in this saucer hovering amongst the trees as the Northern Lights dance across the sky. Everything inside the UFO has been inspired by space, of which there's enough of it to fit 5 - this is a wild adventure with your family's name written all over it.
Image source: The Tree Hotel
THE MURAKA by Conrad Maldives Rangali Island - Maldives
Sleeping with the fishes might have been a threat in the Godfather, but in The Maldives, it's the once in a lifetime experience you're gonna want. This is luxury on another level, baby. And by that, we mean 16 feet below sea-level. Hope you've got your sealegs, cos you'll be arriving by private seaplane before being escorted along The MURAKA jetty by your personal island host to this luxury two-level residence. It sleeps up to 6 guests, so you'll have to flip a coin to nab yourself the master bedroom submerged in the crystal waters of the Indian Ocean. Lie back on the bed beneath the 180-degree acrylic dome and watch your new neighbours swim by. When you're not being hypnotised by your bedmates, you can relax in the ocean-facing tub, take your private jet skis out for a spin or have your private chef cook you up a feast worthy of paradise. 
Itineraries are fully personalised and so rates vary, but you'll need a few hundred grand for a four-night stay here.
Image source: Conrad Maldives
Hôtel de Glace, Quebec - Canada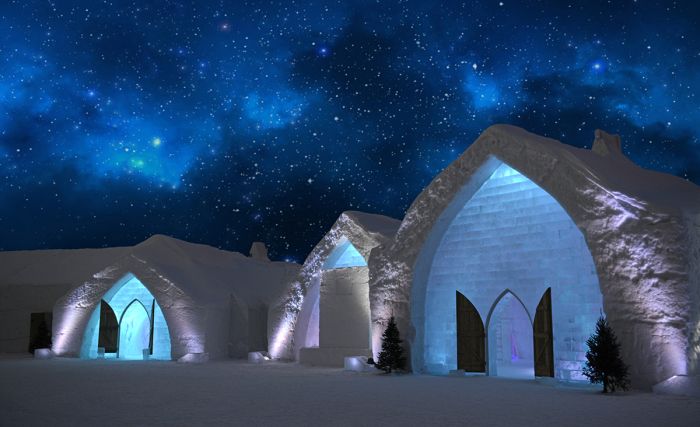 Ever stayed in a hotel that has to be rebuilt every year? It's all par for the course when you're made out of ice ice baby. Hôtel De Glace is reincarnated under a new theme every winter after a summer of inhospitable warmth. Built using 500 tons of ice and 40,000 tons of snow, this glacial palace is only open for three months a year. Seems like a lot of effort, but one that's definitely worth it for such an epic hotel. Rock your fanciest thermals and get ready for a chill break in one of their majestically themed rooms. To add a touch of warmth to your visit, hit up the ice bar for a cockle-warming cocktail served in a glass of ice. Nice!
Image credit: Chad Chisholm via Pinterest
North Island - Seychelles
It doesn't get more bouji than your own private island. Calling all ballers: this one is for you. You'll usually find potentates, oligarchs, celebs and royals kicking it on North Island, but hey, if you've got a spare £50k knocking about, you're welcome, too. This place redefines beach chic. Aside from the obvious fine white sand beaches, crystal blue diving waters and nesting turtles for company, you'll also get to enjoy the labours of your own island chef, the luxury spa facilities and the clifftop infinity pool. 
You're the boss of the island, so set your own dress code, pick which of the 11 villas you wanna have for your own (Villa North Island is the biggest, you'll want that one) and get ready for a vacay you'll never forget (cos you'll be paying it off for the rest of your life).
Double rooms from £8969.90 (that includes all your activities, grub and booze is included in that price - what a deal!)
Image source: marriott.co.uk
Kakslauttanen, Lapland - Finland
If seeing the Northern Lights is at the top of your bucket list, you'll wanna stay somewhere that has unobscured 180-degree views of them, right? This calls for the insta-famous igloos of Lapland; home of optimal aurora viewing, sleigh rides and the big jolly red-clad man himself. Wow.  These igloos for two bring all the romantic vibes. Wanna pop the question? Get your timing right and we reckon your other half won't be able to say no as The Lights dance above you. And there's more to this place than that marvel. Indulge in some TLC in the spa, steam away your stresses in the world's biggest smoke sauna or if you're an adrenalin junkie, a quad-bike safari will get those endorphins pumping.
Double occupancy in an Igloo starts from €569 per night
Image source: Kakslauttanen Arctic Resort
Hotel Paradiso, Ibiza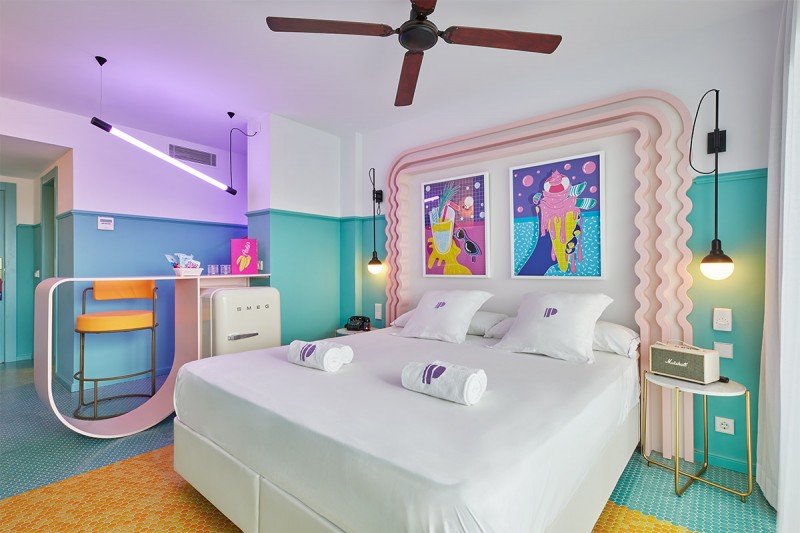 If you're looking for subtly, move along - this place ain't for you. But if you favour the bold, bright and mega kitsch, you're gonna feel right at home at this bad-ass Ibizan hotel. This pastel-accented resort is where Ibiza meets art. Flashes of neon, chromatic tiled floors, retro shapes and bright rimmed mirrors. There are some serious knickerbocker glory meets Miami cool vibes going on here, with every room complete with a Smeg fridge and Marshall radios plus a few little extras to level up your stay.
Slide into that swimsuit and get ready to pose in one of the wooden framed cabanas with their billowing strawberries and cream canopies - this place was made for the 'Gram. And this is Ibiza baby, so of course there's a DJ bringing you a banging pool-side soundtrack as you get your tan on. 
Rooms start from £135, but if you're short on cash you can stay for free if you're daring enough to spend the night in the Zero Suite - an entirely glass-walled bedroom located in the hotel lobby. If you're broke and voyeurism is your jam, you'll love this.
Image source: Paradiso Ibiza
Wythe Hotel, Brooklyn - USA
One of the best things about NYC (aside from the bars, the nightlife, the museums and the delis) is the killer skyline, and the best views of it come from the coolest neighbourhood. Manhattan is great, but BarChick is all about Brooklyn, baby, and the Wythe Hotel in Williamsberg is a bit of us. This place is almost 120 years old and used to be a factory, so it's got creative industrial vibes throughout all 70 lost-style rooms. If you're snap happy, you'll dig The Crocodile, their covered terrace which serves up a wicked food and drink menu. And of course, those floor to ceiling windows with insane King Kong skyline give an irresistible photo op.
Rooms start at £183 a night, rooms with a view come with a higher price tag.
Image source: Wythe Hotel
Charisma, Santorini - Greece
If you haven't already got this Santorini hotel pinned to your travel vision board, you're not dreaming big enough. When it comes to Grecian luxury, this is the peak. Nested into the cliff, this white-walled hotel is a portrait of design perfection. There's not a bad suite in the place. Each one has a sh*t hot panoramic view of the caldera and those infamous sunsets that dip into the endless blue of the Aegean Sea. Picture yourself at the edge of the infinity pool sipping a crisp, chilled glass of rosé. It looks good, right? Of course it does, this is perfection.
Suites start from £314 per night.
Image credit: almosafer.com