Burgers are a culinary cornerstone and they're not just flourishing stateside: they've floated across the pond and they're bigger and filthier than ever. Wanna get your hands dirty with burger juice? Of course you do. Whether you're lining your stomach in London or out on a dirty date night in Liverpool, these are the UK's best. Go get some.
London
You've got all the basics covered: the cheeseburger, the dirty bacon and the dirty cop-out (your veg option), but there's really nothing basic about them. So the question is, how dirty are you willing to go? And will you be getting a vanilla shake and a side of crinkle cut fries with that? Yes. Yes you will.
13 Bethnal Green Road, London, 13 Bethnal Green Rd, London E1 6LA
They've infiltrated London, from Brixton to King's Cross (and now rumours of a new Peckham posting yo), but they haven't lost sight of the task at hand, which is to use the finest English produce to create classic grade A burgers. Opt for a ginger pig dry aged beef burger with a side of triple cooked rosemary fries; BarChick doesn't do favourites but these fries are what our 3am dreams are made of.
12, Brixton Village, London SW9 8PR
Go get boozed up and bunned at Sebright Arms in Hoxton. It's a PROPER pub; no flimflam about gastro or gentrification, but they're serious about their supreme burgers. We're all about the 12 hour apple wood-smoked Pulled Pork Bun in and around our mouths, but they've even got a Veg Fritter Bun if you're not about that beef life. These meaty guys are food coma certs. Go.
31-35 Coate St, London E2 9AG
Nunhead isn't just for pervy punters and middle class families; it's for burgers. So get your *ss on the overground, head south and get acquainted with Burger Bear (your new best mate). Take note: he only comes out to play on Mondays, Tuesdays and Saturdays, but he's a real keeper. Which bear are you? BarChick's a ravenous Grizzly Bear (cheeseburger topped with double oak smoked bacon and Burger Bear's bacon jam) who fancies some hot wings to finish the dirty deed.
The Old Nun's Head, Nunhead Green, London SE15 3QQ
These guys have made it big. So what if it's an international chain restaurant? (Hey Singapore). It's for reason - these guys have nailed it and we've tried but you can't beat their Dead Hippie Burger. With spiked shakes like the Maple Bourbon and burgers like The Tower Block ( fried chicken fillet, cheese, hash brown, jalapenos, slaw, onions and russian dressing), BarChick comes here to stuff face, hit the killer cocktails and then party it all off.
74 Welbeck St, London W1G 0BA
Bristol
Think PAC-MAN wallpaper, alcoholic milkshakes and burgers named after 80s movie stars. They boast burgers, hot dogs AND pizza, so all your needs for oil overload on your debauched nights out are met. They even offer a substantial Gluten Free menu for those allergic to celiac. Come here if you want to feel like you're straight chilling with Screech from Saved By the Bell for sci-fi and burger banter.
189 Gloucester Rd, Avon, Bristol BS7 8BG
If you've got the raging munchies cos your toasted, go to Ciao. It's a bit of a student haunt because of the penny-pincher-friendly prices, so a fiver'll do you just fine but if you want fries and a soda pop with that New Yorker (beef, mustard, gherkin, bacon and cheese) then come strapped with a bit more cash. Their fresh off the grill burgers are the boss; grab n' go and you won't even care if there's some gap yah sh*t regaling his mates with his Burmese travel tales.
207A Gloucester Rd, Bristol BS7 8NN
Edinburgh
They've got meat encased in (what has now become prerequisite) brioche buns, craft beer, cheese dripping down the sides of burgers, greaseproof galore and little plastic cows grazing on plastic grass for the distracted child in you. When you're done playing with your food, get familiar with the drink menu, which gives you your fill of everything from boozy shakes to New York Sours. Annihilation on every front.
1 Forth Street, Edinburgh EH1 3JX
You after the anti-fast-food-no-frills affair? Go to the warm red diner that is Bell's and budge over; this 43 year old institution is micro. But urbanites beware: there are NO BRIOCHE BUNS and no bespoke cocktails in sight but thank f*ck for that: everyone to get back to basics for a nan-approved fix sometimes. Except crunchy iceberg lettuce, retro ice cream sundaes, hot fudge sticky toffee puds and more bottles of condiments than you could shake a chip at.
7 St Stephen St, New Town, Edinburgh EH3 5AN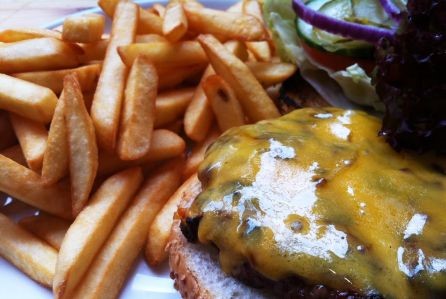 Oxford
This wicked community pub just off Cowley Road is rife with hops, geeks and succulent meats. It's a token of the no frills gloriousness but the but the burgers mean business: Angry Texan Burgers (beef patty, pulled pork, cheddar, spicy slaw, pickled onion and mayo), chips with rosemary salt and mini doughnuts with nutella dip, naturally.
28 Magdalen Rd, Oxford OX4 1RB
The inside looks like a New York student cafeteria with rudimentary scribblings on the wall. Decor? Copper light fixtures, what look like pinewood tables and chairs from Ikea and shiny white brick wall tiles. We've seen this stock American greaser menu invade the UK time and time again, but it's all about the execution. Cheeseburgers, chili dogs, hot wings, deep fried pickles: all the staples. There's even a ping pong table.
95 Cowley Rd, Oxford OX4 1HR
Manchester
When BarChick hits up Manchester this is always on the menu. The Northern Quarter is banging and this burger joint is testament to that. Get your hands on a red plastic baskets packed with bacon, cheese and juicy meats. Basically, this is where you go get bossed-up burgers that are the size of your head. Like the Triple Noms with some criss cut fries on the side. Go beast.
100-102 High Street, Northern Quarter, Manchester, M4 1HP
Labeled as a Northern Quarter institution by Mancunians and Britons in general, you go big or you go home. Steak patties, nuggets of bone marrow and candied bacon? No brainer. The prices will make a slight dent in the wallet, but it's worth it as the nosh here is outrageous. Their massive menu offers everything from Baby Back Ribs to Krabby Patties (tempura fried soft shell crab, sriracha mayo, lettuce, tomato and wasabi pumpkin seeds). Cue salivation.
Turner St, Manchester M4 1DW
Glasgow
This little piggy went to the market and came back to open up a banging burger spot equipped with all the rural American South staples: smoke pit, pool table, murky light and maybe a brawl if you're lucky. Hickory smoked beef burger topped with fried dill pickle and smoked Islay Whisky barbeque? Yes, please.
508 Great Western Rd, Glasgow G12 8EL
Liverpool
What do you expect from a Manhattan old-deli style dive bar? A slew of slow cooked meat from pastrami to pulled pork, frickles (battered and deep fried dill pickles, f*ck yeah) and chili pops (breaded and fried jalapeno peppers stuffed with cheese). We always opt for a Big Boy - triple stacked with swiss and jack cheese topped with bacon, hash brown, onion ring and pickle: you've gotta contort your jaw to get him in, but he's well worth it.
81 Bold St, Liverpool, Merseyside, Liverpool L1 4HF
Brighton
Get inside the Hobgoblin's adopted burger shack for hand baked brioche buns from Flint Owl, wild range beef and artisan cheeses. Tales of their burgers have spread far and wide and they're every bit as tasty as you've been led to believe. Be prepared for meat slathered in Troll Stink Sauce (Brighton Blue cheese, anchovy and Langham's hip hop beer), St. Giles cheese and garlic mayo; it's gonna blow your goddamn top off.
31 York Place, Brighton, East Sussex BN1 4GU
Newcastle
In this utopic underground burger cave BarChick snags the stools near the neon lights and doesn't dress Sunday best because this is where you go to get naughty and glutinous. There's even a hippo hour that'll satisfy the penny-pincher in you: 3 courses for £12. Go on and deep throat some Mac n' Cheese Balls,Triple Fried Handcuts and Southern Discomforts (Double 4oz. patty topped with cheese, bacon, garlic mayo and Holy F@$% hot sauce)—it's all wicked.
35A St George's Terrace, Newcastle upon Tyne, Tyne and Wear NE2 2SU