Sure, the British weather may not be able to make its mind up, but you can still get high in sky scraping bars a little further from home. BarChick have been hopping between rooftops to bring you the ultimate guide to where's hot up in the clouds, worldwide, all year round.
THE AMERICAS
Buenos Aires: Carnal
First impressions say American rock'n'roll bar: neon lights, hanging glasses and hell-for-leather party vibes; but the double whammy roof terrace is giving some Ibiza attitude and taking the party to the next level.
Coronel Niceto Vega 5511, 1414 Buenos Aires
Rio: Hotel Fasano Pool Bar
It's hard to miss the elegant Hotel Fasano on the shore of Ipanema Beach, filled with the swankiest of Rio visitors, but you're gonna need to own it here because this place is guests only. Hit it up in your finest and walk past the girl on the door like you belong. The ground floor, Bar Londra, is your best bet if you're deemed not worthy for the roof.
Avenida Vieira Souto, 80 – Ipanema, Rio de Janeiro
São Paulo:Skye Bar
The bar nestling above the infamous arch-shaped Hotel Unique is the perfect place to drape yourself poolside and soak up the sights. If you're feeling confident/had one too many, strip to your bikini and hit it hard by the pool to the underwater sound system.
Hotel Unique, Av. Brg. Luis Antonio, 4700, Jd Paulista, Sao Paulo
New York: Standard 
Forget the views from the overpriced tourist traps, get yourself sky high and gaze down across the classic NYC skyline. One side shows off uptown and midtown's finest; the Empire State, Met Life, etc and the other side gives a lookout to Wall Street and One World Trade Centre, so park yourself in the middle and get the best of both worlds. Check the loos before you leave too.
848 Washington St, New York, New York 10014
New York: Bar Hugo 
With floor-to-ceiling windows, a wood decked terrace looking over the Hudson, cool art, great tunes, and cocktails by Brit Ben Scorah of Bill's Food and Drink, this duplex bar is ticking a lot of boxes. Toast the town with a Light and Breezy cocktail of Elyx Absolut Vodka, lime and ginger beer, or hit up the top floor for the boozy brunch on weekends.
525 Greenwich Street, New York, NY
Las Vegas: Inspire Theater 
If the bright lights of Sin City is getting a bit much, this rooftop bar downtown will take you above and beyond the neon. With a banging view and impressive cocktails, this bar is a great spot to escape from the dizzying madness of the Vegas strip.
107 Las Vegas Blvd S, Las Vegas, Nevada 89101
Los Angeles: Ace Hotel
The new ACE Hotel in LA's Downtown took up residence in the 1920s golden oldie formerly known at the United Artists Theatre. It's perfect for laidback Moroccan garden style, great vibes and sky high sun worshiping. Arrive early to beat the queues and stay until close for the cocktails and DJs.
929 South Broadway, Los Angeles, CA 90015
Miami: Area31 
Get yourself up to The Terrace Lounge and take a look at their adventurous menu of fresh and seasonal cocktails. Order up, take in the views of the Miami River and get your feet shuffling because this place buzzes come sunset.
270 Biscayne Blvd Way, Miami, Florida 33131
ASIA
Bangkok: Sky Bar
If you're gonna get high, you might as well do it properly. Sky Bar is the world's highest open air bar and with 63 storeys below you, the views are mega. It's also home to Thailand's new signature drink, Hangover-tinis - inspired by the movie, natch.
The Dome at Lebua, 63rd Floor, 1055/42 Silom Rd, Bangrak, Bangkok 10500, Thailand
Bangkok: Vertigo Grill and Moon Bar at Banyan Tree
Whether you're packing plastic or just splashing the cash, get yourself to Banyan Tree Hotel and head up to the 61st floor. The large, multi-tiered bar, bang in the centre of the room, gives you the perfect spot for people watching, but if no one tickles your fancy, there's always the panoramic views to fall back on.
21/100 South Sathon Road, Sathon, Bangkok
Tokyo: Two Rooms 
High above Tokyo's fashion district, the elegant and stylish Two Rooms has a seriously impressive booze collection and is famed for its sublime brunch offerings. This one's great for an all-day look out.
5F AO Building, 3-11-7, Kita-Aoyama, Minato-Ku, Tokyo, Japan 107-0061
Singapore: Ku De Ta
Ku De Ta is the party home of some of Singapore's famous faces, all heading skywards for some mile high bottles and hedonism. Once the daytime tourist gangs have been ushered out, this is the place you wanna be, so leave the pocket map and binoculars at home and get involved.
SkyPark at Marina Bay Sands, Tower 3, 1 Bayfront Avenue, Singapore 018971
Hong Kong: Sugar
This moody little hideaway tucked up above East Hotel, is sexy, sophisticated and will sort you out with cocktails, tapas and some world class DJs. Sugar has it all, in just the right amounts.
32/F East, 29 Taikoo Shing Road, Island East, Hong Kong
MIDDLE EAST
Beirut: Sky Bar
Sky Bar is Beirut's original rooftop bar. Sure, its slick and chic clientele can be a little pretentious and uber trendy, but it's the views you're here for and the party. Anyway, if you can't beat 'em, join 'em.
Minet Al Hosn, Beirut, Lebanon
Dubai: 40Kong
Your heart will skip a beat as you go up to the 40th floor in the H Hotel's glass elevator, so you're definitely gonna need to knock back a few Likke Li cocktails as you gaze over the epic Dubai skyline.
The H Dubai, 40th Floor, One Sheikh Zayed Rd, Dubai, United Arab Emirates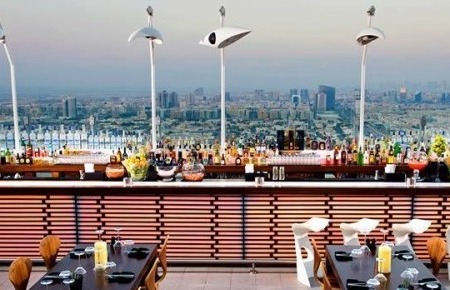 EUROPE
Lisbon: NH Liberdade Rooftop Bar 
Big dog mixologist Diego Cabrera has opened a poolside terrace bar at the top of the NH hotel. It's bit of a local secret for now which adds to the charm, plus the cocktail menu is killer.
Avenida da Liberdade, 180 B. 1250-146, Lisbon, Portugal
Istanbul: 360 
This spot is hard to find but well worth the adventure, and once the run down, stuttering lift hits the top floor, you'll see why. Like a pimped out warehouse with floor-to-ceiling windows, this seriously cool bar offers great cocktails shaken by award-winning mixologists.
Istiklal Caddesi 311, Misir Apartman floor 8, Beyoglu, Istanbul
Venice: Skyline Rooftop Bar
You're already in Venice so you're half way to the romantic dream, now just ditch the gondola and head up to the rooftop of Guidecca Island's Hilton for a Spritz and the hottest sunset views in town.
Guidecca 810, 30133, Venice, Italy
Madrid: Azotea del Circulo de Bellas Artes
Hanging above an Art Deco gallery, you can get your culture fix first before heading up for 360-degree views, sunbeds, cocktails and food. This one's open all year round too so you can get your Madrid skyline fix anytime.
Calle de Alcala, 42, 28014 Madrid
Berlin: The Monkey Bar 
On top of the trendy 25Hours Hotel Bikini, this tiki hangout will have you drinking out of coconuts and swinging in hammocks for some sky high monkey business. If all else fails, the monkeys in the zoo below will keep you entertained.
25Hours Hotel Bikini Berlin, Budapest Straße 40, 10787 Berlin
Lisbon: Park Rooftop Bar
Not your swanky kind of rooftop, this one's atop a carpark but it's become the coolest hangout in Lisbon. Think wooden benches, simple drinks and a calendar of everything from cinema nights to live shows but the view across the city, river and bell towers of Santa Catarina Church is entertainment enough for us.
Calcada Do Combro, 58, Lisbon, Portugal
London: Aqua
Sneak high above the shops of Regent Street, where the young, beautiful and absolutely loaded come to catch the view. Head straight to the two epic terraces for Asian inspired cocktails like Green Tea Coladas and view across the West End.
5th Floor, 240 Regent St, London W1B 3BR
London: Oblix at the Shard
Officially Europe's tallest bar, the 32nd floor of The Shard is where you'll find one of the best views of London, especially for the trainspotters amongst you. With mega babes on the door, leather-clad barmen with golden shakers and a badass collection of rums and ryes, this place is hot.
Level 32, The Shard, 31 St Thomas Street, London SE1 9RY
Manchester: Manchester House
From the ground it looks like yet another office block, however once you get whisked up to the 12th floor, you'll discover 360 degree views with some of the best cocktails in town. Work your way through their epic drinks list and party well into the night.
Tower 12, 18-22 Bridge St, Manchester M3 3BZ
Birmingham: The Church
The HQ for the super cool Soul Food Project, this food driven, Art Nouveau rooftop number draws in a chilled out crowd that knows something good when they see it. The drinks are NOLA inspired so expect whiskey and word on the street is they're adding a cinema up there too.
22 Great Hampton St, Birmingham B18 6AQ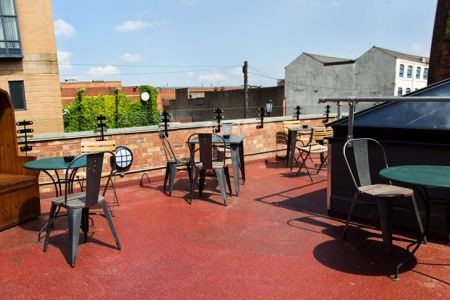 Glasgow: Ubiquitous Chip
Expect the unexpected: there's everything from an inside lake to a tropical paradise but the rooftop is where you want to bag a seat. Surrounded by views of the Glaswegian architecture, keep warm by the fire-pit and up your whisky game with their Whiskey Club or grab some food from their blindingly good kitchen.
12 Ashton Ln, Glasgow, Lanarkshire G12 8SJ
Paris: Le Perchoir
Fancy a killer view but don't want to deal with the hordes of tourists at the Eiffel Tower? Head out to the 11th where this unmarked 7th story roof terrace has 360-degree views of Paris and drinks to boot. With tent style bars and fire pits in massive oil drums, this is the cool kids response to a Soho House. No worries if it's cold and dark - heat lamps, blankets and coloured fairy lights are to hand.
14 Rue Crespin du Gast, 75011 Paris, France
Prague: Hotel U Prince
Everyone comes to Prague to navigate the streets of the Old Town and see Prague Castle, and up at this NYC style cocktail bar you can take in the best view in the city with an Old Fashioned in hand.  Atop of the Hotel U Prince it's where the posh sleep and the in-the-know party.
Staroměstské nám. 460/29, 110 00 Praha 1, Czech Republic
Moscow: City Space
140 meters above Moscow's pavements and views from Kremlin to Moscow City, the sights from up here are to die for. But you're not just here for the view; named one of the world's best bars in 2011, get acquainted with the killer cocktail menu as you'll be staying 'til close.
Kosmodamianskaya nab., 52, стр. 6, Moskva, Russia, 115054
Austria: Top Mountain Star
High above the Gurgler Tal, Top Mountain Star shines a thousand times brighter than any other. Seeing is believing with this architectural phenomenon; anchored 3082m up along an incredibly narrow, rocky ridge, it's the ultimate place to breathe in the mountains.
Hochgurgler Liftgesellschaft, Hochgurgl, Obergurgl A 6456, Austria
Athens: A for Athens 
This place is well known for their banging brekkies and as a popular night-time haunt, but it's all about the minimal bar above the hotel boasting seriously impressive views across Acropolis, Plaka and Monastiraki Square.
2-4, Miaouli St, Monastiraki, Athens, Greece
Rome: Raphael Hotel Roof Terrace
The very best way to see the ruins of Rome is on the terrace roof garden of the Raphael Hotel. Position yourself on one of the multi levels, order up the Champagne and look out over the old, authentic roofs of the 'eternal city', across the Pantheon to the Piazza Venezia. It's what the locals would do, and when in Rome…
Largo Febo, 2, 00186 Roma, Italy
Barcelona: Hotel Miramar 
This renovated 1920s palace is tranquil and super luxe. It's just minutes from Barcelona's buzzing city centre, but when you're overlooking the rooftops sipping on cocktails and Champagne, you'll feel a million miles away.
Pl. Carlos Ibañez, 3, 08038, Barcelona
Amsterdam: The Twenty Third Bar
This city has its fair share of hipster and downright dirty bars but when it comes to views you've got to look for the finer things Amsterdam has to offer.  This is the highest and swankiest open air bar and the views are ridiculous.  Take them in with oysters and Champagne or move next door for Michelin cuisine. Fancy.
Twenty Third Bar at Hotel Okura, Ferdinand Bolstraat 333, Amsterdam