So as of Saturday, London is officially entering the Tier 2 category set out by the government which means we can't meet up with anybody outside our household or support bubble (remember those?) in any indoor setting, whether at home or in a public place... HOWEVER the "Rule of Six" will continue to apply outdoors which means these awesome restaurants with al fresco dining spaces are still fair game. These are the silver linings we're living for right now.
The Thai one: Kiln & Smoking Goat
If you've been looking for an excuse to head to Kiln (as if the short grill menu plus daily changing specials wasn't already enough of a draw), this awesome side-of-the-road-type restaurant has just launched new street-side covered terraces where your crew of 6 can enjoy cooking inspired by the rural simplicity of the Thai borderlands. Dishes combining Burmese and Yunanese spicing and flavours are cooked over open fire. That's hot.
58 Brewer St, Soho W1F 9TL
Or if, like us, you and your mates have dreams of the fish sauce wings of the Shoreditch favourite Smoking Goat, good news is this place also now has covered terraces on Redchurch Street. The kitchen, led by Ali Borer, centres on carefully-sourced ingredients, with Thai herbs and vegetables grown in Cornwall and Dorset, and underrated, native seafood from Cornish waters. Enjoy a mixture of comfort dishes from the woks, and spicy seafood from the open barbecues. We're there. 
64 Shoreditch High St, London E1 6JJ
The Michelin starred one: Brat
If you had a special occasion planned with your crew that has been foiled by the intro of Tier 2, don't sweat it. The Michelin-starred Brat (AKA one of THE places you need to try in London) is still operating in the East London courtyard until the end of the year so you can still head out for that fancy supper without limiting it to fam and flatmates. Along with Brat favourites (like the turbot grilled directly on the coals in a metal basket), they're also rocking some new dishes - the fried pork chops with anchovy & hay butter and winter tomatoes have BarChick's name all over them.
4 Redchurch St, Hackney, London E1 6JL
The Borough Market one: Stoney Street
To help with social distancing measures, most of the epic restaurants found within Borough Market have now spilled out into the market courtyard - that means more tables and the perfect opportunity for you and your pals to gather for some indulging. Looking for wine? Stoney Street by 26 Grains has transformed into a bar by night that spreads out onto the pavement with candlelit tables for you to sit at while you order natural wines by the glass or bottle and small plates from resident chef Tom Cenci's new menu. Wrap up warm and settle in for a night on the cobbles.
2-3 Stoney St, Borough Market, SE1 9AA
The Vegan one: Club Mexicana
If you pluck for a table beneath the stretched canopy of Kingly Court, you and your mixed-households can join the plant-based fiesta Club Mexicana. ¡Que padre! They're all about spicy, moreish Mexican-inspired street food, like their cult Tofish Tacos, BBQ Short 'Rib' and Nachos loaded with guacamole, red pepper queso and 'chorizo'. Make the most of those zingy margaritas on tap and if you love your Paloma a little bit smokey, don't pass up on theirs made with mezcal and pink grapefruit.
Kingly Court, Soho W1B 5PW 
The French one: Galvin Bistrot & Bar
Looking for something with a little je ne sais quoi? This newly opened bistro will give you the ooh la la vibes. Located just next door to Galvin La Chapel, it spills out onto the corner of Spitalfields Market and has nailed those classic Bistrot dishes that taste like you're in the South of France, like steak tartare and confit of duck with cassoulet beans and fresh flat-leaf parsley. 
Entrance on, 35 Bishops Square, Spital Square, Spitalfields E1 6DY
The Italian one: Berberè
This place opened on the 15th October and you'll find it just behind Clapham Old Town - the perfect place to head with a few teammates after a game or two of something on the Common. Choose a few of Berberè's signature sourdough pizzas made fresh every day, and snack on a selection of 'Fritti' inspired by the Neapolitan street food - perfect to enjoy with a drink whilst the pizza is fired up in the oven. Make ours a Negroni, yeh? 
67 Venn St, Clapham Town, SW4 0BD
The Neighbourhood one: Levan
You know we can't resist a bit of Peckham, and we bet you probably couldn't resist the draw of the heated seating at the front of awesome neighbourhood joint, Levan. Pull up a seat and tuck into a menu of hearty dishes such as chestnut agnolotti with truffle or old spot pork belly with rainbow chard and plum. You'll soon see why we love Peckham so much.
12-16 Blenheim Grove, Peckham SE15 4QL
The Hipster one: CRATE Brewery
Meeting up with our mates for a few pints was one of the things we missed most over lockdown, and we'll be damned if you think we're gonna give it up again that easy. If you're the same, you'll wanna make the most of the outside area of tables and benches  overlooking  the canal that homes CRATE Brewery. They've got beer, cider, pizzas and plenty of space for your six to watch the world of the 'Wick go by.
Unit 7 Queen's Yard, Hackney Wick E9 5EN
The one with a view: Sea Containers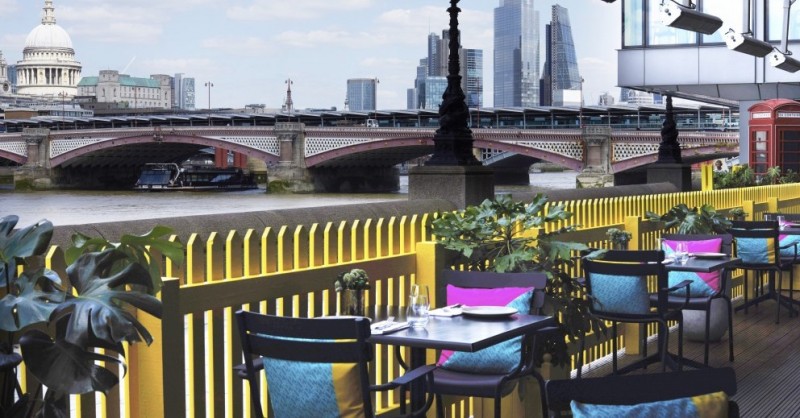 Seeking a supper with a side view of St Pauls, the Thames and a couple of bridges? Grab a table on the Sea Containers riverside terrace on the ground floor and cheers to the skyline with your crew. The kitchen has prioritised seasonality and variety in their menu, so there's something for everyone and for every occasion. Rocking up on a weekend? You'll def wanna get involved in their Grey Goose bottomless Bloody Mary or Prosecco brunch offering. Hell yes.
20 Upper Ground, South Bank SE1 9PD