Close your eyes... that's not your neighbour's vacuum you can hear, it's waves crashing on an exotic beach. Time to bring the carnival to your casa. 
Fresh as f*ck twist with summer garden freshness
Pampero Rum | Basil & Eucalyptus Tincture | Raspberry
Mint, you're on the bench - basil, time to shine. This alternative to the classic mojito is juicy, fruity, herbaceous and refreshing. Perfect for a long afternoon in your garden/soaking up the sun by your open window. 
A pimped up punch that's a killer version of the classic
Bacardi Carta Blanca & 8 yr old | Hennessy Cognac | Wray and Nephew | Velvet Falernum | Lemon Sherbet | Pineapple Juice
Holy sh*t this one packs a punch. 3 different rums, cognac... let's just say that a few of these and you'll be starting your own solo conga line in your lounge. No doubt you're gonna be totally tropical with this belter.  
Get a bottle with 10 servings right here. 
This bottled baby is bringing the beach to you
Brandy | Rum | Peach | Tea
The breeze sighing through palms, a swaying hammock, sand in your toes and a bottle of something boozy by your side. We can't guarantee any of that in lockdown apart from the last one - and all you gotta do is order this exotic treat to your door. The rest might require a little bit of imagination. 
Get yours ordered right now from here.
Forget drinking outta coconuts - vacuum pack is the way forward
Bumbu Spiced Rum | Lime | Banana | Ginger Beer
Welcome in lazy summer days with the classic from Deli Cat & Sons. Caribbean spiced rum topped up with ginger beer = heaven. Wanna be extra chill? Drink it straight from the bag with a paper straw - who needs glassware anyway? 
Get your cocktail delivered by ordering here.
A Mojito... but not like you know it
Aged Rum | Clarified Lime | Mint Tea Blend | Dark Sugars
Another awesome twist on that classic mojito - a clear concoction that mixes mint tea with all your other staple ingredients then figures it'll be better with a fizz. Same same but deliciously different - we're inclined to agree. Give it a whirl.
Help yourself to a couple right here. 
Bacardi, bananas and beers = beach bonanza 
Bacardi Anejo Cuatro | Citrus | Banana
You've decided you wanna really take this beach party to the next level - even if the last sand you saw was going into a cement mixer on your last excursion outside. The Sun Tavern has your back. Choose two bottled cocktails created on-site by the wicked bar team, and you'll get 6 beers too - all for £50. When one of the options is a Banana Daiquiri, we don't say no. 
Get ready to shake your tail-feather with this totally tropical number
White Rum | Citrus | Mango | Lillet Rouge | Bitters | Cracked Black Pepper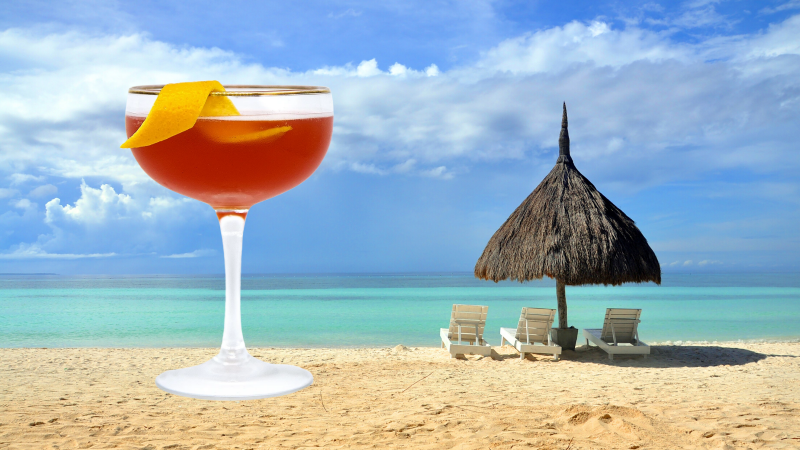 Laki Kane is one of London's most rum-soaked tropical escapes, so makes sense that they're delivering the good stuff. Named after the Northmost island of the Seychelles, this is an exotic version of the classic cobbler. Bring us mango + rum any day of the week.
London based? You can order your cocktail here.
Feeling a lil bit funky? This one's for you
White Rum | Sherry | Citrus
If sunshine & rum is a combo that makes you wanna dance, then join our gang. Get your disco groove on with this powerful and punchy number from London's sustainable Nine Lives bar. The sherry gives it that bit of extra depth, the citrus makes it crisp and then rum? That brings the funk. 
London peeps can get their drink here. 
Deep, rich, potent - the next level of rum cocktails
Havana Rum | Angostura Bitters | Molasses-Flavoured Brown Sugar
This is the Godfather of rum cocktails. It's not messing about. Those molasses make it intense and earthy, and you get all those rich flavours from the rum. Simple and damned effective.  
Grab a bottle of your own here. 
Sweet, tart and sassy - just how we like it 
White Rum | Lime | Passion Fruit
Is your lockdown missing some passion? These guys are serving it up in bottle loads. All the tropical flavours you love, perfectly balanced in a banging cocktail.  Heaven.