We read somewhere that Winston Churchill's mother invented this legendary cocktail, It's not true of course, but part of us wishes it was. History suggests that the drink originated at the Manhattan Club in New York City in the early 1870s using whiskey (usually bourbon, although the traditional recipe called for rye), sweet vermouth and bitters. Whether you drink yours sweet, dry or perfect these bars stir them best.
Famous for its classics, an evening at The American Bar is like a crash course in the history of cocktails. Know that if you order a Manhattan here it'll be made masterfully. Have your plastic ready, your tipple will probably set you back at least a score, but it'll be worth it. We say double up and hit the Beaufort Bar for a round on the way out too. Tick, tick, boom!
The Savoy, Strand, London WC2R 0EU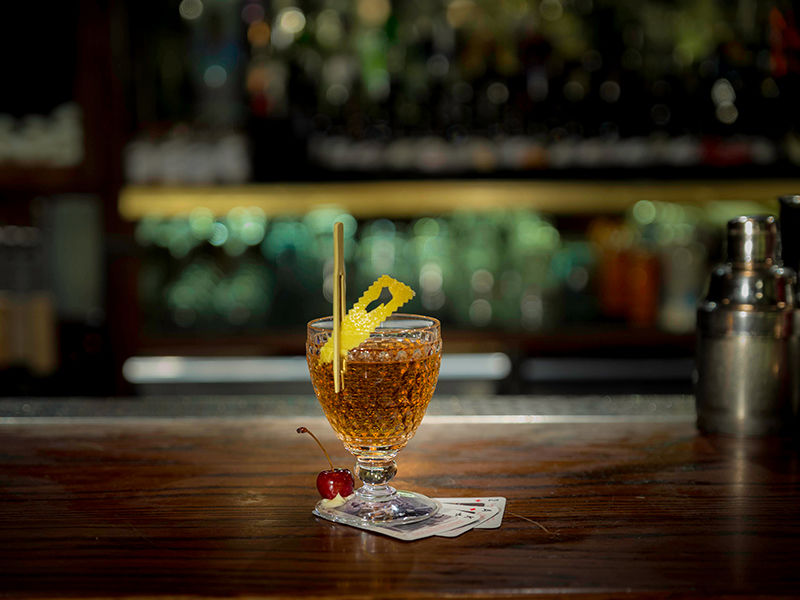 This speakeasy-style haunt situated on the Old Street Roundabout has become the source of giant queues around the block come the weekends. Visit after work for less door drama and drink the Bijou, it's like a Manhattan except it's served in a sherry glass, novel.
129 City Road, London, EC1V 1JB
It doesn't get much more swish than cocktails at The Ritz. And you know with a hotel this classic, it's the classic cocktails that that are gonna wow you the most. Take a seat in the opalescent, gilded jewel box of a room and order their outstanding Manhattan offering, made with the bar's own solera-aged Woodford Reserve whiskey.
The Ritz, 150 Piccadilly, St. James's, London W1J 9BR
It might be cemented into the heart of Covent Garden, but Balthazar is v. proud of its NYC heritage. So proud that every day at 10pm - as happy hour starts across the pond in New York City - they offer 10 different interpretations of the Manhattan, for a tenner, and each one takes you to a different district of the eponymous island. We love a cocktail that takes us to the Upper East Side, and this one does it with Mellow Corn, Cocchi Amaro, Maraschino Liqueur & Angostura Bitters.
4-6 Russell St, Covent Garden, London WC2B 5HZ
This was one of the hottest hotel openings of 2019, and with a killer new hotel ALWAYS comes a banging hotel bar. The Mezzanine Bar at The Stratford has a menu packed with modern techniques applied to familiar classics, all inspired by the New York cocktail scene between 1930 and 1960, so their 'M' Manhattan made with a house blend of Rye and Bourbon was always gonna be a headline act.
Queen Elizabeth Olympic Park, 20 International Way, London E20 1FD