Holidays are on hold, but drinking isn't.
Craving the taste of travel? That epic vacay might have been pushed back til next year, but these liquids will take ya on a round-the-world holiday from your living room. Wanderlust = sorted.
Travel to: the colourful haciendas of Mexico
By drinking: El Rayo Tequila
Colourful haciendas, flowering cacti, bottomless corn tacos... Mexico is BarChick's spiritual home and tequila basically runs in our veins. If you're craving the warm, playful beaches of Central America, dig out your sombrero, smash up a batch of guac and let El Rayo tequila take ya there. These contemporary, premium 100% agave tequilas have the deliciously loco flavours of Mexico. They're rocking an unaged silver, smooth & balanced No.1 Plata and a sweet and delicate aged No.2 Reposado. They recommend pairing either with a refreshing tonic and a thick slice of grapefruit for the ultimate refreshing T+T. A huevo, amigos!
Pick yourself up a bottle of El Rayo Tequila here.
Travel to: Copenhagen for a flavourful city break
By drinking: Empirical Spirits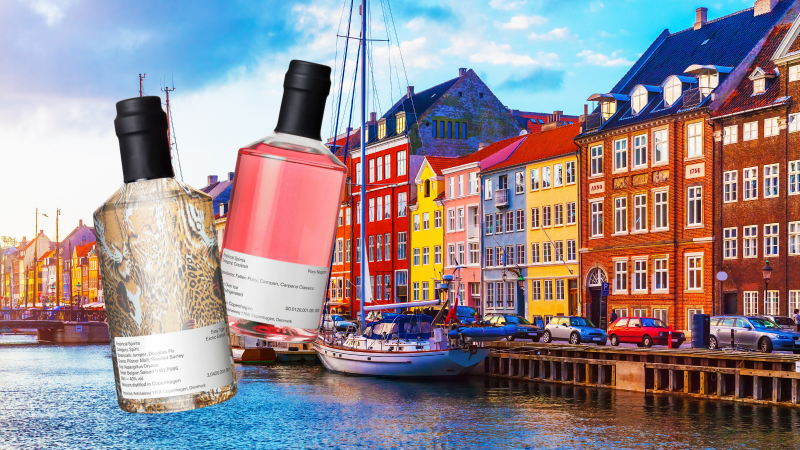 A whimsical spur-of-the-moment city-break seems so elusive right now, but the imaginative creations from Empirical Spirits will make one feel possible. Their distillery in Copenhagen has adopted some wicked techniques using high quality, seasonal ingredients to create new discoveries in spirits. These flavour bombs capture the wildness of the city, so make yourself a Smørrebrød by digging that jar of pickles from the back of your fridge and slicing up the home-baked rye bread you've perfected in lockdown, and wash it down with a bottle of Empirical Spirits to recreate the vibe of meandering down the city's canals.
Get your hands on a bottle of Empirical Spirits here.
Travel to: the turquoise-hued Amalfi Coast
By Drinking: Acqua Bianca
Towering cones of creamy gelato, pizzas topped with gooey mozzarella and golden sun-lit aperitivo hours. No-one does 'em quite like the Italians. Created by drinks industry icon Salvatore Calabrese, AKA "The Maestro" AKA the suavest Italian in the biz, Acqua Bianca is an aromatic liqueur with the legit taste of La Dolce Vita. Formulated using all-natural ingredients such as lemon, bergamot, peppermint and rose, and bound with the essence of ambergris, just pop on your favourite sunnies and pour it into spritzes, highballs and cocktails. You'll almost feel the heat of the Italian sun on your skin. Bellissima!
Get that taste of Italy with Acqua Bianca here
Travel to: Scotland for a walk through the Highlands
By drinking: Royal Lochnagar 12 Single Malt
If you're dreaming of long walks around still lochs and views of thistle and heather-covered mountains, you're also definitely dreaming of Scotch. Pour yourself a dram of the Royal Lochnagar 12-year-old and you'll be transported to the Balmoral Estate at the foot of the Cairngorm mountains. A favourite of the royal fam (all about supporting their neighbours), take a sip of this light, delicate golden whisky and you can practically feel the Scottish breeze flirtin' beneath ya kilt. Auch aye.
Buy a bottle of HRH approved Royal Lochnagar 12 here.
Travel to: the Sakura blossomed avenues of Japan
By Drinking: Kokoro Gin
This Japanese gin will put a spring in your step while you watch the season go by through your windows. Walking through the sakura blossoms of Japan is prob on everyone's travel bucket list, but the Kokoro Japanese-inspired London Dry Gin distilled with fresh sansho berries, and the sweet, millennial pink Kokoro Cherry Blossom Liqueur can take you there in just a few sips. And on the plus side: you avoid all the heaving crowds desperate to snap the perfect pic (ahh... remember crowds?)
Get a blooming bottle of Kokoro here
Travel to: the idyllic pink sand beaches of Bermuda
By Drinking: Goslings Rum
Beaches don't get more Instagrammable than the pink sands of Bermuda, but while you're gonna have to wait a while before you can sink your toes into those, you can get a bottle or two of the Bermudian Black Seal Rum for a taste of island life. This tropical spirit is as synonymous with Bermuda as banana bread is with lockdown, and plays the part of the tempest in the world-famous Dark 'n Stormy. Just add a slug of it to Goslings Ginger Beer with a wedge of lime and suddenly that beach will feel a lot closer. Don't forget to wear your Bermuda shorts to get the full effect.
Pick up a bottle or two of Goslings Black Seal Rum here
Travel to: The colourful tulip fields of Holland
By Drinking: Ketel One Botanical
Ketel One has been kicking around for 327 years, passed down over 11 generations - so when it comes to Dutch spirit, it doesn't get more authentic than this. You might be missing out on Holland's insta-famous tulip season this year, but for a taste of the floral, you could pour yourself one of their three Botanical expressions. Build 'em up into a spritz and picture yourself frolicking through the tulips as it passes your two lips. 
Get your hands on the trio of Ketel One Botanical here
Travel to: the crystal water beaches of Seychelles
By Drinking: Takamaka Rum
Raise your hand if your daydreams of crystal blue waters and soft white sand beaches have increased ten-fold since this sh*t went down? Holla! We've been making our daydreams feel more like reality with Takamaka Rum which comes from the other side of the rum-making world. It all tastes a lil bit luxurious, not just made IN the Seychelles but from the Seychelles. You literally couldn't get closer to these beautiful islands right now. Paradise: found. 
Add a bottle of Takamaka to your home bar here.
Travel to: the opulent cities of India
By drinking: Jaisalmer Gin
If you're channelling serious Quarantine Queen energy, you'll love this Indian craft gin which harks back to imperial age of India's Maharajas and Maharanis - opulent, elegant, royal. That's a lockdown vibe right there. Dig out your finest clothes (maybe something without an elasticated waistband?) and shake up something bold using Jaisalmer Gin with its spicy take on Indian flavours. It'll taste like an oasis in the desert, and you might see a mirage of holidays to come in the distance as you sip... 
Add a bottle of Jaisalmer Gin to your collection here
Travel to: the epic coffee houses of Australia
By Drinking: Mr Black Coffee Liqueur
Aussies make the best coffee. Fact. First thing we're prob gonna do when lockdown ends is bee-line for one of London's Australian cafes and order up a kick-ass Flat White. Til then, if you're hankering for your Aussie caffeine fix, hit up a bottle of Mr Black. It's a bittersweet blend of top-grade Arabica coffees and Australian wheat vodka made by hand at their coffee roastery and distillery just north of Sydney. This is a cold brew liqueur for coffee purists... and it means you can skip the long-haul flight.  BOOM!
Travel to: the warm waters and purple sunsets of the Meditteranean
By drinking: Vita Vodka
This unique citrus vodka can transport you to the warm breeze shores of the Med without having to suffer the middle seat on a budget flight. Sign us up. Late sunsets, light evenings, patios, waves lapping. All of that is bottled, baby. You can practically hear the crickets chirruping and feel the warm breeze swishin' through your locks as the cork top twists open. Made at a family-owned distillery in Barcelona, this crisp vodka is made with botanicals sourced from all corners of the Med, including sun-ripened lemons for a citrus twist. Pass us the suncream.
Grab yourself a bottle of Vita Vodka here
Travel to: the Instagrammable islands of Greece
By drinking: Metaxa 12 Stars
This coppery amber spirit was dreamt up by Metaxa Master Constantinos Raptis with a vision that it would take you on a journey. Mission accomplished. A couple of sips of this fruity spirit with its notes of apricot and peach and you're whisked to the white paved streets of the idyllic Greek islands. Who needs a summer holiday when you can fashion up a toga from your bedsheets, whip up some home-made tzatziki and pour a couple of these over the rocks? 
Add a bottle of Metaxa 12 Stars to your shelves here.
Travel to: the cultural gems of Chicago
By drinking: FEW bourbon
Feel yourself swaying as you cross the streets of Chicago? Could be cos you're in the Windy City, could be that you've had a few too many FEW bourbons. We're gonna go with the latter. This epic bourbon is packed full of toffee, clove, vanilla and warming spice. Just the thing to warm your cockles as you take a look round impressive architecture of Chicago - or go on one of their Prohibition tours. Famous gangsters like Al Capone and Bugs Moran made this the place Speakeasy central in the 1920s. Booze history at its best.