It might have been made famous by Hugh Grant, but Notting Hill has way more going on for it than a floppy-haired toff.
You could spend a week exploring Notting Hill and not get bored. Rub shoulders with proper bohemian Londoners who were artists in the 70s, check out Portobello Market, visit for the Carnival and dance ya socks off... and eat & drink to your heart's content.
Kick-Off
With an opening time of 7am, Granger & Co is worth heading down to early, as this place draws a crowd. It's the perfect stomach lining start to the day, hit the juice, fruit and grains menu or go large with Bill's Classics. They start serving white peach Bellinis and Bloody Marys at 11 am if you stay longer. Or if the sun's shining hit 202 for a banging breakfast while catching some rays. If you're on that healthy/vegan flex then swing by to Farmacy - even the chocolate chip waffles are made with 'sunwarrior protein'. Respect. 
Granger & Co, 175 Westbourne Grove, London W11 | 2SB | 202, 202 Westbourne Grove, London W11 2SB | Farmacy, 74-76 Westbourne Grove, London W2 5SH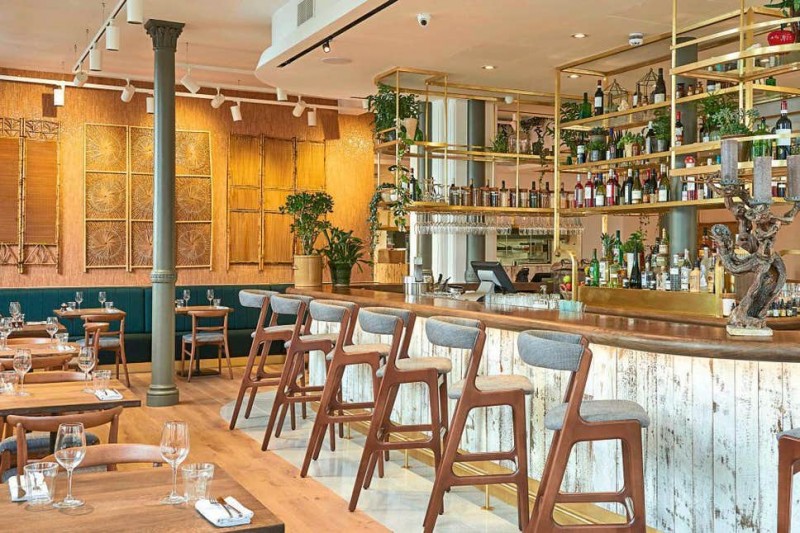 Brunch
You're in just the right area of town to settle into some brunching. Hit the Electric Diner for Soho House wannabes (the members club is upstairs), mega burgers and booze. Settle into the red-hot booths and get started on the famous Picante De La Casa, it rocks. If you're down for something a little less sceney, The Tin Shed on All Saints Road does great coffee and all sorts of baked goods and avocado on toast to soak up last night's booze. For all your egg-based needs, Eggslut is the one. Their signature dish is called The Slut, no less. It originated in LA so expect the trend-hunters of London to have settled in. 
Electric Diner, 191 Portobello Road, London, W11 2ED | The Tin Shed, 33 All Saints Rd, London W11 1HE | Eggslut, 185 Portobello Rd, Notting Hill, London W11 2ED
(Liquid) Lunch
It's time to hit the big boys, Notting Hill hides some of the best cocktail bars in town so you better get started. Everyone's favourite neighbourhood bar, The Portobello Star is where BarChick heads every time. The boys behind the bar are badass, they do a mean Tommy's Margarita and they even have a "Ginstitute" upstairs where you can make your own gin. Pizza East is the perfect place to relax with a slice of something and a bottle of wine, and it has a super chilled vibe. For a long lunch sesh head to The Shed and pitch up in the cute garden. It's got Sussex vibes right in the middle of W8 and is the perfect place to eat, drink and get merry. Opened by two brothers, they've nailed the décor (tractor bonnets and old cartwheels) and are big on foraged, wild, fresh ingredients. Get on the super creative cocktails, including a weekly changing infused gin and tonic.
The Portobello Star, 171 Portobello Road, London, W11 2DY | Pizza East, 310 Portobello Rd, London W10 5TA | The Shed, 122 Palace Gardens Terrace, Kensington, London W8 4RT
Afternoon Pub Session
The Cow is an old favourite and a must-visit haunt, the locals love it. It does the old trick of Oysters and Guinness like no other. Not into those slippery suckers? Tuck into a pint of prawns alongside your ale. Upstairs is more of a fancy-pants dining room but we like to chill down by the bar, hanging with the eccentric clientele who've been coming here for years and have a few stories if you get them p*ssed enough. The Elgin is another failsafe gastropub that's been spruced up to look fancy and is the perfect place for an afternoon sesh that mooches into evening. Plus there are over 40 gins to be tried in their El Gin Bar (geddit?)
The Cow, 89 Westbourne Park Rd, London W2 5QH | 255 Elgin Ave, Maida Vale, London W9 1NJ
Hot Dinner Date
Wanna make an impression? Go for Gold. This place is nailing it. For one thing - ultimate interior goals. A casual-chic cocktail bar vibe up front, tropical conservatory covered in pretty plant life out back, fresh coral-covered dining room upstairs. The food is small plates designed to share and we say over-order because you will love everything you put in your mouth. Need even more reason? Cocktails are by that talented duo Matt Whiley and Rich Woods (aka The Cocktail Guy). Screw a date, just go solo. Fancy some swanky seafood from a famous chef? Jackson Boxer's Orasay is a must-visit for fish fiends and the wine selection is epic. You'll splash some cash but it's worth it.
Gold, 95-97 Portobello Road, Notting Hill, W11 2QB | Orasay, 31 Kensington Park Road, W11 2EU 
Late Night
It's time to hit the rum and hit it hard. And you're in luck because one of London's finest collectors is in the area. Trailer Happiness is kinda like the end of the beginning. Come down here and you may never come out again, it's that good. Think Don Zombie cocktails, Dirty Dancing and banging DJs at the weekend. Keeping it rough and ready? The Globe is one of those buzzing dive bars that you'll always have kinda hazy memories of, but know you had an epic time when you wake up. Probably with a lil bit of a hangover. 
Trailer Happiness, 177 Portobello Road, London, W11 2DY