When it comes to big declarations of love, say it with cocktails.
If bae deserves some 5* luxury...
Spending Valentine's at home? Give your casa the 5* luxury hotel treatment and get The Savoy delivered straight to ya door with their extra fancy Valentines offering available to any crib found within the M25. Channel the vibes of their two epic, award-winning bars with their Valentine's Cocktail Box featuring two hella romantic serves; a Cupid inspired concoction of 'Desire' AKA a blend of malt whisky, red fruits, spices and sherry, creating the perfect chemical and physical balance; and La Vie En Rose, a bright and enticing cocktail which balances citrus and floral flavours, with a spicy pink peppercorn finish to bring love to life.  Be still our beating heart.
Available to order from The Savoy At Home website. RRP £38 for the Cocktail Box.
If you need some help from Cupid
If your Valentine is working late on the big day, tap up Silver Lining's 'Cupid Service' and they'll deliver your beau a bottle of delicious Viñedo De Los Vientos Estival Pét Nat on your behalf straight to their door. If Love Actually taught us anything it's that nothing says I love you quite like turning up at someone's door unannounced - even better if it's a bottle of plonk.
Orders for Silver Lining's Cupid Service can be made via Silverlininge9.com RRP £20 (inc. delivery)
If your love story is in need of a Prince...
Holborn's ultra-luxe Scarfes Bar has joined forces with Noilly Prat (a dry vermouth fave of ours) to make the ultimate power couple this Valentine's Day. Liquid Love, the sexy, limited edition cocktail, embellished with a caricature of Prince in the style this Holborn bar is famed for, is a blend of Noilly Prat vermouth, Bombay Premier Cru, Pandan Cordial and Green Chartreuse, bottled ready to be enjoyed at home and available for the whole of February for those wanting to drag the romance out that little bit longer...
This Limited Edition 300ml Valentines Cocktail (4 serves) is priced at £28. Contact the bar to order yours. 
If chocolate + tequila is the way to their heart...
Tequila + chocolate? If that ain't a foolproof aphrodisiac combo, we don't know what is. Hacha's Mirror Margs have always got our hearts racing, but now they've added white chocolate and orange into the mix, they're really talking our love language. If your lover has the same, ordering a bottle of this limited edition Valentine's special is better than any bunch of flowers, with its combo of Patrón Silver Tequila, homemade Hacha sour mix, cane syrup, orange oils & white chocolate.
Each bottle is 500ml and priced at £36 & contains 4 large cocktails per bottle, ready to pour straight over ice. Order by 6pm Thurs 10th Feb to receive by V Day by post, or click & collect by Sat 12th.
If you're on the hunt for an Adonis...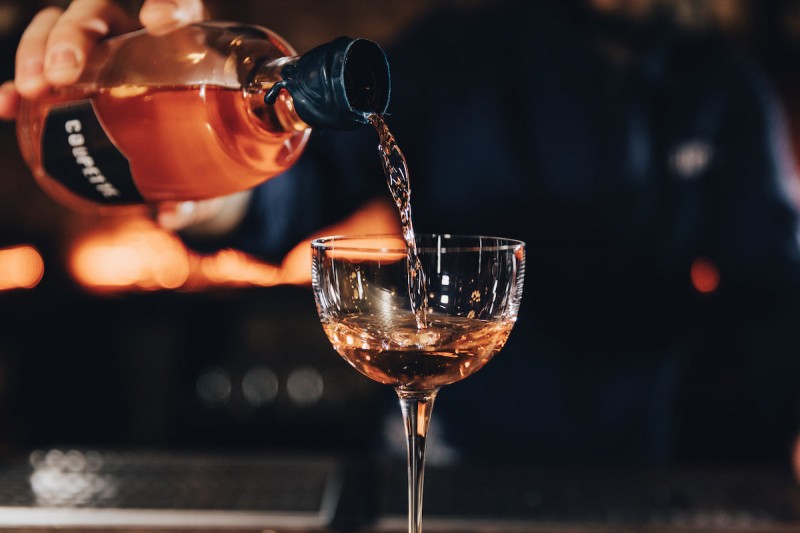 Coupette, AKA the multi-award-winning Bethnal Green bar (seriously, they've almost got more trophy's than bottles on their back bar) has one helluva woo-worthy cocktail for ya to couple up with... and it's a total hunk. The Strawberry Adonis is a buff RTD blend of Absolut strawberry, Noilly Prat, Chamberyzette, Strawberry tio pepe & minus cream, served in a 350ml or 500ml bottle. The only date we want this Valentine's Day, and it's available beyond romance season so your love affair can continue.
Available from the Coupette Market for £26.50 or £35 per bottle. 
Published 02/2021
Wanna keep the romance going all year round? These 10 romantic cocktails will pimp any at-home date night