On Saturday in New Orleans, the creme de la creme of the global cocktail community got dolled up in their Cuban best and recognized that London is the best city in the world when it comes to drinks. Taking home 6 out of 8 international categories, plus being the home of this years Lifetime Achievement Award winner, it's safe to say: we got it going on.
Best International Cocktail Bar: The Artesian
Year after year, The Artesian continues to show the world who's boss when it comes to cocktails, racking up awards like candy. With artfully presented, mind blowing drinks, plus some of the best bartenders in town, this is so much more then just a hotel bar.
Best International Hotel Bar: The Beaufort Bar at The Savoy
With so many tourists coming to London every year, it's a no brainer that we kick ass at hotel bars. So much so, in fact, that all of the top 4 nominees were from the Big Smoke. Want the best? Head to The Savoy where the dark and sultry Beaufort Bar, with the talented Chris Moore at the helm, will seduce you with a mind-blowing (and literally pop up) menu.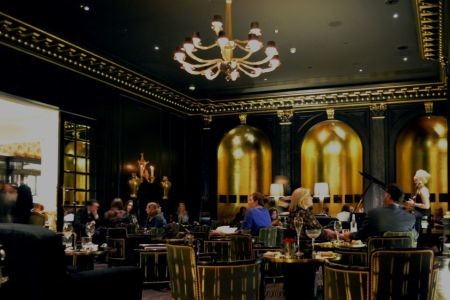 Best International Restaurant Bar: The Blind Pig at Social Eating House
Hidden above Michelin-starred Social Eating House in Soho, this is an absolute must when in central. With a menu full of puns like the "Dill or No Dill," and open from noon, they've got you covered for anything from work meetings to dates to just blissing out at the bar & watching them do their thang.
Best New International Cocktail Bar: Dandelyan
With last years winners, White Lyan, behind the drinks program at the Mondrian Hotel down on the Southbank, it comes as no surprise that this swank hotel bar took home an award. Settle in on one of their lush purple velvet banquets, gape at gorgeous views of St. Pauls & sip on their expertly designed drinks.
Best International Bartender: Ryan Chetiyawardana
Sure, no one can pronounce his name, but he hasn't let that stop him from being one of the best minds in the biz. Kind, humble and positively genius when it comes to drinks, Mr. Lyan (as he's frequently known) is almost a scientist, looking at drinks in a way completely beyond most of us.
Best International Brand Ambassador: Claire Smith-Warner
It sounds like the best job ever: traveling the world & partying with bartenders, getting them interested in a product, but its also a lot of work. Known as "The First Lady of Vodka," Claire has brought a style & class to Belvedere that has completely elevated the entire category of vodka. She's essentially upgraded the spirit from 'something that you knock back in uni to get plastered' to 'something you specifically order to savor and enjoy.' With a home base like London, she obviously has great taste and knows what's up.
Whilst it's apparent that London is the best (this time around), here's a huge congrats to all winners around the world, including all the underdogs. Better yet, here's a massive congrats to everyone who's in it for the love of booze. We salute you all.
American Categories:
Best American Bar Team - Employees Only (New York)
American Bartender of the Year - Ivy Mix (New York)
Best American Brand Ambassador - Brooke Arthur (House Spirits)
Best American Cocktail Bar - Williams & Graham (Denver)
Best American High Volume Cocktail Bar - Employees Only (New York)
Best American Hotel Bar - The Broken Shaker (Miami Beach)
Best American Restaurant Bar - Eastern Standard Kitchen & Drinks (Boston)
Best New American Cocktail Bar - ABV (San Francisco)
Writing Categories:
Best Cocktail & Spirits Publication - PUNCH
Best Cocktail & Spirits Writer - Dave Broom
Best New Cocktail/Bartending Book - Liquid Intelligence: The Art and Science of the Perfect Cocktail by Dave Arnold
Best New Spirits Book - Whisky: The Manual by Dave Broom
Overall Categories:
Best Bar Mentor - Jim Meehan (Portland)
Best New Spirit or Cocktail Ingredient - Amaro di Angostura
World's Best Cocktail Menu - Dead Rabbit (New York)
World's Best Spirits Selection - Canon (Seattle)
World's Best Bar - Dead Rabbit (New York)
Special Recognitions:
Lifetime Achievement Award - Jonathan Downey (London)
Sam Guarino Citation - Steve Mannan