This Thursday October 10th, VOGUE Fashion's Night Out hits Manchester for the first time, and it's set to be banging! To survive, BarChick has put together the ultimate guide on where you can find the hard stuff, 'cause shopping is always better with booze. And when you've shopped 'til you've dropped, check out these after parties to shmooze with fashion's finest.
In the Shops
Selfridges will be kicking off the party with vodka snow cones and a DJ set from Jameela Jamil, while River Island will be hosting their own 'Fashion House of Fun' with guest DJs and complimentary cocktails. If you're a fan of Cognac head to the BOSS flagship store from 7.30pm to sip on a Remy Martin cocktail or check out Hervia Bazaar for a fruity Tequila Rose or Whitley Neill Gin.
Visit House of Fraser and their ground floor pop-up bar for the evening, hosted by Bem Brasil to sample their very own FNO cocktail, or head over to Exchange Square for fashion shows throughout the day plus cocktails from The Blue Pig.
Gin Mare competition finalist, Susie Wong will be making the cocktails at the launch of Jean Jackson's Bridal Wear store over in the Northern Quarter using City of London Gin and Cointreau. The party will be flowing over two floors in the converted warehouse, with the soundtrack provided by some of Manchester's finest resident DJs. (51 Turner Street, M4 1DN)
The Alchemist have also partnered with a number of stores across town including Reiss, Topshop and Crombie, in preparation for the Vogue Lock In later on, so look out for their cocktails across the city.
The Afterparties
From 10pm Australasia's Grand Pacific Bar and Garden will be playing host to FNO partygoers, ensuring the party doesn't stop when the shops close. They'll be hosting VIP guests in their secluded drinking den where you'll be able to refuel with a glass of champers in the heart of all the action. There's a guest DJ to keep you rockin' for the evening plus a special FNO cocktail made with hibiscus, vodka, Cointreau, jasmine, cranberry and lemon available just for the night.
1 The Avenue, Spinningfields, Manchester, M3 3AP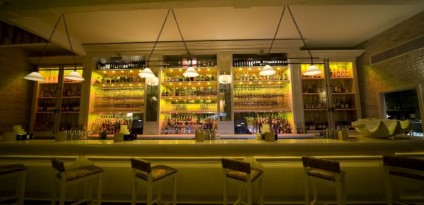 If you don't know the Liquorists by now, get to know them. Famous for their spirit and cocktail trails around Manchester and hosts of the Gincidents, they hold some of the best cocktail parties around. Joining forces with Diageo Reserve Brands, producers of some super fine spirits, they will be launching their newest venture 'Reserve' in the former All Saints store just in time for fashion's elite. The ground floor tasting and retail area complete with high end spirits will open to the public at 6pm, but there will also be an invite only party upstairs hosted by the master cocktail makers, and sponsored by Grand Marnier so it's bound to be glam.
52 King Street, Manchester, M2 4LY
Minutes from the action in House of Fraser, celebrate Fashion's Night Out at Gaucho Manchester with their exclusive cocktails created in honour of Vogue's famous editors. When you've finished checking out HOF's exhibition of Vogue's most iconic cover shoots, head around the corner to the bar and restaurant where you'll be able to try a spicy twist on an Espresso Martini, aptly named The Wintour made with a powerful mix of vodka, coffee liquor and chilli flakes or La Sozzani made with a bitter Italian spirit.
2a St Mary's Street, Manchester, M3 2LB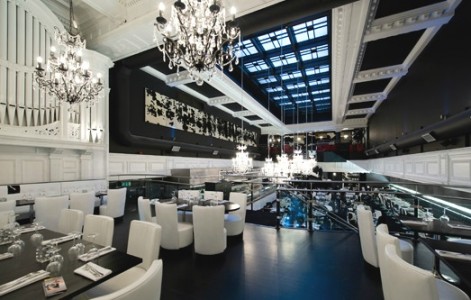 For Vogue FNO's first appearance in Manchester the Alchemist in Spinningfields will be holding a serious after hours shindig, The Vogue Lock In. From 10pm they will be offering 2-4-1 cocktails from their special Vogue menu, designed to celebrate fashion icons served by some seriously hot barmen. Think Breakfast at Tiffany's with The Audrey made with orange marmalade, Beefeater Gin, Cointreau, lemon juice and sugar or pretend you're Kate Moss with vodka, sugar and lemon, topped off with Champagne.
They've also partnered up with Crombie and Topshop to serve drinks in store so make sure you stop by to check out the goods.
3 Hardman Street, Spinningfields, Manchester, M3 3HF
Party Manhattan style in Neighbourhood where they will be mixing up bespoke Vogue cocktails for an exclusive guest list in their restaurant and bar.
The Avenue North, Spinningfields, M3 3HA