Some things are great when they're hot and glistening with perspiration – the cast of Magic Mike, for example. Some things –like the Central Line at 6.15pm on Monday - not so much. Yes, there's an ongoing heat-wave. Welcome to summer, Great Britain. Melting? Do the Very British Thing of 'getting on with things', alcoholic bevvy in hand. You got this.
Hot newcomers
Startle your friends with your superior cocktail knowledge by nailing drinks at these new bars.
Savage Garden
Opened: 25th June
Nothing to do with the 90s pop duo (sadly), everything to do with Instagram-worthy cocktails that have an experimental twist. This rooftop bar channels urban grit – graffiti, stone and metal give it that 'derelicte' effect. Cocktail names are on the wild side, so take a date and ask if they fancy a 'Horny Beast.'
7 Pepys Street, EC3N 4AF
Bar Hercules
BarChick might enjoy seeing in the early hours via a lock in - but that doesn't mean we don't like a bit of literature too. You can do both, yeah? So the new Bar Hercules manages to cover all bases. Former olde-pub that's name-checked in a Charles Dickens novel? Tick. Title referring to a Greek mythological figure? Tick. Back-bar stocked with killer cocktails of the pre-bottled variety? Big tick.
Head to the site formally known as Pillars of Hercules on Soho's Greek Street and gather your strength, because these cocktails aren't for the faint-hearted. We recommend going for their twists on a classic - the Americano comes with a slice of jelly, and their version of a Bloody Mary uses clarified tomato to produce a trippy clear cocktail that might look like water but trust us, it's punchy.
7 Greek Street, London, W1D 4DF
barhercules.co.uk
Mr Fogg's House of Botanicals
Opened: 26th July
Botanically-inspired beverages in a two-storey townhouse, decked out with ferns, fronds, and fancy flora galore - what's not to love? Hello Instagram. Embrace plant power by heading to the fourth installment of the adored Mr Fogg's cocktail bars –even the new menu is seductively named 'The Secret Language of Flowers.' Lush in every sense of the word.
48 Newman St, Fitzrovia, London W1T 1QQ
BOTTLES wine bar
Opened: 6th July
Wine, wine and more wine – if this is music to your ears, then BOTTLES is the place to be. Leave the snobbery at the door - this chilled space for people to kick back and enjoy over 180 different varieties of the grape stuff - although maybe not in one sitting. Sounding dangerous? Order some delicious Italian nibbles to soak up all that vino. Hangover avoided (maybe).
67 Brushfield Street, E1 6AA
Upper 5th at The Courthouse Shoreditch Hotel
A night of cocktails + courthouses = not the kinda maths that BarChick likes to contemplate. That is until you add Shoreditch to the mix and reveal the courthouse in question is actually a buff new hotel with a terrace. Shimmy over to Upper 5th Shoreditch, located on (you guessed it) the fifth floor of The Courthouse hotel, and bathe in the glow of London's skyline while soaking up the New York vibe that they're channeling. Can this slinky and sexy terrace stand up to the rest of the rooftop bars vying for space out East? We're rather partial, but we'll let you be the judge.
Courthouse Hotel Shoreditch, 335-337 Old St, London EC1V 9LL
Chiringuito
White sun loungers basking on a rooftop; DJs playing Balearic beats into the night; sunset sessions with a glass of sangria propped at out elbow – hello, and welcome to BarChick's happy place. And while we feel like Ibiza awakens our spirit animal like no-where else, much easier to amble to East, where Chiringuito has arrived to fulfill all those holiday cravings. Based on the Spanish concept of being ridiculously chilled and just tucking into a few drinks and tapas when you feel like it, Chiringuito is bringing the beachy vibes to Bethnal Green. Sip on cocktails like the tropical Samba (Abelha Cachaca, Fresh Lime, Pineapple and Coconut Horchata) as you watch the sun set and pretend you're about to see Fatboy Slim hit the decks. Don't forget to order a plate of food or three – the sea bass ceviche and roast pork belly are not to be missed.
Grab these while you can
Like Love Island contestants post-show celebrity-status', they're not going to be around for long. Make the most of these limited edition cocktail pop ups!
Aperitivo Hour with Italicus at SkyGarden
Booze and heights – not generally a great combo, until you add Fenchurch Terrace to the equation. This bar with a killer London view (37 floors up in SkyGarden FYI) has partnered with BarChick favourite Italicus Rosolio di Bergamotto, so you can sip pre-dinner delights like a Negroni Bianco, take in the scenery, and play the game of 'which direction is my flat in'.
1 Sky Garden Walk London, EC3M 8AF
St-Germain cocktails at Dalloway Terrace
Things we love that are French – croissants; kissing; St-Germain Elderflower liqueur and the mesmerizing Madame behind it.. Thankfully, at least one of these things can be found at the newly revamped Dalloway Terrace - sit back beneath the froth of flowers, order yourself the likes of a St-Germain Spritz from their special summer menu, and congratulate yourself on how sophisticated you feel.
16-22 Great Russell St, Fitzrovia, London WC1B 3NN
A starry eyed combo at Harry's Dolce Vita
It's usually the morning after a particularly party-night that has BarChick seeing stars – but this month, our Italian cousins turn their gazes skywards. Why? Because in August shooting stars light up the heavens like strobe lights at a Shambala after-party.  To celebrate this trippy event, Harry's Dolce Vita is serving up a special shooting star dessert and cocktail combo throughout the week leading up to La Notte di San Lorenzo on Friday, 10 August. You can enjoy an Instagram-worthy 'Comet' dessert made with white chocolate mousse, passion fruit gel, raspberries and popping candy (always a crowd pleaser), followed by the Milky Way cocktail. We can't think of many more indulgent blends than Baileys, Saleza Amaretto, Frangelico, Expre Coffee Liqueur and cream – comet us, please.
Available until 12th August.
https://www.harrysdolcevita.com
The Pacific Paradise menu at Black Roe
Keep your teeny-weeny polka dot bikinis, because we're heading to Black Roe for our tropical fix. Travel between Bora Bora, Hawaii and Tahiti, with a sun-drenched cocktail menu that evokes cracked coconuts, juicy pineapple, and nights spent skinny-dipping in the Pacific. The Pacific Paradise menu will transport you to a tropical oasis with cocktails such as the Aloha, made with Tanqueray 10, grapefruit juice, St Germain elderflower liqueur, yuzu juice, and foam made from peach puree, Prosecco and lemon. We can feel the sand between our toes already, but it won't last long - the menu finishes this month.
Available until end of August
https://www.blackroe.com
BBC Proms Cocktails at The Ivy Kensington Brasserie
Ah, the BBC Proms. If you're a fan they're a great chance to listen to some dope music – if not, you'll just end up feeling pretty uncultured. Perk yourself up by ordering the Classical Lady and Strawberry Symphony from The Ivy Kensington Brasserie. You'll feel more refined after a cocktail, promise.
96 Kensington High St, Kensington, London W8 4SG
34 Mayfair becomes 34 Mexico with Licoreria Limantour
You're hot, you're testy, you want a hit of alcohol to counteract the fact you just spent a tube journey jammed under some guy's sweaty armpit… get your fiesta face on and go loco at 34 Mayfair. Legendary Mexican bar, Licoreria Limantour is bringing the party with 10 special cocktails, served over a total of 34 hours. Sounds like a challenge, no?
6-10th August, from 5pm – 11:48pm
34 Mayfair, 34 Grosvenor Square, London W1K 2HD
Bookings of the boozy kind
Though we want to pretend that sitting in our pants in front of a fan, drinking gins in tins straight from the freezer, is a hobby – it doesn't fly. Get out of the house and into the spirit of things with these events.
KRUG Encounters – Tracks on Tracks
Want to know the way to BarChick's heart? Fine food, live music and dazzling Champagne is certainly on the right track - and so the KRUG Encounters sounds like the kind of night we'll be hitting. This epic experience takes place on a train. Channel those mega-glam Agatha Christie vibes (minus the murders, let's hope) by whizzing through countryside on a private luxury train, stopping at a trio of platforms for a series of exclusive musical performances. The legend that is Jools Holland has hand-selected the tunes, the dishes are crafted by Luke Robinson who's smashing it at Evelyn's Table, and the sparkling stuff is provided by one of our favourite Champagne houses, KRUG. What's more, KRUG lovers will also savour the recently launched KRUG Grande Cuvée 166th ème Edition. The whole thing's exciting enough to make you go loco(motive).
Tickets, starting at £450 including all food, drink and return travel to London, will be available from www.krugencounters.co.uk.
Think pink with this awesome Nobu x Veuve Clicquot brunch
Nobu Shoreditch are nailing bottomless with this most elegant of special edition boozy brunches, where they're offering bottomless Rosé Champagne alongside a specially curated menu showcasing some of Nobu's signature dishes.  Proper date territory. The Pink Brunch is available on both Saturdays and Sundays for the entire month, and £85 gets you two hours of unlimited access to the brunch and dessert bar, a main dish, plus (our favourite bit) unlimited Veuve Clicquot Rosé Champagne. Seeing the world through rosé tinted glasses makes for one epic weekend.
https://www.nobuhotelshoreditch.com
Work your way through whisky at Sexy Fish
The Bar at Sexy Fish is currently killing it with their collection of Japanese whisky – the world's largest collection, no less. That's 400 bottles and counting – and with all the will in the world, even BarChick doesn't think we'd be able to say Kampai! to each of those. Alongside this, the bar serves 'Cocktails to Whet Your Senses'. Want to know more about it? Check out our review of the menu HERE.   BarChick is all about 'waste not, want not', so a menu that champions a sustainable approach, using no perishables, gets the green light from us. What's more, the menu is presented as a cocktail cookbook, with each serve accompanied by a recipe, so you can remake the drinks at home. Did we just become Domestic Goddesses?
https://www.sexyfish.com
Cointreau Brunch at South Place Hotel
Date: Sunday 12th and 19th August
Bottomless Prosecco and avo on toast are so last summer – in this heat-wave it's all about channeling the tropical vibes of Acapulco (minus any suspicious budgie smugglers) and getting stuck into a Margarita to start your Sunday. Head to the Margarita Loves Cointreau pop-up at South Place hotel for a Mexican brunch and cocktail masterclass that'll ensure those fuzzy party feelings last all weekend.
3 South Pl, London EC2M 2AF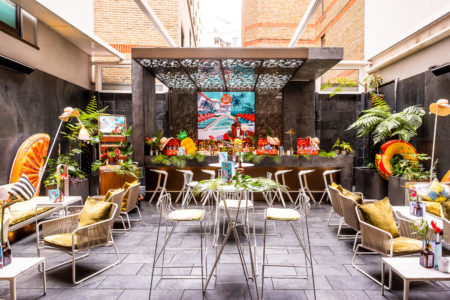 Big Feastival x Patron
Date: 24-26th August
Remember when Alex James off of Blur decided to set up his own cheese company? He only went and bought a farm, and for the last eight years it's been host to The Big Feastival – a festival that holds both artists and chefs in equally high regard. This year Patrón is collaborating with our fave Breddos Tacos for an epic Mexican dining experience that everyone's taco-ing about.
Oriole x Ford's Gin Masterclass
Date: 13th August
Jazz and gin – well aren't you a smooth operator. Decide who you're most keen to impress and book tickets to this interactive gin masterclass with Fords Gin at award-winning (and all round bl**dy brilliant) bar Oriole, where from 9pm the piano keys will be getting a good tickling from jazz musician Tim Penn.
Bookings can be made via the Oriole website
E Poultry Ave, London EC1A 9LH
NIGHT TALES permanent home in Hackney
Promise us a banging nightclub (300 capacity good enough for you?), plus DJs, street food and cocktails from some of London's finest vendors – well, try holding us back from a 3am finish. This is the beauty of Night Tales – the ultimate party pop-up gone permanent in Bohemia Place. Need any more excuses to haul to Hackney with your game-face on? There's a 10 meter long indoor Agave cocktail bar specializing in Mezcal, an Asahi Super Dry Bar, and a Prosecco shack. Soul-food drunk-munch doesn't get much better than Yakitori skewers and gyoza from new Japanese grill 'Fat Baby'. Plus it's open 'til the early hours – did anyone else say 'all praise the night tube'?
Thursday 6pm-middnight | Friday 6pm – 3am | Saturday 3pm – 3am
Spritz away your Sunday at Avenue St James
Are you even summering if you're not on your third Aperol Spritz by 2pm? Avenue St James is here to save you from getting the season all wrong with their bottomless Spritz Sundays. Expect buttermilk chicken burgers and lobster rolls, with lashing of everyone's favourite lurid orange-hued cocktail. Sip on copious Aperol, fall into a snooze by 8pm, and guess what? Sunday fear is a thing of the past.
Bottomless Brunch at Avenue is priced at £25.50 for 2 courses and £28.50 for 3 courses.
Bottomless Spritzes on Sundays are priced at an additional £18. Better get booking!
Pop-Up Alert
1821 cicchetti & gin pop-up bar with Luxardo
Sour grapes? Not cool. Sour cherries? Different story altogether, especially when found in a gin. Just when you thought Shoreditch couldn't get any edgier, up pops 1821 – the only place you can try the damn right delicious sounding new-style Luxardo Sour Cherry Gin in a range of creative cocktails. Not used to attempting mixology at home? Pop your cherry and grab a bottle from 31Dover.com (the only place you can get hold of it) for some hands-on fun.
147 Bethnal Green Road, London E2 7DG.
Dates: Wednesdays to Sundays 15 August to 9 September 2018, 3pm-11pm.
Diplomático Palm Terrace at the Bloomsbury Club Bar
Dates: Throughout August
Everyone feels better after a) going on holiday and b) a few rum cocktails – fact. Combine the two at the palm-decked sanctuary of the Diplomático Palm Terrace. It channels the sexy smolder of South America without the terrifying plane ticket price. Order the Roraima's Peak for ultimate Tiki vibes – it's as elegantly tropical as Meghan Markle decked out as Carmen Miranda for a fancy dress party. We're talking rum, pineapple, cane sugar, and Campari infused with chamomile and passion-fruit, people - essentially sunshine in a glass. Got a hunger on? From 5pm there is some epic snackage to sink your teeth into - chow down on spiced crab sliders with a side of yuca chips, or go full hog on a Cuban sandwich, complete with oozing melted cheese, pulled pork, and pastrami. Yeah, we just heard your stomach rumble. This is a place to spend a lazy evening beneath twinkling fairy lights, sipping all the killer rum cocktails you can handle, while listening to DJs play hip-wiggling Latin tunes – relaxation stations all round.
The Bloomsbury Hotel, 16-22 Great Russell Street, London WC1B 3NN
The Beautiful Allotment
Yes you've seen that green, house plant filled, Pinterest goals conservatory at B&H Buildings. And now Bourne & Hollingsworth have created The Beautiful Allotment, a beautiful pop-up that's bringing all the flower-power feels to the Victorian gardens of the Geffrye Museum. Sustainability's the name of the game, and the B&H team have created cocktails are fresh and seasonal, using ingredients plucked from the ground. What's more, drinks are delivered as you lounge on sofas and daybeds amongst the plants – roaming 'garden-tenders' have converted wheel-barrows into bars. Now that's the kind of green-fingered thinking we approve of. It's definitely our top pick for the weekend.
The Beautiful Allotment is popping up until the 26th August.
Peat & Love Festival at Jubjub bar, Callooh Callay
It'd be fair to say that, swing back a decade or so, and whisky was thought of as one of the more 'serious' spirits. It seemed to carry that air of gentleman's clubs – a dusty decanter in the corner, discussions of peatiness, and questionable politicians getting it caught in their musty moustaches. Well screw this– screw this. We love a little whisky, and the past few years of making it more accessible to all has created even more fans that are aware it can have a more frivolous side. Going one step further is Callooh Callay's kickass bartender Sabrina Fathi, who is here to show the world whisky can be F'ing fun. She's taken Ardbeg Scottish whisky and created a menu of rainbow-bright concoctions that will make any unicorn-loving millennial swoon. One of them is served in a goddamn ice cream, people.
Check the website for details of events and talks that feature some totally inspiring queens of the cocktail world – we're pumped for Anja Rubin's takeover on the 29th. The former head bartender at Trailer Happiness and festival fanatic is back in her favourite city for one night only and will join Sabrina for the ultimate Jubjub love-in to celebrate all things peat, love and glitter. We reckon take someone who doesn't think they like whisky and challenge their preconceptions. Just get booking soon, for Peat's sake.
Woods Navy Rum Boat
We haven't been so excited about something floating on water since those pictures of Orlando Bloom naked paddle-boarding – but here's a chance to embrace your inner pirate and glug rum on a boat. The Woods Navy Rum Boat is moored at King's Cross, so gather your crew and take advantage of the specially curated menu from Ladies & Gentlemen bar.
Dates: Thursday 26th July until Wednesday 22nd August
Shiny new menus
Ethnobotanical cocktail menu from Waeska at The Mandrake
Not sure what exactly ethnobotany is? Don't worry, we had a little Wiki, too. It's the study of a region's plants and their practical uses through the traditional knowledge of local cultures - and apparently ideal when mixing up some buff new cocktails.  This spot is epic and makes you feel a bit like you're on holiday with palms, terraces and of course killer drinks.  Walter (ex Connaught) is the guy shaking things up at the bar and his team have created a show-stopper of a menu.  Max n' relax by trying Hemp - the Yaguara cachaca rum has been washed in CBD oil. Yeah you heard - you can get your sip on with a cocktail containing Cannabidoil. Oh yeah, it also includes with ice cream. Now that's how you chill.
A music-themed menu at St James Bar
The St James Bar at Sofitel London St James have launched a new music-themed cocktail menu, with each drink inspired by a favourite song of the bar team. And just like a 90s Best Of mix tape, there's something for every taste. Relive the days you told everyone you were 'totally into French house, yeah?' by ordering One More Time – decorated with flashing lights in a metallic martini glass, it mimics the eccentric visual stylisation of everyone's favourite helmet-wearing duo, Daft Punk. Trust us, this awesome menu is sure to become your new favourite playlist.
http://www.thebalconlondon.com/stjamesbar/stjamesbar.shtm
Tiki-Yaki cocktails at Zuma
It's the summer of rum, it seems – and not to be left behind, Zuma have partnered with Plantation Rum to bring a selection of seven bespoke new tiki-inspired tipples to our shores. A blend of Japan and the Caribbean might not be an obvious pairing, but BarChick suspects this is going to be a match made in cocktail heaven.
5 Raphael St Knightsbridge London SW7 1DL
Blade Hairclub's summer menu
Haircut, cocktails, clubbing… usually a night out unfolds in this order not, er, all at once. Blade Hairclub are sticking two fingers to convention and have combined them, so you can sip away while getting your barnet chopped. The new summer menus features drinks such as 'Blade & Sand' and 'Blondeshell'. Let's hope their styling skills are better than their puns…
26 Frith St, Soho, London W1D 5LD
Nightjar launches its new 'Arts & Crafts' menu
Nightjar is already famous for serving up some of the most creative cocktails known to Instagram, so god only knows what they've pulled from their sleeve with this new menu, inspired by the Arts & Crafts philosophy. Anyone else think that the idea of 'exploring the synergy between bartenders and artists' sounds wickedly sexy? We're hot for the Honeymoon cocktail - a nod to the ritual Celtic marriage ceremony, where the husband- and wife-to-be share a sip of Scotch whisky poured in a traditional quaich vessel, holding it with joined hands. Maybe don't order on a first date (not exactly giving out those chill vibes…), but the combo of whisky, house made forbidden fruit liqueur and Bulgarian rose infusion has us murmuring 'I do'. Want something less, er, intense? Order the Fandango. The vessel it's served in is so pretty you'll wish you could do a Winona and stick it in your handbag (don't). Visit, drink, upload your photos, then try to forget the fact finger painting is the height of your artistic ability.
129 City Rd, Hoxton, London EC1V 1JB