Dry January is over, love is in the air, & we're flipping out with boozy pancakes.
New and recent openings
We get it, January was long. We're not gonna judge you for hibernating. But now a new month is here, there's no excuse to stay in - especially with these hot new bars and restaurants enticing you off that sofa. 
Peckham just became even more awesome, people. The legends behind Kudu (our fave South African restaurant this side of Joburg) have opened a neighbouring cocktail bar and it's just as sick as we'd hoped. Drinks are inspired by SA, with profiles ranging from Bold & Boozy, Fruity & Zesty, and Spiced & Aromatic. The Smokey Kudu is a mix of South-African whisky, rosehip, wormwood and smoke that makes for one helluva drink. But it's also the decor that's drawing us to these ends - a giant chandelier, pink marble horseshoe bar and velvet green banquettes scream chic and sultry. Kudos, Kudu, we're impressed. 
119 Queen's Rd, Peckham, London SE15 2EZ
Wow, Peckham seems to be having a moment. Fine with us, we love it (check our Ultimate Guide here). Since there's 'Cellar' in the title, this recent opening immediately had our attention. And for good reason. This relaxed spot is a wine shop, bar and kitchen (will we ever need to go home?) with an 80-strong wine list and some creative dishes to soak up the vino. They've nailed the chilled neighbourhood vibes in the interior - think light wood, bright windows, and plenty of hanging plants. They're championing wines from everywhere like Greece, Slovenia and Tenerife as well as the classics from Bordeaux and Burgundy. Hey, we might not be in the EU anymore, but we're sure as hell gonna still drink like we are. 
125 Queen's Rd, Peckham, London SE15 2ND
Prepare to get green-fingered. A tincture is a concentrated liquid made by soaking herbs and plants, and they're at the heart of this new bar from Carl Brown. He's best known as the maestro behind Dishoom's cocktails and has turned his hand to sustainable and seasonal serves. There are two menus on offer - one for the boozehounds, one for anyone on the wagon. The first batch of tinctures includes contains pear, cinnamon, blackberry and parsnip. BarChick'll be drinking the Nips -  there ain't no party like a parsnip party with this mix of parsnip tincture, Plantation Rum, apple & bitters. 
Soft launch til the 5th, then the doors are bursting open for the real deal from the 7th Feb. Beneath Simplicity Burger, 202 Bricklane, London, E1 6SA
Forget everything you heard about nonna making the best Italian food - it's actually Auntie Lucia who bosses it in the kitchen. That's what the guys at Zia Lucia want you to think anyway - they even named this group of awesome pizza restaurants after her. The Aldgate East branch will be the fourth to open, serving guests epic pizzas made with authentic toppings and unusual dough bases. They've become famous for their four types of 48-hour fermented dough, which includes a vegetable charcoal black base. The Italian style cocktails include a seriously decent Spritz and a banging Negroni. We want a pizza the action. 
12 Piazza Walk, London, E1 8ZH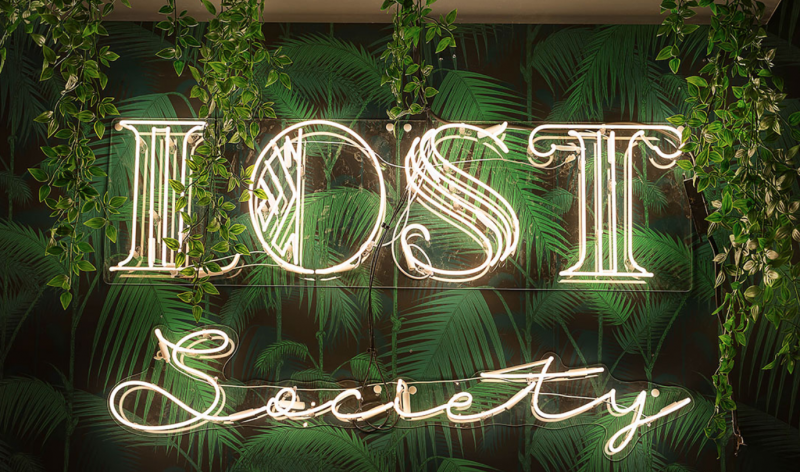 If you've ever found yourself on a night out round Battersea way, chances are you've had a cocktail or four at this glam bar. They're certainly not shy about going all out with the decor (wallpaper choices included leopard, palm and flamingo print and there's at least 5 neon signs to pose by). Now they're bringing their 'art-deco chic meets gone-mad-on-Pintrest' style to Putney. If it's anything like the original it'll have weekend DJs, seasonal cocktails, boozy brunches, and pull in the good-time crowd. If you're craving some fun in your life, this is a place to swing by on a Friday night. 
160 Putney High St, London SW15 1RS
New Menus We're Wild About
Drink your way around London without spanking your Oyster card via this awesome menu. 
Wanna booze your way around London without breaking any TFL laws? Fancy expanding your knowledge of The Big Smoke, sans history books? Look no further. Aster Victoria is rocking an epic new menu inspired by famous events or individuals that've left their mark on London. Make your first stop Baker Street for a smokey taste of Sherlock Holmes with the Catch Me If You Can. It's made with Holmes' favourite vice, cocaine - jokes, no it's actually gin and mezcal, served in a smoke billowing glass pipe. You'll raise a glass to The Beatles, Bond and Bowie, as well as iconic film locations like Notting Hill. And, of course, Jack The Ripper gets a look in too. 
150 Victoria St, Westminster, London SW1E 5LB
Wine buffs out there will know all about 'terrior' - the environmental factors that determine the characteristics of wine. Soil minerality, climate, weather, you get it. Now cocktails are getting in on the action with this new menu from swanky K Bar at The Kensington Hotel. Pack your bags for a taste-tour around Europe with 15 new cocktails that showcase a journey around Old World wines. We'll be drinking the Float On. Influenced by the hot & dry region of Rioja, it's bright, fresh, tannic and oaky. Anyone who can never decide between vino and a cocktail, cover all your bases with this intriguing mash-up. 
109-113 Queen's Gate, South Kensington, London SW7 5JA
Events
A punchy cocktail masterclass... whisky & chocolate pairing... unlimited kebabs and cocktails... even the shortest month of the year is packed with epic events containing a boozy twist.  
Leave your rose-tinted glasses at home, February is all about drinking rose-tinted drinks. Lanique is a liqueur spirit made with attar of rose, and this pop-up is here to showcase the possibilities of boozy blooms. This immersive cocktail experience gives you the chance to journey through the drinks' history, from its creation in the 18th century Kingdom of Prussia, right through to London today. This means finding yourself in a vibrant rug-strewn Middle Eastern bazaar, before passing through red velvet curtains to be transported to the roaring 1920s, then finally the modern day.  At the bar, guests can choose from 8 cocktails inspired by Lanique's journey through time. Join us in drinking pink this month. 
Located in CAP: 100 of The Vaults. The Rose Bar by Lanique, Spirit of Rose is open to the public and free to visit during VAULT Festival 2020 – no ticket required. 
Until 22nd March.
What did the man with a slab of asphalt under his arm order? "A whisky please, and one for the road."... okay, so we'll leave the joke-telling to the professionals. And when we say professionals, we mean the awesome comedians taking to the mic at Milroy's new Comedy Nights. On the first Wednesday of every month, the bar will partner with a different distillery to host a night of humour and Highballs. The night kicks off at 7pm and there's a dram and a Highball cocktail before each act (so it's guaranteed to get funnier as the night goes on). The first event partners Craigellachie Whisky with funny men Jeff Innocent, Kae Kurd and Russell Hicks. Heckle at your peril...
Get your tickets here: £35 and include the three drams and three cocktails (and the bar will be open for other drinks as well). 
76 Commercial St, Spitalfields, London E1 6LY
Become a sucker for punch at these masterclasses held in the swanky hidden bar at one of London's coolest hotels. You'll get an insight into the wonders of Punch Room punches - history, techniques and drinking all included. During the afternoon, five unique drinks will be demonstrated (and tasted obvs), including hot punches which are very welcome right now. Pay attention, cos guests are then given the chance to make their own bespoke punch using the skills they've learned. One class we won't be skipping. 
Tickets are £40 - book your space here.
10 Berners St, Fitzrovia, London W1T 3NP
If your kebabs usually come from a van at the end of a night out, your mind's gonna be blown. Maison Bab is the place kebabs come when they wanna be posh, and they're launching their first Graze-en-Bab Sunday the first weekend of Feb. If the way to your heart is two hours of unlimited pork shawarma with all the garnishes and free-flowing cocktails, then this is for you. Don't worry if you're veggie or vegan; there's unlimited Sabich on offer so no-one is left out. Big up the 'bab. 
4 Mercer Walk, Covent Garden, London, WC2H 9FA - Book a table here
Always fancied yourself as a bit of a Van Gough, minus the ear-chopping? Or maybe you're more used to drawing stick men and wanna level up those art skills? Whatever your standard, this class is for you. In this 2-hour evening workshop ART SIPPERS will help you to create your own canvas painting with step by step instructions from one of their resident artists. You get a welcome drink to help those creative juices begin to flow, and hey, why not continue on the vino through the class as you complete your masterpiece? Grab your mates and get ready for a party of the arty kind.
Get tickets here: £35 and include a welcome drink on arrival.
Storey Club at Paddington Central - 4 Kingdom St, London W2 6BD
If February has you hollering 'bring on the meat, dairy and booze' then this could be right up your abattoir - we mean alley. Mark's Bar is teaming up with premium British spirit producer Ramsbury Estates to create a pairing menu of seasonal specialities. Over the course of a night, you'll enjoy dishes such as pheasant Holstein, partridge salad, and venison ragu. Cocktails include the Bee's Knees made with Ramsbury gin, and The Hivemind made with Ramsbury vodka, espresso, and Ramsbury Estate honey syrup. You'll even be able to meet the brand ambassador at the tasting table and create your own cocktail.  If you've ever dreamed of having a country estate to romp around, this is kind of the next best thing. 
Get your tickets here: £45 includes full menu of 4 mini dishes and 4 cocktails per person.
Feel like getting in on some Carnival action? Hit up The Coral Rooms this month for two weeks of Italian flair with our fave premium Italian Aperitivo, Italicus Rosolio di Bergamotto. They're taking over the lavishly peach-hued bar in Bloomsbury in a celebration of the Venetian Carnevale which has been running since the 12th Century. Masks optional, but we're always down with a spot of colourful masquerade dress-up, sexy aperitivo cocktails and smooth samba vibes.
The Coral Room 16-22 Great Russell Street, Bloomsbury, London WC1B 3NN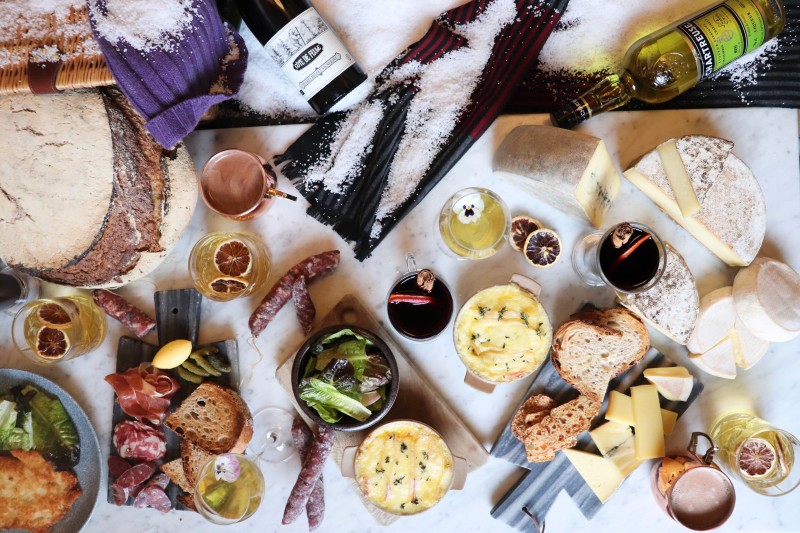 Fresh powder, sick jumps and the one time of year you'll look fly in a shell-suit. Ski season is on the horizon and we're buzzing for it, but you know BarChick's highlight is always the Après Ski, baby.  Until April, St Pancras by Searcys will be serving alpine treats as well as a spiked hot chocolate and boozy Chartreuse cocktails - perfect for a cheeky pre-travel tipple before escaping to the mountains (or for those who wish they were).  Since you can't drink on the Eurostar Ski Trains from the station, you better make the most of it.
Grand Terrace, St Pancras International Station, Kings Cross, London N1C 4QL. Book your table here
Whisky, chocolate, cheese. Talk about the ultimate threesome. To celebrate their 20th anniversary, Compass Box whisky are teaming up with Shoreditch's Bull In A China Shop for a three-month residency, including a calendar of special Compass Box events for fans of the dram. We're psyched for the event going down on the 20th which will see Compass Box whiskies paired with chocolate and cheese made by local producers. Y-U-M.
196 Shoreditch High St, London E1 6LG - Tickets are £25pp and you can book them here.
What's better than a margarita? Try 5 margaritas, made by the crew at Dalston's very own agavaria, Hacha. Their epic Mirror Margarita was named the 7th best cocktail in the world last year and naturally it's a solid BarChick fave. To celebrate they're pulling out all the stops and creating a menu of FIVE variations of this legendary serve. Rock up on National Margarita Day and you can try 'em all. As this is kinda the London-based mecca of tequila, expect the party to be in full swing, with plenty of chips and guac to keep your stomachs lined through the night.
378 Kingsland Rd, Dalston, London E8 4AA 
Planning on making the most of Margarita Day on the 22nd? Check out our guide to making a killer Tommy's Margarita at home, or have a peek at this list of the best bars in the UK for a Margarita. 
Galentines & Valentines
Whether you're loved up or happily riding solo, you can't escape cupid's arrow on Feb 14th so you might as well embrace it, right?  Read our highlights below, or check out this roundup of the tables you have to book for Valentine's Day.
If Valentine's fills you with murderous rage rather than the warm and fuzzies, then bunk up with a (dead) body at this killer Chelsea-based soiree.  Put your forensic talents to the test as you head to Barts with your partner in crime for a deadly Valentine's date. Expect all the drama of a Netflix thriller but with zero chill as Torchlight Mysteries presents an immersive murder mystery based on a story of fatal attraction. After an evening of clue deciphering, body-language clocking and intense interrogation, calm your nerves with a cocktail from Barts' murderous menu. 
Wednesday 12th February. Tickets are £30pp and include a complimentary cocktail. Head here to book or call 020 7581 3355
The ultimate one-night-stand is happening at Shochu Lounge on 13th Feb. One of Japan's most talented bartenders, Kyoka Ogawa, is heading up a one-night only takeover, boom. Expect the launch of Valentine's cocktails alongside the chance to try new Silent Pool Rose Expression. The distinct yet delicate rose flavour means it's killer in the new Hirado Highball, which also includes Champagne. Roses and Champs? Who needs a date when you have this epic combo in a cocktail.  
Kyoka Ogawa and Silent Pool Distillers takeover will take place on Thursday 13th February from 6 to 9pm. Valentine's cocktails will be available on the night and from 5.30pm to 12am on Friday, 14th and Saturday, 15th February and from 12.30 to 11pm on Sunday, 16th February.
37 Charlotte St, Fitzrovia, London W1T 1RR
Whether you're coupled up or flying solo, Balthazar is hitting the sweet spot with two dreamy desserts this V Day. We want the heart-shaped chocolate with vanilla and white chocolate Vacherin to smash. Love it. There's a three-course menu, a band to create the mood and a very photogenic balloon installation. If your date doesn't take your breath away, the balloons should.  
Book your spot here: balthazarlondon.com/valentines-day/
4-6 Russell St, Covent Garden, London WC2B 5HZ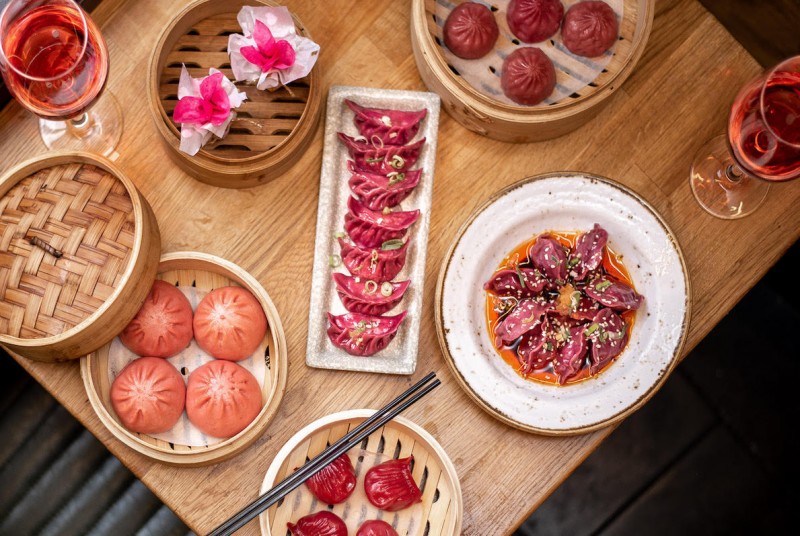 If someone asks you 'Got buns, hun?' the answer this Feb 14th is 'yeah, pink ones, actually.' Swing by dim sum powerhouse BaoziInn this Valentine's Day and swoon at the pretty in pink dishes they've got laid on. Pucker up for pink buns with chicken filling, or fall head over heels for their pink prawn dumplings. Obvs rosé wine is the aesthetically appropriate drink of choice, but they're also giving out a complimentary dessert of a Ferrero Rocher chased down with a Red Velvet Baileys shot. A date with dim sum you don't wanna miss. 
24 Romilly St, Soho, London W1D 5AH and 34-36 Southwark St, London SE1 1TU
Whether you're a member of the La Maison Rémy Martin club or just swinging by their residency at Claude Bosi at Bibendum, this Chelsea hotspot can't fail to impress. They've updated their menu for spring and it includes epic serves to seduce your other half with. The Lady In Red is a sophisticated twist on the Passoã Porn Star Martini, using cognac instead of vodka. Or why not test your knowledge of your partner's flavour profile by choosing them a bespoke Rémy Martin Old Fashioned? Throw some oysters and a lobster bao into the mix and you've got the night nailed. 
81 Fulham Road, London SW3 6RD

Wanna win some brownie points with your significant other this Valentine's Day? The rooftop winter cinema on top of one of the chicest hotels in London will have them swooning in no time. Snuggle up beneath the stars, keep warm under furry blankets and indulge in an Aspen-themed food menu, bottomless mulled-wine and hot chocolate and a bottle of Champagne. Crank up the romance with a screening When Harry Met Sally then decide between yourselves whether you wanna recreate that famous scene. We dare ya. 
Wilton Pl, Knightsbridge, London SW1X 7RL - Tickets cost £300 per couple for screening on 14th February
Whisking your other half to the Alps to celebrate love amongst the mountains is romantic, sure. But we've got an option that'll keep both your carbon footprint and credit card bill down. For their quarterly glow-up, Dalloway Terrace has transformed into a beautiful scene in the snowy Alps. Celebrate the (hopeful) last month of winter with open arms, pine garlands & a cockle-warming menu of cocktails. Take your date there this Valentine's Day and you'll get a stunning 4-course menu including a glass of Perrier-Jouët Grand Brut Champagne. Boom. 
16-22 Great Russell St, Bloomsbury, London WC1B 3NN - Valentines Menu available 14th February for  £75pp 
Want more inspo for getting romantic? Check out our other Epic Date Ideas ❤️
Holy Crépe - It's Pancake Day!
Don't let the 25th February crépe up on you. This stack of Shrove Tuesday events is flipping epic. Or just take a break to drool over our roundup of London's best pancakes here. 
10 pancakes. 3 fillings to choose from. 15 minutes to nail the lot. Think you're up to the challenge? If you do, you'll get a bottle of prosecco and your pancakes for free. Choose from Royale (berries), Cookies & Cream, or Banoffee, and get your game face on. If this sounds more like surefire cramps than surefire fun, then the boozy pancakes might be more up your street. Get involved in Terry's Boozy Chocolate Orange Stack, topped with hot chocolate sauce, Cointreau cream, Terry's chocolate orange and orange segments. Terry can get on his bike, this one's ours.
176 Bishopsgate, London, EC2M 4NQ
Why eat a stack of pancakes when you can drink one? The Long Bar at Sanderson Hotel is raising the game this Shrove Tuesday and shaking rather than flipping their pancakes into existence, with their wicked pancake cocktail. Expect everything from fresh cream to maple syrup. If you're giving up alcohol for Lent, this is the send-off to sobriety you deserve.
50 Berners St, Fitzrovia, London W1T 3NG
You know a venue that regularly hosts neon life drawing classes and drag bingo isn't just gonna serve pancakes with lemon and sugar. East London's most notorious rooftop venue is adding an extra kick to their indulgent stack. You might usually have pancakes for breakfast, but these are sure to keep you up 'til the small hours. They've channelled the spirit of Dick Bradsell by replicating an Espresso Martini in pancake form: creamy, boozy and best served on repeat all night long.
1-5 Curtain Rd, Hackney, London EC2A 3JX
We love our pancakes with a good dousing of drama. And alcohol. Yeah, baby! South Ken French bistro Margeaux is bringing both with their epically extra  Cointreau Crêpes Suzettes. Expect lashings of caramelized sugar, butter, orange juice and zest drizzled over classic French crêpes before being topped with caramelised orange slices and flambéed Cointreau to finish it off in style! As the Cointreau will already be out, it'd be a waste not to wash it all down with a legendary Cointreau Margarita. The speciality Cointreau Crêpes Suzette is available from February 13th-25th, for lunch, dinner and weekend brunch.
150 / 152 Old Brompton Road, South Kensington, London, SW5 OBE