There's a time and place for dignified after work drinks, and there's a time and place for debaucherous ones. When you've had a sh*t day and want to find like minded party people who won't judge you getting on it before the clock strikes 5, get to these bars.
CENTRAL
Rack 'em up
In Soho it's acceptable to drink any time of the day. Even better when you can do it al fresco in a courtyard (seats are like gold dust in Soho). This place sure ain't fancy and you won't smell too fresh the next day but embrace the dive vibe and get the shots in.
14 Frith St, London, W1D 4RD
THE COVENT GARDEN COCKTAIL CLUB

Happy hour vibes

Where else in central can you get a Bacon and Egg Martini at 4.30pm, no questions asked? The vibes are always spot on, there's a happy hour every day and 2 for £10 happy hour all night long on Monday's too - there's your reason to get up that morning. Monday's the new Friday.
6-7 Great Newport St, London, WC2H 7JA
Boozy business lunches

This is BarChick's go to for a daytime session – meetings, boozing, working, whatever. Blag your way upstairs, kick back in an armchair and get down to business. When you're done with your lunch meeting order in a round of tonic booms.
26-29 Dean St, London, W1V 6LL
Pulled pork party

Not just all mac n cheese and pulled pork buns, The Shelter underneath The Big Easy has got a banging back bar and killer cocktails mixed up by some big time bartenders. Bad day at work? Go for lunch and order a Miami Vice – the half Pina Colada, half frozen Daiquiri combo can't fail to put a smile on that face.
12 Maiden Lane, London, WC2E 7NA
The famous one

Actors, businessmen, hookers - you'll meet 'em all at this old school boozer and Soho institution, and everyone there is getting on it any time of the day. Would be rude not to join them.
49 Dean St, London, W1D 5BG
Al fresco escapin'

Run out the office, into the fresh air, and stay there. St Christopher's place round the back of Oxford Street gets packed out come 6pm, and Market Place has got the best seats in the square. So get there early, order in the rounds and then when things get dark and out of hand, head to the downstairs club, on Friday's it's some kinda gangsta's paradise but there ain't nothing wrong with a little bump n' grind.
11-13 Market Place, London, W1 8AH
NORTH
When you need a pub to be a pub
No frills or fancy menus here, just go get a beer and some of their famous pork scratchings. Do the weekday pub thing right and stand outside with all the other eager boozy beavers.
139 Highgate Rd, London, NW5 1LE
Two floors of beer
The perfect afterwork pint is right here; the beers are bang on, it's always good-busy and chicks – you're almost guaranteed to meet a hot guy. Overwhelmed by the huge selection of crafts? Ask the dudes behind the bar to sort you out. Tip: the wasabi stout will shake you up after a day of boring meetings.
113 Bayham St, London. NW1 0AG
Waterside boozing
Yes it's a Wetherspoons, but they've got a giant back garden that's bang on the river and the drinks are ridiculously cheap. Get on it early because let's face it, it's Wetherspoons, so no one drinking in there can judge you.
28 Jamestown Rd, London, NW1 7BY
The cheapest drinks in London
Happy hour here starts at 4pm and it's £2.50 drinks. TWO. POUNDS. FIFTY. Someone give this bar a f*cking medal.
7 Camden High St, London, NW1 7JE

BARRIO NORTH
Viva la Mexico!
There's a time and a place for Barrio – and 4pm on a Thursday after a long day is it. You'll hit the happy hour and order in Tropical Plunders, chat up strangers, think tequila shots are a good idea, bitch about your boss, probably pull your workmate and when it's 11pm and you're still there, you can dance it all off and get ready for the Friday hangover.
45 Essex Rd, London, N1 2SF
SOUTH
River views and tactile booze
Just when the Mondrian couldn't get any better in our eyes, they go and kick off 'Ditch Friday' from 4pm every week starting your weekend off (early) with killer cocktails and a totally epic view of the Thames. Book a meeting (wink wink) up at the rooftop bar overlooking the river, so you can get on it the minute you arrive. That's our kind of team work.
20 Upper Ground, London, SE1 9PD
£5 Bloody Mary's
How early is too early? This place opens at 9am during the week (a more than acceptable BM time) and serves cocktails from a fiver along with some banging tapas. Anything goes in Brixton Market and when you've worked through their whole list (you will) the market's mega food joints await. It's small, don't bring the whole company.
Unit 7, Market Row, London, SW9 8LB
When only dancing will do
Arrive for 5pm and kick-off happy hour with an A/C Daiquiri from the music themed menu. Be the first to dance to the live band or DJ beats, or just go make friends with the hot rich locals at the bar.
78 Venn St, London, SW4 0BD
Possibly the cheapest cocktails in London

Hop off the train and get straight on to the booze. Under the railway arches of Peckham Rye train station is Bar Story, the legendary south London hangout that serves up for 2-4-1 cocktails up until 7 – and they're the real deal. It closes at 10pm, but it's open from 4pm; you know what to do.
213 Blenheim Grove, London, SE15 4QL
Go get high
If you want in on this action you need to get there early so shake off the suit and get up here. Atop of a carpark at one of London's best rooftop bars, Negroni in hand is where you need to be come 5pm. The space is massive, the views ridiculous, the beats will keep you upbeat and they've gone and got local legend Mike from the Camberwell Arms to fill your belly with serious BBQ grub.
10th Floor Peckham multi-storey car park, 95a Rye Lane, London, SE15 4ST
EAST
Cool kids club
Hotels are constantly serving booze, because everyone's on a different time zone and it's 5 o clock somewhere. Take your MacBook, pretend to be working and spike your caffeine as they do a badass Irish coffee. You'll probably run into someone hot and famous here too.
100 Shoreditch High St, London, E1 6JQ
V.I.P baby!
Grab your mate with the membership (or turn on the charm) and head on up to the roof to spread out on a sunbed. It's always OK to drink when poolside.
Ebor St, London, E1 6AW

BROADGATE CIRCLE
Suited and booze booted
Everyone's getting on it here, so go get lost in the crowd of bankers and start at The Botanist for Prosecco. When things get out of hand (they will) blag on up to Duck and Waffle, it's open 24/7 and serves booze like an airport. All. Day. Long.
NB. Take a change of clothes – may as well go from here straight to work.
Broadgate Circle (off Eldon St), London, EC2M 2QS
360 city views
It's always ok to drink on a rooftop. Never let anyone tell you otherwise. The only one around here that you might just be able to get a table at, this rooftop is all long boozy lunches and daytime drinking sessions.
2-4 Boundary St, London, E2 7DD
Get your buzz back
Just when you thought coffee couldn't get better, these guys added booze. It's got all the laid back vibes of a coffee hangout but come afternoon you'll sneak a shot of the good stuff in to your Flat White or just hit their killer cocktail menu. If you run into your colleagues they'll think you're waiting for a coffee meeting with a client. Win.
213 Old St, London, EC1V 9NR
East's beast
This pub's so popular that sometimes it feels like every person who works in East drinks here. You should be one of them.
127 Curtain Rd, London, EC2A 3BX
WEST
5 happy hours
This classic boozy cafe has been around since the 60's - imagine the sexy sh*t that went down then! Dylan and Hendrix performed here and it's still just as cool. Don't panic when the happy hour ends - the club downstairs picks it up, so there's a total of 5 hours of 2-4-1.
263-267 Old Brompton Rd, London, SW5 9JA
Get out yer meatballs
The Italians are the Kings of daytime drinking – they created the aperitif and we will be forever grateful. Polpo's hit west and this Venetian bàcaro in Sloane Square is the place to sit out on the terrace and make the most of light evenings in the sun with a Negroni, or five.
81 Duke of York Sq, London, SW3 4LY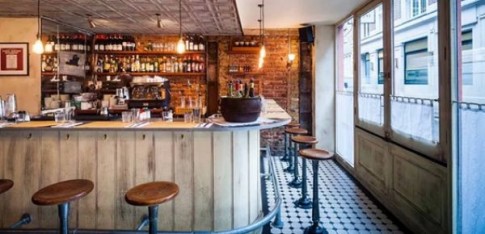 It's pickleback time
This all-American restaurant is loud and proud, with an open plan kitchen and red leather booths crammed with tipsy guests having a good time. There's 10 beers on tap and more bottled in the fridge. Can't manage a burger? A pickleback tastes just like one.
191 Portobello Rd, London, W11 2ED
Go hard or go home
It's day of the dead celebrations here everyday baby, so don't worry about going solo straight from work 'cos new friends are a given. They serve 8 different margaritas here. Try 'em all.
125 Westbourne Park Rd, London, W2 5QL
Guinness o'clock
This pub's been around since the Victorian times so it's old school, they'll never laugh you out the door for ordering a Guinness before lunch. The place of lock-in dreams.
89 Westbourne Park Rd, London, W2 5QH