Lockdown is on the out, and tending to your locks is on the in. As the salons start to open their doors again, these are the places we'll be heading to combine a bit of pampering with our fave past-time...
Yeah, we can all wash and dry our own hair. But having someone else do it for us? Yep. That level of bouji pampering is a bit of BarChick. Especially if we can get sipping on something sparkly while someone gives us a Jennifer Anniston worthy doo. These shiny salons are all about making you feel f*cking fabulous. Super luxe products, a sh*t load of florals, selfie-worthy lighting. And the prosecco bar. Hot date, big night out or just cos you're worth it. Get comfy in one of the leather chairs and let the stylist work her magic. 
Blowdrys start from £30 + £5 for a glass of prosecco.
Chelsea | Oxford Circus | Soho | Spitalfields | Mayfair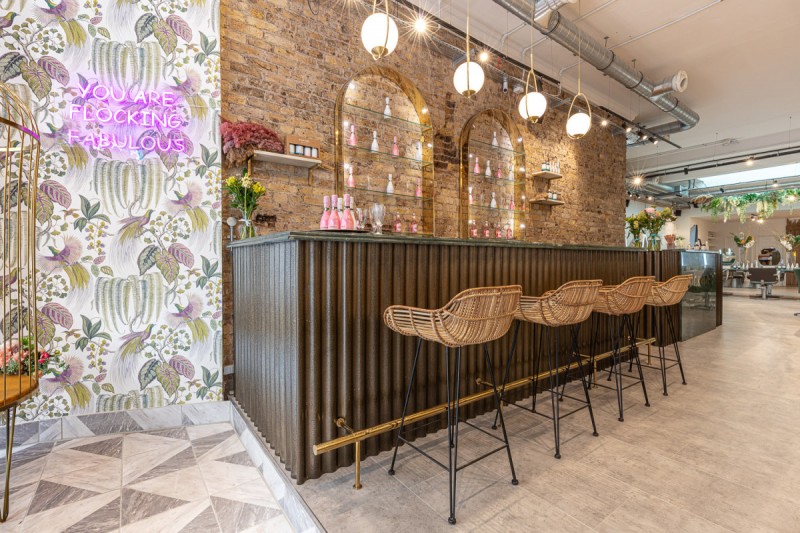 Life is busy.  Sometimes you gotta master the multi-task, baby, but make sure you look banging while you do it.  This sh*t hot chain of luxe nail bars lets you channel your inner Elle Woods and get your lacquer and liquor on at the same time. Book one of the group tables, gather your crew and set the world to rights over a Marg while your technician gets your talons lookin' slick.
Manis with polish start from £12 + £9 per cocktail.  Happy Hour 2-4-1 on cocktails with any treatment 5-6pm daily.
From Putney to Chelmesford, and 8 stores in between
All of Ted's Grooming Rooms are hot property, but it's their Mortimer Street store where we send our men when we want their lids looking fly. They have the crew from Looking Glass bar there to hook you up with a complimentary stylish cocktail while they get you lookin' hot. The Ted's crew are big on taking pride in their mastery of facial follicles. Whether it's a baby-faced shave you're after or restoring some tidiness to your 'tache, they'll have you looking as sharp as one of their Pisco Sours in no time.
Walk-in treatment prices start at £14. Cocktails available Thurs-Saturday from 2pm til close.
82 Mortimer Street, London, W1W 7FE
Got a night of night dancing on the tables planned? This Soho joint will get your barnet looking banging while also getting the party started. This salon feels like the kitchen at a great house party. And everyone's invited. Catch up with your mates over blow-dries and beers, chill with a glass of fizz and binge on Netflix whilst waiting for your highlights to develop, or get down with an awesome Old Fashioned and shoot the breeze with a drinking buddy during your haircut. Woof!
Treatments start at £9, and cocktails sit around the £8 mark.
26 Frith St, Soho W1D 5LD
Got a hot date you wanna impress? Get 'em to meet you at this vintage Fenchurch Street Barbour after they've given you the full grooming works. We're talking everything from short back and sides to a full-blown Turkish shave (they'll even flame away those ear hairs you think they won't notice) You'll be looking slick, but lead your date down the secret stairway at the back to really get them swooning. It'll take you to The Gobpsy, the 1920's speakeasy hidden beneath which has a cocktail menu as remarkable as the location. Hell yeah!
142 Fenchurch Street, EC3M 6BL (expect the bar to reopen in May)
Lead image credit: "Getting Ready Party" by Nicholas Bets