Only the most bad-ass go out on a school night. And we know that you are that bad-ass. When you're ready for a sesh at the beginning of the week, these places will show you a wild time.
When we're going HAM on a Monday, we head for one of the The Cocktail Clubs (formerly known as London Cocktail Club). They've got a kick-ass happy hour every night of the week, with two-for-one on everything but Champers. Beer, cocktails and Prosecco are all on the table, and by the end of the night, you might be too - dancin' on it, that is... 
182-184 Clapham High St, Clapham Town, London SW4 7UG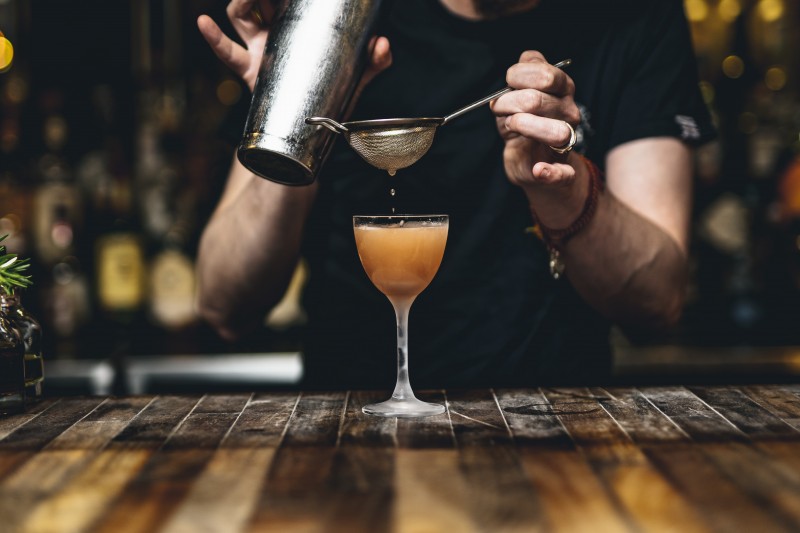 Maybe it's the fact that this spot is a go-to for bartenders on their night off; maybe it's the surrealist chic vibe and bangin' drinks. Whatever it is, this OG of the Shoreditch cocktail scene is ideal for a casual (and high-quality) Monday eve cocktail... that can easily turn into an all-out night on the town. Don't say we didn't warn ya...
65 Rivington St, London EC2A 3AY
Anybody who says Mondays are no laughing matter hasn't hit this place up. Head to this Covent Garden basement club for an endorphin rush and some proper lols. On Mondays it's all about raw new material from six pro comedians trying out some freshly baked gags, including a "top secret celeb guest". Get a few of the cheap pints in and sit in the front row if you're brave enough. Go on, we dare ya. Oh, and it'll only cost you £1.
170 Drury Ln, Holborn, London WC2B 5PD
You'll find this epic gin bar beneath the streets of Bank. It's open nightly til the wee hours, so if you've had a shocker of a Monday and finished up late in the office, you'll still have time to dip down into this basement joint. Make sure to sink a few of their killer gin cocktails before you head home. It's a great place to take a date, too; if the night's going well, you won't have it cut short by the bar team clearing up around you.
Merchant House of Bow Lane, 13 Well Court off Bow Lane, The City of London, EC4M 9DN
This place brings a whole new meaning to the Monday blues. They have live music every night of the week, so if you have that early-week craving for honky-tonk, this is where you'll wanna head. It's free admission on Mondays and you can get involved with their blues jam from 8pm. Don't forget your harmonica. 
20 Kingly St, Soho, London W1B 5PZ

This all-American lobster shack on the Kings Road has been an institution for almost 30 years. Monday night is feastin' night, so hit up their Big Pig Gig where £20 will get you limitless BBQ, a two-pint stein of ice-cold Big Easy Brew or a glass of house wine/bubbles. There's also an all-night-long happy hour which'll get you change from a fiver when you order one of their hard slushie cocktails. Hell yeah!
332-334 King's Rd, Chelsea, London SW3 5UR
When the guys at this bar hit play, IT'S ON. Monday night is student night, baby, but you don't need to be working towards a degree to take advantage of the £2 drinks at this Fitzrovia nightclub. Yeah, entry is a little more pricy without a student card, but hey, you're never too old to be rocking a fake ID, right?
3-5 Rathbone Pl, Fitzrovia, London W1T 1HJ
Each night at this infamously outrageous Chelsea club has its own universe and it changes on the daily to suit the wild sh*t that's going down. Get ready for Muertos Monday - a night of Day of the Dead hip-hop mania and extreme madness this place is famed for. Expect your round of tequila shots to be delivered by the Tonteria tequila express train while a bad-ass fire show cranks up the heat. HOT!
7-12 Sloane Square, Belgravia, London SW1W 8EG
Quaglino's is the place to go if you wanna start your week swanky. They host their weekly Music Mondays, bringing epic acts to the stage while you enjoy some of the delicious dishes Quags is famed for, with three courses and a glass of vino for £33. 
16 Bury Street, London SW1Y 6AJ
If you've managed to convince your crew that Monday is, in fact, the new Friday (or f*ck it, even the new Wednesday) get them to gather at Mercato Metropolitano. There's loadsa space and not only will every one of their cravings be catered to (they've got every food stall going, from Vietnamese to Greek), but they'll be in for a night of good vibes 'til 11pm. 
42 Newington Causeway, London SE1 6DR 
If Mondays feel like a drag, you ain't seen nothing yet. Swing by this infamous basement bar open til 1am on a Monday. It's a former gents bog in Theatreland that was once the reputed sexual haunt of Oscar Wilde, FYI. Settle in for an outrageous night with a stellar drag line-up from 9pm. This place is just about big enough for cats (both feline and human) to swing, but as they say, the best things come in small packages. And yes, it still boasts the sexiest loos in London.
Wellington St, London WC2R 0HS
Mondays are for going all-in at this Clapham Junction house of fun. Check out the tap room showcasing everything from the best local and homegrown breweries, to the limited and exclusive beers from further afield before rally your crew for a couple of laps around the legendary moonshine raceway upstairs in the arcade. Beats a solo sesh on the Playstation any night of the week, but especially Mondays.
51 Lavender Gardens, Battersea, London, SW11 1DJ
More of a nocturnal diner? This place brings contemporary London cooking to Hackney Road and serves a late-night menu 'til 1am, with a bar that stays open for an hour after that. They also have a wicked off licence selling wine to take away at reduced prices til 2am, just in case you're having a night in and need extra vino. So if you're craving house-cured mangalitsa lap cheong or rock oysters with natural wine granita when it's past most people's bedtimes, you know where to come.
277 Hackney Road, London, E2 8NA