Us BarChicks like little more than a bit of banter, and where better to banter than on social media. Whether it's Twitter, Instagram or Pinterest, there are some classic accounts out there for all your picture-loving, hashtagging, lol-ing needs.
So who's doing it best?
How much #lol and #booze can you fit into 140 characters...?
The Dolphin (@The_Dolphin_Pub)
Hackney's The Dolphin Pub rocks a somewhat unofficial Twitter account based on a love of R Kelly, sambuca and "F*ck It, It's Friday" cocktails. They've got a proper account for the boozer but who cares about that when you can get some rude, crude and hilarious action instead. This guy is the man, a must follow for anyone with too much time on their hands, which let's face it, is most people who use social media.
He knows everything worth knowing...
And he'll always be there to make you feel better about your life...
If you're not following The Dolphin, you're nobody. In fact you should get yourself down there on a Saturday night too.
Elizabeth Windsor (@Queen_UK)
Official regulator of Gin O'Clock, The Queen has been ruling her royal followers since 2010. Keeping her lowly minions informed on what's going down at The Palace, she regularly lets Twitter know when David Cameron has dropped her a confused text and lets us all sign off work early in the name of gin...
She's always thinking of her country...
And she has the power to transform Britain into a more beautiful place...
To not follow The Queen would be to commit Twitter treason. Simple.
Melissa Cole (@MelissaCole) 2008
Looking for a proper beer expert to crop up on your feed? Look no further than sommALEier, Melissa, who really knows her hops. She writes books, judges beer comps, tweets some serious levels of food porn and knows all there is to know about a pint of the frosty stuff.
Her love for a bottle of beer knows no bounds...
She sticks it to anyone who thinks it's just for blokes...
And she knows that sometimes a beer is just more important...
Get following Melissa and get into your ales.
It's not just photos of Starbucks cups and what your mate had for lunch...
Stirandstrain (@stirandstrain)
If you're looking for some sexy photos of some sexy cocktails, look no further than Elena who runs Best Cocktail Blog nominated booze site Stir And Strain. Not only can she mix a kickass drink but she gives some seriously good insta shots too.
She's experimental...
She frequently posts new recipes for you to have a crack at...
And she knows the importance of having access to a great cocktail no matter where you are...
Stirandstrain is an Insta must follow for hot pics and great drinkspiration.
Pissinginthepunchbowl (pissinginthepunchbowl)
This is one great account for serious food porn and great booze pics. Sure, being a hipster photographer from Brooklyn means that David Nillsson, aka Pissinginthepunchbowl, should be a pretty good Instagrammer anyway, but it's documenting his travels testing the best booze and food around that keeps his 39,500 followers happy.
Each photo is totally 'like'-able...
Sure, he might make you feel bad that you're not in Mexico drinking mezcal...
But you'll stay with him because pretty photos are what we're all here for...
For booze inspo and mouthwatering food pics, you need to be pissing in the punch bowl.
The Fat Jewish (thefatjewish)
Because sometimes pretty pictures aren't enough, The Fat Jewish is there, bringing the lols. He says things you want to, but would never think up, or have the balls to say in public.
He's the guy to invite to your birthday party because he'll bring cake and positive vibes...
He's great to follow because he's totally up to date with modern life...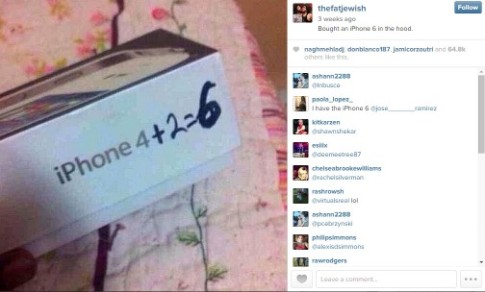 And he hangs with the coolest chicks...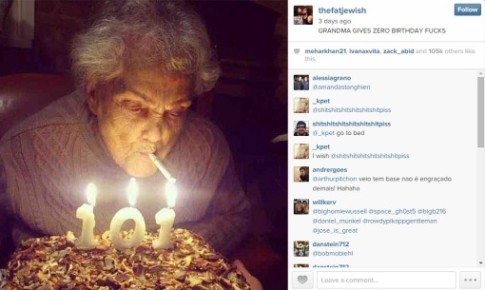 For a break from the celeb selfies and Throwback Thursday pics, follow The Fat Jewish.
It's all pretty pictures, re-pinning and clicking through...
Buzzfeed, the kings and queens of shareable content, have taken Pinterest by storm, natch. They've got some great pins but what we're really interested in is their drinks board. Full of images pinned from their site that click through to quirky recipes, how to get your family drunk, cocktails that are pretending to be good for you... they got it all going on.
They'll help you get drunk and fruity...
Then they'll fix your hangover head the next day...
But best of all, they're talking cereal and vodka...
Buzzfeed are gonna show you how to get drunk in comedy style, you've just gotta follow 'em.
Blogger at How Sweet Eats, this chick is into neon and glitter in a big way, think less princess, more kickass. Her boards are pretty pin-perfect but it's the cocktail pics that we're lovin'. She's more about re-pinning which means all those pics you wanted to see are all in one place.
She's all about booze porn...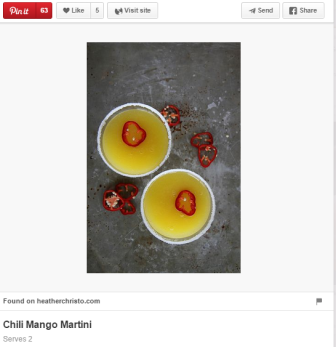 More booze porn...
And even a little frozen booze porn...
If you're in the market for some great re-pinnable pics, How Sweet Eats is your girl.
Turntable Kitchen - Happy Hour
Big lovers of bringing together music and food, Turntable Kitchen are taking Pinterest by storm, one board at a time. With boards from cookbooks, to audio gadgets, they're giving good pins all round, but Happy Hour is our favourite.
They've got clean cut pins and click throughs to their onsite recipes...
They re-pin great garnish inspo...
And they're showing you how to build a bar cart so even if you can't mix a drink, you can look good while you're trying...
Turntable Kitchen have got it going on, if you only follow one board this happy hour, make it this one.