Christmas is Coming...
Grotto Outre Thought you'd seen every festive pop-up? Well move over Christmas cheer and snow-covered chalets because Grotto Outre is an adult wonderland and yes, it's as naughty as it sounds. We're talking club nights in giant igloos, rave rooms, clothes swaps and hot stripping Santas. It's epic, but spend a night here and don't be surprised if you end up with coal in your stocking come Christmas Day, it's the kinda place to be bad. 148-150 Curtain Road, London EC2A 3AR
Forest on the Roof at Selfridges This rooftop pop up forest is bringing starstruck Autumnal vibes to Selfridges. Inspired by a woodland, it's all comfort food and hot toddies underneath a starry sky. With a list of hot and cold cocktails, we'd start with the cold whisky-filled Hansel and Gretel before moving on to a hot Chestnut Choctail. The food looks all warm and filing too, we're feeling the duck shepherd's pie. See you on the roof (with lots of jumpers on). Entrance from express lift in Fragrance department, Selfridges, 400 Oxford Street, London W1A 1AB // From 21st October
Searcy's Christmas Snow Globe at the Gherkin That's right, they've turned the Gherkin into a snow globe stuffed with Champagne, white festive decor and a killer view. Whilst all the city's a-sparkle below, get into the dome of that iconic building and take in that skyline with a glass full of bubbles. 30 St Mary Axe, London EC3A 8EP // Packages from £35
Hendrick's Botanical Winter Garden at Mr Fogg's Go through Mr Fogg's secret living room and you'll find this festive gin garden, decorated with mistletoe, baubles and Victorian knick knacks. Shaking up killer Christmas cocktails like spiked gin hot chocolates and hot cocktails in teapots, this winter tea party is the perfect place to look at the stars, wrap up in a blanket and escape the madness of London at Christmas. Mr Fogg's Residence, 15 Bruton Lane, London W1J 6JD // Until 30th March 2016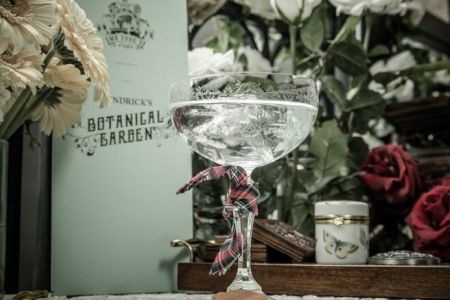 South Pole Saloon Naughty elves escaped Santa and have gone to find a life of freedom and debauchery in a saloon in the South Pole. Yes, our kind of Christmas pop up.  Bringing the festive vibes to Brixton for a winter of damn good food and drink, this pop up will keep you filled 'til turkey time. Serving up burgers from Dip & Flip and pizzas from Crust Conductor and all kinds of festive booze to fuel the debaucherous antics, things are feeling toasty at this South London South Pole. Valentia Place, London SW9 8JH // From November 2015
Lodge D'Argent It's all French chalet vibes on one of London's hottest rooftops this winter but you're not gonna need a ski lift to get in on their apres-ski action. Decked out with retro skis, fur blankets and a Croque d'Argent menu chocked full of Croque-Fondu and Croque Raclette as well as big meaty offers like venison burgers. On the booze side, it's all about hot cocktails. We're talking Alpine Sours and Ski Warmers to toast up those cockles! Coq D'Argent, 1 Poultry, London EC2R 8EJ // From 23rd November
Once Upon a Wigwam Two words: Gingerbread. Bar. This magical forest wigwam is taking over Queen of Hoxton so expect some serious Hansel and Gretel vibes killer winter cocktails. Hot Buttered Rum, come at us. You'll find us there breaking bits off the bar… Christmas has come early. 1-5 Curtain Road, London Ec2A 3JX // From 22nd October - end of March 2016
The Lodge After a banging 2014, The Lodge is back and this time it's left the snowy (-ish) streets of Balham for the (not so) frosty pavements of Clapham North for one of the best apres-ski sans ski bars this side of the Alps. Sharing fondue alongside buckets of Jamaican Hot Toddies and Baked Alaska Buttered Rums are what winter on the (flat, paved) mountains of London is all about. Don't pack your snowboard just yet, though: you're going to need to book ahead 'cos last year's alpine alcove was fully booked full of festive boozers. 409 Clapham Road, London SW9 9BT //From 8th October
York & Albany's Winter Chalet Camden's going all chalet chic at this Gordon Ramsay restaurant's festive pop up. All decked out with fairy lights, pinecones and glowing lanterns, you can wrap yourself up in a blanket and sip on Winter Spiced Old Fashioneds and Chilled Mulled Cider before filling your face with raclette and venison. Also available for private hire, this has got Christmas parties written all over it. 127-129 Parkway, London NW1 7PS // From 30th October - 28th February
Treehouse at Skylounge It's all mystical and enchanted at this treehouse rooftop woodland. Throw in some hot toddies and that's our kinda winter pop up. Sip on Plum & Rum Old Fashioneds, check out the truffle mac & cheese and gaze over the city's rooftops. 7 Pepys Street, London EC3N 4AF
Piste at Archer Street It's time to get Piste at this Soho basement winter nightclub. All dark wood, antique skis and snowshoes, this place is giving real alpine retreat vibes. With a list of exclusive winter cocktails like apricot and cinnamon Bellinis as well as nightly entertainment from resident DJs, things are looking hot on Archer Street. They've even thrown in a fancy dress box to keep you busy. Hands off the lederhosen, they're ours. 3-4 Archer Street, London W1C 7AP
Spectacular Victorian Circus at The Gun Roll up, roll up, 'cos the circus is in town and it's bringing the winter vibes with it! Teaming up with Hendrick's and turning their riverside marquee into a Victorian big top, it's all weird, wonderful and wicked in the Docklands. With vintage carnival games and the odd taxidermy animal as well as candy floss and popcorn machines, all we need is booze and we're set for the winter. Hit their bar for Hot Gin Punch or Hot Elderflower Toddies and get involved. The Gun, 27 Coldharbour, Docklands, London E14 9NS // From 9th November 
Sipsmith Ski Lodge at The Well Leave your ski boots at home because you won't need to slide down the slopes to get to this apres-ski lodge. Keeping Clerkenwell cosy with festive feel-good vibes, you can curl up in an armchair and hit the Sipsmith cocktails; ours is a Dainty Damsel or Mulled Sloe Gin. The Well, 180 John Street, Clerkenwell, London EC1V 4JY // From 19th November
Soho Ski Terrace Get your festive freak on from the rooftops of Carnaby Street! All retro 1950s ski chalet chic, when you want warm and wintry booze in Soho get on top of the iconic Courthouse Hotel. There are old school ski posters, faux fur blankets and lanterns dotted around (they've got that revival apres-ski vibe down) the only thing that's missing are the mountain views. The Shard will do us. The Courthouse Hotel, 19-21 Great Marlborough Street, London W1F 7LJ // From 12th October
Get Your Skates On...
Somerset House Fortnum and Mason have taken over Somerset House this winter and it's insane. They've got rows of pop-ups along the side of the rink to fill you with rarebit, fondue and Champagne. They've also got clothing and food shops there for you to stock up with Christmas goodies and Tuesday Treats nights with cocktail makings.  It's beautiful, it's boozy and it's got Christmas written all over it. Somerset House, London WC2R 1LA // From 18th November - 10th January, 10am-10pm // From £12.30 per person
Broadgate Ice Rink Bringing it's own apres-ski pop up bar with it, Broadgate Circle's is turning the city into the perfect spot for day to night skating, surrounded by banging bars and restaurants like Yauatcha, Crab Tavern and The Botanist. Make your way around the rink before heading to the bar for a hot choctail. Exchange Square, London EC2A 2BQ // From 16th November - 25th February, 10am-10pm // £13 per person
Natural History Museum With a Christmas tree, mulled wine and one of London's most impressive museums as a backdrop, skating around the ice rink at the Natural History Museum is gonna be pretty special. Hang around the frosty trees, sip on something hot 'n boozy and get festive. Natural History Museum, London SW7 5BD // From 29th October - 3rd January, 11am-9pm // From £12.65 per person
Winter Wonderland Sure, it's totally rammed, commercial and has pretty much been vomited on by Santa, but you can't get those cosy, warm feels without a festive visit to Winter Wonderland, especially as this year they're boasting the UK's largest ice rink. While you're there, check out the ferris wheel, the Ice Kingdom and the cocktail bar made of ice. Hyde Park, London W2 2UH // From 20th November - 3rd January, 10am-10pm // From £17.50 per person
Winterville Like Winter Wonderland with added hipsters and beards, these guys have got a massive ice rink to make your way around after one or two mulled wines at the Spiegeltent. Hang around after to check out the ferris wheel. Victoria Park, London E3 5TB // Fro 26th November - 23rd December, 12-8pm // From £7 per person
Eyeskate at the London Eye Skate under the shadow of the London Eye at their largest ever ice rink at the centre of their Frostival… Either keep your feet on the icy ground then head off for something hot 'n boozy or go up on the Eye for their Winter Cocktail Experience and sip on some festive drinks made by the Cocktail Trading Co. boys. Westminster Bridge Road, London SE1 7PB // From 14th November - 3rd January, 10am-9pm // From £9.45 per person
Canary Wharf Ice Rink Towered by the scrapers of Canada Square, this ice rink will keep you busy practising your Blades of Glory routine before taking a trip around their skating path lit by fairy light-covered trees. Post and pre-skate, it's all about the pop up Q on Ice bar. Canada Square Park, London E14 5AX // From 31st October - 27th February, 10am-10pm // From £14.95 per person