We've been ready for Christmas since 2020...
Alpine forests, ski-chalet hideaways and kitch 1970's living rooms. After the sh*t show of 2020 (AKA the Christmas that wasn't) it's time to make up for lost time and get baubles deep into London's festive pop-ups.
You might not be able to see the actual Northern Lights from the terrace of 12th Knot at Sea Containers this winter, but when you've got uninterrupted views of St Pauls Cathedral, a menu of epic Icelandic vodka cocktails and more sheepskin blankets than a ski chalet, you don't need a light spectacle in the sky. Until January, the terrace will be transformed into a magical winter playground, inspired by the vivid colours of the Aurora Borealis and Icelandic landscapes. Get cosy beneath a faux-fur throw with a Björk Martini (a crisp mix of Reyka, pine & birch, wild nettle and Riesling liqueur) and practise your best Blue Steel for a session in the Nordic cabin themed photo booth.
Sea Containers London, 20 Upper Ground, London, SE1 9PD. To make a reservation, please visit seacontainerslondon.com
Most Winter pop-ups like to focus on keeping ya warm, but this 5 day pop-up from the OGs in luxurious ice creams are keepin' it extra chill this December with its first-ever pop-up 'wafflerie'. Hot damn! Bringing a splash of "Razzle Däzsle" to Covent Garden, the Häagen-Dazs Wafflerie is embracing the season of indulgence with fluffy waffles piled high with irresistibly boozy ice cream and killer toppings. We can't decide whether to order the Rum Salted Caramel & Biscuit or Irish Whiskey & Chocolate Waffle. Better make it both. Hey - it's Christmas and we're worth it.
The Häagen-Dazs Pop-up Shop will be located at 140 Long Acre, Covent Garden, WC2E 9AD and will be open from 1st - 5th December, 12pm-7pm.
Hot Buttered Rum, spiked Hot Chocolate and a hot gin laced with gingerbread and stout. Take a stroll through neighbourhood Hackney bar Nebula's new Winter Garden pop-up this festive season and chances are you'll find yourself warming up with at least one of these seasonally hot cocktails on offer. If wines are more your vibe, they've got the goods from their mates down the road at the Renegade winery, and spirits hail from the East London Liquor Company round the corner in Mile End, all of which can be enjoyed under the patio heaters and amongst the colourful decorations of this seaonsally transformed courtyard. 
Nebula, 455 Hackney Road, London E2 9DY
Looking for an awesome one-stop shop for all your Christmas gifting this year? No, we're not talking about Amazon (Jeff has enough money) - we're talking The Christmas Market on the Mews at Selfridges which is returning for a second year. This isn't just a shopping experience, baby. They've curated a wicked line-up of food trucks as well as three bars, gifting stalls, a spectacular giant Christmas Tree twinkling with fairy lights and retro fairground rides (including a Helter Skelter) to win over even the grinchiest of shoppers. Once you've shopped, drop into the store and grab yourself a spot at the intimate 10-seater Veuve Clicquot Le Tram bar. This retro-inspired space will be offering a unique menu of Veuve Clicquot champagne and curated cocktails. Yeh, you can't get that on Amazon.
5 November – 23 December, 4–9pm on weekdays & 12–9pm at weekends, 24 December 12–4pm | Edwards Mews, at the rear of Selfridges London  
350 Christmas Trees, a million twinkling lights, and five new pop-up restaurants serving Alpine inspired dishes in situ for six weeks... Even if you were the dunce of your maths class at school, it's pretty easy to work out that all of this equals a wicked festive extravaganza that only the crew at Pergola Paddington could dream up (not just cos this is the only place in London with the space for it all). They're spreading their OTT Christmas cheer over two floors; the upper deck is taking the shape of a winter forest set to the backdrop of snow-covered hills, while downstairs, the makeover takes the look of an expansive Alpine Hall, complete with ten cosy 8 person chalets, each decked out with blankets, fondue kits and their own private bars serving a host of cocktails and hot toddies.
Deck the Halls at Pergola Paddington will launch on November 11th and run until the end of December, opening 7 days 12 - late. For bookings visit https://www.pergolapaddington.com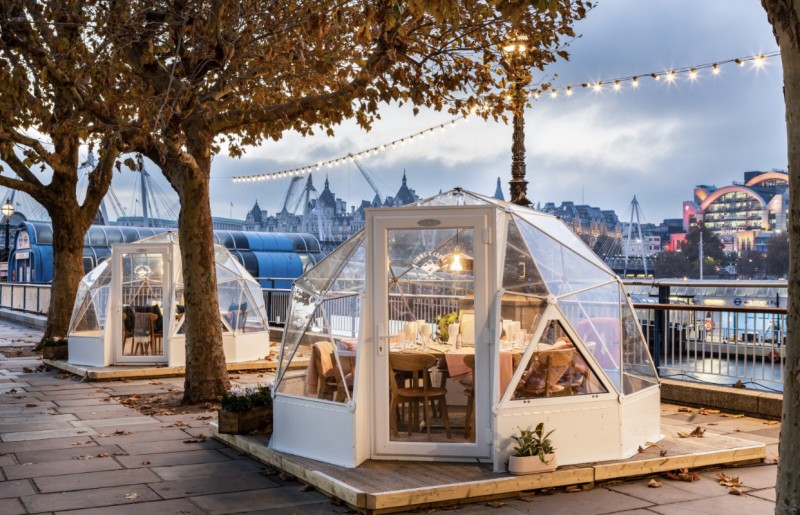 Jimmy's Winter Lodge has returned to its prime Southbank location for another Winter of riverside feasting. Get cosy in this rustic (and heated) Chalet Alpine Bar where a sick menu of winter warmers including hot apple Mojitos and Hot Toddys are ready to bring the heat, and a downstairs takeaway Lodge Grill is serving up indulgent dishes like oozing raclette burgers and wild boar hot dogs to take with you as you stroll along the river. Rolling with a crew? Jimmy's waterside snow globes have also reappeared along the river bank to take over your Instagram once again, and they're ready to cater your reunion/ Christmas party/ quadruple date in style.
Jimmy's Winter Lodge is open from November 5 to January 9, 2022. Southbank Centre, Belvedere Road, London, SE1 8XX
Frosted-wreath archways, fir tree foliage, twinkling lights and glittering bell jar lanterns; No, this isn't Narnia... this is the sparkling Alpine pop-up about to take your Winter Instagram game to new heady heights. Sky Pod, located 35 levels above The City, and the City Garden Bar another floor up, have teamed up with Champagne icons Moët & Chandon to create a ski-chalet oasis in the clouds. Grab yourself a ticket and you'll find yourself with access to the gardens and winter bars, and a complimentary glass of Moët & Chandon, mulled wine or cider and mince pies which should give ya the dutch courage you need to enjoy the sing-along live music and dance-worthy DJ nights running throughout the weeks leading up to Christmas. 
Tickets are priced from £12 per person, available to purchase here.
Stockings, twinkling fairy lights & a fly as f*ck Christmas tree. After the sh*t show of Christmas 2020, we can confirm that miracles DO happen, and they're happening on Henrietta Street this Winter as the kitsch, nostalgic, and fabulously OTT pop-up returns. Experimental Cocktail Club have once again created a full-blown festive fiesta of outrageous cocktails with wild glassware and colourful lights. Sick. Join us in getting transported to a '70's Christmas home' with retro decorations and an epic super-sized fireplace. Those chestnuts will soon be good and roasted.
Open from November 15th at 14-15 Henrietta St, Covent Garden, London WC2E 8QG
If you've always dreamed of spending Christmas in Paris, wandering across the Seine and taking in the dazzling lights of the Eiffel Tower... well, heading to Balthazar in Covent Garden this Christmas is the next best thing. They're bringing 'Les Lumières de Paris' to diners, with a customised twinkling Eiffel Tower inside the restaurant, and fabulous firs bringing the bling outside. Not only can you feast on warming dishes such as onion soup with Emmental cheese and croutons or moules mariniere and frites, but the cocktails have a distinctly French vibe about them too. Balthazar has partnered with wine-based aperitif Lillet to deliver a menu of tantalising tipples including 'The French Way', featuring Lillet Rosé, Chambord, Pampelle Liqueur and Peychaud's Bitters, and 'Moulin Rouge' - a stylish concoction that blends Lillet Rouge, Bourbon, Martell VSOP Cognac, Cherry Heering and Cherry Syrup. If that's not going to put you in the mood to make merry, we don't know what will.
4-6 Russell Street, Covent Garden, London WC2B 5HZ
This winter, two of London's most legendary locations are gonna find themselves drenched in après-ski vibes as they're transported from inner-city concrete jungle to the European headiness of the Alps. On the 24th November, The Curling Club will be gliding its way up Regent's Street before sliding to a halt at The Langham, where it will be transforming the hotel's courtyard into an Alps apres-ski inspired winter wonderland. Live DJs, alpine-inspired street food and drinks, and three ice rinks will be popping up for the first half of its three-month residency before the space undergoes another gold-medal worthy transformation in honour of the Winter Olympics.
Meanwhile, in Finsbury Square, ten curling rinks will open from 1st December, turning the space into an awesome (and quintessentially British) sporting haven of competitive socialising. That's your work Christmas party sorted. Not sure you have what it takes to curl your way to victory? Current Team GB Skip and three-time Olympian, Eve Muirhead MBE, will be on hand at both venues to glide party-goers to a clean sweep. 
The Curcling Club will be at The Langham from 24th November - 20th February 2022, and Finsbury Square from 1st - 19th December 2021
The Queen of Hearts meets a new Queen at this rooftop Wonderland. Every year this ultra-cool East London party spot gets curiouser and curiouser with its wild thematic takeovers, and this year they've taken things to a trippy dimension. There's plenty to find down this rabbit hole (which perhaps somewhat confusingly is entered by going up the stairs) with epic signature cocktails, wicked food and shisha pipes bubbling away all under the umbrella of an Alice in Wonderland adventure. Sounds like our kinda tea party.
Open from Friday 5th November at 1 Curtain Road, London, EC2A 3JX 
Taking inspo from the rolling Scottish hills and The Macallan Estate, the iconic terrace of Rosewood London has adorned itself with beautiful blue heather, purple thistles, and elegant pine trees for a season of warming whiskies and Speyside inspired scran. With tartan blankets to cosy up under, order from the menu of Macallan cocktails including the unique and interactive tableside Hot Toddy experience that'll have you curating your perfect winter warmer with a selection of The Macallans finest drams. Choose your whisky and then pick the spices you want to instil into it at the table (they even provide you with a timer to get the perfect infusion) to pimp your perfect Toddy. Auch aye!
Open now until end of January at 252 High Holborn, London, WC1V 7EN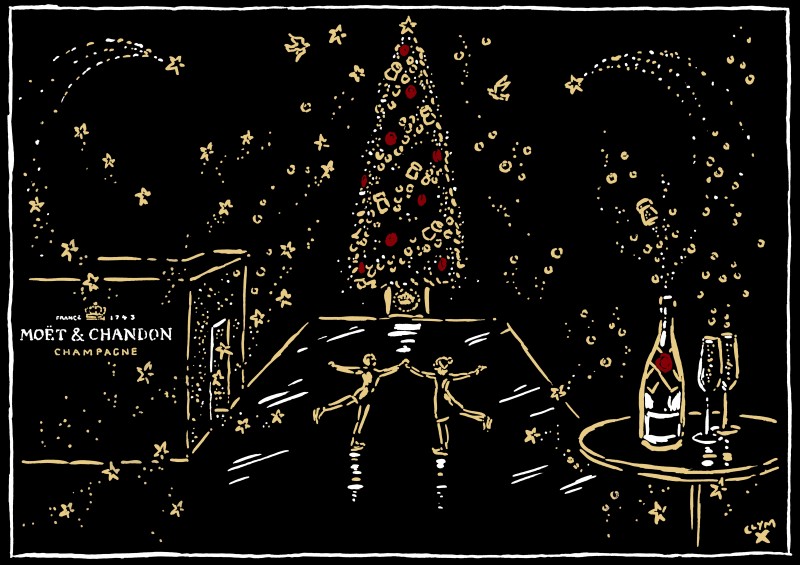 Nothing says Christmas to us quite like a 40ft Christmas tree, a glowing ice skating rink and an effervescent lounge where Moët & Chandon corks pop like Christmas crackers. Yeah, as far a winter playgrounds go, this is BarChick's Disney Land.  The iconic Champagne house has taken over the Somerset House courtyard for the festive season. It's all about bubbles over baubles on the tree, with corks and themed decorations twinkling on the branches, and the Skate Lounge by Moët & Chandon overlooking the rink with a classy menu of Champagne cocktails. Kick back and watch the skaters glide beneath you as you sip on a Moët & Chandon Winter Spiced Cocktail AKA a classic mulled wine that's been treated to a boujie glow-up. Champagne purist? Iconic Moët & Chandon champagnes, including Rosé Impérial and Impérial are also available by the bottle and the glass. Cheers to that. 
From Wednesday 17th November 2021 – Sunday 16th January 2022 | Somerset House Courtyard, Strand, London WC2R 1LA