Loose-leaf tea; dainty china; fiddly sandwiches with the crusts cut off… it's all a bit BBC drama for BarChick's liking. But hold onto your china teapot 'cos there's a wave of booze spiked Afternoon Tea offerings. Check these boozy afternoon teas and get booking – you'll have your little finger poking out before you can say 'I'll be mother'.
The Martini One –
Afternoon MarTEAni at DUKES Hotel
A three-martini lunch? Now you're talking. It might sound like you need to have a titanium liver to get through the afternoon without going sideways, but the Martinis in question are miniatures. Anyone who's got through 2 of Alessandro's legendary Martinis at Duke's will understand.
There's still all the quality – this is DUKES baby, home of the Martini. Each of the East Indian Company gin cocktails have been designed to pair with part of the meal. Think crisp clarity of the lemon twist classic is alongside sarnies. Marmalade Martinis with warm scones, and finally there's the First Romance Tea martini. Now this kind of romance we approve of. It's made with vermouth that's infused using The East India Company's First Romance Tea – a black tea with fruits and flower petals. Sip while you indulge in handmade pastries like a peanut chocolate delice and doughnut praline and congratulations, consider us wooed.
£42.50 per person.
The Sweetie Pie –
TEA TOTAL at The Perception at W London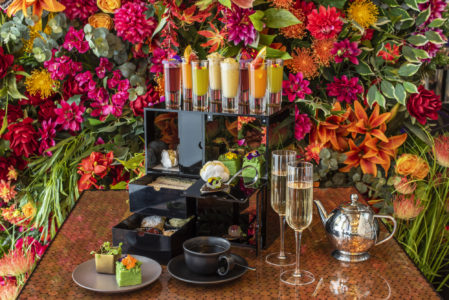 We know, 'Tea Total' doesn't exactly sound the most spirited affair when it comes to boozy occasions. But chill your boots, because the peeps at The Perception at W are just entertaining themselves with some witty word play. The TEA TOTAL experience is in fact anything but – consisting of several crystallised shots from their latest cocktail menu, paired with 'experiential English garden inspired sweet creations'. Think treasure chests hiding edible treats. Our fave? The Pull the Pin is made with Patron Silver, Aperol, maraschino, British strawberry and lime, and is intended to be sunk with the Every Cloud – their version of carrot cake that's been sandwiched between two fluffy meringue clouds. Far out.
£37 per person or alternatively £42 per person including a glass of Prosecco
The Japanese-inspired One –
Onodera Ochakai Japanese Afternoon Tea at Ginza Onodera
Sure, it's a mouthful. But not nearly as much a mouthful as you're going to be taking when you're presented with more Asian-inspired treats than you can shake a chopstick at. Ginza Onodera is stylish AF. They're waving sayonara to the sarnies and ushering in umami-packed Japanese treats. Chicken karaage, wagyu beef sliders and seared salmon tataki. No you're salivating. But enough food chat – let's get down to the business of booze. The sweet thing about this Afternoon Tea is that you can get busy with Champagne, matcha tea, or cocktails. We're not trying to sway you but their Japanese version of a Bramble, the Panacea #2 (Sake, Elderflower Gin, Crème de Mure, Apricot palinka, Lime) is top. Or get your game face on and opt for the Blood and Walnut's Sand. This epic cocktail of Yamazaki Distiller's Reserve stirred with bittersweet liqueur and with black walnut bitter isn't for the faint hearted, and boy does it pack a helluva punch.
£35 each for Afternoon Tea with cocktails.
The Good Time Gathering One –
Afternoon Par-Tea from Cocktail Trading Co
There ain't no party like a liquor-laced afternoon tea party – at least that's the sentiment of the Cocktail Trading Co boys. If you fancy a boozy bash that involves pop classics, finger sandwiches, and cocktails garnished with Mr Kipling cakes, then this is one invitation you don't want to turn down. Taking place on the first and last Sunday of each month, guests can expect more colourful concoctions, cheesy tunes and flamboyant fun. You'll find BarChick shaking it to Shaggy (guilty pleasure, okay?) while getting our green on with the Cucumber Manwich. It's green tea infused Bombay Sapphire Gin, cucumber and Galia melon juice, served long with Suze bitters and a solid spritz of bubbles.
Tickets £35 per person
The Espresso Martini One –
High Coffee at Park Lane InterContinental
Forget the Afternoon 'Tea' concept… this bling hotel is bowling on in and unashamedly replacing the classic drink for coffee. Music to our ears. Start your High Coffee experience with a Salted Caramel Espresso Martini – a sweet yet saucy number, think cocktail equivalent of Shakira. Time for the sandwiches – shove your cucumber, because here we're talking smoked eel on a beetroot brioche roll, and free-range chicken on buttermilk bread. Hot savouries follow (wild mushroom and tumble weed might sound out there but trust us). Then it's on to the sweet stuff – including scones, a lemongrass and lime crème brûlée, and a goddamn Bailey's Chocolate Éclair. But this isn't all. Your caffeine kick is completed with a Caffé Corretto – a shot of espresso with grappa or some other liquor. BarChick recommends finding somewhere to go dancing that evening – you're gonna have a lot of energy to expel. Shake it, baby.
High coffee is £42 per person