Party through the hangover, brunch is now an all day boozing affair. Not hanging? You will be tomorrow.
Didn't think you could afford the roast beef tacos and a sh*tload of Margaritas at this fancypants joint? Think again, 'cos even Ella Canta – one of London's hottest high end restaurants from renowned chef Martha Ortiz – is on the bottomless brunch wagon. To be honest, it's a steal, and possibly BarChick's favourite brunch in London (we've always been partial to a little tequila). Choose from 3 courses of the finest fare like soft shell crab, shrimp aguachile and Mexican bread stuffed with slow cooked pork and fill up on bottomless Margaritas. We're not talking sweet and sour mix here – you'll get to try 4 versions of the classic : pistachio, hibiscus, lavender and sea salt and grapefruit. All EPIC.
The deal: served from 11.30am every Saturday and Sunday.  For £45pp, guests can order three courses each with unlimited margaritas or sparkling wine.
Can't seem to scramble out of bed before 3pm on Sundays? Always manage to miss the bottomless brunch hours? No worries! Drink Shop Do have got you covered. Brunch is served on your terms, all day long from 10.30am. The two-hour timer starts whenever you're ready and with bottomless bagels, Bloody Mary's and Prosecco all on offer you'll certainly be able to fill ya boots.
9 Caledonian Rd, London N1 9DX
Bourne & Hollingsworth Buildings
It just ain't brunch without a Bloody Mary in tow, and at B&H you can go all customised with vodka, tequila or gin in your yours, add in potato hash, salt beef, hollandaise and crispy shallots and you've got the first meal of the day nailed. If that and the sh*t tonne of green plants in this outside-is-inside oasis doesn't sort out your hangover, there's an empty bathtub in the loo's just waiting for you to nod off in.
The deal: Saturday and Sunday, bottomless Bloody Mary's for £17 // £18 for unlimited Bellinis
42 Northampton Road, London, EC1R 0HU
You've probably heard the rumours about this being the best brunch in London. Well there's no smoke without fire, and fire's what you're gonna get 'cos these guys are the kind of the BBQ. Smokey baked eggs, 18 hour brisket and smoked pork belly benedict. Hell YES. Plus bottomless Prosecco, mimosas and their 5 different house Bloody Marys. Go for the one with smoke meat drippings. Bad. Ass.
The best bit? Their brunch is available every damn day. Boom.
Fancy mixing up your usual brunch routine and wanna fusion fix then get to this mix of South America meets Japan crossed with Venice Beach. The open kitchen dishes up a killer menu of brunch classics with a South American twist. If you don't know what to go for just order the three course chef selection which blew our minds.
The deal: £29.50 for a two-hour sitting, Saturday and Sunday 11am – 3.30pm (Sat) 2.00pm (Sunday)
Mommi, 44-48 Clapham High St, London SW4 7UR
If like BarChick you are indecisive as f*ck on a hangover then the folks at this tapas restaurant have got your back. Mixing new British brunch classics (smashed avo) with Spanish flavours including the infamous Spain in a Bap dish, these guys have something for everyone. Better yet its all washed down with bottomless bloody Mary's, Prosecco and fresh naranja.
The deal: £25.00 for a two-hour sitting, Saturday and Sunday 10am – 1pm.
Unit 7, Market Row, Brixton
Make it a date at Hix Soho or Hixter Bankside: they've got De Beauvoir smoked salmon 'His Cure' with scrambled Burford Brown eggs and Cock 'n' bull hash that comes with a double yolker because brunch ain't just for singles. If you happen to be at the Bankside joint, don't forget to roll onto Southbank with fingers crossed for some sun.
The Deal: Saturday only, bottomless Bloody Mary's and glasses of Prosecco for £15
16 Great Guildford Street, SE1 0HS // 66-70 Brewer St, London W1F 9UP
Two hours of bottomless Prosecco, pizza and a bit of Social Darts thrown in for good measure in this epic pub-meets-professional-playground in Shoreditch.
The deal: £30 for unlimited refills every Saturday and Sunday 12pm-2pm 0r 2pm-4pm. Boom!
Peruvian legend Coya is big on the brunch scene and it's insanely good. It would be rude not to kick off with some legendary Pisco Sours. Ceviche, tuna tacos, slow pulled pork and corn criollo are up first and it's a sharing affair before mains hit the table like chargrilled seabass and roast lamb. There's unlimited Louis Roederer Champagne, and they're not afraid to use it. Going with a group of mates? Be totally badass and book in for the chef's private dining room at NO extra cost people – all bright artwork, private service and a mega table, be the kings of brunch.
The deal: Sunday only, £20 a head for unlimited Champagne.
118 Piccadilly, Mayfair, London W1J 7NW
Original boss of the unlimited London brunching, Aqua have been channeling Asian vibes for years with their Infinity brunch. A sushi sunday brunch, on one of London's best roof terraces, with unlimited Champagne, holla!
The deal: Sunday only, £65 for unlimited Veuve Champagne and a Bloody Mary on arrival or from £39 with a beverage of your choice.
5th floor, 240 Regent Street, London W1B 3BR
You also can't argue with bunching it up in a swank setting that gives you lobster scrambled eggs, caviar omelettes and sirloin steak with unlimited bubbles. These guys just get it. Dress up or go home.
The deal: Saturdays and Sundays, add bottomless bubbles to your meal for £15pp.
16 Bury Street, London, SW1Y 6AJ
Up there with the best buns in London, Flesh & Buns now get their far eastern freak on in the morning too. Ask to sit in one of the chill-out booths, get on the cocktails and get a Japanese feast of meat and fish with all the glorious sides (wine).
The deal: Sunday only, cocktail on arrival, chips, dips and edamame, unlimited hot and cold dishes, signature Flesh & Buns, unlimited Prosecco, red or white wine and dessert for the table. £39/£46pp.
41 Earlham Street, London, WC2H 9LX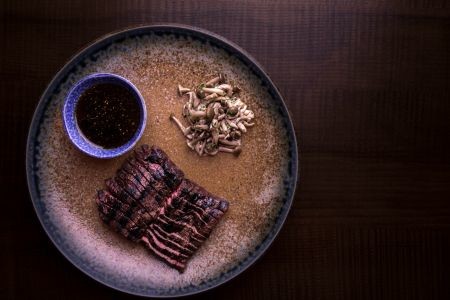 Not one for the faint hearted, Bunga Bunga brings the entertainment hard at the weekend. Expect drag queen entertainers, loud music and dancing – there's nutella pastries too. By 3pm you'll be on the dance floor living it large like you've been partying all night. Sure it's a bit much but the sofa's not gonna make you laugh is it?
The deal: Bottomless antipasti, pastries, pizza, gelati, bellinis and prosecco for 2 hours. 11.30am sitting or a 1.45pm one (that pretty much lasts all damn day) sitting – both £42.
37 Battersea Bridge Road, Battersea, London SW11 3BA
Head to the new bar at Le Pont de la Tour for Le Brunch chez Pont, a 'sans fond' (bottomless) brunch. With cosy banquettes and wicked views of Tower Bridge, this is surely the most glamourous new brunch in town. Get your fresh juice on with a side of the breakfast classics or go for the Brunch Burger with gruyère and bacon. Wash it all down with bottomless bubbles for £15. Hell yes.
The deal: Saturday and Sunday, £15 for two courses or£20 for three and unlimited Prosecco for an extra £15 a head. Boom.
Not had eggy bread since school days? It's back so go get it with avocado, and while you're there try the 'Kick Start' too; chilli rice and fried egg. Way better than cereal. If it's a hot day try to arrive early so you can grab a garden seat, they go quick.
The deal: Saturday and Sunday, unlimited bubbles or Bloody Mary's for £20
12 Balham Station Road, London, SW12 9SG
They keep brunch simple at this East Dulwich pub that's all local vibes – get a full english, eggs Benny/Florentine/Royale or Pancakes with bacon and maple syrup and bottomless cocktails for £20. There's unlimited coffee too – just what you need before pub crawling along Lordship Lane; what weekends were made for.
The deal: Saturday only, bottomless Bloody Mary's, Prosecco or Mimosas to be served with your meal, £25 all in.
193 Crystal Palace Rd, East Dulwich, SE22 9EP
Bubble and squeak washed down with Prosecco, just what your weekend wanted. Veggie? This place is your best mate with sh*t load of avocado more than making up for bacon's absence.
The deal: pay £15 for a glass of Prosecco with unlimited refills. Holla!
154-158 Shoreditch High St, London E1 6HU
American waffles with Nutella? Hells yeah! You can even get away with wearing your dressing gown here with the lazy hotel morning vibes. They go big on the booze here. Go get seats on the suntrap terrace then blag your way up to the secret garden to work your way through the wine list.
The deal: Saturday and Sunday, bottomless Bellinis, Prosecco and Mimosas for £15 when you have two courses or more.
3 South Place, London EC2M 2AF
Soho's favourite Japanese comfort food restaurant is kicking up a notch and bringing happiness into brunch lovers' lives. (aka.everyone) There's gonna be brunched up Shackfuyu classics so expect things like breakfast hot stone rice with cheese, bacon and mushrooms as well as awesome new brunch specials like green tea waffles with smoked bacon, black sesame butter and maple syrup. Awesome.
The deal: Sunday only. 12pm – 4:30pm. Unlimited pineapple-infused sake, a choice of two small plates and one larger dish. £29.
New to the Old Street crew, Bad Egg's got this: cheeseburger hash; sides of fried chicken on syrup brioche; cheese and fried egg chips; breakfast tacos and f*cking hot Gochujang (a Korean spice, yo) spiked Bloody Marys. See ya there.
The deal: Three plates and bottomless Gochujang Bloody Marys, Cava or Mimosas for £35 (or go virgin for£23.50).
City Point, 1 Ropemaker Street, London, EC2Y 9AW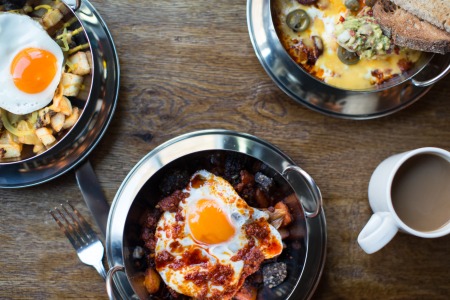 This is where you can get a signature Chino-Latino brunch of said dishes, bottomless cocktails of your choice and Mexican doughnuts. BarChick was sold at bottomless cocktails, but the clincher was mention of the Mexican doughnuts. Epic. Cuban-born Luis Pous has devised a wicked three-course brunch including dishes such as Ceviche de Pescado, Black Bean Hummus with Malanga Chips and Cuban Benedics with BBQ pulled pork and chipotlaise sauce to name a few. Did we mention that the Mexican Doughnuts made of caramel or Thai chili-chocolate are also unlimited alongside bottomless cocktails? They are and they're so spot on.
The deal: Saturday and Sunday, brunch with bottomless cocktails for 2 hours from 12pm – 4pm at £48 a head for bottomless cocktails or £70 for bottomless Champers.
The best thing about going for brunch in West London is no one will look at you twice when you keep your shades on inside; you're gonna need 'em in this bright place. Do eat the buttermilk pancakes with bacon and lobster egg benedict. Don't be tempted to touch the big wine glass chandelier.
The deal: Saturday and Sunday, unlimited Prosecco or Bloody Mary's for £15.
7-9 St James's Street, London SW1A 1EE
This takes brunch to the next level so freshen up that tired face 'cos the food is epic and you'll be partying again in no time. The menu's all European Japanese fusion, we're talking miso marinated black cod with grilled eryngii mushroom. For breakfast. Afterwards, stay for the party and keep drinking bottomless champagne with the DJ at the bar.
The deal: Saturday only, brunch with bottomless Moet & Chandon champagne for £70 a head.
1 Pont Street, Belgravia, London, SW1X 9EJ
F*ck aspirin and cold showers, the only real hangover cure is a Michelin star. The Champers flows all day at the Lima Fitzrovia branch, where they're serving suckling pig and crackling for the Long Sunday lunch. Central? Head to the Covent Garden joint for potato pancakes and a side of Yellow Chilli Pepper Tiger's Milk. That's spicy savoury shots to us.
The deal: Saturday and Sunday, £12 for 4 glasses of prosecco in their Fitzrovia venue.
Fitzrovia: 31 Rathbone Place, Fitzrovia, London, W1T 1JH // Covent Garden: 14 Garrick Street (Floral Street entrance), Covent Garden, London, WC2E 9BJ
No one should have to choose between brunch and Sunday lunch, these guys get that. For £25 you can eat eggs for starter, beef and all the trimmings for main plus an epic homemade dessert, all washed down with morning booze classics. We're impressed.
The deal: Sunday only, £15 extra for bottomless Bloody Marys, Bellinis & Mimosas
10 Lancashire Court, New Bond Street, London, W1S 1EY
Can't face a big brunch? This place has got you covered. One main course and you're in for hours of endless Aperol Spritz, Rose or Prosecco which all go down a treat on one of their outdoor tables. Inside, sip away until the Chelsea Prayer Room opens upstairs and you can continue the party 'til late…
The Deal: Saturday from 2pm and Sunday from 3pm, £35 for bottomless Aperol Spritz, Rose wine or Prosecco
333 Fulham Rd, London SW10 9QL
Go big with your brunch. At the Covent Garden B.E get involved with bottomless  draught beer, Prosecco or house wine, to go with a choice of hearty mains, including piles of BBQ meat and fresh lobster – or there's a classic brunch if that's more your style.
The deal: £29.50, Saturday and Sunday at the Maiden Lane restaurant. 
332-334 King's Rd, London SW3 5UR
In the not so secret Olde Town Tavern (in the Breakfast Club at Canary Wharf), Dr Kluger is prescribing a killer remedy to the weekend blues. The Bottomless Consultation is an all singing, all dancing (literally) two-hour prescription of free pouring prosecco, schooners of larger and full montys – just what the Doctor ordered. Better still to keep you entertained during your appointment the Doctor has lined up some of the city's hottest drag acts.
The deal: £39 per person for a two-hour consultation of bottomless prosecco, bucks fizz and larger. Saturday and Sunday 12pm – 5pm.
Doctor Klugers, CR30, Crossrail Place, 1 Crossrail Place, Crossrail Station and Retail Mall, London E14 5AR
Hey! You should also try:
London's best roof terraces
Best places to eat outside in London
Where to drink in London after midnight
SaveSave