There are nights for just one drink and then there are nights for rounds, shots, pulling and dancing (on the tables). These bars are for just that. Wicked for Birthdays, when you wanna go big or those wildcard nights, these are the bars that know how to get the party started.
CENTRAL
Underground tunes and killer cocktails
If you're in the mood to dance, probably best to hit up an exposed-brick, dark wood-paneled, dimly-lit basement bar where no one'll notice (or give a sh*t) about your profuse sweating and gurning. Basement Sate is your guy in spades. On Fridays and Saturdays from 8.30 onward, you'll not only get killer (and nutritious) little twists on classics, but you'll also get to sate your appetite for 80s sleaze, New York Garage, funk and soul.
Open 'til: Tuesday-Saturday: 1.30am. Sunday-Monday: 12am
8 Broadwick Street, London W1F 8HN
Soho's boogie den
Sometimes called Dick's Bar (after the legendary Dick Bradsell), sometimes out of control and always nestled between 2 sex shops, Pink Chihuahua is pretty much an institution. If you're not already a part of The Pink Chihuahua Club, get on it. You're gonna be dancing on tables till 3am. The playlist's always crossing genres (think disco, 90s RnB bangers & classic party tunes), but it's always epic and it's bound to make anyone wanna dance and drink loads. Go for their namesake cocktail and keep the tequila and mescal shots rolling. This place guarantees naughtiness and a sh*t load of fun.
Open 'til: All Mon-Sat: 3am, Sunday: 11pm.
25-27 Brewer Street, London W1F 0RR
Hollar requests at the live band
Here's the lowdown: this is London's only non-stop live music venue and it's in a massive Victorian listed 400 capacity warehouse. If you were expecting a dry Martini, a civilized chat and a crooner, you were mistaken – but what you get in the place of it is a f*ckload more fun. Hit the bar up for a 'classically strange' cocktail and tell the band what tune you wanna hear and they'll hype it up and turn it into something anthemic and dance-worthy.
Open 'til: Monday-Saturday: 1am. Sundays: Closed.
113-117 Farringdon Road Entrance corner of, Ray St, Farringdon, Greater London EC1R 3BX 
Outrageous cocktails and raucous vibe
If your mates can't have a good time at LCC, you need new mates. These bars are the original party starters, the party place for people who are into their drinks and all of JJ Goodman's empire keep the drinks flowing, the beats pumping and the crowd on it. Kicking things off with their famous happy hour you probably won't care what colour the walls are. Go wild.
FYI: Happy Hour: 2 for £12 on ALL Cocktails.
Locations:
Shoreditch
:
Unit 12, 29 Sclater Street, London E1 6HR
Happy Hour details:
Monday's, ALL night, everywhere.  Tuesday-Saturday 4.30pm 7pm at Shaftesbury, Covent Garden, Oxford Circus & Goodge:  Tuesday-Saturday 5pm-8pm at Shoreditch, Islington & Bethnal Green
Old school rock star party place
This was once the rock elite's party digs, so dress the part and get acquainted with the bartender. The 'tartan on acid and tin tile' decor is a well fitting backdrop for your debauched shenanigans which'll surely include dancing to that avant-garde DJs till late.
Open 'til: Thursday, Friday, Saturday: 12am.
The Scotch Of St James, Masons Yard, London SW1Y 6BU
A new late night bar and pizzeria from the guys behind Bunga Bunga (if you hadn't guessed), inspired by late-night, back street Italian bars – with a large selection of Italian wines, beers, proseccos and vermouths, along with pizzas to fuel up on before you hit the party bar downstairs.
167, Drury Lane, WC2B 5PG
Teeny basement party bar 
Downstairs in this basement cocktail party den, When the clock turns ten, lights turn down, DJ comes on and the party kicks off. It's a weeny dance floor, so expect to get up close and personal with whoever you're with, so choose wisely.
Open 'til: Wednesday-Saturday: 1.30am. Sunday: Closed. Monday-Tuesday: 12.30am.
Rathbone Pl, London W1T 1JF
SOUTH
You said party? Hell yeah you've got one at this Caribbean-style party place. From the girls dancing on the tables, to the 90's bangers, lively crowd and the boozy tropical rum cocktails. This is a shiny new Brixton bar, without the wanky crowd. Get involved.
435 – 437 Coldharbour Lane, Brixton, London SW9 8LN
American-style party playground
The ultimate party/karaoke/cocktail bar that looks like Saved By The Bell's Zach's kinda hangout as it's sticking with the school motif. We're talking table football, basketball hoops, old school lockers and 80s music matched with some serious cocktails made by bartenders who are anything but. Yeah, this place is one helluva boozy and regressive playground.
FYI: Happy Hour is 5.30pm till 8pm where Cocktails are £4.50 and two Beers for a fiver. Winning.
Open 'til: Tuesday-Thursday: 11.30am. Friday-Saturday: 1am. Sunday-Monday: Closed.
109-111 Long Lane, London, SE1 4PH
New to the after-hours party for those that want more than just DJ action for their nights out. The brainchild of Ben Lovett from Mumford & Sons – it's a live music hangout with a separate bar too.
6 O'Meara Street, London Bridge, SE1 1TE
You'll get sweaty, you'll dance, you'll spend too much on vodka and tonics and probably end up snogging someone in the band. With live music every night and a lively crowd it's a guaranteed top notch night out.  close before you're ready to call it a night, so message BarChick for after-party suggestions. P.S they also have Old Street Records in East London, but on the weekends they have more live DJs playing chart tunes than music action.
8-10 Northcote Road, SW11 1NT
Pizza, booze and noughties indie classics
Think High Fidelity meets pizza and booze warehouse and that's where you'll be grooving. Kick things off with cheap drinks from 3pm-8pm – but what you're really here for is the music, it's properly dance-worthy. They've got live music and DJs who dig music from the likes of Oasis, Bloc Party and Yeah Yeah Yeahs.
Open 'til: Tuesday-Wednesday: 12am. Thursday: 1am. Friday-Saturday: 2am. Sunday: 11pm. Monday: Closed.
78 Venn Street, London SW4 0BD
Cocktails, tapas and choons from all over the globe
If you wanna fusion fix get to this Clapham local where South America meets Japan and crosses with Venice Beach.  We're pretty sure this is one of the only places in London where you can get a Pisco Sour and a Japanese craft beer alongside some sushi and ceviche. Feeling hyperactive from all the art, colours and cocktails? Hit the dance floor. The tunes are as multicultural as everything else they boast.
FYI: Happy Hour alert: Fridays 10.30-12pm (BOOM!) you'll get 2-4-1 Mommi cocktails. Hello chaos.
44-48 Clapham High Street, London SW4 7UR
No frills stay-all-night kinda place
It's not every night that they push the furniture aside and reveal the famed dance floor, but when they do, insanity follows. We're talking karaoke, resident DJs and Guinness. The building's kinda grotty, the bartender's are of the no-f*cks-given variety and the loos look like something out of Trainspotting, but it's no doubt one of our favourite places to hit up on a proper night out when we're in London. No frills, no fuss, brilliant underground DJs and a licensed bar till 6am. What a dream.
Open 'til: Monday-Sunday: 4am
188 Rye Lane, Peckham, London SE15 4NF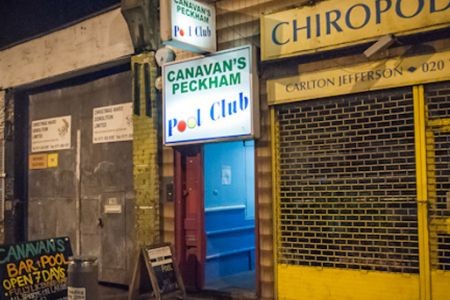 Victorian pub with party tunes 'til 4am
Late night bar and music venue in a two-storey Victorian pub with a serious daily Happy Hour (5pm – 8pm) and resident DJs on the deck to keep you limber until 4am on the weekends. If you don't come hungry, you're sure to leave totally starved from all that shaking and shuffling, and they sure as hell haven't skimped on the food here, with a rotating list of pop ups whipping up classics like mac and cheese.
Open 'til: Sunday- Thursday: 11pm. Friday: 3am. Saturday: 4am
443 Coldharbour Ln, London SW9 8LN
Live jams, rowdy dancefloor
There's a time and a place for Blue's Kitchen, and bourbon-fueled dancing on a Saturday night is one of 'em. It's a multileveled playhouse with a downstairs dedicated to BBQ feasting, live jams and tattooed bartenders shaking sh*t up and an upstairs reserved for loud music, grinding and sweating… better known as dancing.
Open 'til: Monday-Thursday: 12am. Friday: 2am. Saturday: 2.30am. Sunday: 10.30pm.
40 Acre Lane, London SW2 5SP
Cheap cocktails and hyped music
Clapham's inebriated but totally functional and lovable wingman. Clock the sauna-looking facade and old school lantern beckoning to you and get stuck in. The decor is pretty 'east end drinking den meets New York cocktail club' with the exposed brick walls and red booths, but the prices are well south London. Happy Hour's every night from 5-8 with £6 cocktails and hyped music.
Open 'til: Sunday-Thursday: 2am. Friday-Saturday: 2am.
56 Battersea Rise, London SW11 1EG
Mega party shed down south
By day it's a big airy-like warehouse, with a bit too much space. But by night it's a packed party place, when all the Tooting crew come out to play. With live bands and late night DJs – this is where it's at in this part of town (not that there's much else).
46-48 Mitcham Rd, London SW17 9NA, UK
 EAST
London Cocktail Club, Bethnal Green
The east party place has got way more room to move and groove than the other venues from the LCC; it's a split-level mezzanine with tables upstairs, perfect for dancing on. PLus they've got an outside beer garden – boom! There's a 'derelict train yard' theme going on, and the  cocktails are LCC party-starting classics and when BarChick came to play, they shook up an epic 8 Daiquiris in one go with their giant cocktail shaker.  You definitely won't leave this place thirsty.
Arch 253, Paradise Row, Bethnal Green, London E2 9LE
You haven't properly 'done' the East London party scene until you've woken up with a Dolphin stamp on your forehead. This place is crammed with all sorts of people, with one thing in common – they wanna carry on the party post 2am. It's a bit rough and ready, with cheesy tunes, cheap booze and a sweaty crowd – but you gotta love it.
165 Mare Street, London E8 3RH
DIY-style party bar hidden in a market
A disco-dancing tiki hot house from the 70s awaits you and your mates itching for Red Stripes and sweaty times. The DIY look of this dive is sure to make you feel like anything goes…and it does. Reggae and Motown are in the mix so you'll find BarChick on the chequered floor beneath the glittery disco ball with something questionable and orange in a plastic cup–it always does the job.
FYI: There's a life-long happy hour here with £5 cocktails. 
Open 'til: Monday: Closed. Tuesday-Wednesday: 12.30am. Thursday-Saturday: 2am. Sunday: 11pm.
49 Ridley Road, Dalston, London E8 2NP
Open only on Thursday, Friday and Saturday nights it's like it's designed with your late-night party habits in mind. With a late licence and an wildly eclectic selection of tunes, the Jazz Bar is unique, in a very sweaty way. This place attracts every type of party goer – from the hot Brazillian students to the woman who looks like she should be at home looking after her kids, not making out with the sailor clad barman. Anything goes here.
4 Bradbury St, Dalston, London, N16 8JN
A new party bar in east London – bam! From the guys behind Northcote and Venn Street down in Clapham, they know who to throw a good party. They're big on music so expect all kinds of live jams, anything from brass acts to ska orchestras and dancing your shoes off to disco. And it's on six nights a week baby! Although expect more mainstream pop and a short-skirt/open shirt crowd on a Saturdays, rather than grungy hipster crew.
350-354 Old Street, London EC1V 9NQ
Berlin-cool with live bands, DJs and hotties
A mainstay on the hedonistic late-night circuit and its success has convinced Tom Gibson to go balls out and open a lounge next door. The whole place boasts a kind of Berlin aesthetic, but the lounge is where you'll be grooving to live bands and DJs at the weekend and getting up close 'n personal, which is cool 'cos everyone in here is a solid 7 or above in the looks department.
Open 'til: Sunday-Monday: Closed. Tuesday-Thursday: 12am. Friday-Saturday: 2am.
72-76 Stoke Newington Road, London N16 7XB
Spanish-style drinking den open 'til 5am
La Cabina has makeshift Barcelona bar written all over it as it's the kind of spot you'd find down an alley off Las Ramblas where all the locals go to listen to Manu Chao and drink under neon lights and a tin tile ceiling. The cocktails are killer (think proper old school G & Ts and Chai Masala Martinis), the tapas are Sevilla-inspired and the DJs don't stop until 5am. That's right, from Thursday – Saturday, they're basically open until dawn.
FYI: Home to London's latest happy hour, with 2 for 1 cocktails between 11pm and midnight.
Open 'til: Monday: Closed. Tuesday-Wednesday: 12am. Thursday-Saturday: 5am.
232 Kingsland Road, London E2 8AX 
Live bands and huge dancefloor 
Where you go to jive and do things like an American in what looks like a New Orleans grotto meets warehouse diner. Cajun food, Rhythm and Blues and a massive copper bar housing an insane selection of bourbon are all on the cards. Live music 7 days a week from soul to swing to dixieland jazz. Book big areas for your most fun mates, make like a jitterbug and get involved.
Open 'til: Monday-Wednesday: 12am. Thursday: 1am. Friday: 2.30am. Saturday: 3am.
134-146 Curtain Rd, London EC2A 3AR
Dim sum and debauchery 
Dim sum eatery and cocktail bar with a bit of a party lean as there's a wicked line up of DJs every night of the week. If you dig funk, house, soul, disco and balearic, this is the paper lantern-lit watering hole for you. Skive off work early and you'll be graced with the kind of Happy Hour fit for champions.
FYI: Happy Hour: Monday-Friday: 5-7pm. Saturday 12pm-8pm. Sunday: All day. 4  selected beers for £10. Selected Cocktails for £5.00.
Open 'til: Monday-Saturday: 12am. Sunday: 11pm
221-222 Shoreditch High St, London E1 6PJ 
Cool-kid party crowd with taxidermied backdrop
A two-storey revamped pub full of London Field's cool kids. Keep things classic on the ground floor where you'll find a lengthy bar, ale and craft beer plus some taxidermied muttons or leave your pint downstairs (seriously, rules are rules) and wind up the spiral staircase to Pearl's for cocktails and couches. Whatever floor you choose, they'll be churning out wicked tunes: Tuesdays and Thursdays is all about live blues and boogie but expect disco soul and a hell of a lotta Prince come the weekend.
Open 'til: Monday: 11pm. Tuesday-Thursday: 12am. Friday-Saturday: 1am.Sunday: 11.30pm.
76 Broadway Market, London E8 4QJ
Late night boozer with cosy dancefloor
For a 3am Haggerston hangout, it ain't too shabby. A chilled pub by day, then by about your third tequila shot, away goes the chairs  and everyone piles onto the tiny dancefloor. It tends to be a bit of a meat market into the early hours, so if Tinder isn't bearing any fruits, this could be the place! It's a 3am finish on a Sunday baby, if that's how you roll. 
Open 'til: Monday-Thursday: 1am. Friday-Sunday: 3am.
438 Kingsland Rd, London E8 4AA
Classy fun and cocktails in secret Shoreditch bar
If you're looking top notch (these guys care) and have the dollar to spend, Joyeux Bordel is where to party into the early hours. Head down to this den of debauchery, with pimped up Parisian decor, lots of mirrors, epic leopard-print carpets (somehow looks classy here) and a modest but killer menu of Experimental Cocktail Club cocktail creations (it's all by the same Frenchy gang).  Music is a big thing here, with afro, soul, disco and boogie setting the the tone, plus the music system they use here is bangin'.
Open 'til: Sunday-Monday: Closed.Tuesday-Thursday: 2am. Friday-Saturday: 3am
147 Curtain Road, London EC2A 3QE
Classy sure ain't the word, but if you want a fun place to prance about, do some serious flirting and drink crazy colourful cocktails (try not to steal the cups), then this is your place 'til 2am baby. Oh and there's even have a caravan for you to frolick in.
FYI: Happy hour 5-8pm, where cocktails are a fiver. Then £5 off certain wines and £3 selected beers. Waaaay.
Open 'til: Sunday-Monday: 12am. Tuesday-Wednesday: 1am. Thursday-Saturday: 2am.
141-143 Shoreditch High St, London E1 6JE
LCC
NORTH
Cheapskate's dream 'til 9, classic tunes and dancing 'til 3
Simmons reputation kinda precedes it, so if you're a penny pincher their happy hour £2.50 drinks are gonna sort you out. Rock up for happy hour (4-9 Mon-Fri) and hang while playing Connect Four or dancing underneath a skull disco ball. Cocktails come in teacups, weird graffiti covers old school desks and DJs play classic tunes with a 70s/80s flex. Come on a Friday or Saturday and you won't be booted till 3am.
Open 'til: Sunday-Wednesday: 12am. Thursday: 2am. Friday-Saturday: 3am
32 Caledonian Rd, London N1 9DT
Outrageous Latin vibes, tropical cocktails, parrot
It's colourful, it's tacky and it's mega. This isn't where you go to sip on Martinis. Leave that sh*t at the door and get on the Caipirinha train. Barrio Allstar DJs will serenade you with everything from golden era hip hop, funk and soul to Latin and tropical beats. Come for Amigo Hour (daily till 8pm) and you'll get high-octane cocktails for a £5. There will also be an oversized inflatable parrot chilling on the dancefloor if the rest wasn't tempting enough.
Open 'til: Sunday-Tuesday: 12am. Wednesday: 1am. Thursday: 2am. Friday-Saturday: 3am
45 Essex Rd, London N1 2SF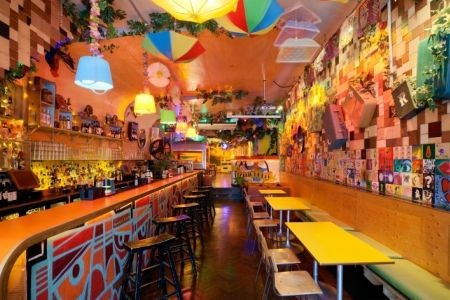 A speakeasy neighbourhood bar in Islington. The theme is "Pharmacy" complete with an "Apothecary Off-Licence" shop front. They make the usual badass cocktails and out back is A&E (Alcohol & Entertainment)… safe to say it's very LCC and we know that means fun.
108 Essex Road, Islington
From the team behind XOYO, The Old Queen's Head, Phonox, The Jazz Café – so you know there's gunna be some hot acts. Expect a young crowd of 400 gig goers and insane LED lights. Their Soundsystem is badass too.
49 Chalk Farm Rd, NW1 8AN
The legendary gig venue has had revamp and it's looking pretty fresh and ready to party. Think urban-meets-art-deco theme and a brand new D&B Sound System – it's gunna be loud. It's probably gonna get wild. Come for major names from the jazz, funk, hip hop and electro scenes.
5 Parkway, Camden Town, NW1 7PG
WEST
Reggae and hip hop beats, lots of rum
Downstairs is a Notting Hill treasure, keeping with its Caribbean heritage. Start the night off at Moral Fox for a Brandy Milk Punch and some fried chicken and make your way to the basement dive for afro, reggae and hip hop beats. If you reckon you're in the mood to make bad decisions and be naughty, best to do it underground with rum and that dude with the 'rollie' in the corner.
Open 'til: Sunday-Wednesday: Closed. Thursday- Saturday: 1am
103 Talbot Rd, London W11 2AT
Hunt down the yellow door, head up the stairs and get ready to dive into the fun. See there's a bangin' house party that kicks off every Wednesday to Saturday here – thrown by an awesome fictional house share. It gets a bit rowdy and sweaty (as much as it does here in West London) and the booze comes supersized, with mega fish bowls and punches. Grab a straw and get stuck in. The best parties are always the ones you don't have to deal with the next day…
68 Notting Hill Gate, W11 3HT
Carnival party vibe
Come in the early evening and you'll get a mostly chill, slightly veering toward mad, Mexican tapas lounge. Stay through the night (preferably until 3 if you could swing it) and things descend into the carnivalesque. You could thank the tequila shot train and theatrical DJs for that. It pretty much impossible to have a sh*t night, it gets wild in here.
Open 'til: Sunday, Tuesday, Wednesday: Closed. Monday, Friday, Saturday: 3am. Thursday: 2.30am
7-12 Sloane Square, London SW1 W8EG 
Underground Tiki bar, lots of coconuts
Tiki-tastic subterranean trailer bar / breeding ground for all sorts. Especially those who dig classic cocktails with cheeky Polynesian twists and dumplings galore.  This is where bartenders come to get loose, so you know it's gonna get wild. Come here for Thursday – Saturday and you'll get your Reggae, Blues, Hip Hop and Funk fix. They've even got their very own Rum Club. What are you waiting for?
Open 'til: Sunday-Wednesday: 12am. Thursday: 12.30am. Friday-Saturday: 1am
177 Portobello Rd, London W11 2DY
Home to the famous Flaming Ferrari, you gotta have at least one before you can say you've lived (Wills & Kate got ratted on them once, apparently). For a long time it's been the best in the west to start a party, and it always delivers. Expects choons Thursday to Saturday from the DJ Le Shaker DJ and lots of sweaty people with cash to splash.
FYI: They now how a secret party room downstairs.
Open 'til: Monday-Saturday: 2am. Sunday: Closed.
159 Old Brompton Road, London, SW5 0LJ
West London carnage in Berlusconi-themed bar
You'll probably do something (or someone) you regret here, but that's all part of the vibe. Every hour on the hour, everyone gets on the podiums around the room to shake their thang – we're talking everyone; the bouncers, the bar staff, the chef are all up there. Clock hits 12 and it's Christmas Day every night – with glitter confetti and 'All I Want For Christmas Is You'. It never gets boring here. Sup from from Berlusconi's face (or a mug that looks like him). Cheesy and faux Italian all over, your Italian mates will hate it.
Open 'til: Sunday-Monday: Closed. Tuesday-Thursday: 1am. Friday: 2am. Saturday: 2am
37 Battersea Bridge Road, London SW11 3BA
If you're more about the apres than the ski, this is your place. With giant cow bells hanging above the bar, and drinks out of ski boots – you could almost be in a snug party chalet in the alps.
2a Kensington High Street, London W8 4RE
Paradise by Way of Kensal Green
Restaurant turns dance party
One part Southern Gothic, one part Victorian drawing room and a dash of greenhouse is what to expect from this bar/restaurant/nightclub. Named after a poem opposing the prohibition of alcohol but it's not one of those stock slick speakeasies. If you fancy dancing along to live music, they've got that in spades. You can even bring your boring mate 'cos there are chesterfields to kick back on too.
Open 'til: Monday-Wednesday: 12am. Thursday: 1am. Friday-Saturday: 2am. Sunday: 11.30pm.
19 Kilburn Lane, Kensal Green, London W10 4AE
Need more? Try:
Best place to throw a party in London
Best places to drink after 12am
SaveSave