Hot n fresh off the press is the latest on who's who when it comes to Michelin stars. Now we're all for a swanky meal, but where can you hit the bar and sample the goods without the price tag / waiting list? Here's where:
NEW
The Ritz *
Chef John Williams finally wins the legendary hotel a star. Get close to the magic at The Rivoli Bar – intimate and comfortable, with gold leaf, satinwood and Lalique glass, it feels Art Deco and dramatic… the perfect place to impress. You get olives (the best ones) and some nuts to snack on while you enjoy your cocktails, but we say go all out and try their bar snacks… with club sandwiches, specialities, savoury hors d'oeuvres and caviar they are DAMN GOOD. The bill however might not feel so fun.
The Ritz, 150 Piccadilly, London, W1J 9BR
Okay not quite a star, but a Bib Gourmand (which basically means banging food at affordable prices – winnerrrr). For those North-based, lucky you. This place, from the guys behind the Wolseley and Brasserie Zedel, has a sun terrace along with its top notch French food. The place has recently got its bar license approved so you can now rock up and have a drink ('til 9pm) without being obliged to have nibbles (although why would you miss out on that food!).
9 Islington Green, London N1 2XH
STILL ROCKIN' THE STARS
Half way up Tower 42, you'll find Jason Atherton's 5th offering, City Social. It's a super-hot ticket and it's been awarded a Michelin Star because of its genius. Gareth Evans is the booze legend behind the cocktails and they are all mind-blowing. Order a Robin Hood Quince of Thieves, some delicious bar snacks like goat's cheese churros with London truffle honey and take in that view.
Tower 42, 25 Old Broad Street, London, EC2N 1HQ
The Clove Club in Shoreditch Town Hall is awesome, in fact there was a bit of a ruckus when they didn't get a star last year. This year the wrongs have been made right and it's been awarded its first Michelin Star. Out front is the bar where you can hang out and sip killer cocktails and get plates from the restaurant, but it's the main event out the back that you want to book in for. Do it properly and get the 9 course tasting menu with pairing wines. Date night sorted, if they don't put out after this place, give up.
380 Old Street, London, EC1V 9LT  
Gymkhana *
Inspired by the Colonial Indian Gymkhana clubs reserved solely for the elite, if you want Indian food, forget your local take away, this place will take you straight to India. The food here is so delicious and the service so impeccable it has been awarded a Michelin Star. Drink in the 17th Century East India Punch House, then enjoy a candlelight dinner that will blow your freakin mind.
42 Albemarle Street, London, W1S 4JH 
Sketch **
Upstairs in The Lecture Room and Library is where you'll find Sketch's two Michelin starred fine dining. The interior is enchanting and quirky but if you cannot wait to dine on Perfume of the Earth, orange-dusted veal and vanilla soufflé then head to the enchanted fairy tale forest downstairs with comfort food, cocktails, tapas and tea in abundance.
9 Conduit Street, London W1S 2XG
Lima *
This Peruvian restaurant and bar is about as fresh as it gets. With white washed walls and a huge sky light, colour is splashed about with pillows and glasses, but when the food is served is when things really get vibrant. Eat duck crudo, amazon fish and dulce de leche then slip down to the bar below for some Pisco Sours, easily the best in town.
31 Rathbone Place, London, W1T 1JH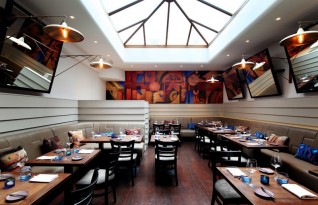 Dabbous *
If this place is as good as it is hard to get into then it must be mega, and it is. The tasting menu will both delight and intrigue with burrata, monkfish and pickled rose petals, but if you can't stick out the waiting list then Oskar's Bar downstairs is where it's at. The cocktails are insane and the bar snacks are just as good as anything upstairs, we could live off those boneless chicken wings for like ever..
39 Whitfield Street, London, W1T 2SF
It's fair to say that nothing beats perfect pub grub, especially when it's this good. Screw the waiting list and head straight for a pint at the bar, soak it up with venison scotch eggs, and Roe Deer and walnut terrine, that will transport you right out of London. Don't ask for cocktails, but do ask for the wine list, it'll more than keep you occupied.
Walham Grove, London, SW6 1QP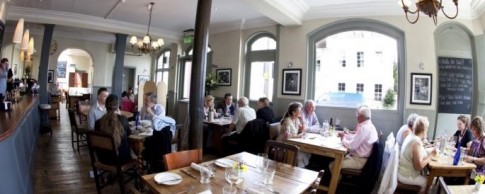 Benares *
If you find yourself in Berkeley Square looking for a Michelin star style snack. Then this contemporary Indian cuisine is some of London's very best, but start with cocktails: they'll charge yours with everything from cardamom to candy floss. Then eat your heart out, we chose crispy soft shell crab, minted wild sea bass and roasted duck.
12a Berkeley Square House, London, W1J 6BS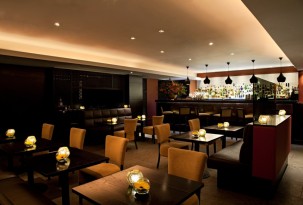 Yauatcha *
Alan Yau's dim sum teahouse in the heart of Soho is pretty flash, complete with killer cocktails that range from spicy through to aged, a macaroon counter and more leggy customers than you could shake a venison puff at. You had us at Har Gau. The bar's at the back, head on through.
15-17 Broadwick Street, London, W1F 0DL
Man this place is a smooth operation, it's BarChick's go to joint if she needs some seriously banging food and drink courtesy of Mr Atherton. For somewhere so highly rated, the feel is unpretentious and the food and drink killer. All cocktails are served with a dose of British eccentricity, squeeze up at the bar and drink in the magic. Then get your bar snack freak on, it's all good, Michelin star innit.
8-10 Pollen Street, London, W1S 1NQ
Atherton strikes again, and he's recently been starred for his efforts. Welcome to three floors of cool, with wooden ceilings, brick walls and dusty mirrors. Head up to the hidden bar upstairs, The Blind Pig, for their awesome cocktails (some glow in the dark) and hit the bar food; spiced pork belly slider? Salt and szechuan pepper cornish whitebait? Exactly, see you in there.
58 Poland Street, London, W1F 7NR
There's no disputing the fact that the Michelin guys got stars in their eyes when they hit Galvin; the views over London town are very impressive from the top of this tower. The cocktail list is extensive and they have over 55 whiskies for you to sample, which might make you more dizzy than the view. With bar snacks this good who needs the restaurant: pork crackles and bacon jam, beef teriyaki skewer and Eton mess.
22 Park Lane, London, W1K 1BE
The South Place Hotel – The Angler *
With three bars and two restaurants, this place is always buzzing, but even more so now with its starred status. Bravo The Angler for flying the flag from the rooftop, feast on fish but if you can't afford the fare then sit at the bar and get stuck into the snacks, sliders and sharing platters will ensure you don't go hungry.
3 South Place, London, EC2M 2AF
French chef Joel Robuchon retired, went travelling and was so inspired by his travels that he opened up an empire of L'Atelier restaurants. This is Michelin starred cooking without the usual stuffy accompaniments, instead expect sexy club-like styles, deep red, smouldering black and sexy lighting. Head up to the bar and drink well-crafted cocktails by the fireplace or out on the terrace and hit the bar snacks: chicken legs, fish strips, octopus carpaccio… worth their weight in gold.
13-15 West Street, London WC2H 9NE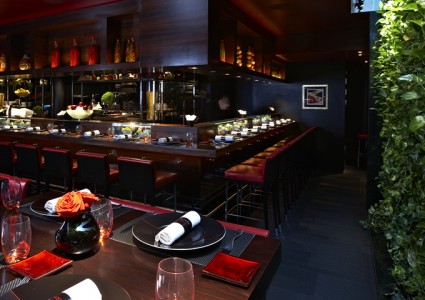 Story *
After winning its first Michelin Star just 5 months after opening, Tom Seller's restaurant by Tower Bridge is too hot to handle. The likelihood of getting a booking when you want is pretty slim so we say slip into the small but well stocked bar at the back. Order yourself a Tom's Collins, Old Skool fashioned or grab the sommelier, he knows his wine better than anyone. There's a clear view of the kitchen from here so work your wink… it may even get you table.
201 Tooley Street, London, SE1 2UE