Whether it's gonna be a rebound, double, skint or sexy one, we've got the perfect bar. Message BarChick Concierge for free and we'll book you in, (but we'll let you take the credit).
You want to impress with a secret bar
This basement bar hidden inside Milroy's, our favourite whisky shop. Head inside, nudge the bookcase, get down the stairs and get into the shit-hot drinks, good tunes and easy vibes. This is one of Soho's best kept secrets so it's bound to impress. Order up something spiked with whisky and get cosy. If this has gone down well, find more secret bars for date no 2.
3 Greek Street, London W1D 4NX
Sweeten up your date here 'cos they're all about wicked cocktails and delicious desserts. It's slick, comfortable and all about the good times so it's a surefire spot to score. Hit it on the weekend and impress with your moves as the mega DJs start rocking the decks.
8 Broadwick Street, London W1F 8HN
Opium Cocktail & Dim Sum Parlour
Step into China town and keep a look out for that jade coloured door. Inside is 1920's Shanghai where you'll find legendary bar staff, crazy smoke cocktails and epic dim sum. Pow.
15 -16 Gerrard Street, W1D 6JE
Yep it doesn't look much outside, hidden in the side door to a kebab shop, but step inside and you're in for an epic treat – insane cocktails that come in all sorts of weird shapes and forms, from jelly gin balls, to edible tree sap. You can't beat this sh*t.
Secret Forest Bar
They most likely don't know about this one, which makes it extra awesome. Head into rib joint Red's True Barbecue, slip downstairs, through a corridor straight out of David Lynch's Twin Peaks and head into this forest bar with a tree  in the middle coming out of a piano, and a fake 'starry sky'. Why not?
Red's True Barbecue, 54-56 Great Eastern St, EC2A 3QR
Find the most run-down building you can find on Wentworth Street and look for a cheap-looking suit shop. You'll spot a subtle entrance, scoot in there and down to the snug lil' speakeasy. It's all candlelit and cosy as sh*t, so it's the perfect place to get all up-close and personal with your hottie.
29 Wentworth Street, Spitalfields, E1 7TB
This place does Soho proud – lead your boring date downstairs to the tequila cellar bar and get a couple rounds in. If getting tipsy on tequila, surrounded by the super cool worn down decor and the smell of some of London's best Mexican food isn't enough to make this date a good one you can head to the adjoining restaurant and make a run for it through the neighbouring sex shop. The world's most ironic date escape route.
16 Moor Street, London, W1D 5NH
You're looking for an epic cocktail bar
You can't really beat Best New International Cocktail Bar and oh boy is it rockin'. Upmarket tiki chic vibe with palm print walls and a touch of colonial. Lots of 2-man tables by the bar for hot dates. Live music to set the tone – think jazz, funk, swing and blues to shake your snake hips too. Don't forget, you're here for the cocktails and they're gonna blow you away. Expect original, daring and adventurous creations served up in beautiful and weird vessels.
East Poultry Avenue, London Central Markets, London, EC1A 9LH
Or maybe you can…this pimped up Edwardian style bar has officially killer cocktails (and what's better than number 6 on the World's Best Bar list baby!). If this place doesn't impress, well, they're definitely too high maintenance.
44 Old Street, London EC1V 9AQ
This is where the friendliest bartenders in the city work, they'll will give you a wink when your date turns up and pour you something strong if they don't. This is one of the best bars for killer cocktails and the bar food is ideal if you can't book a table for dinner upstairs. Need something to steady your nerves? Order a Shaky Pete's Ginger Brew; gin, ginger syrup, lemon juice and ale.
157a Commercial Street, E1 6BJ
Found is a BarChick favourite for dates because they've got wicked drinks like mescal Negronis and calvados Espresso Martinis and some seriously sexy, dark corners to cosy up in. Great lighting, killer drinks and little nooks and crannies to hide away in are everything a good date needs.
Under Casita, Ravey Street, EC2A 4QW
Not sure if your date's into wine or cocktails? This bar has got two storeys; one which is all about the vino and the other is all swanky Art Deco and cocktails. You can't go wrong with either but BarChick reckons the wine floor is where it's at – and they have a wine list with loads of bottles for £20, so no risk of looking stingy.
4-5 Greek Street, London W1D 4DD
Plonked on City Road, this East London hangout has it all: banging cocktails, locals street art, top tunes and gourmet motherf*cking TOASTIES. Cocktails are banging, made with homemade syrups, liqueurs and spices.
104 – 122 City Road, London, EC1V 2NR
You need gin
Head to the back of Mr Fogg's Tavern up to this Victorian-era gin den/living room, with enough gin to send you time travelling (we're talking 315+ gins).
1 New Row, WC2N 4EA London
You want somewhere classy
A.K.A the bar with no name. It feels like you've stepped right into an old school Italian cocktail joint when you slip into this cosy lil' bar. It's pretty much always busy in here, often with a piano tinkering away in the corner, so you can easily blend into the bustle as you stumble through those classic awkward 'first date' moments. The cocktail list is epic, so get stuck in.
69 Colebrooke Row, N1 8AA
Hidden down the back streets of Old School Mayfair, you'll find this swish party restaurant/bar/fail-safe date place. Like you've stepped into a scene from Titanic, think splendour and v. glam – remember to put your glad rags on. Head to the bar for cocktails overlooking the vast restaurant below. Go for a Mayfair Lady with a side of juicy Oysters – and Beluga Caviar if you're really out to impress.
Quaglino's 16 Bury Street London SW1Y 6AJ
If you've got the cash to flash on a first date then it's got to be Bob Bob Ricard, with this lavish 1930's-style bar. Downstairs it's all private, with everyone getting their own train like booth, so if the date goes well.. no one's watching…you get us. And you've probably heard about the Champagne button in your booth that delivers you a glass in seconds. You're on fire.
1 Upper James Street, W1F 9DF
You want quirky cocktails
The Cocktail Trading Co. Smithfield
You can't not have a good time at the booze playhouse that is Cocktail Trading Company and the cocktails will do nothing but impress when they rock up in welly boots, miniature graveyards and Chinese take-out boxes, and they use epic garnishes like candyfloss and maple bacon noodles. Enjoy the playlist of party classics and when Purple Rain comes on and the lights change to violet, that's your cue to start dancing.
Inside Ask For Janice, 50-52 Long Acre Lane, London EC1A 9EJ
These guys have no boundaries when it comes to controversial cocktails. Their Fetish & Fantasy menu comprises a Golden Shower sharing cocktail and a Foxplug cocktail, served with a butt plug – if this doesn't get the convo started, seriously nothing will.
126 St John's Hill, London SW11 1SL
If you're live Instagramming your date…
This one is perfect for a double date. It's difficult to communicate via eye contact alone how a DD with your mate and each of your dates is going. You'll want a catch-up mid-evening, and Sketch offers the perfect excuse because everyone here loves heading to the toilets for a selfie. Seriously, the toilets here are little white eggs that play bird song on loop and you and your mate can go hide behind them to discuss whether or not you want to swap dates. If you need more advice, just ask the sexy French maids that host both the ladies and gents. They've seen everything.
9 Conduit Street, London, W1S 2XG
If you don't know if you can be a*sed..
Get a £1 espresso to shake you up (these Italians are taking coffee old school), order two Rose Negronis and ask the pros to keep 'em coming. Reservations here work on a strict 1 hour-only slot and the staff will come and tell you when your time at the table is done there's your escape route sorted.
7 Old Compton Street, London, W1D 5JE
You want something quirky..
It's like you've stepped right into a Charles Dickens novel, with gilt-framed mirrors, traditional Victorian floor tiles and gargoyle heads hanging from the ceiling. Cocktail-wise we're talking sourced sh*t, with homemade barrel-aged aromatic bitters, tinctures, curds, syrups, foams and cordials.
5 Groveland Court, Bow Lane, London EC4M 9EH
Step inside the abandoned-looking RV and you'll find a science lab/cocktail bar 9think Breaking Bad). Step into a giant rubber jumpsuit and get to work making bubbling cocktails. You can't fail to have fun in this crazy place.
This place used to be Kentish Town's public lav but it's now a slick and sexy cocktail bar and probably the only public loo left that hasn't been touched by George Michael. Climb downstairs and dive behind the blue velvet curtain for secret live music and some of the best Old Fashioneds like, ever. Oh and it's damn small so you're probably gonna have to get in close; you're welcome.
2 Highgate Road, London NW5 1NR
If you haven't pulled this one out the bag yet, do it. Buzz the bell, head down for your 'appointment' with the detective. You gotta go all 'role play' and discuss with Mr Detective about a case you need solving. He'll then lead you to a secret hideaway behind a bookcase (classic) and you take it from there…
310c Earls Ct Rd, SW5 9BA
Step foot inside the old tube carriage complete with vintage TfL carriage seats, white underground tiles and 'Mind the Gap' reminders. The theme continues with the cocktail menu, with ration-inspired cocktails garnished with peardrops and crumbled Oxo cubes, served up in teacups, Thermos flasks and milk bottles.
Carnaby Street to Kingly Court, London
Is this a bar or an opulent train carriage travelling express from Cape Town to Cairo? Who cares when the booze is good? With loads of quirky drinks on offer and garnishes like absinthe-soaked scorpion, and decadent but epic Art Deco meets House of Hackney decor, you'll never run out of things to talk about.
153 Upper Street, London N1 1RA
Another toilet turned bar joint, this Bermondsey basement spot is all 30's Art Deco with a marble topped bar and original tiling. The drinks are seriously on point with grappa cocktails and incense stick garnishes, natch. Get there for the mid-week jazz sessions, art collabs and live music.
102A Tower Bridge Road, SE1 4TP
You wanna get touchy touchy…
Two words; pool table. If there's anything youth clubs taught us, it's that pool tables are less a fun pastime, more a vehicle for flirtatious groping. Plus the games are free at this place. What else do you need? Booze. Luckily the 10 metre long bar is serving up some killer cocktails so get the drinks in, mention you don't know how to play and spend the night being straddled by your hot date. No real conversation necessary.
129 Stoke Newington High Street, London N16 0PH
You wanna get them home asap…
You both know the score – one obligatory round then it's back to your place for the real reason dating was invented. Cocktails here are not only created by one of London's hottest barmen on the scene, Ryan Cheti, but they're also pre-batched and ready to go. That kind of efficiency means you'll be in, served and hitting the road quicker than you can say "Uber". Here's hoping the rest of the night doesn't continue by the same speedy example. Hurry 'cos this place is closing soon!
153 Hoxton St, London, N1 6PJ
You're thinking 'South Bank'
A solid date location, but a river-view window in Pizza Express just ain't gunna cut it. Try these epic ideas and you're winning.
Dandelyan is a solid BarChick fave and a great date spot. It's sexy but not in an OTT way, it's bang on the river so views are ticked, the botanical themed cocktail menu based around trees is epic and a failsafe conversation starter and the drinks that are the work of London bartending legend Ryan Cheti and his team will blow your mind.  Swing by on a Tuesday to get serenaded by some live jams too, You've nailed it.
20 Upper Ground, London SE1 9PD
You're up for an awesome feast
If you're going all in with dinner but you're more into chilled feasting than come to bed eyes over haute cuisine, this joint from the boys at Hawksmoor is where you wanna be. Get messy with your date and share a plate of Foxlow's banging fried chicken and follow it with some of their wicked cocktails. There's no point in pretending you're a booze snob in here, the Miami Dolphin or Pina Colada is what you want.
Various locations:
Stoke Newington: 71-73 Stoke Newington Church Street, N16 0AS
Clerkenwell: 69-73  St John Street, EC1M 4AN
Balham: 15-19 Bedford Hill, SW12 9EX
Chiswick: 11 Barley Mow Passage, W4 4PH
Temper *coming very very soon*
One of London's hottest barbecue chefs Neil Rankin (from Pitt Cue fame) is launching a WHOLE animal barbecue restaurant in Soho in early November – it's gonna be epic and you're meat-loving date will be all over it, maybe bring a bib. Get BarChick to book you in!
Broadwick St, Soho, London W1F 0DF
We've also got waaay more dinner date ideas here. Or ping BarChick concierge a message and we'll sort it out.
You're disappointed at first sight…
If your date hasn't lived up to their sexed up Tinder profile, then head to Dans Le Noir for dinner in the pitch black. Or swing by on a Friday where you can grab a drink in the pop up blacked-out bar – by the time you've had a few you may well be in the mood for a cheeky fumble. There's also a silent disco too, so no need to make up the chat, just plug in and dance.
30-31 Clerkenwell Green, EC1R 0DU
You have zero. cash.
Skint? Don't be a date d*ck – drinking tap water after the first bottle of cheap beer because you're a hot mess who can't budget is never ok. Cocktails at Peckham Springs are £6 a pop and absolutely killer (they've even been named 'best value cocktails in London'). Remember you're in Peckham and these guys keep it casual – you don't want to ruin your fancy shoes when searching for the best seats in the car park out back.
22A Blenheim Grove, SE15 4QN
You need a convo starter
This shabby refurbed public toilet bar has got south of the river date night written all over it. From the sexy candlelit curtained booths to the old wartime love letters pinned up on the toilet walls, if you wanna get things hot from the first date then this is the perfect spot. Go hard then take 'em home.
Clapham Common South Side, SW4 7AJ
You're thinking 'sexy date food'
Forget all over your face spaghetti or sushi (we love it but no one wants to snog a salmon seaweed cone), first dinner dates are all about the tapas. This restaurant is f*cking cool. It's hidden underneath an old church, they take reservations so you can avoid awkward small talk in the queue and it's super sexy – we're talking bare-brick walls and flickering candles. Order some sherry with a couple sharing dishes and work your way through the mega Spanish wine menu.
St Matthew's Church, Brixton Hill, SW2 1JF
You can't wait to strip…
If you want an excuse to see your gym-obsessed date in as little as possible, then go get a sun lounger at Brockwell Lido. Have a perv behind your shades as you lounge in the sun and hit the cocktails (they even do a 'healthy' boozy juice list). Try to organise the date for Prosecco Tuesday's because glasses are £3 each.
Dulwich Road, Brockwell Lido, SE24 0PA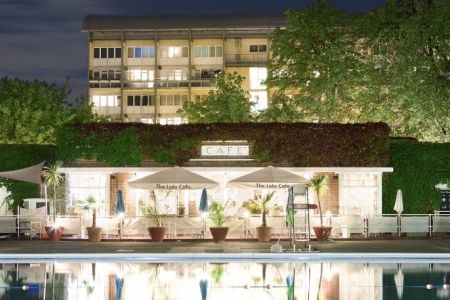 You wanna watch something 
Mark's Bar at the Old Vic Theatre
If you're nervous about your chat, go cultural and watch something epic at The Old Vic. Start with something boozy in Mark's Bar where there's a load of awesome cocktails to choose from. Swing by after the show, and if it's going really well, it stays open 'til 2am baby.
The Old Vic Theatre, The Cut, SE1 8NB
Slip through the magical wardrobe, through a secret tunnel of trees into the indoor enchanted forest. Then pull up a tree stump and tuck into warm mulled wine and a mince pies while you watch some epic Christmas films, like Home Alone – nice one!
42 Newington Causeway, London SE1 6DR, UK
You want something outrageous…
Viktor Wynd's Museum of Curiosities
This bar is insane. If you're anticipating awkward silences on your first date then it's got to be Viktor Wynd's – the place is dripping with conversation starters. If the weird and wonderful menu or collection of old school McDonald's Happy Meal toys doesn't give you something to talk about, the two-headed taxidermy cat will.
11 Mare Street, London E8 4RP
You're after top notch wine
Sager + Wilde Restaurant, Paradise Row
Don't get nervous if you're dating someone who knows their sh*t when it comes to vino – even the most extreme wine connoisseurs would have trouble picking a bottle fast at this place. Be safe in the knowledge that they only serve the best here, so if you've got to order you won't end up choosing a bad one. If you want more reassurance, remember that the dudes here teamed up with Domaine de la Cote in the Santa Rita Hills to create their very own Pinot noir. It's epic, pick that one.
250 Paradise Row, E2
Like stepping into 1940s Paris, everything in this place is très vintage, from the green walls to the huge windows, refurbed light fixtures, dark wood panelling and those roaring log fires. All wicked glasses of wine with bottles from underrated countries like Croatia and Greece, and hard to find labels that'll keep the wine snobs happy, pair the vino with some bar snacks and you've won date night.
51 Lamb's Conduit Street, London WC1N 3NB
Sager + Wilde, Hackney Road
BarChick is a big fan of this small little wine bar. It's smart but not slick, with lots of reclaimed trendy sh*t, like old London pavement tiles making up the bar counter. There's a whole sheet of wines by the glass (so no need to commit to a whole bottle). If you need a bite, their cheese toastie is to die for.
193 Hackney Road, E2 8JL
You need to avoid awkward chat
Can't deal with the awkward first date chat? Score a bullseye at this epic Shoreditch darts bar instead; when the small talk dries up, just start shooting arrows. There's real time live scoring, wicked beers and British boozer vibes, this one is perfect for a chilled, fun date.
Alphabeta Building, 2A Worship Street, EC2A 2AH
Or avoid chat altogether with a life drawing class upstairs at The Lion. It's only a fiver and there's loads of comfy sofas to relax in while you scribble pictures of naked people. We say get in some wine from downstairs to get the creative juices flowing.
132 Stoke Newington Church Street
You need a daytime plan. F*ck.
Agreeing to a daytime date always seems like a casual plan until you realise you're without the important end point that being kicked out of a bar at last orders supplies. Plan something active so that being tired leads to a sit down, which will lead to booze, taking you back on the dating straight and narrow. We say rent a boat on the Serpentine Lake in Hyde Park; and afterwards, get a bottle of wine and a woodfired pizza at the Serpentine Bar. Done.
Serpentine Road, Hyde Park, W2 2UH
Caravan Bankside 
An awesome chilled dining and drinking option round these parts that isn't Giraffe or Café Nero. Espresso Martinis fresh from the roaster will perk you up in no time and if it's going well it's a hop, skip and jump from the new Tate Modern extension. You're so cultured.
The Metal Box Factory, 30 Great Guildford Street, Bankside, SE1 0HS
You need a day-to-night option
It's all about Bunga Bunga's swish Soho sister bar Bungatini. Open from 7am-1am – they've covered all bases here, from coffee and  breakfast to aperitivo, dinner and drinks. So whether you're slipping in a quickie pre-work date, or rockin' up for an after hours fumble, this is your place.
167 Drury Lane, London, United Kingdom
This split personality bar is ideal for a day or night date as pre-5pm it's all epic coffee art and bright and breezy Italian vibes but come the evening the pictures are reversed, the back bar revealed and the tunes turned up as it goes all sexy cocktail den. Even if it's a sh*t date, you'll get some wicked Insta-worthy moments out of it.
114 Great Portland Street, W1W 6PH
With a terrace opening out onto the South Bank, with killer views of London Bridge, it's a great spot to sit during the daylight hours. When the sun goes down, hop inside, soak in the bustling Italian-style atmosphere, and tuck into affordable £6 Negronis. Winner.
3 Three Quays Walk, Lower Thames St, London EC3R 6AH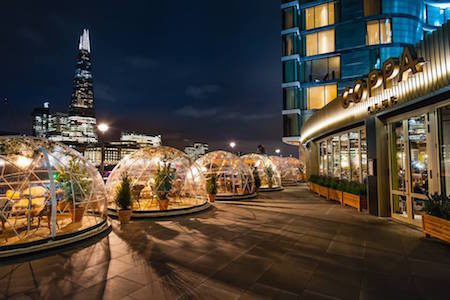 You should also check out:
Where to take a guy on a date
Where to take a girl on a date
Where to take your Tinder date