From mozerella in your Martini to cocktails served with buttplugs: get your Instagram at the ready because here's where to find the most bat sh*t crazy cocktails in London.
Looks a bit like your mate's kitchen, with bottles, books, kitchen appliances, ingredients and herbs, but they take cocktails to the next level here, with fresh seasonal ingredients, crazy garnishes and imaginative vessels. BarChick once had a Disney cocktail out of the genie's lamp. It was smokin'.
Try: The Pop Brixton – like a throwback to your school tuck shop visits, served in a plastic pop bottle with a candy lace garnish.
336 Coldharbour Lane, Brixton SW9 8QH
Officially one of the world's best bars – it's a 1920's style speakeasy's with a seriously killer cocktail menu, with creations made using voodoo smoke, mozzarella, insects, chilli sweets and peanut butter ice cubes. Totally off-the-wall, but some of the best serves in London.
Try: Buffalo Fizz, inspired by summers in Italy, with salty mango butter and a giant red metallic ball thats actually a sprayed dried lime, 'cos why not?
129 City Road, London, EC1V 1JB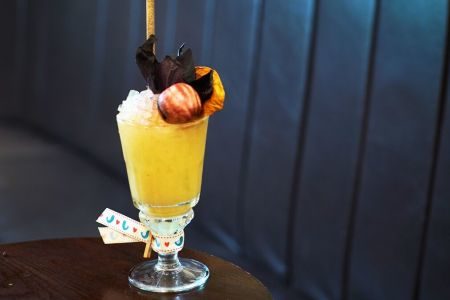 With the legendary Marian Beke (ex-Nightjar) rocking the show you can count on this place for a seriously epic cocktail list. Along the same kinda otherworldly, theatrical vibe to NightJar/Oriole where each cocktail comes with its own kitsch serve and extravagant garnishes.
Try: The Electric Earl, served in a lightbulb glass, with a 'buzz button' garnish – pop it in your mouth for a rollercoaster taste sensation like nothing else you've ever tasted before.
44 Old Street, London EC1V 9AQ
NightJar's Rosie & Edmund have nailed it again with this place which recently won the Best New International Cocktail Bar accolade. Come and try the drinks and you'll know why. Old World, New World, Orient, Sharers… it's all in here so expect original, daring and adventurous creations served up in beautiful and weird vessels.
Try: The Ryoan-Ji with blue rose milk, Japanese whisky and seaweed syrup, served in a ceramic egg basket – kind of like Easter on acid.
East Poultry Avenue, London Central Markets, London, EC1A 9LH
Through the Looking-Glass is the theme, with cocktails named after lines in Lewis Carrol's poem The Walrus and The Carpenter, e.g. Of Cabbages and Kings (Kamm & Sons, Greengage Liqueur, Stinging Nettle Cordial, Lemon, Celery Bitters) and A Bitter Tear (Bols Genever, Rhubarb and Rosehip Cordial, Campari, Carpano Antica, Rhubarb Bitters).
Try: The Ninha Colada – served out of a fisherman's head, with a chocolate slab garnish, which is set on fire – just y'know another standard Walrus Room serve.
40 Battersea Rise, London SW11 1EE
This epic hotel bar is renowned for quirky vessels and killer serves, from levetating clouds, to cocktail served in a Dali-style teardrop ring, to a giant robot elephant vessel. With 2 HOT new bartenders about to take over behind the stick we're excited to see what the hell is next (flying drinks?).
Try: It's all about The Colony Cocktail – a giant copper ant bearing a granola style mix on the top and a milky boozy concoction of Absolut Elyx, Wheat, Almond, Juniper and Bergamot – mix it all together for a crazy drink that's rich in texture (and will probably give you nightmares).
1C Portland Place, London W1B 1JA
You'll find all sorts of crazy boozy sh*t going down at this New York-style cocktail den where it's inventive cocktails galore, with all sorts of crazy garnishes, from toothpaste tubes, to lollipops and even a frickin' balloon.
Try: The Mr Hyde, served with a plume of coffee and chocolate fog.
50 Blandford St, Marylebone, London, W1U 7HX
It may look like just another city slicker bar, but the cocktails here take 'insane' to another level. Cooked on copper pans over camping stoves, and then bubbling over with dry ice. You're gunna want to get the film rolling for this one.
6 Bevis Marks, London EC3A 7BA
Try: The Red Dead Zombie, popping and bubbling over like it's alive or something.
It might be low-key on the decor (and name) but their playful cocktails are bucket list material. For example, their Lipstick rose, garnished with a printed kiss mark, is often sent back 'cos people think it's a used glass – these guys!
Try: The legendary Prairie Oyster – this twist on a bloody mary looks just like an oyster with a reformulated tomato juice egg yolk, served up with horseradish vodka and Oloroso sherry.
69 Colebrooke Row, London, N1 8AA
Hidden underneath a kebab shop in Shoreditch you'll find this intriguing cocktail den, where the sky's the limit in terms of creativity – on BarChick's visit she licked boozy sap from a tree stump, and ate a gin dew drop from a leaf. Seriously.
Try: Go for the Tasting Menu (it changes regularly) and now prepare for some really mad sh*t
1 Great Eastern Street, London, EC2A 3EJ
BarChick's fave party guys also dish out some pretty epic showstoppers. From a giant sharing skull bonfire to their renowned bacon and egg martini (which weirdly works).
Try: Heisenburg – their take on Tommy's Margarita, with a Breaking Bad-style twist. Served in a science beaker it's blue as day, with a cheeky lil' packet of powder popped on top (don't get too excited, it's only sugar).
Various locations
Opium Cocktail and Dim Sum Parlour
Hidden behind a jade door in China town is 1920's Shanghai. Drinks come with an oriental twist, and many come served in traditional China teapots, which you can pick out yourself. Want in right? Message BarChick for free and we'll sort your booking.
Try: But make sure you try their trademark Opium Number 6, with Olmeca Altos tequila, cactus, pimento, ginger, oolong tea, all served up with gushing dry ice, like some kind of witches caldron. 
15 -16 Gerrard Street, London W1D 6JE
Okay you thought all that was pretty epic, wait 'til you see what CTC have in store – each cocktail is like some kind of work of pop art. They've done it all here, from cocktails disguised in Chinese noodle boxes with chopsticks, served out of a Wellington boot, hidden in snow globes and even mini trash cans.
Try: The Bag O Chips looks like your 4am snack, but it's actually booze – trippy.
68 Bethnal Green Road, London, E1 6GQ