Kick Off
With an opening time of 7am, Granger & Co is worth heading down early to, as this place draws a crowd. It's the perfect stomach lining start to the day, hit the juice, fruit and grains menu or go large with Bill's Classics. They start serving white peach Bellinis and Bloody Marys at 11 am if you stay longer. Or if the sun's shining hit 202 for a banging breakfast while catching some rays.
Granger & Co, 175 Westbourne Grove, London W11 2SB // 202, 202 Westbourne Grove, London W11 2SB
Brunch
You're in just the right area of town to settle into some brunching. Hit the Electric Diner for Soho House wannabes (the members club is upstairs), mega burgers and booze. Settle into the red-hot booths and get started on the New York sour with Woodford reserve, it rocks. If you're down for something a little less sceney, The Tin Shed on All Saints Road does great coffee and all sorts of baked goods and avocado on toast to soak up last night's booze.
Electric Diner, 191 Portobello Road, London, W11 2ED // The Tin Shed, 33 All Saints Rd, London W11 1HE
Liquid Lunch
It's time to hit the big boys, Notting Hill hides some of the best cocktail bars in town so you better get started. Everyone's favourite neighbourhood bar, The Portobello Star is where BarChick heads every time. The boys behind the bar are badass, they do a mean Tommy's Margarita and they even have a "Ginstitute" upstairs where you can make your own gin.
Montgomery Place, 31 Kensington Park Road, London, W11 2EU // The Portobello Star, 171 Portobello Road, London, W11 2DY
Afternoon Session
By now you might just need a little substance to keep you afloat. We have just the ticket. Boom Burger started off as a pop up and is now a fully-fledged and too-cool-for-NH burger joint. Order the signature Boom Burger and fix yourself up with a rum punch to wash it all down.
272 Portobello Road, London, W10 5TY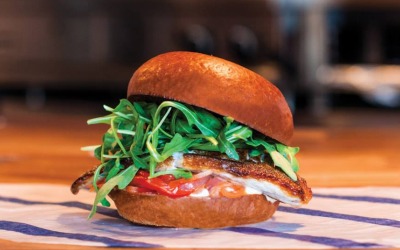 Sundown
The Cow does the old trick of Oysters and Guinness like no other. Not into those slippery suckers? Tuck into a pint of prawns alongside your ale. If you're looking to pick up the pace you can head to Crazy Homies around the corner, think Day of the Dead, but in London. They've got 8 Margaritas on the menu, Largaritas, nachos and a mother f*cking Clubhouse downstairs!
The Shed, 89 Westbourne Park Road, W2 5QH // Crazy Homies, 125 Westbourne Park Road, London, W2 5QL
Hot Dinner Date
The Shed will fix your date up sharp. It's got Sussex vibes right in the middle of W8 and is the perfect place to eat, drink and get merry. Opened by two brothers, they've nailed the décor (tractor bonnets and old cartwheels) and are big on foraged, wild, fresh ingredients. Oh and go for their Daily Loosener to continue on that booze run, it's their daily concoction of whatever is behind the bar.
122 Palace Gardens Terrace, London W8 4RT
Late Night
It's time to hit the rum and hit it hard. And you're in luck because two of London's finest collectors are in the area. Strictly speaking The Rum Kitchen is members only from 10.30pm onwards so make it down early or grab a mate. They do the best jerk chicken this side of town and their Rum Punch is a secret blend of nobodies business. Drink up. Then there's Trailer Happiness. It's kinda like the end of the beginning. Come down here and you may never come out again, it's that good. Think Don Zombie cocktails, Dirty Dancing and banging DJs at the weekend.
The Rum Kitchen, 6-8 All Saints Road, London W11 1HH // Trailer Happiness, 177 Portobello Road, London, W11 2DY
Boogie
It's been around for years and it's just got even better. The Globe got a refurb and it's the one and only place that BarChick hits for a dance off. Upstairs is the Moral Fox serving delicious fried chicken and Brandy Milk Punches. Downstairs is where the party at; bring your dancing shoes and stay late.
103 Talbot Road, London W11 2AT