What do ya get when National AND World Coffee Day fall in the same week, aside from the caffeine shakes? The perfect excuse to sh-sh-shake up these epic coffee-based cocktails, of course. 
The Board Room
This strong and stirred-down drink comes from the legends at Bethnal Green bar Coupette.
40ml Hennessey Fine De Cognac
20ml Dubonnet
10ml Cherry Heering
7.5ml Noix
2.5ml Mr Black Coffee liqueur
7.5ml sugar syrup
2 dashes walnut bitters
Add all the ingredients to a mixing glass and stir down over ice before pouring into an ice-filled rocks glass. 
Orange Russian
The Dude might be a purist when it comes to the White Russian, but we've always been a bit more partial to experimentation. This little tinkering with the usual is an epic mix of coffee, chocolate orange and rich Jersey cream.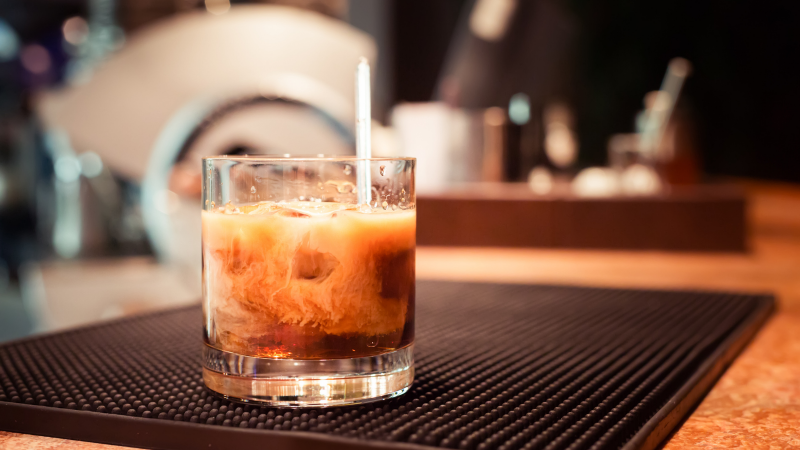 50ml Conker Cold Brew
25ml Cointreau
75ml gold top milk (swap it out for a plant-based alt if you want, but make sure it's THICK)
Simply swap out the vodka in a classic White Russian for your fave orange liqueur (ours is Cointreau). Build over ice in a tumbler and devour selfishly.
Cold Brew Negroni
This smasher was created by Hamish Denny at Spiritland for the Black Cow Vodka crew. It involves a bit of pre-planning, but trust us, it's worth the wait.
50ml Black Cow Vodka
25ml Kamm and Sons aperitif
25ml cold-brewed Cocchi Vermouth di Torino
Garnish with a twist of orange peel
To make the cold brew vermouth, combine 100g of ground coffee and 750ml of Cocchi. Leave to infuse overnight in the fridge. Strain out the coffee grounds. Now you've got yourself enough to keep you going for a while - pour all the ingredients into a mixing glass, fill with cubed ice, stir and strain into a rock glass, then garnish with orange peel. 
Coffee Colada
This twist is rich and a little more savoury than the Coladas you might be used to, but believe us when we say this one is a game-changer.
50ml Aluna Coconut Rum
30ml pineapple juice
15ml coffee liqueur
30ml coconut milk
Small pinch of sea salt
Dash chocolate bitters
Shake all your ingredients in a cocktail shaker and garnish with coffee beans. Paradise = found. 
Paloma Negra
When a tequila kick ain't enough - just add coffee.
40ml Mr Black Coffee Liqueur
20ml mezcal or tequila
30ml pink grapefruit juice
Soda water
Salt the rim of a highball glass and combine all ingredients over ice. Top with soda and garnish with grapefruit wedge. BAM. Just the kick you needed.