Chocolate, cherries, mezcal... Andiamo!
Bad news - Negroni Week (usually gracing us during the first week of June) has been postponed until September. Good news - we've rounded up five epic twists on the humble Italian aperitif. Time to get creative in yo kitchen.
CHOCOLATE ORANGE NEGRONI
For when you wanna turn the decadence up a notch, we got ya. Chocolate bitters add extra depth and richness - screw Terry, this one is most definitely ours. 
Ingredients:
25ml gin
25ml Campari
20ml Grand Marnier
20ml Martini Rosso
2 Dashes of Chocolate bitters
Orange wedge to garnish
Method:
Add gin, Campari, Grand Marnier, Martini Rosso to a mixing glass and stir for 30 seconds until thoroughly mixed.
Add the chocolate bitters and a large ice cube and stir for another 30 seconds until chilled.
Strain into an old fashioned glass, over ice and garnish with an orange wedge.
Recipe and imagery from www.craftginclub.co.uk
CHERRY NEGRONI
Never made a Negroni at home before? Pop your cherry with this cheeky, sweet twist. 
Ingredients:
3 pitted cherries, plus more for garnish
1 ounce maraschino liqueur (Luxardo is always a winner)
1 ounce gin
1 ounce Campari
Orange peel for garnish
Method:
In a cocktail shaker, muddle cherries and maraschino liqueur. Stir in the gin and Campari.
Add a handful of ice. Using a bar spoon, stir the mixture 30x to dilute.
Transfer to a double old fashioned glass with ice.
Garnish with a cherry and orange peel.
Recipe and imagery from www.onesweetmess.com
AQUAVIT NEGRONI
This refreshing Scandi slant on the classic replaces the gin for Aquavit - a distilled spirit produced in Scandinavia. Skål!
Ingredients:
30ml aquavit
30ml Campari
30ml Lillet Blanc
Method:
Add all ingredients to a mixing glass and fill 3/4 with ice.
Stir until well chilled, about 30 seconds.
Strain into a rocks glass filled with ice (or over one large cube).
Garnish with a slice of grapefruit (or an orange twist, if you prefer).
Recipe and imagery from www.moodymixologist.com
MEZCAL NEGRONI
One for the more adventurous out there - this baby requires a bit more effort, but trust us when we say it's totally worth it
Ingredients:
35ml Mezcal
30m Sweet vermouth
30ml Rosemary-infused Campari (recipe below)
Grapefruit peel and rosemary sprig to garnish
Method:
Add all ingredients in a mixing glass with ice and stir.
Strain into a rocks glass over fresh ice.
Express oil from a grapefruit peel by twisting it over the drink and discard.
Garnish with a rosemary sprig. (Wanna be totally extra? Use a kitchen torch, flame the rosemary until it smokes and then extinguish before serving. Boom).
For the Rosemary-infused Campari: In a large Mason jar, combine 350ml Campari and 4 rosemary sprigs and seal. Let sit at room temperature for 24 hours, shaking occasionally. Strain out solids and keep in the refrigerator for up to one month and use when you want a Negroni hit. 
Recipe and imagery from punchdrink.com
Negroni Bianco
We turned to our fave New York bar Dante for this recipe. These guys know Negronis, with 12 varieties on their menu and all recognizable riffs on the OG. This one skips Campari entirely, instead opting for 2 white vermouths and Quinquina. Def our fave of their dozen.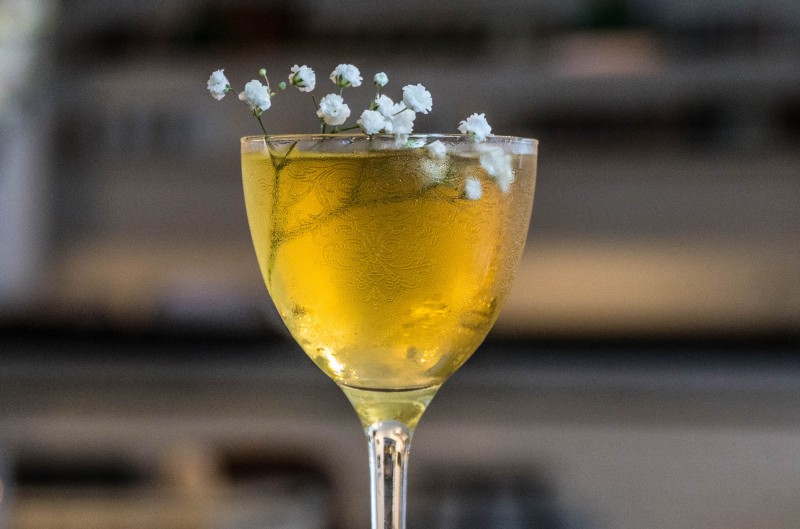 Ingredients:
30ml Brooklyn gin
15ml Martini & Rossi bianco vermouth
15ml Noilly Prat dry vermouth
30ml Quinquina aperitif
2 dashes lemon bitters
1 dash verjus
Method:
Stir with ice then strain into a Nick & Nora glass.
Twist a lemon peel over the top and discard
Garnish with baby's breath flowers.
Recipe courtesy of Dante NYC, Image captured by Spirited Media.