You see a lot when you spend 40 years behind one of the most iconic bars in London...
It's been a pretty epic year for The Dorchester. One of the swankiest hotels in London, this year it celebrated it's 90th anniversary of being an icon of Park Lane. It's been a hit with royals, A-listers, gentry and BarChick for nine decades, and when you're rocking hundreds of boujie hotel suites, a 3-Michelin star restaurant and a bar that once had Harry Craddock shaking up cocktails, is it a surprise? No, it is not.
But Craddock isn't the only drinks biz legend who's stirred up a storm at The Bar at The Dorchester. In fact, we'd say he's not even the greatest. Nope - that title goes to bar manager Giuliano Morandin who last month celebrated 40 epic years shaking up drinks at this iconic London landmark.
Giuliano is a man who comes from the golden age of mixology; a charming Italian (is there any other kind?) and award-winning veteran who's love for the industry run in his veins, and over-flows into his flawless hospitality. If you visit The Bar when Giuliano is working the floor, you're in for an evening of amazing stories and kick-ass cocktails with an extra measure of class. We went to catch up with him at The Bar and try a selection of his most infamous cocktails from the past four decades.
Congratulations Giuliano on this awesome milestone. How have you seen the hotel change in the last 40 years?
The hotel has changed in so many ways, from its physical appearance to the evolution of our food & beverage offering over the years. But the core essence that our guests come back time and time again has remained and that is in our service.
At The Bar at The Dorchester specifically, our biggest achievement is the success of the team both through accolades, but also, the feedback from our treasured guests.
What is your most treasured memory from the last 40 years working here?
It has to be the team I have been so lucky to work with, most of which have been by my side for decades, including the hotel's head of bars Simon Rowe who started just a year or so after I joined in 1981. Having a team that our guests know and love is priceless and in this day and age very rare. Together we easily have over 100 years of service at The Dorchester.
How have you seen the drinks industry change over that time?
I have seen a renaissance in the classic cocktails, which is what we do best. Over the decades I have seen fads come and go, especially in the 80s when it was more show than substance. But today our guests mostly order classic cocktails that are made well. Everyone asks for a Negroni nowadays, and less so a Mojito. Before I worked at The Dorchester I used to work on a ship and travelled all around the world, and when I joined The Dorchester, I introduced a Pisco Sour to the menu which no one ordered back then. I think we were ahead of our time on this cocktail. 
We've been enjoying this beautiful cocktail flight - can you tell us what these three cocktails, in particular, mean to you and the bar?
The Jade is a very good drink which was on one of the first cocktails I created 40 years ago and we have brought it back just for the month of November, which has been really well received by guests. It is made using gin, midori, blue curacao and lime juice, served in a flute and topped with Champagne, and the result is a really striking cocktail. We use to create a lot of Champagne cocktails back in the 80s but I wanted to do something different with the midori to give the taste profile and bright colour. Cocktails back then were much simpler.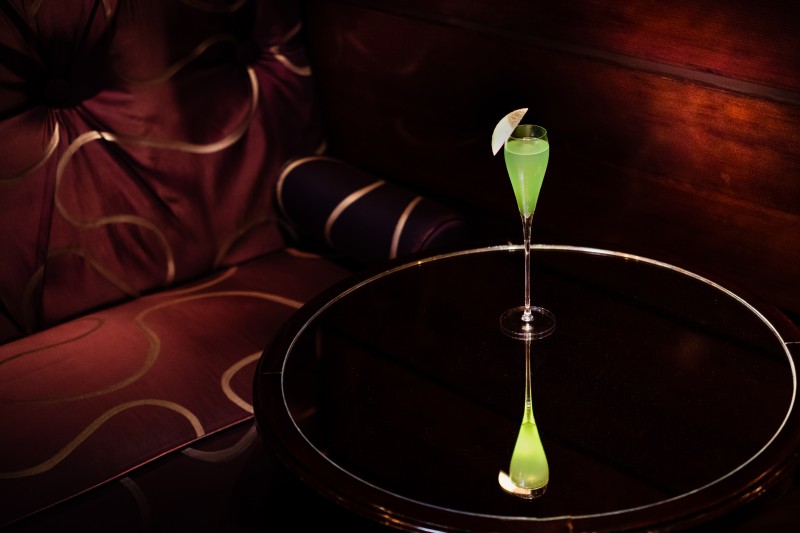 If we have to choose just one cocktail to be our signature it would have to be The Martinez, which was the reason we launched our own gin, The Dorchester Old Tom. I really wanted to bring the classic Martinez to the menu, but we couldn't find the right ingredients to buy so we created our own! We were one of, if not the first, to re-introduce the 18th Century style of gin to the UK market in 2006. The Martinez is made with gin, Punt e Mes, Maraschino Luxardo and a dash of Bokers bitter. 
The Perfect 10 was launched in partnership with Tanqueray; they invited bars all over the world to create a cocktail to launch the Tanqueray no. 10. For this I wanted to create a cocktail that would take 10 steps to make. It's a Martini style and very popular, with orange nuances of Lillet Blanc and bespoke grapefruit bitters which mix perfectly with Tanqueray No. 10.