Of course, every day should celebrate women - but on Tuesday 8th March the world recognises how important badass babes and fearsome females are in every aspect of life. Unsurprisingly, BarChick's onboard - we'll see ya at these awesome events. 
IWD cocktails at Michelin-starred La Dame de Pic London
What's the best way to celebrate strong women? Serve up some equally strong drinks, baby. For IWD, double Michelin-starred Anne-Sophie Pic has collabed with La Dame de Pic's mixologist, Thanos Tzanetopoulos, to create a killer menu of cocktails that will honour some of the most prominent French women in history. Ooh la la. Expect a sweet, sour, and crisp mix of Calvados, Dry Curacao, Lemon, Violet and Sugar celebrating iconic French designer Madeleine Vionnet, and a robust build of Aged Gin, Campari, Umeshu and Plum celebrating the 'Non, je ne regrette rien' singer, Edith Piaf. Pouvoir des filled, bebé!
The cocktails will launch on the 8th March at La Dame de Pic London, Four Seasons Hotel London at Ten Trinity Square, EC3N 4AJ 
IWD 'Herbody' at Doña
Sexy, sultry, flamingo pink and the brainchild of long-term gal-pals Thea Cumming and Lucia Massey; Doña is a mezcal bar and arts platform all about celebrating independent creativity and empowered feminine energy. Is there a better place to celebrate International Women's Day? Nuh uh, honey. So join these Queens of mezcal and good times in this lady-led Shangri-la on IWD for a night of soulful and sensual sass served up by the sounds + songs of the Sisterhood as they rouse the inner spirit and caress the body with the songs, sounds and stories of Her.
Tickets start at £10.01 and can be purchased via the website.
WOW Sunday Lyan at Lyaness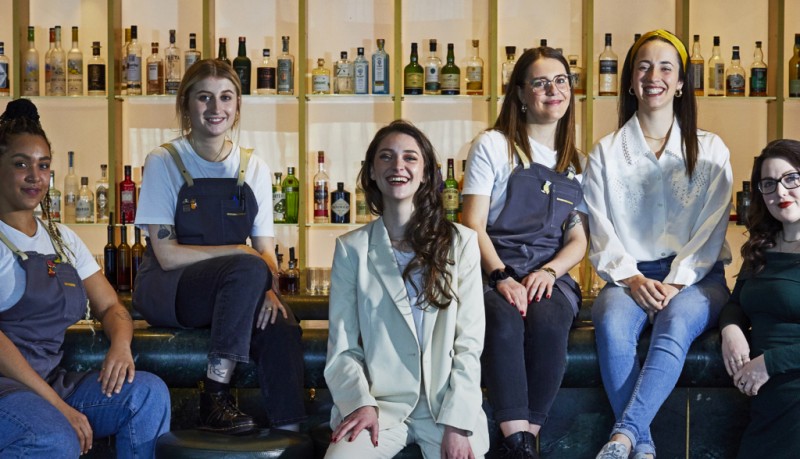 If you love a Sunday sesh, Lyaness is always the place to hit at the end of your weekend. The industry-loved Sunday Lyan series is returning once again on March 13th with an extra special takeover in celebration of international Women's Day. What does this mean? It means an all female takeover of that iconic green marble bar by some of the hospitality industry's leading ladies including Lyaness' very own Georgia, Valentina & Lucy, in collaboration with the incredible brand ambassadors from Ki No Bi & Plymouth (Fabiola Falasca), Lillet Rose & Italicus (Jessie Jarvis), Powers & Redbreast (Janice Snowden).
Sunday Lyan x WOW will take place on 13th March. Book yourself a table here. 20 Upper Ground, London, SE1 9PD
International Women's Day at NYX Hotel London Holborn
Females and art make the world go round, so to celebrate the social, economic, cultural and political achievements of women across the globe (and baby, there are loads), it's all going down at Holborn's trendiest new hotel, NYX, where they'be bringing a spotlight to street art, video art and emerging female artists. The aim? To create a local connection between the hotel and the local street art, with 'one of a kind' pieces created by a host of contemporary female artists. And you can take it all in with a drink in hand from the bar. 
50 - 60 Southampton Row, London WC1B 4AR
Le Grand Dames Champagne Masterclasses at Searcys at The Gherkin 
International Women's Day is a day to raise women UP. The guys at Searcys at The Gherkin have taken that literally with a one-off Champagne tasting masterclass at the top of London's most iconic skyscraper. Taking place on 8th March from 6:30pm-8:30pm in the private dining room overlooking The City, they're bringing you champagnes from four famous houses which all happen to be overseen by fabulous women, including Nicole Ponsardin Clicquot from The Veuve Clicquot and Lily Bollinger from House of Bollinger, all perfectly paired with a seasonal three-course menu.
Le Grand Dames Champagne Masterclass is priced at £119 per person. Tickets are now available here. 30 St Mary Axe, London EC3A 8BF
IWD event hosted at Stoney street by Alex Hely-Hutchinson and 26 Grains
The roster of female chefs showcasing their skills at Stoney Street's IWD event this year is one of the biggest celebrations of bad-ass female talent going. The line-up, featuring Snackbar's Freddie Janssen, Masha Rener of Lina stories, Chantelle Nicholson of Apricity, Soeul Bird's Judy Joo, food writer Claire Ptak and Stoney Street's own Charlotte Van Holthe, will each be bringing a unique dish inspired by a woman who shaped their lives to the festivities. This exclusive menu will be paired with wines curated by Crispin's Head of Wine Alexandra Price. 
Tickets cost £85 including a wine pairing, with all profits donated to Women for Women International.
IWD & Women's History Month Cocktails at Hakkasan & Yauatcha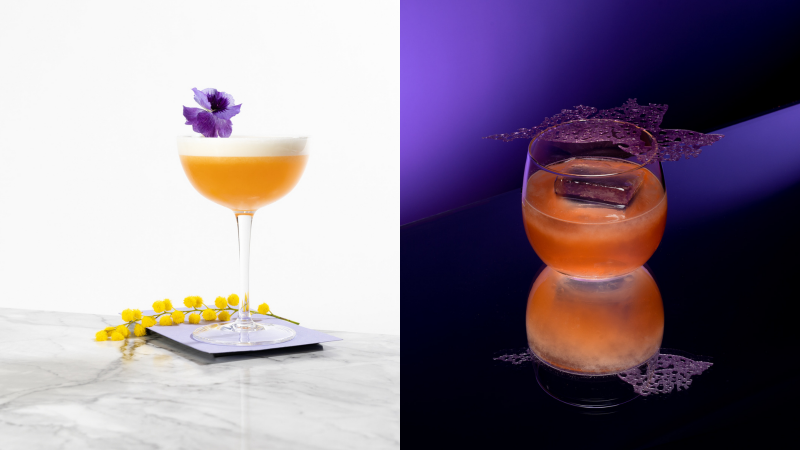 Inspired by influential women in Chinese history, two epic new cocktails have been added to the menus of Hakkasan Hanway Place & Mayfair and Yauatcha Soho & City, to celebrate women in all their god damn glory. The cocktail coming to both Hakkasan venues is the Chien-Shiung Wu (£18), a cocktail as cutting-edge and daring as its namesake, the Nobel Prize-winning Chinese-American particle physicist. The cocktail combines the minerality and black pepper flavour of Tapatio Blanco tequila with sour lime and sweet raspberry shrub, while Yauatcha's offering, the Cecilia Chung (£14), is a strong and unique serve that blends the woody spice and treacle flavours of Johnnie Walker Black Label with sweet mango and pineapple syrup, and is named for the transgender activist recognised for her work in human rights, social justice and LGBTQ+ equality.
Available exclusively from Friday 4th March to Monday 4th April, 50p of each cocktail will be donated to Celebrate HER, a charity dedicated to gender equality and that helps advance women in the hospitality sector by aiding the development of their careers. On International Women's Day on 8th March, all female guests dining across Hakkasan and Yauatcha will be offered a complimentary small coupe of the cocktail.
IWD: Peckham Cellars x Missy London x Women of Wine dinner
The crew at Peckham Cellars are bringing an all-female extravaganza to IWD with a one-off 'Women of Wine' four-course dinner collab with the v. cool east London chef duo 'Missy London' (AKA Clare Geraghty & Rona Jones). Of course, no dinner at Peckham Cellars is complete without top-notch vino, so founder/sommelier Helen Hall, has picked the best of the best from female winemakers.
The special 'Women of Wine' (WOW) dinner will be priced at £45 per person (with the optional wine pairing as extra). Bookings are open now via RESY.
Women Leading Sustainability at 116 Pall Mall
You can't have a celebration of women without the ultimate celebration tipple. We're talking champagne, baby, so rock up to 116 Pall Mall this International Women's Day and watch the fizz flow as they kick off their IWD festivities with a panel discussion on 'Women Leading Sustainability', chatting to pioneering female leaders in fashion, food, finance and tech, followed by a catwalk show with sustainable clothing brand DEPLOY.  Like what you see? Stick around for the private shopping experience in the newly refreshed Champagne Bar at 116 Pall Mall. And it's all for a good cause with 10% of all DEPLOY sales going to the charity, Women For Women International, which helps women survivors of war rebuild their lives across the world. 
Tickets are priced at £45 per person (£35 for members) and are available to purchase here.
Bad Boy Pizza Society x MOB Kitchen
BarChick's a sucker for a bad boy, but we're not talking your troubled hotty with tattoos and a bad attitude to texting back. We're talking pizza, baby - but for IWD, this v. cool pizza brand is switching things up in partnership with MOB Kitchen's brilliant Seema Pankhania and transforming into Bad Girl Pizza Society for one week only. YES GIRL. From Tuesday 8th March - Saturday 12th March, Seema is taking over the kitchen at Vinegar Yard to serve up her one-off Lamb Birria pizza. We're talking lime, coriander and tomato salsa topped with tender lamb and a pot of hot Birria sauce to drizzle over your pizza. Not down with meat? The jackfruit Birria option is for you. All profits from sales of the pizza will be donated to Refuge - a charity committed to ending domestic violence against women and creating a world where women and children can live safely. 
To carry on IWD celebrations throughout the month, the Courtyard at Vinegar Yard will also be one of the few venues in London to screen every game of the Women's Six Nations Rugby, alongside hosting a series of female comedy nights, both in partnership with Guinness.  
Champagne Masterclass at St Pancras Brasserie & Champagne Bar by Searcys 
The longest champagne bar in Europe is using International Women's Day as an opportunity to celebrate the awesome 'Female Founders of Champagne'. Yass queens. Head to this swanky champagne bar found on the platforms of St Pancras for a guided tasting and three-course dinner, sampling tipples from some of the most famous champagne houses including Bollinger, Pommery and Henriot whilst learning about the innovative female founders behind the bottles - Barbe-Nicole, Louise, Lilly, Mathilde Emily and Apolline. 
The masterclass will be taking place in the tasting room from 6.30pm-8.30pm. Tickets are £85 per person and can be booked here.
Let's Go Girls Cocktails at Drake & Morgan 
If you think you feel empowered after a few cocktails, just wait til you try the IWD cocktail menu at the Drake & Morgan venues. They've created a four cocktail strong menu (including some non alc variations) inspired by game-changing British women. Sip proudly on a punchy purple Tanqueray gin infused 'The Pankhurst', or you can opt for 'The Gywn' (a nod to Eleanor Gwyn, the first female actor on a British stage) made with Aperol, Cointreau, blood orange syrup, London Essence ginger ale with mint and orange. Bring it on
The Lets Go Girls menu will be available from 1st-27th March at various Drake & Morgan bars around London
The Distillery Bankside Female DJ Series
Dust off those dancing shoes, baby. There's a killer female DJ series kicking off on March 8th at The Distillery Bankside at Hilton London Bankside and it's bringing the fire! The design-led hotel has partnered with female-owned DJ booking app Bookd: Music In A Click to host the series throughout March to support women in the music industry. Female powerhouse duo DJ Lara Fraser and Actor and Broadcaster Laura Pradelska 'The Lallas' will kick off the DJ series on IWD with a live set from 9pm. Rock up for the live lady-led soundtrack kick back with drinks from The Distillery Bankside's extensive cocktail, wine and craft beer offering and get involved with the dishes from its dining menu.
There will be a further three sets in March, on the 10th, 17th and 24th March from 6.00pm – 8.00pm, each hosted by a female DJ. The female DJ series is free to attend. Walk-ins accepted; no bookings required. 2-8 Great Suffolk Street, London, SE1 0UG