Because you came for the craic, and we're gonna make sure you get it.
When it comes to cities that know how to have fun, Dublin is leading the pack. C'mon, the Irish have their own word for a good time - and trust us, the craic is addictive. Wander along any street and you'll most likely see the entrance to some cool pub, bar, or snug bolt-hole, filled with people getting steadily merrier as the night progresses. Here's a rundown of where to hit up when you find yourself in Ireland's capital.  
STAY 
If you're after accommodation with Grade A cocktail credentials there's nowhere better than The Westbury. Booking a hotel 'cos its bars are banging is a solid way to approach a trip. Not only is it stunning (check the chandeliers dangling down in the foyer - bling), but it has two awesome cocktail bars to choose from. You can tell you're in good hands with Alan McGillivray at the helm. He won best bartender at the Irish Craft cocktail awards in 2016 and has cut his teeth at The Dead Rabbit in NYC. 
 
The Sidecar is an Art Deco delight that channels thirties elegance. Grab your pearls and your flapper dress because this gem is a place to get glitzy.  Our favourite bit? There's a martini trolley that means you can have drinks mixed at your table. Then there's Balfes - the New York-meets-Paris bar that's more laid back. Kick back on the terrace or follow our lead and perch at the zinc-topped bar and get chatting with the bartenders. Another reason The Westbury is rocking it? The location. Slap bang in the center and just off fashionable Grafton Street, it's walking/swaying distance from Dublin's best bits. And by that, we mean bars.  

COFFEE
Can't do anything without your morning caffeine fix? We hear ya. Dublin has cafe culture nailed, and there are plenty of spots for a cup of Joe to see you on your way. Network Cafe has a cool paired back aesthetic (don't forget to join the crowds and Instagram your takeaway cup), while 3FE on Canal Street has an actual tasting menu of their best blends. Then there's Two Boys Brew. This chilled neighbourhood coffee shop is a great place to while away the morning with a cup from their Guest Coffee Roaster, alongside an epic Apple Crumble Hotcake. Nailed. 
BRUNCH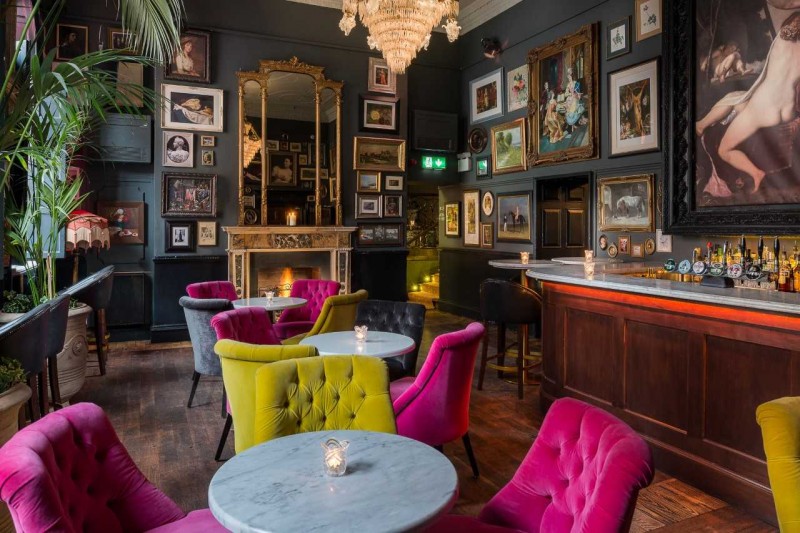 Boozy brunching is an essential element of a city break. You're on holiday so a cocktail at 10am is almost law. Head to Farrier and Draper for some brunch cocktails that not only taste top but also won't break the bank. The Bloody Mary's are rich and saucily spiced, and it's worth a visit just to marvel at the decor - it's Georgian-era opulence with some art-deco chic thrown in for good measure. 
You'll find something to suit everyone at Angelina's. Indulge with Angelina's Benedict served with maple-glazed pork-belly, or treat yourself to the buttermilk chicken and waffle with hot sauce. Feeling healthy? The porridge with caramlised banana will give you energy for exploring. With their old-school red leather banquettes, huge windows and cute indoor trees, it's the perfect place to kick back with some brunch cocktails.  
Vegetarians should make a bee-line for Meet Me In The Morning. Mind you, the menu's so damn good that even hardcore carnivores will be happy. The Seasonal Hash with Halloumi or vegan Mushies on Toast should be enough to keep ya meat-free, but if you absolutely have the craving then there's always the option to add chorizo or black pudding. 
For brunch with a view, head to Sophie's at the top of swanky The Dean hotel. When your mouth isn't wide from admiring the spectacular panoramic city-scape, you'll be shoving delish dishes into it. Get involved in the classics/a Full Irish Breakfast, or go rogue with something from their pizza menu. A Margarita at 11am? Count us in. 
If you like your brunching to be fu*cking fun, nowhere's better than Thundercut Alley. Things you need to know: there's bottomless booze, brunch tacos, and a retro arcade Street Fighter game. It's located in the back of a bowling alley and the bathroom ceiling is covered in rubber ducks. Game on.  
(LIQUID) LUNCH
The Grayson is not only the city's freshest party pad but also a sweet spot to grab lunch. No expense has been spared on getting it looking it fly. Visit on a Sunday to experience some of the best roasts in Dublin. Cocktails must be tried - the Tree By The River is an exotic number with Pampero Especial, Banana Liqueur, and Ginger Infused Dry Vermouth.  
Big on quality but not on pricing is Etto, where you can get a banging three course midweek set menu for €30. The food is fantastic, the atmosphere is cosy and convivial, and it's pretty much good-times guaranteed. For something more audacious then The Ivy Dublin is bringing the brand's usual Art-Deco flair to Ireland. The menu will be recognisable if you've headed to any of the others, which is good as we're big fans of the food. They also serve killer cocktails - the Dawson Blooms with Glendalough Gin has been made specially for them so you gotta give it a whirl. 
Here for the weekend? Head to Host for their lunchtime Saturday menu. They're all about small plates and quality cuts, with highlights like Rump Bolognaise Tagliatelle and Pumpkin Cappellacci & Walnut. They've also got a cracking natural wine list to steadily work your way through. 
AFTERNOON PUB SESSION: 57 THE HEADLINE 
57 the Headline on Clanbrassil Street is a bit of a local favourite, due to the wide range of craft beer, gin, and whisky. Anyone wanting Irish craft beer has come to the right place - they have 13 of the top Irish beers always on tap. Gin more your thing? Head downstairs to the vintage comfort of No. 57 Gin Bar. Only open Fridays and Saturdays, this elegant bolt-hole has over 100 varieties. 
Strong pub vibes are the name of the game at The Long Bar. Creatively named because of the, er, long bar than runs the length this traditional Irish boozer, it has gleaming taps, red leather stools and filigree-edged mirrors. The perfect place to take a seat, get snug (it's most likely raining outside) and order a pint of Guinness.  
BOOZY EDUCATION
No trip to Dublin is complete without a drop of Irish whiskey. And if you really wanna immerse yourself in 'The Water of Life', then head to Jameson Distillery Bow St. This is where one of Ireland's most famous tipples was originally distilled, and while it's now produced at the New Midleton Distillery, there's still a bunch of fun to be had. Take the guided tour to learn all about the rise, fall, and rise again of Irish Whiskey, or book yourself into a special tasting. For anyone with a real passion who wants to get even more hands-on, you can join a cocktail making class and even take part in a Whiskey Blending Class. Pow, sounds like our kinda afternoon activity.
COCKTAIL O CLOCK

In need of a little luxury? 9 Below is your answer. This is a place to perfect your seduction techniques - all low lightning, tactile velvet furnishings and a golden gleaming back bar. The 9 refers to the seats at the bar, but we prefer to get slinky in one of the snug areas. Get caught up in The Honeytrap - Kettle One Vodka, Yellow Chartreuse, Hennessy VSOP, Honey, Lemon, Cloudy Apple, Soda, and Anise Spray.  
When you fancy a secret rendezvous, head to Vintage Cocktail Club. Lurk outside the hidden door, ring the bell, and ascend to this sumptuous 1920s style lounge bar. With the flickering candlelight, heavy red curtains, velvet armchairs and flock wallpaper, it's the kind of place you can imagine an Agatha Christie murder mystery playing out. Choose which era you want to delve into and get your cocktail history on, as the menu is cleverly divided into a timeline of mixology.
 
HOT DINNER DATE  
You've heard of bottomless brunch, but what about bottomless... supper?! That's what they're serving up at Cleaver East, the stylish and contemporary East Asian restaurant in Temple Bar. Choose if you want 2 or 3 courses (options include sticky pork belly with sesame crispy crackling, and warm chocolate chip cake) then bolt-on the bottomless booze and enjoy 2 hours of free-flowing Prosecco, wine & Signature Cocktails. This includes the Berry Rumtini and the Butterscotch Old Fashioned - dangerous. 
If wine is your thang, take a wander over the Ha'Penny Bridge to The Winding Stair. Tucked up a (you guessed it) winding staircase above a cute bookshop, this is a proper hidden gem. It's airy and bright with windows looking over the Liffey river, and we ate some of the best Irish food we'd ever tried from their hand-written blackboard menu. There's a decent beer list that focuses on local and international microbreweries, but it's the wine list we fell for. You'll find stellar boutique winemakers from the new and old worlds that perfectly pair with the home-cooked dishes. Sheep cheese & pickled walnut potato cake might not sound like much but trust us when we say it's game-changing.  
 
LATE NIGHT SIPPING
Sleep when you're dead right? Which is why, come the early hours, you'll find us tucked into a corner of The Liquor Rooms. Open until 3am Thursday-Saturday (and 2am the rest of the time), this is the place that continues the craic long after others have taken to their beds. It's subterranean (naturally), but its fun-loving vibe doesn't detract from the bang-on cocktails these wizards are serving. In fact, Liquor Room is the first Republic of Ireland bar ever to be nominated in the Tales of the Cocktail Spirited Awards. 
Upstairs, Ukiyo is a laid-back restaurant serving delicious Asian dishes such as gyoza, teriyaki and Peking duck alongside a creative cocktail list. But when the weekend hit, it goes off. We spent the night sipping on Wasabi Martinis accompanied by Dragon Rolls - the perfect pairing, if we do say so ourselves. After you've eaten your weight in sushi, head downstairs to Ukiyo Lounge. There's a DJ 7 nights a week, karaoke, and the cocktail fun continues until 2.30am. Time to shimmy off all that sashimi in one of Dublin's most lively basement bars.