If a nation is willing to claim a liquid as their national beverage, you know that means there's something pretty damn awesome about it. We're pretty clued up on Scotland's national spirit, and we definitely know our sh*t about Mexico's... but how much do you know about Japan's national drink? We got the low down from Marie Cheong-Thong, the Board Director of the British Sake Association, and Sachiko Koyama, in-house Sake Sommelier for Japan Centre to bring you our ultimate guide to sake.
Let's start at the beginning – WTF is sake? 
"Technically speaking, sake (pronounced sak-ay) is a Japanese national alcoholic beverage made from fermented rice with an alcohol percentage around 15-16 % ABV." says Sachiko Koyama, who has worked at Japan Centre for the past seven years as the sommelier and wholesales manager for the liquid. "It has more than 2000 years history alongside Japanese rice cultivating culture, and has been indispensable to Shinto rituals. It is served at various traditional ceremonial occasions as a means to communicate with gods or to purify things. So it has more meanings rather than just an alcoholic beverage." 
Much like other alcoholic liquids, sake comes with its own set of rules when it comes to its production. "Japanese sake must not exceed 22% ABV. The final product must be filtered and it must contain rice and koji", Marie Cheong-Thong tells us, while also explaining that unlike many other national beverages, sake is not a distilled spirit. "It is a refreshing, clean, wine-like drink to be enjoyed with good food. It can be crystal clear, cloudy, murky, sparkling or a combination of all four. Some lactic acid is added to maintain a healthy mash during fermentation."
How would we know if we were drinking sake and what's the general vibe? 
"You WILL know you are drinking sake," insists Marie, who has worked as the British Sake Association's Knowledge & Education Officer for the past four years, and also works as a WSET Certified Sake Educator. "There are so many styles of sake today found in the 8 main categories of sake. The most recognisable profile of sake is umami, fruity, floral nose and palate with bursts of melon, pear, apple, pineapple, banana and bubble gum in the Ginjo styles. The more restrained styles of highly polished Junmai Daiginjo produce a delicate herbal, grassy, floral nose. There is sparkling sake made by the champagne method, too. Then the cloudy nigiri sake has been roughly filtered. Sweet, textured and can be more alcoholic.
"Sometimes more savoury notes are found in the Junmai category with cereal-like boiled rice, congee, porridge or even rice dust. Lactic notes of cream, cheese, crème fraîche. Japanese pickles, miso, soya sauce and shiitake. Aged sakes like Koshu are wonderful too with Sherry and port-like oxidative sweet notes with nuts, honey, marmalade, spices and caramel. Miso, Soya sauce. All the traits of the Maillard reaction between amino acids and reducing sugars are found is Koshu. Taruzake as used in ceremonial and celebratory occasions reminisces a cedar barrel."
Sachiko adds that there is a barometer for gauging the dryness or sweetness of a sake. "An index showing the specific gravity of the sake called "SMV (Sake Meter Value) can be a help. The standard is 0 and if the value is a high positive number (+) the sake tend to be dry, if it is a low negative number (-), it will tend to be sweet. Check acidity as well as it can mask sweetness. Sensations of sweet/dry, rich/light, and body will differ depending on the balance of alcohol, acidity, sugar level and Umami."
How and where is sake made? 
This is a complicated question with a kinda complicated answer due to the rules and regulations around sake production. Rather than going through a distillation process, sake is fermented in ways similar to beer. However, unlike beer, the steamed polished rice cannot be malted, making its fermentation process all the more complex. Marie went into the science of it for us:
"Saccharification relies wholly on koji enzymes breaking down the starch and protein chains into simple saccharides and amino acids. Both saccharification and fermentation take place at the same time in a process known as the multiple parallel fermentation. This process can take anything from 2 weeks to 2 months to complete before the filtration, dilution, blending, pasteurisation and bottling takes place."
Needless to say this probably isn't something you'll be making at home in your garage anytime soon, but its complicated production methods haven't deterred producers from around the globe creating their own sakes. Alongside the roughly 1200 sake breweries in Japan, there are also 37 countries worldwide producing sake, including two sake breweries in the UK, with one right around the corner from Casa BarChick in Peckham. Hey sake neighbours!
How are you meant to drink sake? 
Sake is a very versatile drink that isn't precious about its occasion, glassware or even temperature, with serving suggestions ranging from almost frozen to hot, served in everything from wine glasses to wooden masu, a square-shaped cup is made with natural Japanese cedarwood. While traditionally it was only monks and priests allowed to drink sake for religious purposes back in the day (circa the Dark Ages), it soon became a drink for royals and dignitaries to enjoy. However, by the 18th century, sake was readily available and gradually becoming the drink of choice for public parties and festivals as izakayas and sake bars began popping up across Japan. Now, sake is a drink for any occasion, which suits us as we like waiting for a special occasion to sip on the good stuff.
Let's talk sake + food - what pairings work best?
Being a Japanese beverage, you've probably already jumped to the conclusion that this stuff should mostly be drunk alongside sushi. Nuh uh, honey. While sake "cuts through the fishy palette better than anything else", according to Sachiko, Marie argues that the complexity and versatility of the liquid basically means the sky is the limit when it comes to food pairings; "With its eight categories, numerous styles, made from a possible 120 or more varieties of sake designated rice varieties as well as the possibility of using table rice, a long list of yeasts, there will always be a sake that will match perfectly with a dish!"
Of course, if you are looking for a specific sake to drink at a specific time, Sachiko recommends enjoying the more premium sakes, with their beautiful aromas, as an aperitif, while also suggesting that the sakes with the rich umami contents will go best with foods with the same characteristics, "such as Japanese Dashi based dishes." 
So how much should we typically spend on a bottle of sake?
Despite all that history, time and process that goes into making this fermented Japanese drink, the price points for a typical bottle of decent sake aren't going to cause as much damage to your bank balance as you might believe. "If you can splash out for £15, you can have a decent 720ml Junmai, or try a small bottle of 300ml for the super-premium Junmai Daiginjo type for £10." says Sachiko, who recommends buying sake from retailers that refrigerate their sake, like Japan Centre (not that she's biased, or anything). To guarantee something quality, she also suggests checking the production date on the bottle, "If it's produced within 6 months, that means the sake tastes closer to what the original quality should be."
Where to drink sake in London
165 Sloane St, London SW1X 9QB
Wanna learn all about Sake from Marie herself? Why wouldn't ya! Head to Knightsbridge and hit up one of her sake courses at Sumosan Twiga, where she is hosting masterclasses for customers until 17th November. She will take you through 60 minutes of sake know-how, tasting bottles from Sumosan Twiga's own cellar including the likes of Mio Sparkling, Azure Sake and Dassai 39. The bespoke accompanying menu has been designed to complement the variety of sakes being tasted and includes iconic dishes such as wasabi prawns, truffle cream arancini and kobe sliders. Woof!
Masterclass priced at £45pp and available to book by calling the restaurant on 020 3096 0222
35a Panton Street SW1Y 4EA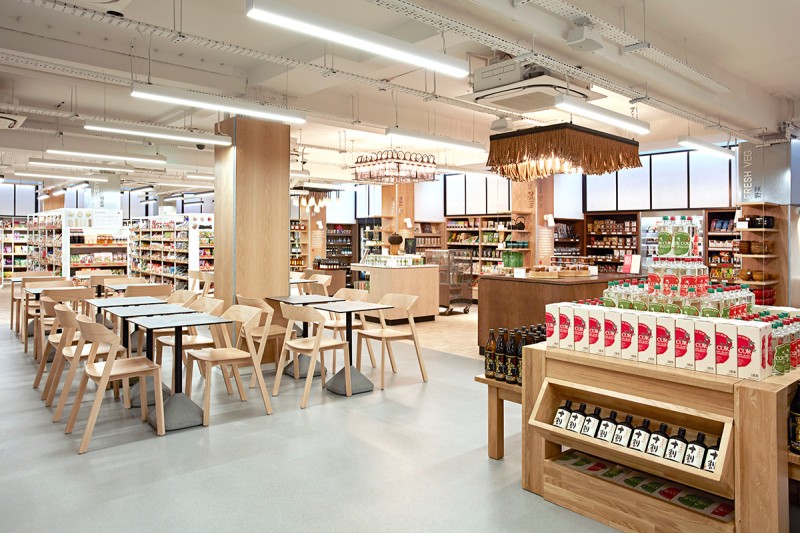 As well as being a one-stop shop for everything you need to enjoy Japanese cuisine at home, Japan Centre also has a series of in-store dining halls for you to bunk down in and enjoy a meal. The new flagship store just off Leicester Square combines the traditional elements of a 'depachika' (the Japanese word for a basement food hall) with a range of unique specialist rooms, all set around their open kitchens and central dine-in courtyard. After you're done feasting, you can grab one of Marie's recommended bottles to take home with you.
Unit 2A.2 Copeland Park, 133 Copeland Road, Peckham, London SE15 3SN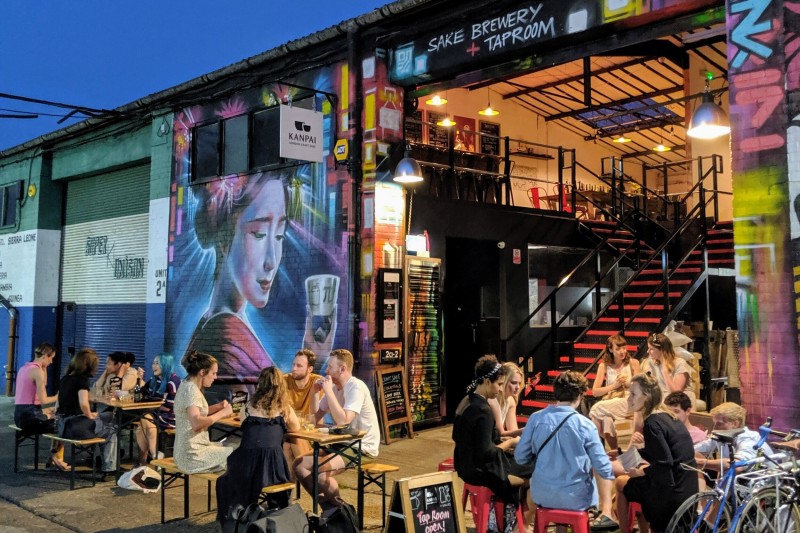 This place is home to London's only sake brewery, which also comes complete a sake bar on the mezzanine right above it. Here they have fresh sake on tap (namazake), as well as sake by the glass and by the bottle, along with a rotating list of guest sakes from their fellow brewers (Japanese and international). But these guys aren't leaving out the beer and cocktail drinkers amongst you, with a killer lineup of local and Japanese craft beers, as well as whisky, gin, shochu, awamori and liqueurs. Hit this place up on a Wednesday or Thursday between 5-7pm you can take advantage of their Happy Hour which will get you their sake or cocktail of the day for a fiver, or book yourself in for a wicked brewery tour and tasting and become a sake pro.
7 Maiden Lane, Covent Garden, London
Hello, Moto. This super sleek and cosy bar in Covent Garden is all about artisinal Japanese drinks, with a keen focus on sake. Named after the fermentation starter AKA one of the most crucial stages in the sake brewing process, this is the UK's only indie Japanese sake bar, shop and eatery. This bar is the only place in the UK you can find many of the sakes on their menu, so if you like the taste of exclusivity, this is where its at. Grab a counter seat at the bar and try one of their epic sake flights which will let you compare and contrast three variations of a sake category of your choice.
36 Charlotte Rd, London EC2A 3PG
East London meets East Asia at this drinking and dining den housed in an old Victorian warehouse. Complete with a neon-lit bar for late-night drinks and a buzzing tavern restaurant for creative small plates, this is the izakaya to hit up if you're seeking the legit vibes and flavours of Japan. Here they're big on innovative cocktails, with a sick menu created by Head Bartender Rui Lisboa (his face might look familiar if you've previously been a regular of the likes of Happiness Forgets, Callooh Callay and Ace Hotel), combining classics with Asian ingredients (including a sh*t load of wicked sakes) and unique serves.