We don't want none unless you got buns, hun.
There are a few things you need to know about dim sum, other than the fact it's f*cking delicious and one of BarChick's fave kinda meals. It's a lunch thang, in fact you can even have it for breakfast in China and Hong Kong where they start serving as early as 5am. Although some places serve it at night, it's not always the "done thing" for dinner. That said, London is full of awesome cocktail and dim sum hangouts that we've covered for you night owls.
But first things first: What is Dim Sum? 
It's a small bite sized Cantonese food, usually served in small steamer baskets.
Dim sum's literal meaning is 'touch the heart' as it was originally served as a snack, and therefore only meant to touch the heart. Cute.
In Cantonese going for dim sum is known as going to "drink tea" (yum cha), as tea is typically served with dim sum. Obvs we prefer cocktails, but never knock a decent tea.
What to order?
There is often a lot to choose from so here is a list of must-have classics:
Har Gow - A shrimp dumpling, which is said to be the one that the skill of a dim sum chef is judged on. Traditionally it should have at least seven but preferably ten or more pleats imprinted on its wrapper.
Shui Mai - Most likely to have ground pork and chopped shrimp, but you can get all sorts of varieties, order a scallop shui mai for sure.
Cheung Fun - This translates as a rice noodle roll, go for prawn or pork but they come with sorts of options. The key is the soy-like sauce they pour over them, this sauce is key, if in doubt, ask for extras.
Roast Pork Puff - BBQ pork in pastry, 'nuff said. They are awesome, get lots. Not to be confused with a...
Cha Sui Bao – Those big pillow-like, white fluffy BBQ-pork-filled-buns, a more filling baked bun kinda dim sum.
Xiaolongbao - Soup dumpling / Shanghai dumpling - possibly one of the wonders of the world, a dumpling with soup inside. Genius. Just be sure to let them cool down, major date fail if you don't.
Sesame Paper Wrapped Prawn - Does what it says on the tin, good old fashioned fried fun.
Lo Mai Gai - Steamed sticky rice wrapped in lotus leaf, usually with some egg, pork or chicken in there too.
Yam Croquette - These are whispy wonders that are made of mysterious meaty mush. They're kinda sweet and crispy.
Soup - A soup hit in the form of a hot and sour or a wonton is always a good way to kick start proceedings. Those of you feeling wild should get the chicken feet in the mix too, a talking point and a classic.
Where?
Dim sum can go either way in London; there's the good, the bad and the terrible, but we say go for the awesome.
Royal China This place has a cult like following. You can't book at lunch but just grab a ticket and get in line, it's worth the wait which shouldn't be long. It's traditional, fast and has a great atmosphere. Take the whole family and order lots, you'll look like a pro. By night it gets a little fancy, so we say head here for lunch and stick to what they do best. Although they have restaurants all over town, you won't catch BarChick anywhere but Baker Street or Bayswater. Baker Street / Bayswater / Canary Riverside / Fulham / Harrow / Queensway 
Hakkasan Who doesn't lap up a lunch at the legendary Hakkasan? This place is as sexy as it gets, even on a Sunday, which is the best time to head here for dim sum. Dim Sum Sundays run from 12pm-5pm and for £58 a head you will be spoilt rotten. Dim sum, Champagne, cocktails, DJs and more. It's worth every penny. 17 Bruton Street, London W1j 6QB
Yauatcha Alan Yau's legendary dim sum hangout is a must for everyone. Make sure you get the bean curd prawn cheung fun, and the supreme broth soup if you're adventurous. Check out the awesome tea and cake selections and don't be shy on the cocktails and sake. 15-17 Broadwick Street, London W1F 0DL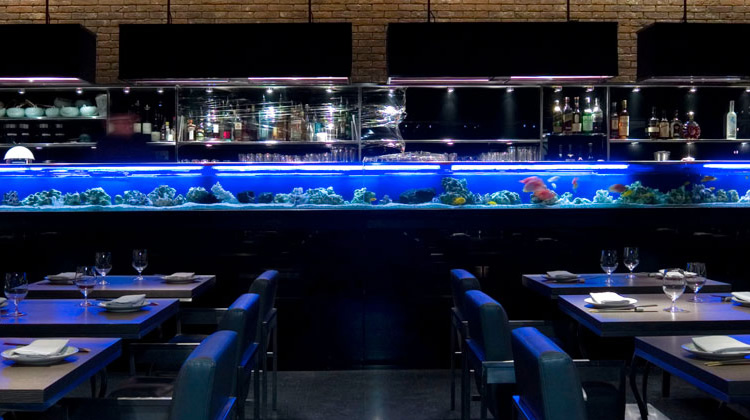 Wing Yip This place is attached to the HUGE Wing Yip supermarket in Croydon where you could go to get everything you need to make Dim Sum at home, though we reckon it's better to let to pros do it. Dim sum on Sundays here are all about the family vibes, it's like a comfort blanket rescuing you from the horrors of out of town shopping centres (consider this the perfect reward for a post-IKEA sesh). Superstore, 544 Purley Way, Croydon CR0 4NZ
Dragon Palace, Earls Court People travel from far and wide to eat the in-house made needle. They are awesome and a really rare kind of noodle you never find in London. The dim sum rocks too, a must for any budding dim summer; make sure you order the Chiu Chow Fan Kou. 207 Earls Court Rd, London SW5 9AN 
Princess Garden This is one of the best dim sum hangouts in London and it's surprisingly affordable for its swanky location. Book a table for a long dim sum weekend lunch, or throw a party in one of the private rooms, everyone loves a banquet! 8-10 N Audley St, London W1K 6ZD 
Dragon Castle One of south London's best Chinese offerings, Dragon Castle offers a full menu of freshly made dim sum during the day, but also offers a platter in the evenings. Don't be put off by its glum location off the Elephant and Castle roundabout, it's Asian glitz inside and always crammed with Chinese diners. Ask your waitress what's available on the platter that day. 100 Walworth Rd, London SE17 1J
Pearl Liang  This is Paddington's best kept secret, not only is the dim sum awesome, but they still serve a limited menu at night (a rarity with good dim sum). Get some before a train journey, get take out and travel in style, or just go anytime you need a good West London Chinese session, it will deliver, every time. 8 Sheldon Square, London W2 6EZ 
SaveSave