Whether you wanna get saucy, spenny or soppy, we have the ideal at-home date for you.
This year's Valentine's Day might be a million times different from anything we've experienced before - but hey, if there was ever a time to let your partner/bae/harangued flatmate know you love them then now's the time. With the options below, you're spoilt for choice. 
The exotic one
Tacos Padre & Hacha Margaritas
You might not be able to take that trip to Cabo this summer like planned, but hey - you're both gonna get loose on Margaritas down Mexico way somehow, so help you God. The good news? Now you can get an authentic taste of Tulum delivered to your casa, courtesy of Tacos Padre. They have 4 varieties of taco kits consisting of Short-Rib Beef Suadero, Lamb Barbacoa, Cauliflower Al Pastor & Cochinita Pibil (Pork). Plus they're delivering Nationwide, so you can enjoy the flavours of this kickass Borough Market taqueria whatever your postcode. Obvs no Mexican meal would be complete without a Margarita or three, so look no further than BarChick's fave agave-sanctuary Hacha. They're now doing their bit to lift lockdown spirits by delivering their award-winning Mirror Margarita to the nation. One tequila, two tequila, three tequila... bathroom floor. 
Taco Kits can be ordered at www.tacospadre.com – with deliveries going out every Friday. Order your Hacha Margaritas here. 
The romantic one
Robuchon's Valentine's 4-course Menu
 
Which city does romance like no other? The same city that does smoking and indifference to the English like no other - Paris, of course! If you usually like to mark V Day by heading over to the City of Lights, then have no fear - you can bring Paris to you with Robuchon's 4-course Valentine's Delivery Menu. The menu, available for lunch and dinner, includes everything you could want from a Parisian feast - La Caviar, Le Bar (seared wild sea bass and champagne sauce), La Pintade (stuffed guinea fowl) & Le Saint Honore (blueberry cream and jam served on heart-shaped puff pastry). Ideal for a little of what you French fancy. 
London only. Priced from £150 for 2 people, the menu is available for delivery on Saturday 13th February for lunch and dinner and Sunday 14th February for dinner via Le Deli Robuchon's website here, on premium delivery platform Supper London and Deliveroo. Customers must pre-order with 24 hours notice. A vegetarian menu is also available.
The dirrrrty one
Dirty Bones x Sauce Shop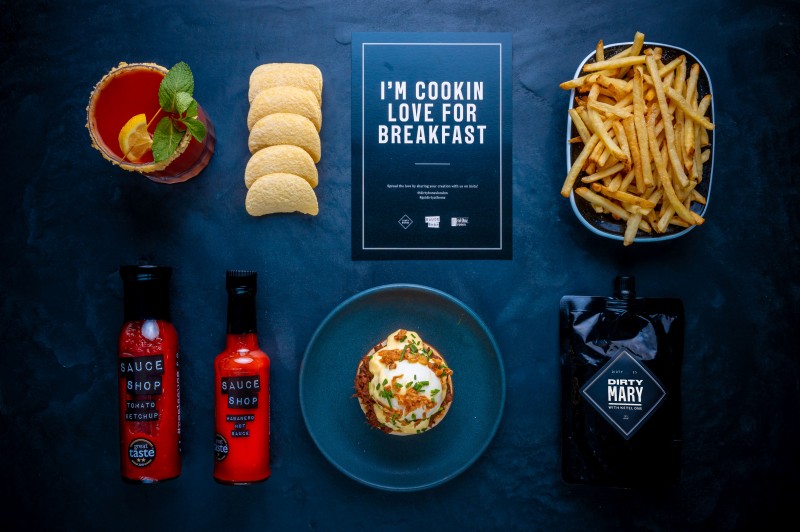 No, not dirty like that - drag your minds out of the gutter and back to the grill. This Valentine's Day we'll be getting busy with the hottest partnership of the year - Dirty Bones x Sauce Shop: Get Dirty Valentine's Brunch Kit. This includes the Dirty Bones signature brunch dish, the Short Rib Crumpet: 12-hour slow-cooked short rib, hollandaise sauce, crumpets, chives and crispy onions. F**k yeah. Obvs it's not a true brunch without a Bloody Mary, so the kit includes a pouch of the Dirty Mary - spiced tomato juice blend infused with Ketel One vodka & a mini tub of Sour Cream and Chive Pringles to crush up at home so you can replicate their house special - a rim of crushed crisps. But that's not all. UK craft sauce producer Sauce Shop will be including two full-sized bottles of their signature condiments in the Get Dirty Brunch Kit. Whether or not you get saucy in bed is completely up to you. 
Head to getdirtyathome.com/ to order
The spenny one
Love Chinois at Home
Looking to splash the cash this V Day? Need to make up to your loved one for the multitude of ways you've annoyed them during lockdown (who knew two people could have such different opinions about stacking the dishwasher??). Just looking for a chance to go HAM on the credit card? Then Park Chinois have the decadent date for you. Enjoy the extravagant experience of their swanky Mayfair restaurant at home for a mere £195. You'll receive impeccably prepared Chinese dishes (we've got our eyes on the duck with champagne and orange sauce), a stunning rose-inspired Valentine's dessert, two pre-bottled cocktails and two elegant Park Chinois fish chopstick holders with a calligraphy notecard (cos for a date this dynamite, your table has to look as elegant as your attire). If that's not quite enough then for a cool extra £80 then add in a FLOWERBX bespoke bouquet of 15 Balthazar roses. Ideal for true romantics/anyone who has a lot of making up to do. 
Available on 13th and 14th February through the Park Chinois website (via Slerp), and via Supper and Deliveroo
The cute one
Doughnut Time Heart-Shaped doughnuts
Sometimes all that's needed is a sweet little Sunday morning wake up call - and what could be sweeter than heart-shaped and doughnuts delivered in bed? Aww, stop it. Order these baked beauties from Doughnut Time and watch your crush get a sugar rush for you. Varieties include the Margot Heart-Throbbie (filled to the brim with Nutella, dipped in a chocolate glaze, drizzled with milk chocolate and topped with Mini Oreos, oh mama), or if you're going vegan this V Day then the Luna Lovegood is filled with sticky jam, dipped in vanilla glaze & dusted with valentines sprinkles. And what goes perfectly with doughnuts? Coffee, of course! Get your better half to treat you to a monthly coffee subscription from PLOT Roasting. It's for connoisseurs of the caffeinated stuff, as they specialise in rare and unusual coffees. Not just your average cup of Joe, after all. 
Order the full collection here doughnuttime.co.uk
Subscription to Plot Roasting here for £20 a month, including postage, for 150g bag.
The cheesy one
Honest Burgers FONDUE Special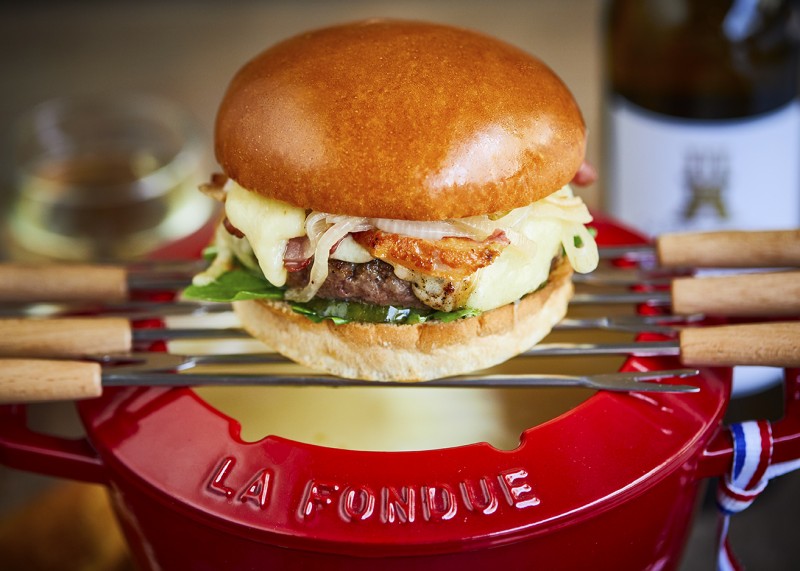 Now hold up, we're not talking cheesy as in giant stuffed teddy bears holding a hand-made collage of the two of you… if that's your flex then you do you, but here at BarChick cheese means cheese. Especially since Honest Burgers have brought back their limited-edition FONDUE special for February, evoking the romantic setting of white mountain-tops within homes across the UK. Their FONDUE burger, in collaboration with Mons Cheesemongers, is an epic combo of comté, beaufort, vacherin- fribourgeois, abondance and emmental cheese with garlic and white wine, alongside crispy pancetta and rosemary salted chips. Be still our beating, cholesterol-clogged hearts. What's more, for the first time ever, a DIY version of this insane special is also available. The kit includes everything you need to make this signature burger at home, with an additional serving of luxurious fondue included, perfect for a fun-do date-night-at-home. Cheesy does it. 
The kits are £26 for 2 burgers and £36 for 4 (including delivery), and are delivered nationwide 7 days a week (first delivery 05.02 if ordered 02.02), including on Valentine's Day for a date-night treat. They can be purchased from Honest's website: shop.honestburgers.co.uk
The classic one
Passion Proof hamper
What old-school date doesn't include fizz, flowers, chocolates & candles, hmm? If you wanna keep it classic then check out The Proof & their specially curated Passion Proof hamper. Heart-shaped profiterole wreath? Check. Chapel Down fizz? Check. A beautiful bouquet of Gloria flowers? CHECK! Plus you also get a 'Flore' candle by Evermore. Ideal if you really wanna spoil someone/are feeling a bit lazy and want all the hard work done for you. 
Hamper £110 with delivery within the M25 - website here. 
The fantasy one
STIR-UP
According to a recent poll (which yes, we saw on Loose Women), one of the nation's favourite fantasies involves… a bartender! Keep your fireman's hoses and nurses… thermometers, what the nation wants is someone who can whizz up a cracking cocktail and serve it with a cheeky smile. Bring these fantasty vibes into your home/bedroom with the new STIR-UP Kit. They're giving you the power to enjoy world-class cocktails by putting the craft of mixed drinks into your hands. Every month STIR-UP will set the scene for your cocktail making, with the shopping list for your fresh ingredients, the origin and history of the drink, simple ways to twist the classic to make you mark, and even a playlist to set the mood! Now get channeling your inner Tom Cruise in Cocktail/Coyote Ugly vibes and feel the heat turn up... 
With a monthly delivery of individual ingredients for four, each box costs £29 and is delivered directly through your letterbox. Head to www.stir-up.com for more details 
The skeptical one
F❤CK OFF cakes
Dating someone who's less than impressed by all this Valentine's Day malarky, but also know you should get them something to avoid the cold-shoulder? We have the perfect gift for you. Get them a F❤CK OFF cake from cult fashion designer Natasha Zinko. Available in Matcha Honey Cake, Honey Cake or Chocolate Yuzu, you can grab them in-store and on Deliveroo to order in various sizes from £45. Ideal for anyone who isn't sweet on V Day but does like a bit of the sweet stuff. 
Check out the stockists here. 
The DIY one
Hawksmoor 
Wanna show off your culinary skills to your other half? It's all about bringing the fine taste of our favourite restaurants to our casa, and luckily there are a multitude of ways to do just that. If this pandemic has shown us anything, it's how goddamn resourceful our industry can be. There are tons of awesome meal delivery kits at home (just check the pick of our faves here), or hit up your supermarket for some meaty goodness. Yep, now the legends that are Hawksmoor have orchestrated it so you can buy their prime cuts of meat from Ocado. The range will feature seven steaks, from individual prime cuts to large cuts such as Porterhouse. What's more, Eeach purchase via the Ocado or Hawksmoor websites will come with links to masterclass videos, tips and more from Hawksmoor Executive Chef Matt Brown. Winner winner, steak dinner! What's more, we're pairing ours with this Xinomavro, Chatzivaritis Estate from Peckham Cellars - like a Greek version of Barolo. Cos V Day is all about perfect matches.
Head to ocado.com to order yours.