These baller drinking spots are setting up shop in London for a limited time only, but you can bet they're shaking up the scene while they're here. Rooftop Spritzes with opportunities for wicked skyline selfies? Check. Amalfi vibes in the middle of Mayfair? Check. Here's what ya need to know to make the most of these awesome pop-ups while they're around.

When: Until October
What: Chelsea's largest rooftop is serving up Miami-meets-Mexico vibes courtesy of Casamigos, the tequila and mezcal brand co-founded by actor George Clooney. Make your way to the top of Cuban-inspired nightclub Embargo Republica to sip on frozen tequila cocktails and soak in the beachy decor - with autumn just round the corner, we'll take all the summery holiday vibes we can get. 
Where: 533B King's Road, Chelsea London SW10 0TZ
Madison x Aperol Spritz Terrace
When: Starting 11 August
What: Sipping Aperol Spritzes on a rooftop with glorious views of St Paul's? Sign us up. This month, everyone's fave orange-hued brand (not you, Easyjet) is taking over the rooftop bar at Madison in The City, serving up a selection of lush Aperol cocktails. We've got our eye on the Pinaperol Colada, which mixes the orange stuff with Koko Kanu, Wray & Nephew, Coco Lopez and pineapple juice. Yum.
Where: One New Change, St Paul's, London EC4M 9AF
When: Until September
What: Take a trip to the South of France by way of the sky-high Oxo Tower, which has been transformed into a lush Martini-soaked sun trap by gin brand Citadelle. Our fave part? Each Citadelle cocktail comes with a light bite: the Summer G&T is served with an oyster, the Citadelle Spritz is partnered with a raspberry sorbet, and you get cornichons with the Le Pickles Martini (yup, that's made with a pickle-infused gin - hello, Citadelle Vive le Cornichon). Take in the views, sip some gin and get your snack on.
Where: Barge House St, London SE1 9PH
Gŏng x Canaïma Gin & Diplomático Rum
When: June-September
What: The killer skyline vistas from the 52nd floor of The Shard are reason enough to pay Gŏng a visit, and we plan on propping up the bar on the regs during its summer pop-up with Latin American brands Canaïma Gin and Diplomático Rum. Gŏng has been decked out in tons of Amazon-inspired greenery, and it's serving a banging limited-edition Tropical Oasis cocktail menu focused on South American flavours. Plus, each Canaïma Gin cocktail ordered supports the brand's mission of giving to organisations that preserve and protect the rainforests and their local communities - we really do love to see it. Be sure to head over on 25 July at 7pm, when legendary bartender Simone Caporale is hosting a bar takeover that's gonna be next-level.
Where: 31 Saint Thomas Street, Level 52, Shangri-La The Shard, London SE1 9QU
When: 8am-9pm Monday-Sunday until September
What: Regretting maxing out your holiday allowance for the year during the cruel British winter? Don't sweat it - just take a day trip to the Amalfi Coast by way of Mayfair at this vibrant terrace pop-up. Stripes brings the romance of Italy to central London with lots of lemon trees and Mediterranean foliage, plus sun loungers (striped, of course) and beach umbrellas, so you can kick back in style. Come hungry and order from a menu of pinsa - like pizza, but lighter - plus oysters and gelato. When it comes to drinks, Spritzes are the name of the game. And if you're looking for an activity to make the most of your weekend, this place also plans to host events and pop-ups all summer long (yep, a pop-up within a pop-up - that's some Inception-level sh*t).
Where: Upstairs, Brown Hart Gardens, London W1K 6WP 
When: 20 May-17 September
What: This rooftop bar is something of a Cinderella story - each summer, it transforms from a disused car park into one of the neighbourhood's hottest hangouts. Now Frank's is back for its 13th year, and there's no better place to take in some serious views of the London skyline while absolutely destroying a boozy brunch. Get it while ya can, cos this institution is only open til the first autumn winds start to blow… 
Where: 7th-10th Floor Multi-Storey Car Park, 95A Rye Ln, London SE15 4ST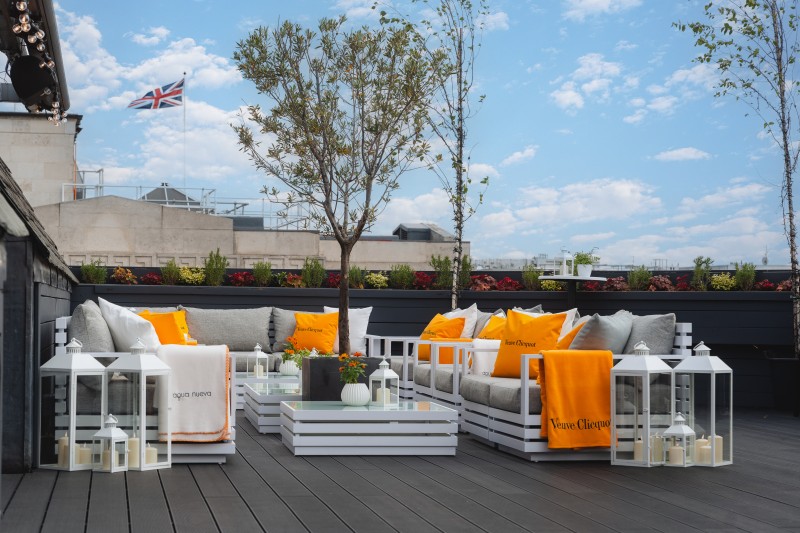 When: From 4th July
What: How do you make an ultra-sexy al fresco terrace even more enticing? Just add Champagne, baby! Aqua Nueva is one of central London's most sought-after spots for drinks with a view, and this summer the corks will be popping thanks to Veuve Clicquot's VIP Lounge. Buy one of their tapas pairing packages carefully selected to accompany the champagne and kick back on couches that wouldn't look out of place at a Mediterranean beach club. Wash down mushroom croquettes and Padron Peppers with luxury fizz for those hazy, lazy summer evenings that you don't want to end.
Where: 5th Floor 240 Regent Street, (Entrance 30 Argyll St) W1F 7EB, London W1B 3BR