Every good home booze cabinet needs a good gin... or several.
At the last count, there were more than 440 gin distilleries in the UK alone. That's a lotta gin. With no sign of a let-up to this spirit's popularity, these are BarChick's top 20 gins to make your collection complete. 
BEEFEATER
Why we love it: This iconic bottle had to be on this list; otherwise, this wouldn't be a list. The perfect balance of botanicals in this recipe hasn't changed since 1820, so they've gotta be doing something right. It's got a punchy juniper centre, bright citrus up front and an earthy, bitter nose to finish. Cheers to that.
How to drink it: In a classic Negroni, just as most bars do! Keep it balanced and pour separate 25ml measures of Beefeater, Campari and Dolin Rouge into a mixing glass, give it a stir and pour into a rocks glass with a big ice cube and garnish with an orange twist. 
Where to buy it: Right here
CAORUNN
Why we love it: Hit up the highlands in your highball with Caorunn (pronounced Ka-roon, in a Scottish accent if ya fancy). See that little red star? It represents the 5 foraged Celtic botanicals that include dandelion, heather and rowan berry, giving this gin its awesome vibrant, full-bodied yet crisp flavour.
How to drink it: Another of the 5 botanicals is Coul Blush Apple, and the classic Caorunn serve is with a slice of crisp red apple. Mmm. It's also damn tasty when muddled with raspberries or blackberries. Berry good indeed. 
Where to buy it: Lay your hands on a bottle here. 
COTSWOLDS DRY GIN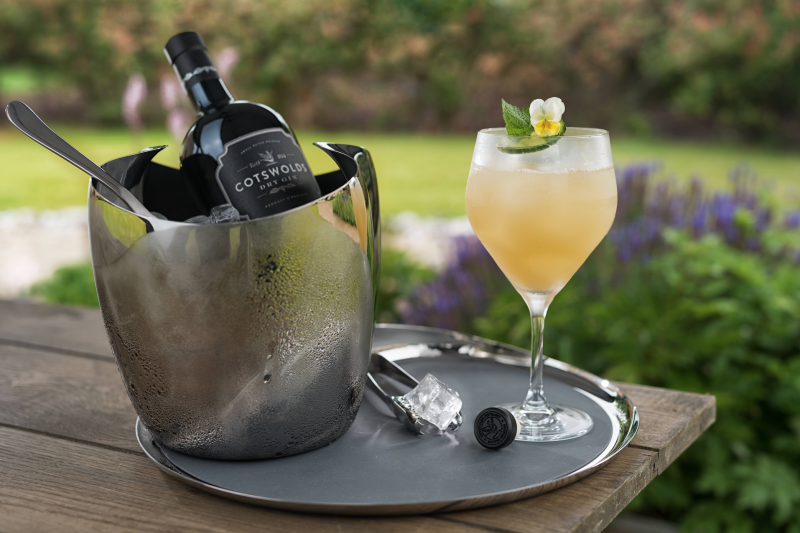 Why we love it: The rolling green hills and dreamy woodlands of the Cotswolds are perfectly captured in this award-winning gin. Forget joining the Insta-influencers for a photo op in a field on lavender - this mega spirit uses the flower as one of their botanicals. There's also freshly-peeled pink grapefruit and lime zest for added crispness.
How to drink it: Ever had a Cloudy G&T? Now's the time. Cotswolds Dry Gin uses over ten x the average amount of botanicals & is non-chill filtered (so botanical oils remain), giving it an epic pearly appearance when mixed with tonic. Clean, refreshing & very sippable. 
Where to buy it: Crack on with Cotswolds gin here. 
BROOKLYN GIN
Why we love it: Brooklyn Gin might be from the Big Apple, but it's their approach to lemons that impresses us. In that they're hand-peeled for that citrus freshness. They also use hand-cracked juniper, and this killer combo makes it way more vibrant and bright on the palate than gins that use frozen ingredients.
How to drink it: This small-batch gin is fresh as f*ck, so your serve should be too. The Brooklyn 75 is 30ml gin, 15ml honey syrup (equal parts honey & warm water) and 15 ml freshly squeezed lemon juice. 
Where to buy it: Right over here.  
ISLE OF HARRIS GIN
Why we love it: Having a G&T with Isle of Harris gin is as refreshing as a blustery coastal walk - who needs fresh air when you can blow the cobwebs away with this baby. It'll transport you straight to the wild Scottish Hebrides (which is where this gin is made, FYI). Oh, and the bottle is a beaut.
How to drink it: The star of Harris Gin is the Sugar Kelp, which gives it a complex, ozone minerality. It's collected by a seaweed expert from hidden underwater forests - what a job. Enjoy in a G&T with a slice of red grapefruit and their sugar kelp aromatic water, if you can grab some.
Where to buy it: Over here.
FORDS
Why we love it: Another Londoner; the 9 botanicals in this local hero are steeped for 15 hours before being distilled in 500-litre stills. Made just down the road from us in the Thames Distillers, Fords is proof that the more time you put into something, the better it slips down.
How to drink it: Simply with a splash of vermouth or tonic and a bunch of mates! 
Where to buy it: Right here.
GIN MARE
Why we love it: Distilled in a chapel just outside of Barcelona, it's got that holiday, Mediterranean flavour to it. The guys behind it experimented with hundreds of botanicals before settling on the perfect combination of arbequina olives, rosemary, thyme, basil, citrus, juniper, coriander and cardamom. It's unique and we love it.
How to drink it: Take a big balloon shaped glass and fill with ice, pour in 50ml Gin Mare and top with 200ml 1724 Tonic Water, then slip in an orange twist and a sprig of rosemary.  Or straight from a fresh oyster. Trust us - It's the bomb!
Where to buy it: Over here.
GIN 13
Credit to @aburgueriaregional via Instagram
Why we love it: Unlucky for some, but not booze-lovers - this Portuguese gin uses 13 different botanicals (hence the name, you get it). Bet you can't guess the thirteenth... we'll give you a clue. They're usually used in beer making. Yup, hops make a surprise appearance & add character to this nifty European number. 
How to drink it: Crack this into a classic G&T - it's super refreshing, with a burst of citrus then a mellow spice on the finish. Pretend you're chilling in a taverna on your summer hols.  
Where to buy it: Grab yourself a bottle here.
MARTIN MILLERS
Why we love it: This bad boy is distilled in pot stills and then shipped all the way over to Iceland to be mixed with Icelandic spring water. When a gin tastes this crisp, it's gotta be something in the water…
How to drink it: Mix up a G&T with a summer twist: take a highball glass, fill it with ice and pour in 50ml of Martin Miller, top with tonic and garnish with cracked black pepper and sliced strawberries. 
Where to buy it: With Fresh.
HYKE GIN
Why we love it: Gin - but not as you know it. This hybrid spirit is made in England using a grape spirit that's created using surplus grapes from African and South American that don't make it into the punnets. Botanicals such as myrrh and rooibos are also inspired by these exotic locations. We'll take a Hyke. 
How to drink it: Get creative with a HYKE Martini. Pour 60ml of HYKE Gin, 15ml of Crème de Cacao Blanc and 15ml of Amontillado Sherry over ice and stir. Strain into a chilled martini glass, squeeze lemon zest on top and garnish with a plump green olive. Swanky. 
Where to buy it: Grab it here. 
PORTOBELLO ROAD
Why we love it: This London Dry Gin is made by the guys behind the Portobello Star and you can find it at their very own Ginstitute upstairs. Bring a mate and have your own one-on-one gin-making session.
How to drink it: Grab a big coppa glass, fill with plenty of ice, pour in 50ml Portobello Road Gin, top with 1724 tonic water and garnish with a large twist of grapefruit and some juniper berries. 
Where to buy it: From these guys
SACRED
Why we love it: Back in the day when BarChick first began, we had parties with (now famous) bartenders and drank booze made by the people we loved. Sacred was one of the first back when it was still made in Ian and Hilary's kitchen in Highgate. We love that it's smooth and moreish; they may have moved on from the kitchen but the quality is just as epic.
How to drink it: G&T style with 50ml Sacred Gin, tonic, garnished with a slice of red grapefruit and a sprig of rosemary (but if you wanna drink it in a bar, you need to head to DUKES Bar in London and try it in one of their legendary martinis. Game. Changer.)
Where to buy it: From the source
Kyrö DARK GIN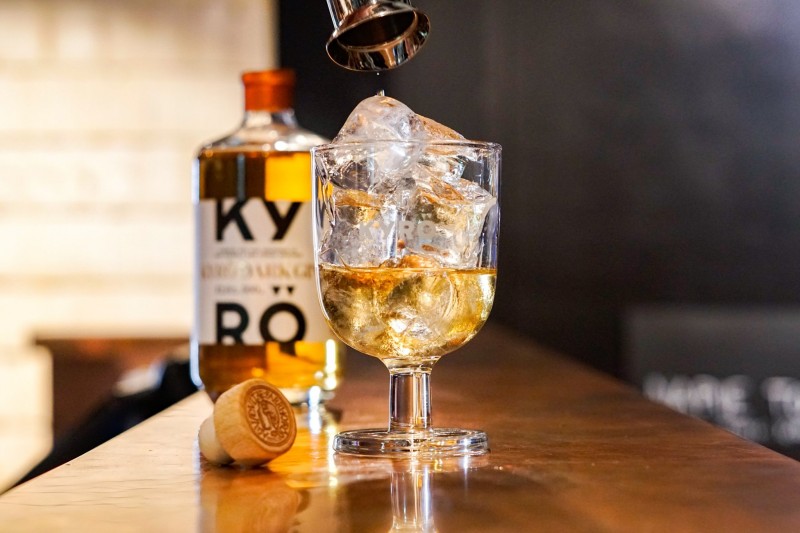 Why we love it: You'd be forgiven for doing a double-take when first glancing at this baby - it certainly doesn't look like a gin. That's cos the nutty legends at Finnish all-rye distillery Kyrö have aged it in American oak barrels for 3-12 months. Complex, rich, wicked.
How to drink it: Get twisted and make your own Gin Old Fashioned for a much lighter & summery version of the classic. Or drink it hot with warm apple juice & a cinnamon stick to warm your cockles on nippy nights. 
Where to buy it: Go to the dark side here. 
SIPSMITH
Why we love it: For starters, Sipsmith is made in London's very own Chiswick - we love a good local. We also like this eccentric take on a London Dry Gin, it always catches our eye on the back bar with its sexy swan label. It's rich and punchy enough for a G&T, but also smooth enough for our first Martini of the night.
How to drink it: Make a Sloegroni! Combine 15ml equal parts of Sipsmith London Dry Gin, Sipsmith Sloe Gin, Vermouth and Campari in a rocks glass over ice. Garnish with a lemon twist and slip in a wedge of orange. Simple, balanced, delicious. 
Where to buy it: Right here
ZEALOT'S HEART
Why we love it: This is a newbie at the table, but deserving of our attention. It's made for true gin-lovers and ain't messing around at 44% ABV. Seductively smooth but packing a major juniper punch, you'll also get a slightly floral finish of lavender and meadowsweet. It's certainly stolen our hearts. 
How to drink it: This one's epic in a dry Martini so you can really appreciate the beating heart of the botanicals. 
Where to buy it: Crack on with a bottle here. 
ST. GEORGE
Why we love it: Having been in the "craft spirit" game since before it was a thing, these guys have 33 years of distilling unique, character-driven booze. Their Terroir Gin is inspired by local foliage: bay laurel, sage, douglas fir and other classic Northern Californian smells, which instantly transport you to the Golden State.
How to drink it: Get a highball glass, fill with ice and 50ml of Terrior Gin. Top up with Fever Tree Mediterranean Tonic and garnish with a sprig of rosemary. 
Where to buy it: Over here.
TANQUERAY no. TEN
Why we love it: This beautiful bottle is the flagship gin of the 190 year old distillery. We love it because it's got that full-body juniper-laced flavour with hints of freshly squeezed lemon, orange and grapefruit with a coriander finish!
How to drink it: In a dry martini with a twist of grapefruit and some friends. Stir 50ml of Tanqueray No.TEN gin and 10ml Dry Vermouth together and strain into a frozen martini cocktail glass. Garnish with a twist of pink grapefruit. 
Where to buy it: Right here
TWISTED NOSE
Why we love it: Twisted Nose takes your senses on a journey into Hampshire's fragrant green world of watercress, crystalline chalk streams and long summer days spent at the water's edge. Idyllic, right? And it all tastes as epic as it looks, with an award-winning bottle design that ripples and refracts like the surface of a stream. 
How to drink it: In a G&T with 50ml Twisted Nose, topped up with Fevertree Elderflower Tonic, plenty of ice and a slice of pink grapefruit.
Where to buy it: From the source
PORTER'S TROPICAL OLD TOM GIN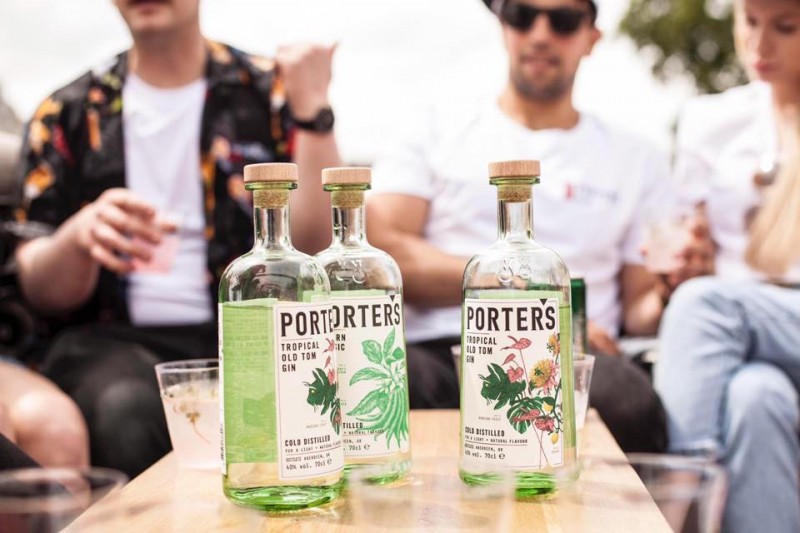 Why we love it: Just a sip of this baby and you'll think you've rocked up in the middle of an exotic island. Its classic juniper base is lifted by the tropical notes of passion fruit, guava and white tea. It's juicy, fresh and totally tropical. 
How to drink it: Just pour 50ml over a small ice cube and sip. Neat.
Where to buy it: Over here
THE BOTANIST GIN
Why we love it: Much like BarChick, The Botanist Islay dry gin is a wild spirit of layered complexity. This elegantly presented liquid is made using 22 hand-foraged local island botanicals. That might seem like a lot, but this Scottish crew have made something that tastes simply f*cking great.
How to drink it: Make up a Forager's Refresher: 40ml The Botanist 30ml Lillet Blanc, 15ml lemon juice, top up with soda water and garnish with thyme & lemon. 
Where to buy it: Right here.