Hissssss-click-crack. The Tinnies to quench your thirst away from the bar.
You're on your way home; you're off the clock; you're ready to chill.  From the pioneering can of Gin & Tonic to the rise of meticulously crafted and hella epic canned cocktails: the tinny is here to welcome you into the evening/weekend/party. Its game is STRONG and the choice is vast. These are the BarChick faves we like to crack on with.
Cocktails On The Go
Crack open a can of these fruity cocktails and it's like summer has smacked you right in the face. POW! One is smooth and juicy and rammed hard with passionfruit; the other has a zing of raspberry which will make your mouth water. These cocktails are dangerously easy to drink. Get 'em chilled and the first sip will have you feeling fresh as Will Smith jumping in that cab. The Passionfruit Martini isn't quite a Pornstar, but if you're feeling a bit extra, you could ditch the can, get out your glassware and whack out the prosecco to take it to the next level. These babies pair extremely well with a night in, or if you're up for getting the party started before you go "Out Out", these tinnies have you sorted.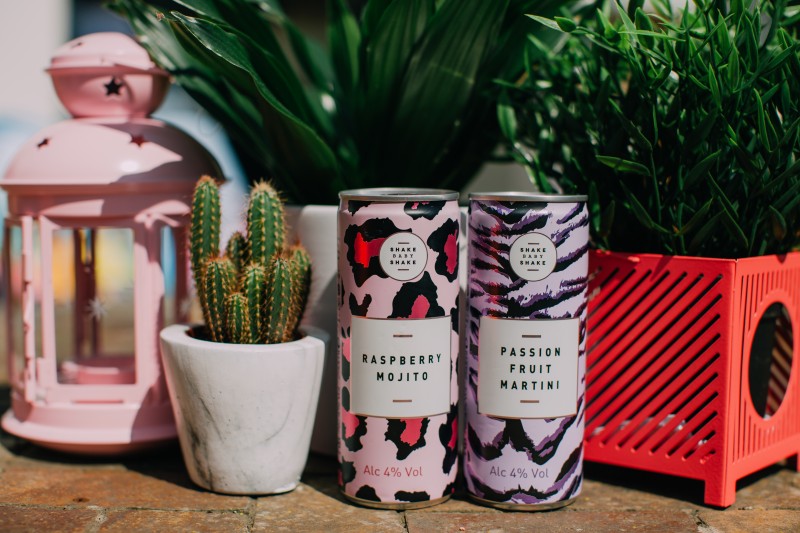 The Bloody Mary. It's a staple of Brunch but it's a ball-ache to whip up for a big group (especially when you're juggling 4 different varieties of eggs and you're hanging out of your arse) so these killer cans of the breakfast friendly cocktail are a must.  The batch crafted recipe can be enjoyed straight from the can or poured over ice & a slice if you want to be a bit sophisticated. It's punchy and balanced, fine-tuned with premium ingredients like a tangy peppery pickle juice and premium vodka and cream sherry. The heat is subtle but mega effective and comes from their own hot sauce recipe. Other plus; easy to sneak a hair of the dog sip on your hungover commute to work. Lifesavers.
They say you can't bottle perfection, and maybe that's true - but you can capture it in a can! Get ready cos this one is a banger.  Kahlúa have perfected their signature Espresso Martini complete with the creamy foam that makes it so damn dreamy. It's the perfect canned Espresso Martini. Or should we say... Mar-tinny?! The buzziest of all the cocktails, they've managed to ensure maximum frothiness with a clever nitro-powered can which forces bubbles to the surface as soon as it's opened. The best thing about the one? It's a double serve, so you can share it with a pal or, ya know... go hard with both for yourself. You know how we roll...
Looking to shake it up and experiment with some bartending roleplay?  These epic canned cocktails can help you replicate the kinda cocktails you only usually get with an energetic shake. They've infused 'em with nitrogen for a smooth finish, a  creamy foam head and a super velvety feel on your mouth. They've picked our frothy faves, from the Amaretto Sour to the hugely on-trend Pink Gin Fizz (with Espresso and Pornstar Martinis in between). Epic!
Gin In A Tin
Gin in a tin. So perfect in its very concept that it rhymes. Hell yeah! What can make it more perfect? A banging gin brand joining forces with a tasty tonic to elevate the humble park hang when the sun comes to play. Manchester Gin has paired up with Franklin & Sons Sicilian Lemon Tonic Water for a playful and aesthetically pleasing twist. This fruity 5.5% ABV play on the classic has a summer sweetness from the raspberries and a citrus burst of Sicilian lemons from the tonic. The can is right up our strasse too, with stylish pink and rose gold design, you almost want to get caught drinking this one on the tube. 
Your fridge will feel naked  in the summer if you haven't packed it with these refreshing tins. We're big fans of Edinburgh Gin and big into this spicy, fruity ready-mixed Gin & Ginger. It has a bit of a kick. With the Edinburgh Rhubarb and Ginger gin in the mix, it adds sweetness and a juicy rhubarb tang. The perfect antidote to those days when the sweat just won't shift from the back of your legs and the heat robs you of your sleep.
BarChick is a BIG fan of Hackney. It's rammed with killer bars and solid spots for chilling in the summer. It's also where Longflint got the inspo for this botanical-filled can. Take a hike along Hackney's canal paths and check out the wild herbs and flowers from the hedgerows to see what we're chattin' about.  It's a haven for foraged ingredients. They've matched the East London Liquor's Dry Gin with their ace house tonic which features the botanical extracts of Chamomile, Woodruff, Hawthorn Berry and Lemon Verbena. It's one helluva thirst quencher and it's local to BarChick's favourite hangs. We're sold.
No-one does a classic G&T quite like Portobello Road Gin. After all, they have 3 god-damn gin bars in their 4 storey mecca and one is literally named after it, so obviously they've perfected this classic serve. But for when you can't make it to W12, they've got a portable version. F*ck yeah! Their classic Portobello Road Gin has been paired with Franklin & Sons Natural Indian Tonic Water to create a 5.5% ABV can for you to carry with you at all times. They haven't fannied about with the recipe; no gimmicks & no added flavours. Just their killer classic. Ace!
Canned wine? Wine not!
When this Brexit tragi-comedy finally comes to its climax, who knows when our next mid-summer jaunt to the South of France will occur. But summer ain't summer without a serving of the Provencial pink stuff. Good news, pink drinkers: Mirabeau Rosé has added their crisp, dry taste of Provence to a slimline can, aptly named "Pret-a-Porter".  Neat.  Its a can of the 13% ABV wine made with classic Syrah and Grenache grape varietals, and its dryer than a Mormon's wedding. Grab a can from Waitrose (where else?!) and get that South of France feeling.
Remember that low-cal Prosecco that got our nation of fizz drinkers a bit hot under the collar a few years back? Well, they've only gone and made a killer can of wine which is fresh, gently sparkling and vegan. It's a lil' bit premium so if you are planning a fancy-ass picnic, get a couple of these frizzante cans in your cool bag to make your drinking game a bit more high-end.
Canned wine has been making major gains. We dig these 'Nice' slimline packaged wines. With a pale rosé from the Montpellier area and a Sauvignon Blanc from Cotes de Gascogne, they call it "wine for whenever". For all those times wine is essential and glasses are optional. We're talking on-the-go; al fresco with pals; home alone with your fridge; basically any Friday. Whenever wine calls, these guys are here for you. In a can. How f*cking nice of them.