Well that's one way to keep a piece of Ryan Reynolds in your cupboard...
With Dwayne "The Rock" Johnson bringing out a tequila brand and Danny Devito loving the limoncello, we thought we'd see what else the celebrity world has to offer. Some should stick to what they know, others can keep it coming and the rest… well, God help them.
What happens when one of the world's biggest pop-stars joins forces with one of Mexico's premier female Master Distillers? A bad-ass tequila is born, baby! Prospero Tequila is smooth, elegant and f*cking delicious. What more would you expect from a female-led tequila? Rita Ora & Stella Anguiano have made an awesome spirit that is all about female spirit. Strong women = strong drinks. Hell yeah!
Better known for his ghost-busting abilities, in 2008 Dan Aykroyd co-founded Crystal Head vodka; it's filtered through diamonds, sold in crystal and comes in skull-shaped bottles. Proper low-key stuff, ya know? It's been going down well since then… Inspo came from the legend of the 13 crystal skulls that have been found around the globe. This is some Indiana Jones level sh*t. It's also kosher approved, free of additives and has won a couple of gold medals to prove its worth.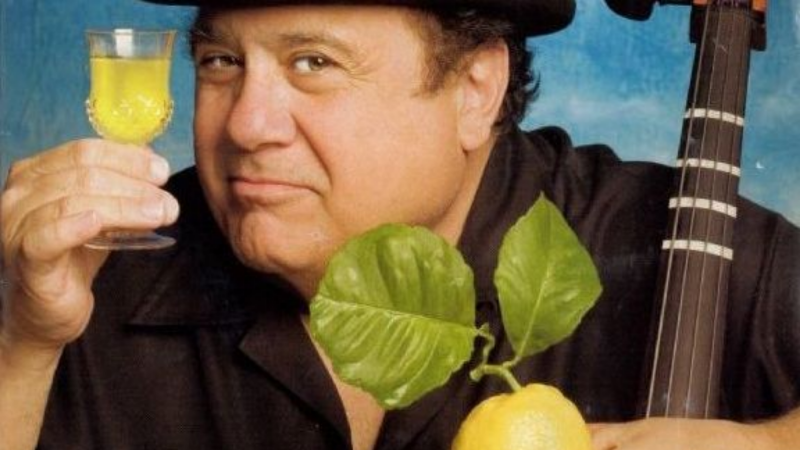 Born from a love of limoncello and an all-nighter with George Clooney (oh, for an all-nighter with George!) this is one celebrity bottle of booze you should really get your hands on. Not only does it taste great but every bottle is signed by the little legend himself. Have a scratch at the lemon on the label and you'll get a waft of lemon trees - go Danny! Go Go Go.
BarChick and George Clooney seem to have a common love, having previously tried his hand at selling whisky, coffee and Martinis, George finally settled on making his own agave spirits, and boy, are we pleased he did. Partnering up with Cindy Crawford's husband and naming the bottle after their homes in Mexico, Casamigos offers ultra premium 100% Blue Weber agaves made Blanco, Reposado, Anjeco tequila & an artisanal Mezcal crafted from 100% Espadín agaves. And f*ck, it's as God-damn delicious as George himself. 
This isn't your average vodka: whilst most are starch-based and made from potatoes and corn, Diddy's vodka is made from a more sophisticated French grape and distilled five times. He's said to get a little heated when Ciroc is not being drunk at events and describes it as "tasting like his lifestyle"…. give us a swig then?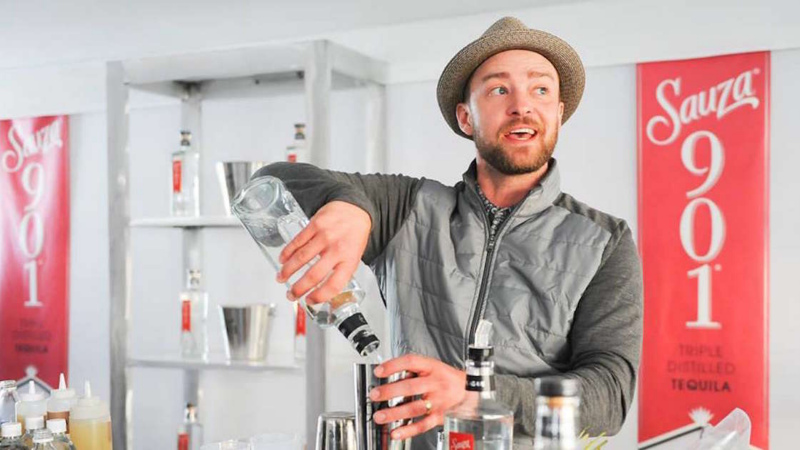 The guys got moves and he's also brought out one of the tastiest tequilas in town. Approved by barmen in East Village's Death and Co (NY) and with one of the hottest adverts out there (directed by the man himself, obvs) - kind of want one right now, even if JT does make another quid out of it.
Kylie Minogue has sneakily started her own Rosé, appropriately named 'Kylie Minogue Rosé'. Even though Australia has some of the best wines around, she's plumped for a rosé made from grapes grown on the French south coast. Fair play. Who doesn't love a South of France rosé? And unlike other celeb fronted booze, she hasn't slapped a high RRP on it as you can get the pint-sized popstar's plonk for less than a tenner. We feel so lucky. 
Marilyn Manson has his own absinthe, yup. Then again you wouldn't really expect anything else from the king of all things dark, gothic and a little controversial. Staying true to all he and other absinthes in the game, it's a cool 66.6% alcohol. Wild.
After a 22 year career of keeping his eye on the ball rather than the bar, Becks went hard and put his beautiful face to Haig Club, his own single grain Scotch aimed at those "who don't think they like whisky" and probably are a fan of those Calvin Klein ads (guilty!). It's fresh, smooth and easy-drinking; a blend of three-grain whiskies each of which have been matured in different types of casks. We guess that's how you, err... blend it like Beckham. Ah thank you. 
He's the king of the Twitter clap back, the baddest of all movie superheroes and the man behind awesome Portland-based gin, Aviation. He's not just the extraordinarily handsome face for the brand, either. From showbiz to actual biz, Reynalds plays an active role in the day-to-day business and over-sees the creative direction. We dig the handsome Gatsby-esque bottle, and the lingering spice finish.
This whiskey is more than just a bit of alright alright alright. One sip of this eight-year-old Wild Turkey bourbon and you'll want to don a flannel shirt and adopt a sexy southern drawl in the style of its Creative Director and maker, who happens to be Matthew McConaughey. He collab'd with Wild Turkey's master distiller Eddie Russell to make this liquid with its creamy vanilla and buttery caramel flavours. The McConnsance continues.
Knock knock. Who's there? It's Bob Dylan's whiskey collection. No, that's not a joke. Dylan has bossed the world of music and art, and now he's got himself into the booze game with the release of his handcrafted Heaven's Door American Whiskies. You thought these liquids were just named after the song? Well, yeah, they are... but they're also made in a church in Tennessee, so, sort of quite literally Heaven's Door... 
Still on the fence as to whether it's okay to fancy the Jonas Brother's yet? Well, the jury is def still out on that one, but we reckon Nick Jonas launching a tequila brand might sway it in his direction. I mean, tequila is always the way to BarChick's heart.
These guys are probably better known for cooking up other substances, but their new artisanal mezcal is a bit more up our street. Aaron Paul & Bryan Cranston have gone from breaking bad to making a bad-ass spirit, designed to be shared. It's a unique blend of the finest Espadin agave, hand-selected from the hillsides of a small village in Oaxaca, Mexico. Hell yeah, b*tch.
There aren't many female celebs who have jumped on the booze bandwagon, but when they have, they've gone all out. Kate Hudson is the Californian gal behind King St. Vodka who thought not enough babes were bringing booze brands to the table. So she rallied some girl power and in true Cali style made a seven-time distilled gluten-free vodka, crafted using alkaline water. Yes girl.
Like your liquids on the rocks? How about by The Rock? Dwayne Johnson launched his small-batch tequila brand back in March 2020 - just in time for a world-wide lockdown. Not great timing, but if anything can get us through a pandemic it's tequila! Created in a small town in the highlands of Jalisco, Teremana means spirit of the earth and comes in blanco and reposado varieties. And yeh, it rocks.