Forget the overpriced pick n mix & plastic nacho cheese.
Enjoy a few boozy bevvies at these London cinemas, and you don't even need to sneak 'em in... 
If you're looking for somewhere a little different to watch a film, this is it. With four rooftops across London transformed to give the ultimate viewing experience, there's really no excuse not to get high while being entertained. Comfy seats, cocktails and delicious food, plus blankets to keep away the cold. Get handed a pair of amazing wireless headphones and get watching under the stars.
Open during the Summer. Peckham Rye & Stratford
Probably one of the best cinemas in town, it's located in the heart of Leicester square and if you haven't been then you've got to. Firstly it's cheap, because those high street cinemas are seriously taking the p*ss. Secondly, they show a wicked selection of old films both old and new, and if you want them to show your favourite, just email them and they'll see what they can do. It gets better… they have sing-along-screenings like the Lion King and the Sound of Music, and even some funny takes like swear-along with South Park. We love. Oh and on Sundays you get a free beer and slice of pizza with every ticket - we'll see you there.
6 Leicester Square, London, WC2H 7BX 
This place is the king of the cinemas. Probably the best date spot imaginable, you can actually recline in a bed at the front of the cinema complete with bed socks, pillows and cashmere throws, so it's perfect for a bit of kissing (forget the back row). There's also sofas and red velvet armchairs as standard and you can bring in cocktails and food (try their freshly baked doughnuts, they're dreamy). Plus they often have edible screening nights... check it out.
191 Portobello Rd, London, W11 2ED
This is the Daddy of all ODEONs. Firstly, this is where the BIG premiers are held, so there's a chance you'll be sitting in the same seat as a major Hollywood celeb (this might be the closest you get to being butt to butt with Jennifer Anniston). Secondly, the chairs fully recline at the touch of a button, and they have double the legroom, which is perfect if you have massive cankles, and they all have foldable tables to place the drinks you've ordered from the dedicated bar (called Oscars, what else?) in the foyer.
22-24 Leicester Square, London WC2H 7LQ
Forget the Daddy, this is the rich Godfather. If you get off on crystal clear sound, impeccable clarity and want to feel like you're actually in the film, then this is the one for you. Alternatively, if like BarChick, you care more about the drinks, the food and copping off with some guy in the big seats then this also ticks all the right boxes. Get your drink on at AMBAR bar and restaurant then sink into one of the club chairs…and if you're really going for it, hit the IMAX screen.
96 Finchley Road, NW3 5EL
Why not go all out and rent a cinema for 30 of your mates, that way you can choose the crowd and the film. Enjoy a delicious supper in the private dining room then relax in your chair with a Champagne cocktail…and if you really want to then why not play a couple of home movies instead of adverts, no not those kinda home movies.
One Aldwych, London, WC2B 4BZ
It's like being in your own living room, only you have a massive screen. Sink into a sofa, feet on a footstool with a bottle of vino by your side and get stuck in…BarChick has been in her PJ's before. Plus with a bar directly behind you, life there is nice n easy.
13 Locations across greater London, and plenty around the UK
Firstly there is an all day menu... plus the Attic Bar is amazing. Secondly, if you are earth aware then all the ingredients are responsibly resourced, so you can rest assured as you tuck into your cured meats. Also they're big on cake, so get stuck in, stay for dinner and waddle into the movie with a goblet of wine... now all you have to do is try and keep your eyes open.
270 Mare Street, London, E8 1HE & 5 other London locations
With eight locations in London, all with fully licensed screens it's a yes from BarChick, so find your nearest one and check out what's showing, but if you feel like dressing up, hit the Mayfair one where they frequently host red carpet premieres and they even have royal boxes...if your manifestation skills are good enough, then wait at the bar in your finest clothes and we're sure some hot date will join you eventually.
38 Curzon Street, London, W1J 1TY 
Forget the big guns, this cinema is just perfect. Run by a handful of managers and local volunteers, 100% of its profits go to charity so you can be safe in the knowledge that as you relax and enjoy yourself, someone else will be benefitting. Handily located at the back of the room is the Josh on the Rocks bar so you can enjoy the movie with the company of your favourite tipple… so with everything from a kid's club to a license for civil partnerships there's something for everyone! Get involved.
194b Chamberlayne Road, Kensal Rise, NW10 3JU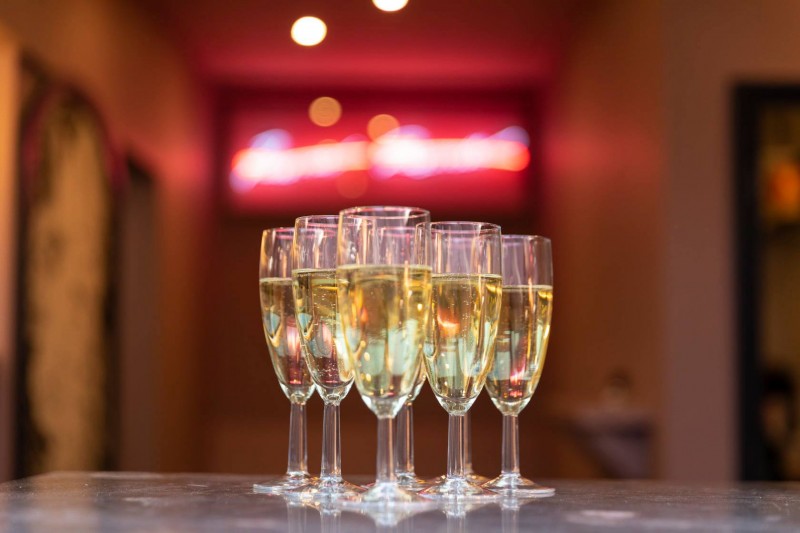 If you are looking for comfort, then look no further. With 24 seats and sofas all complete with thick cushions you can sit back with a bottle of vino or your favourite spirit and chill. They show a variety of films from arthouse to the latest blockbuster, family screenings to feel good singalong musicals. They even have dog-friendly screenings! And if you're normally the one hogging the remote at home, you can rent the whole place out and screen your favourite flick just for you (+23 of your closest mates). With popcorn included this is a huge upgrade from Netflix and chill.
64-66 Redchurch Street, Shoreditch, London, E2 7DP