When a heatwave of epic proportions rolls in, you KNOW A day-drinking sesh in the park is on the cards. Prep yourself a batch of homemade ice lollies and you'll keep your cool til the sun dips.
Yeah, you'll need a mould, but they're not hard to come by. Want our advice? Don't be too heavy-handed with the alcohol or they won't freeze. And save a bit of that boozy mix, 'cos that 12 hours freezing time ain't gonna drink itself.
Gin & Tonic
These classic 'n fresh lollies will quench your thirst and cool you down…
Serves 10
700ml tonic
50ml gin
Juice of 1 lime
A few slices of cucumber
Mix together the tonic, gin and lime juice then pour into your moulds over the cucumber slices. Easy!  
Aperitivo
Traditionally, aperitivo is an Italian word for a pre-meal drink meant to stimulate your appetite, but we get ours going with an iced boozy snack.
Serves 4
100ml cloudy lemonade
15ml Campari
10ml sugar syrup
25ml water
Orange zest
Stir all the ingredients together then pour over the orange zest into the moulds. Get them in the freezer and wait for aperitivo hour…  
Margarita
Margarita lollies, AKA a party in a popsicle...
Serves 4
150g sugar
175ml fresh lime juice
120ml water
2 tbsp lemon juice
2 tbsp orange juice
2 tbsp tequila
2 tbsp Grand Marnier
Mix together the sugar, and juices and stir over a medium heat until the sugar dissolves. Remove from the heat and leave to cool then blend together with the tequila and Grand Marnier until smooth. Pour into the mould and wait… Once frozen, you can garnish with salt, if that's your flex.
Bellini
Probably not how they'd do it in Harry's Bar, but we love these bad boys anyway...
Serves 10
2 large peaches
150ml lemon juice
150ml sugar syrup
3 dashes peach bitters
440ml Prosecco
Chop the peaches and blend them until smooth before straining through a mesh sieve. Take 8 tbsp of the puree and mix together with the lemon juice, syrup and bitters, then add the Prosecco - carefully though, because it'll fizz like a motherf*cker. If you wanna sex it up a bit, chuck in some edible flowers like violets, because it's summer and we like it. Pour the mix into moulds and freeze them up.  
Espresso Martini
This bad boy will wake you up, f*ck you up and cool you down.
Serves 6
3 tbsp fine sugar
125ml espresso
2 tbsp vodka
4 tbsp water
Dissolve the sugar in the water over the heat and bring to the boil. Take from the heat and pour into a cocktail shaker. Add the cooled down espresso and vodka and shake well. Once it's a decent temperature, pour into moulds and impatiently wait…  
Dark 'N Stormy
This cocktail is a Bermudan classic, which makes it perfect for sunny days when you need to be chilling and boozing…
Serves 4
15ml rum

10ml lime juice

20ml sugar syrup
80ml ginger beer
Another simple one; just stir all the ingredients together and pour into moulds! Get stem ginger in the moulds too, if you wanna sex it up.
Mojito
Refreshing, boozy, minty goodness. Who said we could only have one?
Serves 8
1 lime
500ml water
A handful of mint
3 tbsp brown sugar
25ml rum
Cut eight thin slices of lime then juice the rest. Add it to the water and sugar and then heat until the sugar has completely dissolved. Keep eight mint leaves spare but steep the rest in the mix for 10 minutes. Get a piece of lime and a mint leaf into each lolly mould, mix the rum into your sugar water and pour into the moulds. 
Pimm's
The sun's only gotta be out for 10 minutes before the supermarkets sell out of Pimm's. Use yours to make this perfect summer's day lolly.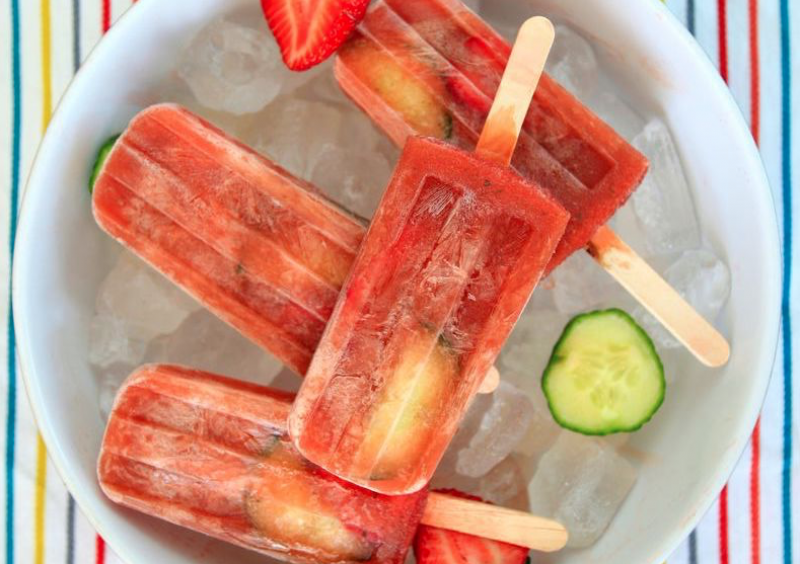 Serves 6
50g icing sugar
1/3 cup water
4 tbsp Pimm's
250ml ginger beer/lemonade
150g sliced strawberries
50g sliced apples
18 mint leaves
Boil the sugar and water until the dissolved then remove from the heat. Add the Pimm's, ginger beer/lemonade and leave to cool. Divide the strawberries, apples and mint leaves between the moulds and pour in the mixture.
Bloody Mary
Lollies and Bloody Marys are two of the best hangover cures, so kill two birds/headaches with one stone.
Serves 4
110g tomatoes
1 celery stalk
½ lemon
4 tbsp Worcestershire sauce
2 tbsp Dijon mustard
¼ tsp chilli powder
¼ tsp cracked black pepper
Pinch of salt
120ml vodka
Blend all the ingredients except the vodka into a puree then strain through a sieve. Add the vodka and blend for another 30 seconds. Pour the mix into the popsicles and either wait 'til you're hanging like a fruit bat or freshen up with this savoury lolly fix.
Blood Orange Negroni
Because lollies can be trendy too…
Serves 10
110g caster sugar
235ml water
50ml gin
50ml Campari
50ml dry vermouth
300ml blood orange juice
Dissolve the sugar in the water over heat then remove and add the remaining ingredients. Mix well and get them in the freezer for a sweaty day.
Spiked Flat White
Coffee liqueur brand Mr Black created this recipe for a boozy flat white ice pop to give ya the boost you need after a heatwave-induced sleepless night. 
This recipe serves one, so multiply according to how many moulds you have.
1 part Mr Black Cold Brew Coffee Liqueur
4 parts oat milk
0.5 part sugar syrup
Combine in a large container, stir, pour into moulds and freeze overnight. Done!  
Paloma
Tequila + grapefruit = the best damn lolly you've ever had.
Serves 10
110g granulated sugar
120ml water
590ml grapefruit juice
120ml lime juice
70ml tequila
Pinch of salt
Dissolve the sugar with the water and leave aside to cool. In a jug, mix together the grapefruit juice, lime juice, tequila and salt, then add the sugar water and stir. Pour into moulds and freeze.
Mint Julep
Because they're not just for the Kentucky Derby, these icy goodies will keep you chilled any hot day.
Serves 10
600ml water
220g demerara sugar
A handful of mint
18ml bourbon
Heat the sugar and water until dissolved then remove from the heat and add the mint. Muddle the mint and then allow to cool. Strain through a sieve before adding the bourbon and stirring. Pour them into moulds and get set.
Piña Colada
Go tiki with your pops and take this lolly party to the beach!
Serves 6
660g fresh chopped pineapple
70ml coconut milk
120ml water
3 tbsp granulated sugar
70ml light rum
Blend all the ingredients into a puree then strain through a fine sieve. Pour them into moulds and freeze. Simple, boozy iciness.
French 75
Probably the classiest popsicle you'll ever have.
Serves 6
360ml Champagne (or Prosecco. We won't judge)
120ml gin
120ml sugar syrup
90ml lemon juice
Combine all the ingredients (mind the fizz!!!) then pour into moulds. Now you've just gotta wait for these posh pops to freeze…  
All imagery sourced from Pinterest