Playing the numbers game on Tinder/Bumble/Hinge/Grindr has finally paid off, and the chances look high that they'll actually turn up. So next mission - finding a killer place to grab a drink... maybe complete with a possible escape plan. But it's all good 'cos we're full of ideas that should see you with a second date scheduled in no time...
This is a sexy lil' place, and surprisingly not expensive - so you won't waste serious cash on a random you might dislike. All wine bottles are £20 downstairs, so you can easily split the bill without having to admit maths ain't your strong point, and if it's going well, you can stretch to a couple of bottles without breaking the bank. If it's going really well, move onto the cocktails upstairs. Two dates in one. Winning.
5 Greek St, Soho, London W1D 4DD
This is a great place to get them up and shaking their booty on the dance floor. Go on a Sunday or Monday and it's happy hour all night long - winner.  The vibe is really fun, so even if you don't see a future, you can be forgiven for getting carried away here and having a cheeky snog. You'll have a good time regardless.
6 Poland St, Soho, London W1F 8PS
This sexy venue has a casual Italian coffee vibe but it gets boozy in the evenings, and the Negronis here are the bomb - plus there's a two-hour turnaround on the table, so you've got an escape plan if the spark isn't quite there. You can also drink espressos for £2.50, that'll stifle that yawn if it's starting to drag. Just be warned this is a tiny place and there are only about four tables in here, so the guys next to you will be enjoying your awkward intros (but you can also get nice and close if they're even hotter in real life)
7 Old Compton St, Soho, London W1D 5JE
Awesome cocktails and a sh*t hot venue - you'll look well cool. Plus, if you need to escape then you can pretend you need the toilet but instead go hide in the secret bar behind the 'Narnia-style' door upstairs. Just be aware if it's going well and you stick around you'll rack up a hefty bill with all those killer cocktails to try, but hey, they could be the one and the cocktails are epic, so it's worth it!
65 Rivington St, Hackney, London EC2A 3AY
You can't not have fun here. The live music will either get you both shaking your thang or distract you from the fact you have nothing to talk about. If it really goes tits up, this is BarChick's failsafe place to pull so your future Mr or Mrs might be the other side of the bar if they ain't by your side.
134-146 Curtain Rd, Hackney, London EC2A 3AR
Go for a cautionary cocktail first, and if you need to get rid, order a plate of all-you-can-eat-ribs, get caveman with it and scare them away.  If it's going well, get stuck into their epic frozen margs and order a lobster for two... Just remember shellfish juice down your white shirt or new dress is not a very sexy look, so embrace the bib. 
332-334 King's Rd, Chelsea, London SW3 5UR
A chilled place to grab a casual beer, and it's an awesome spot to watch the sunset over the river. (We've also got loads more rooftop ideas here if that's your style). Just remember if the heavens open the only super nearby option is basically Pizza Express, so check your weather app because you trek south of the river, though we reckon there's nothing sexier than a first kiss in the rain so maybe that's your silver lining...
South Bank Centre, Belvedere Rd, Lambeth, London SE1 8XX
This is BarChick's fave spot down in South London. If you have a fussy eater on your hands, they'll struggle to find something they don't fancy here with the killer selection of food concessions, plus there are plenty of bars offering wine, beer and cocktails. People from all corners of London come down here for a good time, so if the chat runs dry, you can distract yourself with a spot of people watching. Or challenge your date to a game of table football if you wanna establish who wears the trousers early on.
49 Brixton Station Rd, Brixton, London SW9 8PQ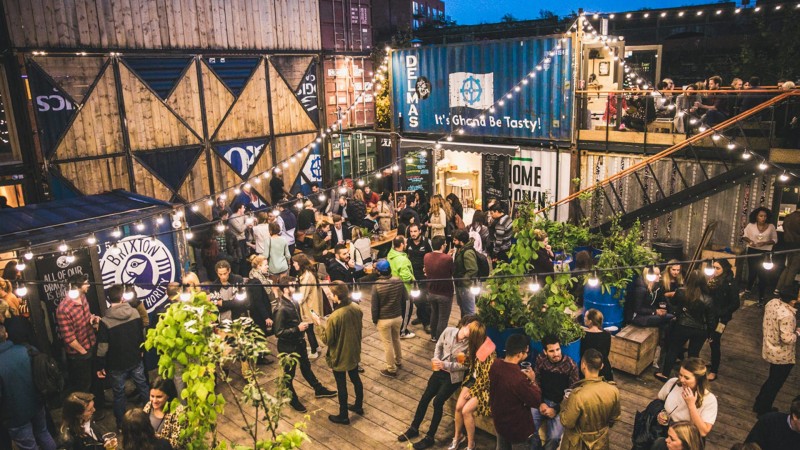 If you're up in Camden, and you want it casual but fun, this place is gonna tick boxes. Come here for Mexican mayhem and tequila cocktails, baby! These guys are serving up traditional cuisine and drinks all throughout the week and that canal view is tops.  It's a sweet spot if you're meeting early in the evening, and if it's going well you can plot your second date on a romantic walk along to water afterwards.
75-89 Lower Walkway, Camden Town, London NW1 8AF
Unsure what your date's vibe is? This place gives you two bars in one with its killer dual personality, and one of them is bound to float their boat. Upstairs in Tails, it's all bright and elegant, with lighter and lower ABV serves to try while you work out the mood. If it's going well, move downstairs to Tails with its stronger cocktails and dark corners which lend themselves nicely to a sneaky smooch.
175 West End Ln, West Hampstead, London NW6 2LH
This might also come in handy: Where do go for an activity date