And you thought Christmas was the indulgent Bank Holiday.
Cocktails to order:
The bars won't be open in time for the long weekend, but that doesn't mean you can't get in on the mixology action with these Easter appropriate goods from some of the best.
Little Mercies - White Chocolate Old Fashioned
The cocktail menu at Little Mercies reads familiar, but what is served up is defo not what you're expecting. Intrigued? Yeh, you should be. We haven't been able to hit up this North London joint for a while, but it has been able to make its way down to us with the Little Mercies bottled cocktail deliveries, which include this little smasher: Caramelised White Chocolate, Jack Daniels Whiskey, Angostura Bitters. They prep and dilute it for you, so you have the perfect drink straight from the bottle. Store in the fridge, then pop in the freezer for 30 mins before you pour over ice. Booze and chocolate? Your Easter just got epic, baby.
Little Mercies White Chocolate Old Fashioned can be ordered here for £29.00 (and psst. It serves 6 so you've got enough for the whole gang)
Cocktail Porter's Easter Box
 
The cocktail boxes from Cocktail Porter are consistently kick-ass. With everything you need to make a particular serve included, it's one of the best one-stop kits in the biz. For Easter, they've built a box that's doubling down on a sugar and coffee buzz. Complete with Ketel One vodka, Kuka Cold Brew Coffee, Conker Coffee Liqueur, Sugar Syrup and two Lindt Milk Chocolate Gold Bunnies, this box has everything you need to make 6 serves of a banging Espresso Martini, which you can choose to serve in a coupe, or the bunnies themselves.  
Cocktail Porter Easter Espresso Martini Kit is priced at £40 and available to buy here: www.cocktailporter.co.uk/easter
Black Cow Espresso Martini To Go
Got a 'W' at the beginning of your London postcode? Chances are you're in the radius to get yourself a killer pick-me-up delivered this weekend. Between 2nd and 11th April, the caffeine powered crew from Over Under Coffee will be delivering Black Cow Espresso Martinis and bottles of Dorset Donkey (Black Cow vodka, Morello Cherry Liqueur and Ginger Concentrate) within two miles of its shop in Earls Court. Book a slot and Over Under will do the rest. Who needs a Peloton when you've got an Espresso Martini Bike, right?
Each Espresso Martini is priced at £8, or you can also order a 500ml bottle for £28. Book your delivery here: overundercoffee.com/get-martinis-delivered
Ronny Colbie x Lockdown Liquor
Easter doesn't just have to be about gifting eggs, ya know. Swap out the chocolate for a big-ass bouquet of stunning flowers and honey, we'll be more than happy, especially if they're from Ronny Colbie's boutique florist in Balham. This guy is the ex-Lead Floral Designer for the Soho House Group - ever fawned over the Babington House wedding installations showcased on the 'Gram? That was this guy. He's now teamed up with Lockdown Liquor to create the perfect Easter gifts for those with an eye for flowers and a taste for epic cocktails. We'd happily sip on the Pepino's refreshing mix of gin-laced cucumber, fresh lime and mint while staring at this Sandwood Bay bouquet all Bank Holiday.
Ronny's Easter bouquets and special edition Lockdown Liquor bottles are available for same-day local & national delivery.
Food to order:
Easter Afternoon Tea Experience from Oblix at The Shard
Easter Weekend ain't the time to be worrying about your sugar intake. Give into it with a tower of indulgence with Oblix at The Shard's Afternoon Tea extravaganza. This specially curated Easter afternoon tea comes complete with Oblix easter eggs (adorned with, err, shards of chocolate) and seasonally-inspired sweet treats and pastries including Blueberry & vanilla tarts, Lemon & poppy seed drizzle cake, and Raspberry & white chocolate macarons, plus bouji crustless sarnies,  freshly baked scones and a selection of teas from the Rare Tea Company. We can feel the rush already. And because it's a Bank Holiday, why not level up with the Champagne Afternoon Tea which includes a bottle of Billecart-Salmon Brut Réserve Champagne? It's been a year - you deserve it.
The Oblix Champagne Afternoon Tea is available to pre-order via the Zuma website and can be delivered within a 6-mile radius of Zuma Knightsbridge. The Afternoon Tea runs 2nd - 4th of April and costs £115 to include a bottle of Billecart-Salmon Brut Reserve, or £75 without. 
Benares, Easter Roasts & Eggs of India Menu
After the fiasco of Christmas, this is one Bank Holiday we're not gonna be holding back on - so a ginger and fennel spiced roasted crown of lamb, stuffed with quail egg pulao and served with a rich rogan josh gravy, saag aloo, garlic naan, cumin raita, Punjabi onion salad and chilli & mint chutney it is, then! This is the impressive Tandoori Gosht (£180, serves four) from Michelin-starred Benares Mayfair, who are delivering three Indian-inspired roasts throughout the bank holiday Easter weekend. A Tandoor Murg Roast Chicken (£95, serves two) and Tandoor Macchi Roasted Whole Seabass (£80, serves two) are also available, but if you ask us, it's not Easter without lamb.
The restaurant will also be offering five savoury egg specials from an 'Eggs of Indian Menu' 1st- 5th April, as well as a complimentary box of chocolate Easter Eggs on 4th April with all orders.  Delivery available across Greater London (within M25). Roasts are available daily, 48 hours' notice is required. www.benares.com
Flor HxB Kit
We don't want none unless you've got hot crossed buns, hun. Borough Market's Flor Bakery have been creating some bad-ass DIY kits of their signature hot cross buns so you can flood your home with the smell of sweet bread and make your neighbours think you're a domestic deity this Bank Holiday weekend.  Each kit comes complete with all the instructions and ingredients to make 12 buns, including stone-ground flour from heritage wheat, homemade cultured butter, dried fruit, Flor bakery spice mix and spiced syrup, ready to be assembled and baked in the oven.
Hot Cross Bun Kits are available to order now from flor-bakery.com, priced at £25 with ingredients to make 12 buns. Nationwide delivery on Friday 2nd April. Alternatively, pre-made buns can be pre-ordered for collection or local delivery within a 3-mile radius.
Bao Bakery Goods Easter Chicks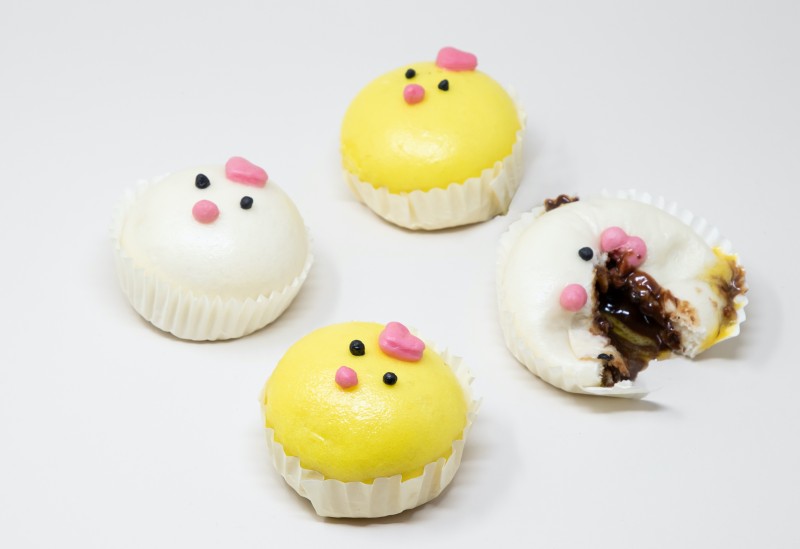 We like to think in a parralel universe there is a group of journalists who like to go around the globe sampling the best bao buns in the finest dim sum parlours in the world. Their name? The BaoChicks, of course. In this universe, however, the name takes on a whole different meaning thanks to the molten chocolate and salted egg-filled buns from the Bao Bakery Goods crew, which come in the guise of two v. cute yellow and white chicks. Each kit (£16) can be ordered from BAO's Convni store (BAO's digital supermarket inspired by 7-Eleven convenience stores) to be delivered ready to be unboxed and steamed at home.
BAO's 'Easter Chick' BBGs will be available nationwide from 9am on 22nd March, and can be delivered nationwide from www.baolondon.com/shop.
Free pizza from Firezza
Yes that's right... the words 'free' & 'pizza' in the same sentence is enough to grab our attention too. Get your Bank Holiday started a day early by swinging by your local Firezza between 6-6.20pm on Thursday 1st April. To celebrate their 20th anniversary they're giving away their epic authentic Italian pizza... for nada. Nothing. Not a sausage... unless you want that as a topping. They're gonna bring back their original menu from 2001. This includes the Picante, with Nduja, pepperoni, fresh basil, red chilli and tomato and mozzarella and the Tutta Bufala, with fiery buffalo salami, Buffalo mozzarella D.O.P, tomato, mozzarella and fresh basil. Available from all 19 sites across the UK for 20 mins only. Will you be getting a pizza the action?
Check your local Firezza here. For free pizza up to a value of £25 on April 1st at 6pm, use code: 20ANN at the checkout. The code will be valid for 20 minutes only. 
Smokestak
In classic British Bank Holiday style, the weather this Easter weekend is set to be wetter than a 50/50 Martini, which means BBQ's might be outta the question unless you hit up the team at SMOKESTAK who will be sending DIY Kits to doorsteps across the country, putting their barbecue spin on a classic Easter lunch with two different boxes to choose from. Arriving on Friday 2nd April, Easter Menu 1 (£75) will serve 2, kicking things off with a cocktail: a rhubarb sour with lime zest. FRESH. That's followed by grilled flatbreads with cod's roe + wild garlic and chive soured cream; native breed pulled pork with pickled cucumber; beef brisket with pickled red chilli, new potatoes with garlic, and spring greens, and all meats will be smoked over kiln-dried English oak for up to 15 hours in an Ole Hickory wood-fired smoker. If you wanna indulge a bit more, the Easter Menu 2 (£115) features the same menu, with additions of spring lamb & herb sausage with a mint dressing; new season asparagus with Pecorino; purple sprouting broccoli with salsa verde; and a bottle of Gran Cerdo Rioja.
SMOKESTAK's Easter DIY Kits will be available nationwide, and can be pre-ordered from smokestakshop.co.uk from 12th March. 
What to do:
Sherlock: The Official Live Game Immersive Cocktail Experience

We've been on those nights out when your mate goes AWOL & everyone has to do a mass exodus from the club to go find them (normally half-cut in the chippy down the road, haggling over a kebab). This is a slightly more classy way of locating absent people with the bonus of booze - and way more entertaining. Sherlock has gone missing & it's up to you and your pals to find him. Crack the clues & do your best private dick impression while sipping on creative cocktails that are delivered to your casa especially for the occasion. The more successful you are at solving the mystery, the more chance you have at sipping super drinks. We like that incentive. Finally, a chance to use the skills picked up from all those unsolved crime podcasts we binged during lockdown. 
Book here. Tickets are £35 per person.
METAXA and Oliveology's Easter Extravaganza - Greek Chocolate Tasting

Greece's most loved amber spirit METAXA has teamed up with London's purveyor of Greek artisan products, Oliveology, to host an Easter Special virtual tasting workshop with a chocolate twist. Running on 2nd April and 23rd April, each masterclass is designed to take you on a journey through Greece, via a bespoke box filled with indulgent Greek products, including 4 miniature bottles of METAXA 12 Stars, the signature spirit of METAXA, alongside Oliveology's paired Greek deli delights, including dried figs, roasted & lightly salted almonds, orange blossom honey, kalamata olives with orange and herbs, and beautifully matched Esophy chocolate with cardamom and fig, and you'll be guided through a tasting session of the lot. You'll think you've died and woken up in Elysium.
Workshop tickets available at: www.oliveology.co.uk/metaxa-tasting Time: 7pm | Duration: 1.5 hours