A haunted hotel that'll even rob you of your nightmares, a bloody epic double decker party and an immersive dinner that will have you sharing pudding with The Shining Twins. If you thought the last 18 months wasn't terrifying enough, Halloween is doubling down this year for extra measures of horror. 
Deadly Sins menu at The Ivy Soho Brasserie - available until 7th November
We've all got our vices. BarChick's is handsome bartenders and tequila (usually together). But if yours are a little more deadly, the new limited edition drinks menu at The Ivy Soho Brasserie will let you fully embrace your inner sinner. They've partnered with Horse With No Name Bourbon and Monkey 47 Gin to unveil a selection of devilishly tempting cocktails, all rich with mischief and desire, inspired by the Deadly Sins. If your blood runs extra hot, the fiery blend of Horse With No Name Bourbon infused with Habanero pepper, Fever-Tree Ginger Ale, Angostura Bitters and Maraschino cherries will unleash your Wrath, while those with blood running to more specific areas of the body might want to indulge in a bit of Lust, the irresistible combination of Plymouth Gin, strawberry puree, maple syrup and Prosecco. 
Feeling especially sinful? Unleash it all at their Deadly-Sins party on the 30th, with themed performances and DJ sets. To make a reservation, please visit www.theivysohobrasserie.com
Pumpkin Carving with Cointreau on the Bluebird Chelsea & White City Autumn Terraces - 28th & 30th October
There's a knack to pumpkin carving that we firmly believe can only be improved with the introduction of Margaritas. The crew at Bluebird obvs seem to agree, as they're hosting a few boozy carving sessions in the run up to Halloween on their seasonally decorated terraces in partnership with Cointreau. Get yourself cosy amongst the Autumn florals and plants, pumpkin patches and bales of hay, and let your creative juices loose with a few rounds of Purple Margaritas, Breakfast Martinis, and Cointreau Fashioneds.
Tickets will cost £35 per person with 15 spaces available per session including a Cointreau cocktail as well as all the carving materials – Book here for 28th & here for 30th. The seasonal terrace will remain in place until the 7th November. 
Kraken's Dread & Breakfast - 28th-30th October
TBH if we wanted to guarantee ourselves a sleepless night we'd drink two Espresso Martinis after 8pm, but the cruel crew at Kraken rum who are infamous for their Halloween parties have other ideas. Much worse ideas. For this year's sadistic celebrations, they're hosting a series of nights at their horror-drenched Dread & Breakfast hotel, where things going bump in the night is part of the deal. Once you've checked in for the night you can expect to be robbed of rest with crank phone calls, blood-curdling screams and even uninvited visitors entering your rooms in the early hours. What's worse is mentally preparing yourself won't be an option as guests of the Dread & Breakfast will only find out if they've been chosen to stay the night once they've arrived at the dilapidated hotel bar for an evening of live music and themed Kraken cocktails. Better pop some spare pants in your bag just in case. 
The horror hotel will be open to visit at 7pm – 11pm from Thursday 28th October until Saturday 30th October. Each night a handful of visitors will be selected to stay in a hotel room and endure a night of sustained terror and sleeplessness. Each ticket to visit the hotel will cost £10 and includes one free Kraken cocktail. Brave/sadistic enough? Get your tickets here. 
Bloody Monster Mary's aboard the Bloody Bus in Covent Garden - 28th-31st October
Looking for a bloody good time this Halloween? We know a place. The makers of our fave Bloody Mary RTD have got their hands on a double-decker bus, and they're throwing an epic Halloween party on it in right in the middle of Covent Garden. Obvs ain't no ordinary TFL double-decker. Instead of rowdy school kids and a couple of crazies drinking special brew at the back, the Bloody Bus will have a wicked seafood restaurant run by the clawsome seafood sensation Claw & Hammer up on the top deck, and a well-stocked bar on the bottom, where Monster Mary's complete with extreme seafood garnishes including grilled prawns, a whole crayfish, a fresh crab claw, spicy cajun sausage, grilled peppers and okra, spicy olives and celery, will be served up.
The Bloody Bus will be parking up in Covent Garden piazza from Thursday 28th - Sunday 31st October. Buy your tickets here.
Beavertown's Intergalactic Bloodthirsty Alien Experience - 29th October
Ever had to navigate your way through an alien-ridden UFO crash site? If you have, def slide into our DM's with that story. If you haven't, now's the time to change that up. The Beavertown Corner Pin Pub is being invaded this Halloween and the ET visitors are bringing a fully immersive experience that'll see you attempt to make peace with these otherworldly creatures. A drink may be in your hand but your fate will be in their claws… When you start seeing some strange and unsettling sights - don't panic. You probably haven't already had one too many. This is some X Files level sh*t right here, and all really might not be as it seems…
Attendance is completely free and tickets are available via the Beavertown website. Ticket holders will be entitled to two free pints of Beavertown's much loved beers to get the party started. There's only 100 so you've got to be quick. Beavertown Corner Pin, 732 High Rd, London, N17 0AG
Cherry Galore Dead Disco - 29th October
There's a new bar in Stokey, and it's carving itself out a rep as a killer spot for a naughty night out. This Halloween they're not holding back, inviting you to embrace the spirits of pop, rock and disco fancy dress - and when we say spirits, we mean the dead ones. That's right - this is a dead disco, baby, so they're asking ya to channel your inner Bowie, Elvis and Amy Winehouse and RIP up the dance floor as Guest DJs including Ronnie Joice AKA Beetlejoice & Backroom Disco Soundsystem play death-defying disco, house, funk & soul guaranteed to wake the undead. There's a horrifically good 'unhappy' hour running til 9pm with £20 bottles of prosecco, 2-4-1 house cocktails and £3 bottles of Sol beer, and entry is free all night. 
Basement, 129 Stoke Newington High Street, London, N16 0PH. Book your crew in here.
Halloween at Pergola on the Wharf: Bottomless Brunch - 30th October
A Saturday without brunch? Horrifying. A Saturday brunch at Pergola over Halloween weekend? Still horrifying, but in a good way. For All Hallows Eve this year, Pergola's popular Bottomless Brunches are being given a spooky spin. They're still bringing the goods, like freshly baked pastries as flakey as zombie flesh; bludgeoned avos and Pergola's oozing Breakfast Burger; and the booze will be flowing faster than blood from a severed artery (Bloody Mary's, indeed) but for the added effect they're combining DJ sets and live music acts to create a line up to die for.
Brunch is available on Saturday 30th October from 11am. Tickets can be bought online here priced from £35pp - £50pp. 
Shoktoberfest at Two Tribes Campfire - 30th October
What if Oktoberfest was a little more... scary? No we're not talking about a beer shortage... we're talking the ghostly twist the crew at Two Tribes will be giving their North London celebrations this Halloween. Shoktoberfest will be channelling the spirit of the Bavarian beer festival with a hellish Munich beer hall transformation for the evening. The festivities will be be colliding with a horror-filled Halloween extravaganza, and you can expect the return of the Two Tribes two-pint steins, filled with Oompa Lager, alongside bratwurst available as both meat and vegan options, as well as cocktails and metal DJ sets to see the party going deep into the Halloween night. The standard £20.00 ticket provides a two-pint stein filled with beer and a bratwurst cooked in the legendary Campfire firepit, and a 'Straight to Hell' upgrade is available for £35, which give true ghouls access to 90 minutes of bottomless stein refills, and the stein itself to keep.
Entry for the event starts of 6pm, and the beer will continue to flow through the night until the clock strikes midnight. Tickets can be purchased here. 
Halloween at Oblix at The Shard - 30th October
If you wanna inject some swagger into your Halloween celebrations, there's only one place for it. Oblix at The Shard is bringing back its legendary Halloween party for another year of sky-high partying. For one night only, your fear of heights is gonna be the last thing on your mind as the cocktail bar and lounge of Oblix East gets an All Hallows glow-up. From 9pm to 2am, the East London horizon will be the backdrop to Oblix's wicked cocktail menu, all served up alongside themed entertainment and live DJs. This is the kinda place where dressing up is always encouraged, but for this party it's time to let your imagination run WILD.
Planning something last minute? Walk-ins will be welcome for this one. 
Brasserie of Fright - 25th-31st October
Scary movie marathons are great, but this year the sparkling Brasserie of Light is turning up the dial on terror as they invite the characters of your Halloween nightmares into their iconic mirrored dining room for four days of immersive entertainment complete with bloodcurdling entertainment and DJ sets. While you sink your teeth into the limited-edition cocktail menu and deadly dessert 'Tasty, Tasty, Beautiful Fear' created with Pennywise pumpkin cheesecake, raspberry crisp pearls, chocolate popping candy, hazelnut ice cream and cinnamon salted caramel sauce, keep your wits about you. You never know who might appear at your side. Just watch out for that red balloon...
To make a reservation visit www.brasserie-of-light.co.uk or call 0203 940 9600. 
Terrifying Tipples from Cazcabel Tequila at The Ivy venues - until 31st October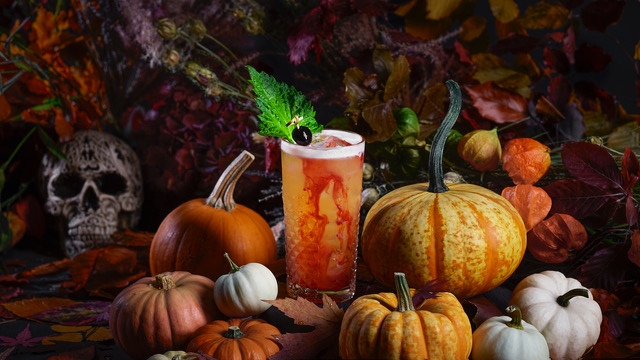 There's an epic collection of autumnal cocktails coming to The Ivy collection this Halloween. Chilling in The Ivy's Pumpkin Patch you'll find a selection of chilling serves, all laced with Cazcabel Tequila for an extra devilish bite. With wicked serves like The Diablo Verde (a sick blend of Cazcabel Blanco Tequila, Cointreau, Mezcal Verde, lime, pineapple & a green juice mix made from apple, avocado, parsley & mint) and the firey Skull Crusher (a hot mix of Cazcabel Blanco Tequila, Ancho Reyes Chile Liqueur, Cointreau, pineapple juice, lime juice, pumpkin puree & grenadine) resisting temptation is futile.
This colourful menu of cocktails will be available at The Ivy Tower Bridge until the 31st October, as well as at The Ivy venues in Blackheath, Cobham, Harrogate, Marlow, Oxford, Richmond, St John's Wood, St Alban's, Wimbledon, Winchester, York, Birmingham and Leeds. 
Discount Suit Company x Jack The Ripper tour - 31st October
If you binged through the entire back catalogue of true crime docs on Netflix over lockdown (and beyond), nows the time to immerse yourself in some true-crime reality. Take a tour around the historically gruesome alleyways of East London with a Halloween Ripper walk, beginning from the doors of the epic basement bar, Discount Suit Company. Stop your blood from running cold too early with the complimentary hot punch on arrival, and bring some life back to your body at the end with a few of DSC's classic cocktails (with a 25% discount on your bill so it won't look quite so scary at the end of the night!) 
The tours will start at 12pm, 2.30pm & 5pm on the 31st October and should last approximately 90 minutes. Tickets are £20, inclusive of the hot punch, 25% discount on your bar tab and the walking tour itself, so wrap up warm and spare not the horses squire! 
Bun House Halloween Steamed Buns - 30th & 31st October (available for pre-order now)
We don't want none unless you've got irresistibly pillowy pumpkin-spiced buns, hun. The Bun House crew are resurrecting their much-loved limited-edition Halloween steamed buns for the spooky season, and as well as looking the part, they taste it, too, with a gooey centre made using sweet, roasted pumpkin peppered with fragrant star anise, cinnamon and cloves. As well as the pumpkin OG, they're also introducing the Mummy bun, made using roasted black sesame and tahini, and the Ghost bun, filled with a sticky toffee custard cream.
Single Spiced Pumpkin buns will be served ready to eat on the 30th & 31st of October, for £5.40 per bun. The box set includes one of each of the character buns for £17.80, ready for steaming at home. 
Day of the Dead
Treehouse at Madera party - 2nd November
DJs, fire dancers, sweeping views of London and a feast of signature Californian-Mexican dishes paired up with a sick collection of tequila cocktails. It's all going down up on the top floor of this fly hotel at the top of Regent Street. Head Chef Ximena Gayosso has been getting creative with this celebratory brief, cooking up a menu packed with sharing plates of Octopus Hot Rocks, Truffle Potatoes and Whole Mackerel Veracruzana, while the team rocking the bar have shaken up a menu of craft cocktails synonymous with Day of the Dead including the Los Muertos, a blend of altos anejo, blood orange, lime, activated charcoal agave and hibiscus. Head here to book.
Chotto Matte and Código - 26th October - 2nd November
It's always the spirit that gives us life, honey, so you can't celebrate Day of the Dead without tequila. The renowned Nikkei restaurant, Chotto Matte, has partnered with the award-winning Mexican Tequila brand Código to create a week of festivities to honour their Latin roots and celebrate the Mexican Dia de los Muertos festival. Expect a tequila-laced selection of limited-edition cocktails inspired by the South American flavours throughout the festivities, like the delightful but deadly 'Midnight in Lima', comprising of Codigo Anejo Tequila, amontillado sherry, cocchi di torino vermouth and blackberry smoke, or for those with a sweet tooth, try the 'Dulce Muerte' with Codigo Blanco Tequila and peach liqueur.
La Bodega Negra Dia De Los Muertos party - 2nd November
Soho's inimitable Mexican restaurant is bringing the fire this Day of the Dead with a wild and tantalising evening celebrating the dead and living life to the max. With a vibrant and energetic mariachi band and entertainment courtesy of La Bodega Negra's popular wrestlers and Mexican model Aíma Indigo, embrace the look of the sugar skulls and get ready to indulge in a feast of modern Mexican dishes and signature tequila and mezcal cocktails.