Mexican madness comes to Mayfair, Cuban vibes arrive in King's Cross and New York chic is arriving in the City.
It's a month of vacationing via your cocktail glass in August - thank goodness, quite frankly, since the British summertime cannot be relied upon and we need some distraction from this temperamental weather. However, if you want to soak up the sass of Mexico then you can head to Mayfair and get your ultimate tequila fix; if you fancy some French va-va-voom then head to Covent Garden; for Cuban vibes you can swing by The Standard in King's Cross. Passport, you're on the shelf - party pants, let's get going.
Licoreria Limantour at Sexy Fish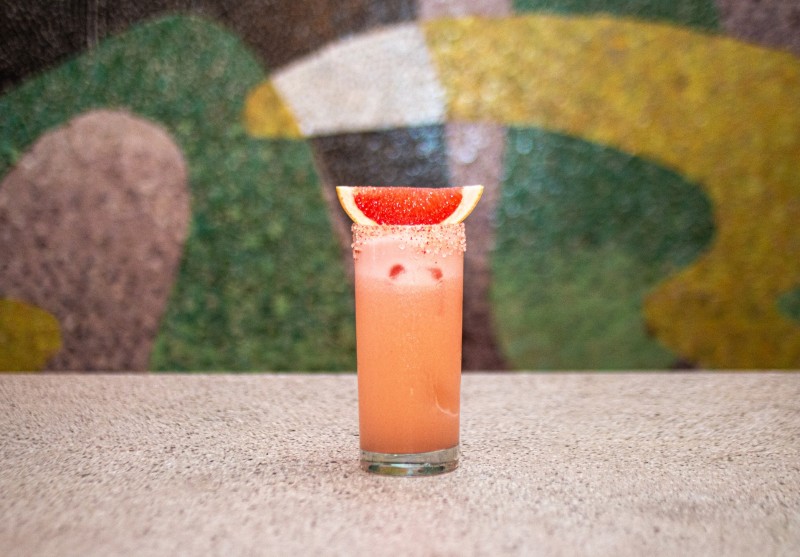 When: 1st – 3rd August
Where: Coral Reef Room at Sexy Fish London, Berkeley Square, W1J 6BR
What: Calling all señoritas and señors - wanna get a taste of Mexico City without leaving the country? Uh, hell yeah you do - especially when you learn that the kickass team behind Licoreria Limantour (ranked 4th in the World's 50 Best Bars, dontcha know) are bringing their epic vibes to the swishest of Mayfaor hangouts, Sexy Fish. Crack on with a menu of six unique cocktails that being the Latin Spirit to London, whilst enjoying a selection of Mexican-inspired small plates.
Discover more here.
White Isles chic at Madison's Summer Terrace
When: Throughout August Monday - Sunday: Midday - Midnight
Where: Madison Restaurant, Rooftop Terrace One New Change, St Paul's, London EC4M 9AF
What: Who doesn't love a boho-chic paradise? We're certainly game, which is handy as Madison - the view-tastic Central London retreat - has transformed their rooftop into the ultimate way to wind down when you're in the city. Chill out at this hotspot by getting involved in the limited edition frozen cocktail menu - will yours be a Passionfruit Martini or a Strawberry Daiquiri? Whichever you decide to ice yourself with, there's always delish food on hand to help soak up the booze. The Margarita lobster taco has our name all over it. Madison's aim is to recreate NYC's lively, eclectic dining scene in London, so get ready to party into the night, Manhattan style.  
Book here. 
Searcys at the Gherkin & Tarquin Gin Summer Pop-Up
When: Open Tuesday to Saturday from 12.30pm throughout August 
Where: The Gherkin, 30 St Mary Axe, London EC3A 8BF
What: Gin on a surfboard? Usually a very bad idea - but not when it's Tarquin's Cornish gin, served sky-high in one of London's most magnificent landmarks. Make the most of these summer days by heading up to level 40 of the Gherkin. Here you'll find blue and white striped beach huts, magnificent views, live music (hello, Searcy's sax!) and some kickass G&T combos. Grab the limited-edition serves and make like BarChick by ordering the tasting trio, served on a bespoke surf-board platter. These include Rhubarb and Raspberry, Cornish sunshine Blood Orange and - our fave -  Strawberry and Lime. Searcys at the Gherkin have got summertime coastal chic nailed, and Tarquin's G&Ts have us feeling like the livin's easy, regardless of whether the sun comes out to play. Surf's up!
The Botanical Social Club - Sweeties x Eminente Rum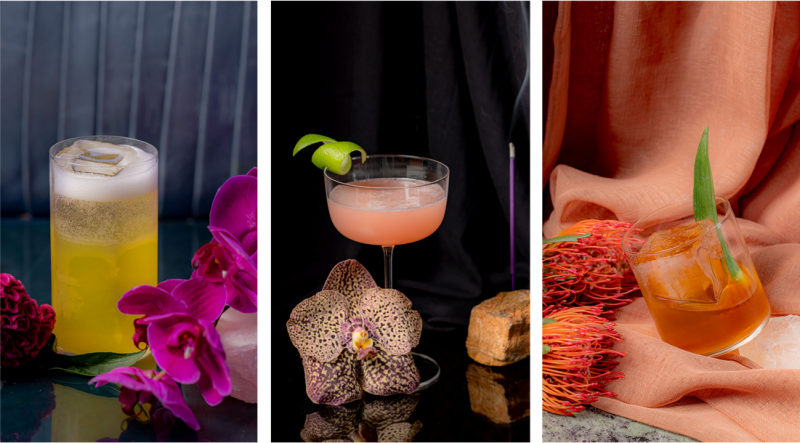 When: August 2nd to August 19th 
Where: Sweeties at The Standard, 10 Argyle St, London WC1H 8EG
What: Ready to kick up those Cuban heels? Sweeties, the sky-high cocktail bar at The Standard, has partnered with Cuban rum brand Eminente for a menu of killer rum cocktails inspired by the coasts and culture of Cuba. It's not just the drinks we're getting in a spin about - the bar is transformed into an exotic sensory escape, with floral displays from darling florists, Sage Flowers and botanical incense from Vryao. What's more, to choose a cocktail, guests will be encouraged to put their trust in a bespoke fortune teller game at the bar, leading them to the perfect tipple for the evening. What do we see in our future? A helluva lot of rum fun, that's what.
Kick back at Cocktails in the City - The Travel Edition
When: Thursday 17th to Saturday 19th August 
Where: Bedford Square Gardens
What: Bar crawls across town? Sure, there's a time and a place, but there's also a time and place for pootling between awesome cocktail pop-ups, workshops and masterclasses that all happen to be mere meters from one another. This, friends, is known as Cocktails in the City. Yep, the much-adored celebration of cocktail culture has returned for its second stint of the summer, and it's looking as badass as ever. Celebrating London's global reputation as a leading cocktail destination, guests can enjoy world-class drinks from some of the city's most renowned, internationally recognised establishments such as Cafe Pacifico, TT Liquor and Laki Kane. Give your Uber app a break and hang out at London's ultimate alfresco cocktail festival.
Cocktails in the City will continue throughout the summer with A Festival of Drinks from 7th – 9th September. Tickets £22 per person and can be purchased here.
Embrace British Icons at Aqua Shard
When: All month
Where: Level 31, The Shard, 31 St Thomas St, London SE1 9RY
What: It's time to get patriotic - Aqua Shard has a new cocktail menu, and it's bigging up everything brilliant about Britain. Lounge back whilst gazing out at that mega view, and sip on librations that are inspired by the music, art, fashion and film of these green isles. Will you toast to one of our most treasured models via your Martini, and order the Martwiggy? If you're mad for movies and have always been a sucker for Bond, then Sean Connery-inspired The Spy naturally includes Scotch whisky. And no celebration of Britain would be complete without a nod to our kickass music scene - the Beatles, Stones, Bowie and Pink Floyd are all commemorated in cocktail form. Get involved - you might even be singing the national anthem by the end of your sky-high sesh. 
New Menu at Park Chinois 
When: All month
Where: 17 Berkeley St, London W1J 8EA
What: Just when you thought Park Chinois couldn't get any more bloody gorgeous, they go and rejuvenate their cocktail menu after winning the first ever Michelin Guide Exceptional Cocktail Award. Cue us hot-footing it to Mayfair because it is essential to get involved with creations that include innovative ingredients such as porcini mushrooms, discarded banana peel and Japanese vodka infused with roasted almonds. You can still kick back with Barchick's fave ever Moulin Rouge (the name lends itself perfectly to the opulent, theatrical surroundings) but now you can also taste-test showstoppers such as the Porcini Old Fashioned with its ultimate-umami vibes. These well-deserving winners aren't resting on their mixology laurels, that's for sure.  
Drink Your Way Through the Zodiac At Hutong
When: All month
Where: Level 33 The Shard, St Thomas St, London SE1 9RY
What: Those cosmically creative mixologists at this sky-high bar in the Shard have created a drinkable guide to celebrate the curious combination of Chinese philosophy and zodiac signs. Track down your spirit animal, discover the corresponding element, and get to grips with the recommended taste profile. Voila - you've got a celestial key which helps determine which cocktails to pick, depending on the mix of sweet and sour, spicy, salty, and bitter flavours. Whether you're an astrological aficionado or a star-sign skeptic, there's one thing we can predict for sure - you're going to fall in love with these divinely-deduced drinks. 
Rekorderlig Terrace at Vinegar Yard
When: Throughout August
Where: Vinegar Yard, 72-82 St Thomas St, London SE1 3QX
What: In the mood for some al fresco drinking & dining at one of London's best beer gardens? When the weather plays ball, it's basically all we Brits want to do (practically a national sport, right?) And what makes it even more quintessentially English is flavoured cider. Luckily, Rekorderlig will be serving its signature fruit ciders for guests to enjoy on the terrace overlooking The Shard. To celebrate summer, on the 10th August the first 150 people to buy a Rekorderlig at Vinegar Yard's downstairs bar will be given a token for a free Frusen, and if you're wondering what the hell this is we'll tell you - blood orange cider in a cold and delicious slushy form. F-yeah. 
The Berkeley's Rooftop Cocktail Bar
When: Throughout August, Tuesday – Saturday, 7:30pm to 11pm, with last sitting at 9.30pm
Where: The Berkeley Hotel, Wilton Pl, London SW1X 7RL
What: In days gone by, if you wanted to enjoy a bevvy on the rooftop of this swishy hotel in London's upper-crust neighbourhood, then you'd have had to sneak past the security guards or bag yourself an invite from a guest. Not this summer though, because The Berkeley has opened its rooftop bar to us regular mortals. Head by in the evenings for sweeping views of Hyde Park and grab yourself a Magnum of rosé wine next to the turquoise pool - you could almost be in the South of France. We've got our eyes on the 'Pool Party' - a blend of Campari, Chambord, rhubarb, strawberry bitters and Fever-Tree soda water, coupled with a dainty dish of seared beef with truffle artichoke pesto. Ooh la la. 
Tables must be booked here, whilst loungers will be available for walk-ins only.
Get swanky with a Taste of Balthazar 
When: All through August. Monday to Friday from 2pm-4pm
Where: 4-6 Russell Street, Covent Garden, London WC2B 5HZ
What: Afternoon tea: wicked. Afternoon Tea with a French 75 cocktail AND oodles of bubbles? Sign us up. We're preparing to stick our little pinkie out and do our best Emily In Paris impression by swinging to Balthazar for their luxurious, indulgent & nicely boozy Afternoon Tea experience. With choices like the Balthazar Mini Hamburger, a Tarragon-poached Chicken Sandwich with truffle mayonnaise and Gateau Opera with coffee French buttercream PLUS the chance to add a glass or a bottle of Champagne to the mix... well this is the kinda French fancy we're all over. 
Journey Along The Coast with Benares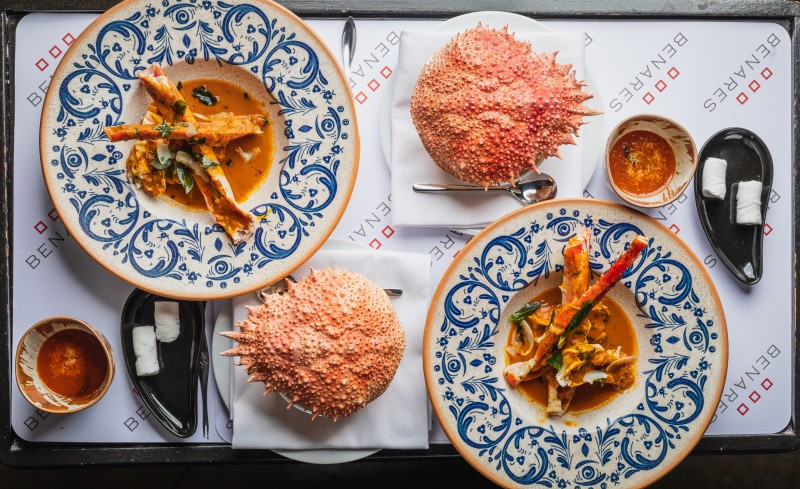 When: All through August and until 24th September
Where: 12a Berkeley Square, London W1J 6BS
What: India's known for its incredible coasts - dreamy white sand, swaying palm trees, turquoise water and more than one opportunity to relax with a cocktail or two. Well, now you can take a trip down the coast via your tastebuds - and you don't even have to leave Mayfair. Every two weeks through the summer the beloved Michelin-starred restaurant will be offering a 'special dish' that highlights a different part of India, with Malabar, Andhra and Konkan coasts showcasing their dishes which include Fish Biryani, Malabar Crab and Mutton Fry. Combine your meal with one of Benares' superb cocktails - we recommend the fresh and frothy Royal Sour. It's the ideal aperitif but that's not all - the stunning peacock cup had us going gaga.