That's right, people: it's officially mulled wine season. Time to say a big old yuletide YES to Christmas in a cup!
Forget those ropey mulling tea bags and the overly sweet pre-made bottle jobs, you've gotta go long on your spices and brew something magical. Just remember: you want it warm and never boiling (no one, not even Scrooge, likes the booze boiled off).
And don't go reaching for the dodgy Tesco table wine either - you're not making sangria at a fresher's week luau. If you want spankingly good mulled wine, don't scrimp on the type... but don't go dusting off the vintage varieties either.
Ed Semprini, from Bottles Wine Bar, knows his way around vino and gives this advice: "Use a wine you'd actually drink on its own… good wine means a good mulled wine, although I wouldn't go crazy and use a Romanee Conti. But if you do, let me know, as I'd be very interested to try!"
He also recommends toasting the spices first, as this will help release those powerful aromas and flavours. Rumour has it that the ancient Romans were the first to start mixing spices into their wine - kudos to them. The oldest recipe on record dates back to 1390 - we're talking Viking style - and in the Victorian era, Mrs Beeton got on the bandwagon and suggested serving it up with slices of crisp, dry toast.
Luckily, times have moved on. These days, mulled wine is a blank canvas to splash with any boozy holiday flavours you desire, and you haven't lived if you haven't levelled up your mulled wine with a splash of Champagne/ some nettles/ agave/ gold-leaf cinnamon sticks into your pan. With so many damn recipes around, we hooked up with some of the maestro mullers on the block to bring you the ultimate recipe, along with more of Ed's tips below. 
Tips from the top
Want advice on wine? Ask a guy who owns a bar that sells around 180 different kinds, obvs. Here's some more essential info from Ed. Marvellous mulling is just a few steps away. 
DOs
Do throw a bit of white wine in, or switch it up entirely - this adds an edge of freshness and will help balance out the sweetness a little.
Do use brown sugar where possible and caramelise it down slightly. This will help add a toffee edge to the flavour profile.
Do let the mulled wine sit in the spices and fruit for a short while.
Do a fire dance around the pot - this will please the volcano gods and give you a better mulled wine. Just kidding, but we still recommend it.
DON'Ts
Don't over-spice the wine! Just let it sit off the heat and infuse.
Don't over-boil! Once the mulled wine has begun to boil, take it off the heat.
Don't over-complicate it and start throwing in all the old spices from the back of your cupboard.
Try to avoid powdered spice, as this can give a grainy texture.
And if mulled wine is not your thing, you can use the same ingredients but instead of wine add cloudy apple juice and some spiced rum.
The Classic
You can't swing a cat in the Czech Republic without knocking over some glühwein. Screw thermals, the Czechs drink the stuff day and night to keep warm through the winter. The sommelier at Prague's Hilton has got glühwein on lockdown; it's basic, boozy and kinda brilliant. Chuck it all in the pan and gently heat, then you're ready to go, baby. 
1 litre of decent red wine
8 sugar cubes
1 cinnamon stick
5 cloves
Half a lemon
Vodka (obvs)
BarChick's DIY favourite
Simon Rowe at The Dorchester adds port as an extra warmer to enrich the flavour and give body to the drink. Using a muslin bag stops the near-swallow-of-a-clove disaster and using the peels of the fruit doesn't detract from the booziness. Infuse the muslin bag for a few minutes to gather the flavour.
Red wine
Non-vintage port
Orange peel
Lemon peel
Muslin bag including spices of cinnamon, nutmeg, cloves and star anise
Three twists to try in London

Made using 18-year-old velvety Chivas Whisky and Benares' own house-made mulled wine reduction, the Mulled Manhattan is smoother than Terry Crews riding a seal through a vat of coconut oil. It's garnished with a slice of orange, fragrant cloves and cinnamon sticks that someone's purloined from the Benares spice cupboard. 

Because either a) you're still going through that rebellious phase and won't be told what to do by anyone, not even in Christmastime, goddamnit. Or b) you're clinging onto summer like that cat on the washing line in that poster hanging in every '90s office. Basically, you want rosé in a mulled wine, and you're going to have rosé in a mulled wine. The guys at Tom, Dick and Harry's hear ya, and they've combined Belsazar rosé wine with grapefruit liqueur, grapefruit juice and seasonal spices.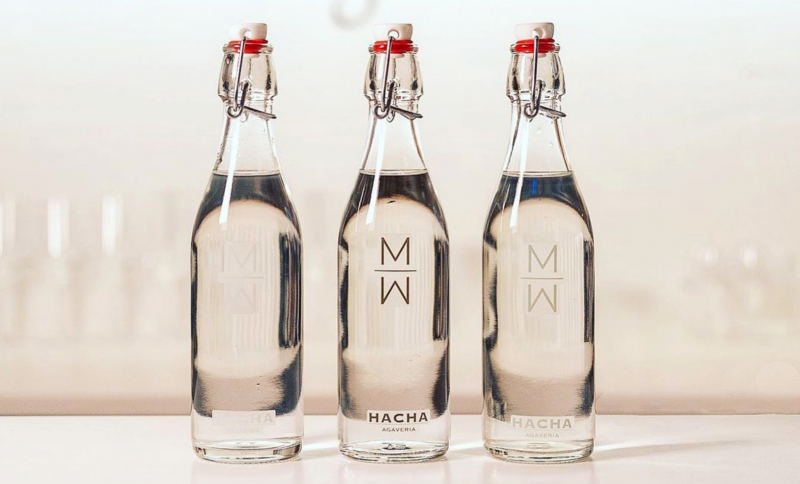 Yeah, the "Best Cocktail in the UK" has had a festive makeover, and it's every bit as epic as you'd expect, amigos. The Hacha crew have infused ginger, cinnamon, cloves, clementine and star anise into their much-loved legendary tequila Mirror Margarita, and the result is killer.
We wouldn't even dream of trying to recreate this Hacha masterpiece, but we've found this spin on a Mulled Marg and we're digging the result. This is wicked if you have a slow-cooker and wanna leave it all simmering.