It's essentially a life skill and hungover mates will be forever in your debt, but if you're gonna DIY it, make it like the pros. We hit up Danny Laycock from Banyan in Leeds who was crowned champ of the Bloody Mary Challenge 2020.
"The key to making a winning Bloody Mary is to be as adventurous as you can whilst remaining true to the heart of a classic one. My drink had lots of different ingredients such as strawberry infused vermouth, avocado verdita, bacon syrup and was topped with a celery foam, but these all complimented the premium Broken Clock Vodka base, the fresh tomato juice and the Tabasco based spice mix.' EPIC.
Want join the big leagues? Here's how it's done:
The History
Like any good murder mystery, the origin of the Bloody Mary is a big case of whodunnit. Some say Fernand Petiot created it at what became Harry's New York Bar in Paris in 1921, but the earliest printed recipe credits George Jessel from New York's 21 Club in the 1930's. Petiot responded by saying Jessel had only put vodka and tomato juice together and that he made it into the beautiful hangover cure we know today with all those spices and sauces. Whoever we've got to thank we're happy it exists; Sunday mornings wouldn't be complete without it.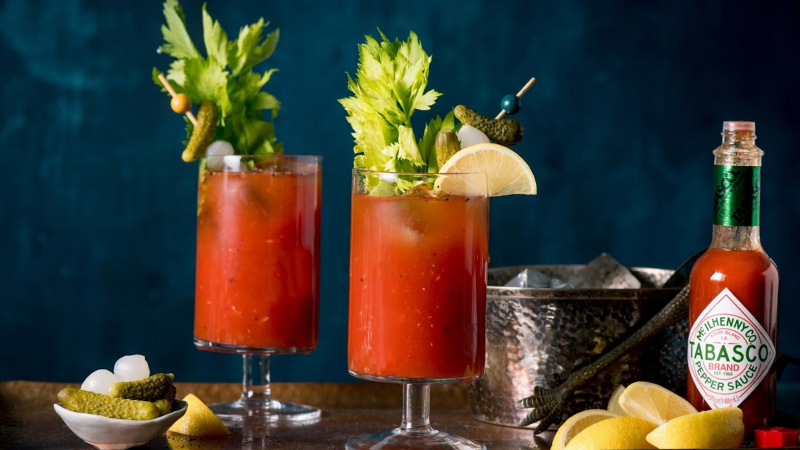 The Ingredients
Everyone makes theirs differently but for now we're talking basics; even in your most dire state you can whip this up without adding to your headache. 
Vodka - If you want a traditional Bloody, vodka is what you're looking for. Crisp and easy, especially good if you're feeling particularly woozy. Broken Clock is great - a smooth spirit with a fruity edge, perfect perfect for vodka-based cocktails.
Gin (aka a "Red Snapper") - with all its botanicals, gin can add a nice bit of spice and depth to your breakfast in a glass. Ford's Gin - made by bartenders, for bartenders - is based on juniper and coriander seeds which gives a nice kick with the tomato juice.
Tequila (aka a "Bloody Maria") - Go south of the border with a bit of Mexican flavour. Agave gives a slight sweetness and earthiness, which mixes with the acids of the tomato to create something light, but with a good bout of personality. Olmeca Altos, which is 100% agave, has a hint of green pepper and ginger with caramel on the finish, who needs sugar?
Bourbon - There isn't a specific name for this yet, but it's freaking awesome. There is a certain amount of spice and richness that comes through, adding a more robust flavour. Old Forrester is the oldest bottled bourbon and quite literally started out as a medicine - it's named after the chemist where it was first sold. If this can't sort your hangover, just throw in the towel and go back to bed.
The Rest
Tomato Juice - This is the easy one. Sure there are a few variations out there, but realistically it's going to be simple. If you want to get really specific, you want a good thick one that has a bit of sweetness and acidity. It's the natural sweetness here that's going to be your secret super hero for dealing with a hangover, helping to lift your glucose levels which feed your brain.
Worcestershire Sauce - Tangy, malted goodness.
Hot Sauce - Regardless if it's Tabasco, Cholula or otherwise, a bit of kick is going to go a long way.
Lemon Juice - The acidity here will help cut the sugar from the tomato juice, lifting it so it doesn't feel like cement in your mouth.
Salt - Again, you're trying to refill your body with everything you took out the night before. It's also good for bringing out flavours. If you feel like getting fancy, go for celery salt or a smoked salt. 
Pimp It Up
Want to make your Bloody Mary extra awesome? There's a number of tricks to take it to the next level.
Port or Sherry - Adding 10ml of modifier spirit will add some serious depth and length. Even a splash of basic red wine can do wonders.
Balsamic glaze - If you wanna give your Bloody Mary a sweet, luxurious kinda glow-up, pop a squeeze of Balsamic Glaze into your glass and give it a mix. 
Garnishes - Pickled green beans, rosemary sprigs, lobster tails, even mini bl**dy burgers. Go big or go home.
Bitters - Play with adding a bit of subtle flavour with a couple of dashes of bitters. Just a tiny bit of creole, tiki, or hellfire bitters can have a big impact on what's going on in your glass.
Infusions - For the dedicated boozers. This one takes planning, which might not help if your head is currently in a haze from last night's festivities. Rosemary, horseradish, or chilli infused spirit is a very different way to pump up the volume. 
Mix It Up
50ml of your spirit of choice
100ml tomato juice
20ml lemon juice
Hot sauce, Worcestershire sauce, salt, pepper, the works - add all that sh*t to your own taste. Celery, lemon wedge, and/or cucumber for a garnish. Grab a big glass and fill with ice. Add all ingredients and give a quick stir. Add a bit more of whatever spice you want to tweak the flavours and boom. You've got a Bloody Mary.